• Lisa Kelly is an American trucker and TV personality
• Born in Grand Rapids, Michigan USA in 1980
• Raised in Sterling, Alaska
• Became an expert on ice roads from her experience in "Ice Road Truckers"
• Has an estimated net worth of $600,000

Known for movies
Short Info
| | |
| --- | --- |
| Date Of Birth | December 8, 1980, March 5, 1970 |
| Died | August 15, 2013, Altadena, California, United States, August 15, 2013, Altadena, California, United States |
| Spouse | Traves Kelly, Robert Joseph Gilliam |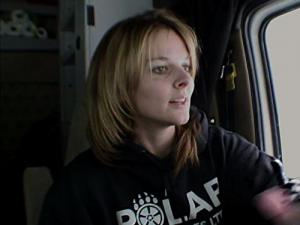 Lisa Kelly is an American trucker and TV personality born on 8 December 1980, in Grand Rapids, Michigan USA. She's known for appearing in History Channel's show "Ice Road Truckers" and its spin-off "Deadliest Roads".
Early Life
Lisa Kelly's childhood was spent in Sterling, Alaska after her family moved there when she was six years old. Quickly getting used to the new lifestyle in her family's mini farm, she learned to ride horses and became interested on dirt bikes from an early age. The most important knowledge she obtained from this days though, came from her father:  'I was raised on a farm, and my dad was good at teaching work ethic, so I always do my best.'
After matriculating from high school, Lisa went back to her hometown Michigan to attend Cornerstone University.
Career
First Steps
Although Lisa enjoyed her time in College, she never finished her studies due to her newly found interest on outdoor activities, she told Esquire: 'I didn't know what I wanted to do with my life. I had gone to college and I liked school. I started delivering pizza and I decided I liked being out of the building, so I started driving a school bus to get my licensing.'
Going back to Alaska, Lisa decided her dream job was to drive trucks, subsequently trying to get hired by various transportation companies, though her efforts were unsuccessful as she was denied the job for being a 'delicate-looking' woman.
It wasn't until she contacted haulage company Carlile Transportation, that she was given her first opportunity with trucks: 'A lot of companies wouldn't hire me, but Carlile were like, Yeah, we'll give you a chance. They didn't look at what was on the outside.' (…) 'I'd actually never been in a truck before I worked at Carlile and I announced before they even hired me that that's what I wanted to do.'
As a woman in a male-dominated work field, recognition from her peers as driver didn't come easily for Lisa though: 'I had to work twice as hard. I had to pull my weight and everybody else's and get the job done as fast, or faster'.
Not having a commercial driver's license, Lisa spent her early years working at Carlile as a courier driver.
However, she never lost her motivation to become a trucker and practiced heavy-duty driving on her company's field. By the time she officially obtained her license, she started running local routes and subsequently started on ice roads, becoming an expert on it.
Ice Road Truckers
With various years of trucking experience, Lisa Kelly joined "Ice Road Truckers" in 2009 by her trucking company's suggestion: 'They (producers) were trying out people within the company, and the boss recommended me. He thought I'd be an interesting character. I know they had to really fight to get a girl on the show, and I ended up doing well, so they've let other girls on.'
This History Channel's show has been active since 2007, and follows the life-on-road of various truckers while they drive on dangerous ice-covered roads in Alaska and Canada. Lisa Kelly's first appearance in the show was in its third season, and became a fan-favorite the following years.
During her time in "Ice Road Truckers" Lisa partnered with senior trucker and driving partner Darrell Ward to co-found Polar Industries. However, Ward tragically died in an accident in August 2016 when the plane he was piloting crashed near an airport in Montana.
In 2018 Lisa Kelly talked about her feelings on Ward's death, and not working alongside him anymore: 'It was sad. It didn't really hit me until I went back there (to the show) and didn't have my partner.
It also put a lot of pressure on me to get things done because Darrell usually took care of a lot of things, like arranging loads and taking loads down really long roads. I could only take one, but he ran a lot harder than me, so he could get there and get back really fast while I might still be sleeping on the side of the road somewhere.'
Lisa also had problems managing Polar Industries alone. However, she obtained help from someone close exceptionally close to Ward: 'I got Reno, his son, to help me out. It was really good working with him, too. The first year he was around, he was kind of a young punk kid. And the second time he came around, he had really grown up a lot and was super knowledgeable and a lot nicer. He was fun to work with the second time.'
Deadliest Roads
In 2011 Lisa Kelly faced new career challenges when she appeared on "Deadliest Roads" spin-off "Ice Road Truckers", produced and broadcast as well on History Channel. During the show's two seasons, truckers drove on many dangerous routes in various countries. For Lisa, this adventure proved to be a new experience altogether: 'We drove in India, Bolivia and Peru. It was really scary, but really fun, and it challenged me. I thought it was cool that you could see what people in other countries do. So I thought that was more interesting than Ice Roads, personally. India was the first time I'd been out of the country besides going to Canada. I was dropped into the middle of India, thinking 'holy culture shock.'
Personal Life
Marriage
In 2004, Lisa Kelly met motorcycle mechanic Traves Kelly while she was looking for a Kawasaki 125 motorcycle to buy. Due to their shared love for bikes, the pair hit off well and dated for four years until tying the knot in 2008. Traves, who nowadays works as a plumber and is an Aleut Native, is open about Lisa's career: 'I have a very understanding husband. He gives me the freedom to go away for so many months, and it is amazing'.
Currently the couple owns a two-acre propriety in Wasilla, Alaska.
Interests
Besides her love for trucking, Lisa Kelly has also found herself many hobbies, such as snowboarding, hang gliding and is a skilled bike racer.
She is an animal lover as well, owning a mini-horse and a full-sized horse named Sky, both of which live in her small barn at home. Lisa also revealed she rescues horses: 'Mostly from people who don't have the resources to take care of them or figure out the medical problems they have' she said to Diesel Spec.
Lisa also adopted a dog while filming "Deadliest Roads" on India, though she couldn't keep it when she arrived to US: 'He (dog) went home to Hollywood with my producer. There are so many dogs on the street in India, starving, and I felt if I adopted a dog, I would be doing my part. So I rescued a little puppy and kept him in the truck almost the whole season.
I couldn't take him home because I was in an apartment situation, but my producer fell in love with him.'
Lisa saved a dog in Peru and a cat in Canada as well.
Net Worth
Although ice road trucking is an extremely dangerous job, it's highly economically rewarding. On average, a trucker on this field has a salary of $250,000.
Due to this, Lisa Kelly's estimated net worth id of $600,000, which is a result of her work as an ice road trucker along her income from appearing in "Ice Road Truckers".
RT A #trucker who breath in ice #LisaKelly #trucking pic.twitter.com/mfeo8nKJq6 = https://t.co/3KMjsk2z2O

— CF Trucking Solution (@Truck_Financing) February 6, 2016
Appearance
Lisa Kelly is a gorgeous woman of white ethnicity. Her hair is naturally blonde, and her eyes are green. Although her stature and weight are unknown, she has a noticeably slender figure.
Interesting Facts
She was regarded as a 'tom-boy' growing up.
She doesn't like big cities, preferring to live in small towns: 'I'm a country girl at heart.'
Her horse Sky is actually the horse she grew up with. Though it was sold by her family when Lisa went to College, she recovered it and bought it again.
General Info
| | |
| --- | --- |
| Full Name | Lisa Kelly |
| Date Of Birth | December 8, 1980, March 5, 1970 |
| Died | August 15, 2013, Altadena, California, United States, August 15, 2013, Altadena, California, United States |
| Height | 1.7 m, 1.7 m |
| Profession | Truck driver, Actor |
| Education | The Theatre School at DePaul University |
| Nationality | American, American |
Family
| | |
| --- | --- |
| Spouse | Traves Kelly, Robert Joseph Gilliam |
| Parents | Thomas C. Kelly, Linda Diane Grimm |
Accomplishments
| | |
| --- | --- |
| Music Groups | Celtic Woman |
| TV Shows | Ice Road Truckers, That '70s Show |
Social profile links
Pictures
Movies
Self
| Title | Year | Status | Character |
| --- | --- | --- | --- |
| Ice Road Truckers | 2007-2017 | TV Series documentary | Herself - Ice Road Trucker / Herself - Ice Road Trucker: Polar Industries / Ice Road Trucker / ... |
| Ice Road Truckers Canada | 2014 | TV Series documentary | Herself |
| Luciana by Night | 2013 | TV Series | Herself |
| IRT: Deadliest Roads | 2010-2011 | TV Series | Herself - Trucker |
| Late Show with David Letterman | 2010 | TV Series | Herself |
Source:
IMDb
,
Wikipedia