• Tony Beets was born in the Netherlands, but moved to Canada in 1980 to start a dairy farm
• He became a gold miner in 1984 and eventually established a company called Tamarack Gold Resources
• He rose to fame after appearing on the show "Gold Rush" in 2011
• He has been issued heavy fines for polluting local water bodies and was recently forced to shut down multiple plants due to lack of water permits
• His net worth is estimated at over $15 million

Known for movies
Short Info
| | |
| --- | --- |
| Date Of Birth | December 15, 1959 |
| Spouse | Minnie Beets |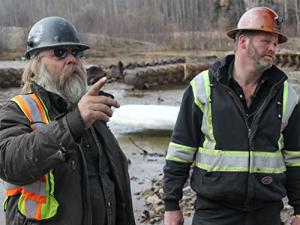 Discovery Channel is highly aware of the allure gold has to people in every walk of life, and it is this that spurred the decision to create a show that explored exactly this phenomenon. Tony Beets first appeared in the show during its second season, and almost immediately became one of the most popular cast members. The Dutch-Canadian man has a hand in every aspect of the gold process, from dredging and mining to processing. His passion for his craft is infectious, and his exploits have now become a family venture, with his wife and children all participating in the business. His explosive personality and predilection for swearing have earned him the affectionate nickname 'Tony Peep' in his home country of the Netherlands.
Early Life and Family
Tony Beets was born on 15 December 1959, in Wijdenes, the Netherlands, to Klaus and Magda Beets. However, his family did not remain there for long, and in 1966 relocated to Burgwerd, which is in the country and a prime spot for farming and agriculture. The family set up a farm that they would all work on. After an accident in 1974, Klaus Beets became disabled and was no longer able to work on the farm. This left Tony, only son and 15, to run the farm and instruct workers many years his senior. Instead of intimidating him, Tony explained that this was a seminal event in his life and allowed him to become the leading figure he is today. This new state of affairs also served as motivation, building his work ethic and a determination to become equally as effective, or even more so, that the older workers.
Career
Dairy Farmer
With his future in farming looking dubious in the Netherlands, Tony and Minnie, his girlfriend at the time, decided to try their luck in Canada. They moved to Canada in 1980, settling on a farm near Salmon Arm in British Colombia. They started a dairy farm, and made a living by milking cows. This did not last long, as in 1984 Tony became aware of the potentially lucrative life of a gold miner.
Gold Miner
Tony started his mining career in 1984, when he and his wife relocated to Dawson City in the Yukon Territory. His beginnings were not quite as auspicious as he would have liked, spending his days operating machinery, but his determination saw him stick it out.
This turned out to be one of the best decisions of his life, as he is now acclaimed as one of the most successful miners in the Klondike.
In 1994, Tony Beets established Tamarack Gold Resources In, which now owns multiple mines in Dawson, Perth and Sudbury. While the company has a reputation for hiring local youths, it is only the toughest of the bunch who are able to persevere and integrate into the familial atmosphere of the mines.
"Gold Rush"
Discovery Channel premiered "Gold Rush" on 3 December 2010 to international acclaim. The initial season of the show focused solely on a single group of miners trying to navigate their way in the mining industry. Tony Bees and most of the other cast members only started appearing during the second season of the show, in 2011.
Role on the Show
While Beets is not a main cast member, he interacts with many of the key figures. It was Beets who leased the land in Scribner Creek to Parke Schnabel during the fourth season, along with giving the youth some friendly advice. Beets are able to avoid conflict for the most part, and chooses to rather interact peacefully with other miners.
Dredging
During the fifth season of "Gold Rush", Beets decided to venture into new territory and try his hand at gold dredging. He sunk $1 million onto the venture, and despite multiple roadblocks along the way, he was ultimately able to achieve success. Gold dredging allowed him to amass gold at a much lower cost than he was able to do on land.
Controversy
In 2018, Beets was met with heavy fines for polluting local water bodies with wastewater. The claims were indisputable, as footage from "Gold Rush" validated these claims. The footage arose from October 2014, when one of the Tamarack miners poured gasoline into a pond and set it alight. The footage showed Beets standing before the blaze arms outstretched, in an act of condonement. The worker had been forced to pay a fine of $1,725, but the potential fines that Beets faced added up to a shocking $26,000
Water Permits
Recently, Beets was forced to shut down multiple plants when his water permits weren't renewed. Water is integral to the mining process, as it is used both in the operating of machinery and gold processing.
While this devastated him and his family, they have no choice but to abide by these developments. If they breach these terms, they face fines of $20,000 per day of water usage.
Personal Life
Tony met the love of his life in 1966, although he did not know at the time how events would play out. One of five children, Minnie lived on the farm in Netherlands adjacent to the one to which Tony and his family moved when he was seven and she was six. The two started dating in 1978, and had been seeing each other for 18 months when Beets decided he wanted to try his luck in Canada. In order to accompany him, Minnie had to be his wife, and so the two married and have had no regrets since then.
Minnie has always assisted him in his mining, but also works in the home healthcare industry. The two had their first child, Mike, in 1990, and now have another three children – Monica (1993), Kevin (1988), and Bianca. Unfortunately, Minnie and Tony were struck by tragedy when their two-month-old daughter Jasmine passed away in 1992. More recently, just before season six of "Gold Rush", Tony's father, Klaus, died.
While the family is heavily entrenched in the mining culture, his daughter Bianca is an extremely private person and declined any opportunities to appear on the screen. Monica and her sibling all have a prominent online presence and following, and use their platform to communicate and discuss things with their growing fan base.
Appearance
Tony Beets Dutch heritage is a clear contributor to his appearance, both in terms of coloring, and height and build. Tony is tall and has blond hair heavily streaked with tones of grey and white. He has shoulder-length hair and a luxurious beard that is slowly becoming more white than blond. Although there is clear evidence of his age, he remains fit as the strenuous regime of mining requires. He is 5 ft 6ins (1.7m) tall and weighs around 143lbs (65kgs).
Net Worth and Salary
Due to his worldwide mining ventures and hard work, Tony Beets has amassed a truly impressive net worth. His hefty salary from "Gold Rush" supplements his income, and Beets and his family is able to live in peace and comfort. His net worth as of 2020 is estimated at over $15 million.
General Info
| | |
| --- | --- |
| Full Name | Tony Beets |
| Date Of Birth | December 15, 1959 |
| Profession | Miner |
Family
| | |
| --- | --- |
| Spouse | Minnie Beets |
| Children | Monica Beets, Mike Beets, Kevin Beets, Bianca Beets |
Social profile links
Movies
Thanks
| Title | Year | Status | Character |
| --- | --- | --- | --- |
| Gold Fever | 2013 | TV Mini-Series documentary special thanks - 4 episodes | |
Self
| Title | Year | Status | Character |
| --- | --- | --- | --- |
| Gold Rush: Alaska | 2011-2017 | TV Series | Himself |
| Gold Rush: The Dirt | 2013-2016 | TV Series | Himself |
| Gold Fever | 2013 | TV Mini-Series documentary | Himself - Gold Miner |
| Gold Rush: South America | 2013 | TV Series | Himself |
Archive Footage
| Title | Year | Status | Character |
| --- | --- | --- | --- |
| Gold Rush: Alaska | 2012-2016 | TV Series | Himself |
Source:
IMDb
,
Wikipedia