Lymari Nadal:
• Puerto Rican actress, scriptwriter and producer
• Gained fame for role in "American Gangster" in 2002
• Graduated from Pontifical Catholic University of Puerto Rico
• Has a Master's degree in Chemistry from University of Puerto Rico, Mayaguez Campus
• Married actor Edward James Olmos in 2002, but separated in 2013

Known for movies
Short Info
| | |
| --- | --- |
| Date Of Birth | February 11, 1978 |
| Spouse | Edward James Olmos |
| Fact | Played the title role in Federico García Lorca's "Yerma" in a production directed by Maria Galban. [2006] |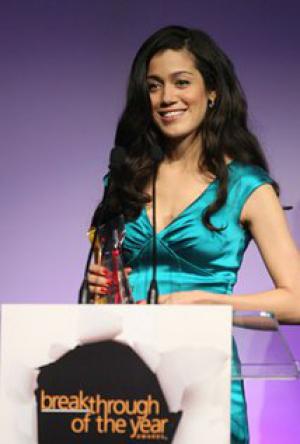 Lymari Nadal is a Puerto Rican actress, scriptwriter and producer, who became famous for her role as the wife of Harlem drug dealer, Frank Lucas, in "American Gangster" in 2002, and in real life for being the third wife of actor Edward James Olmos.
Early life and family
Lymari Nadal Torres was born on 11 February 1978, in Ponce, Puerto Rico, to Anaida Torres and Daniel Nadal. She grew up in Ponce along with her sisters, Anaida, Dania, and Azarel.
Education background
Lymari matriculated from Santa Maria Reina Academy in 1994, and graduated from Pontifical Catholic University of Puerto Rico.
She then completed her Master's degree in Chemistry from the University of Puerto Rico, Mayaguez Campus (UPRM) at age 22. However, Nadal always wanted to become an actress, so she also took Acting I, II, and III at the same university. Wanting to hone her skills further, she said she went to Mexico and London Academy of Music and Dramatic Arts for that, then attended a two-year program at the Sanford Meisner Center for the Arts I Los Angeles, under Martin Barter as well as Marlon Brando's "Lying for a Living" Actors Workshop. She also had a voice coach and dialect coach.
Career
First steps
Lymari went to Los Angeles, California in 2001 to pursue an acting career, and had a hard time at first.
She decided to try theatre work, and was part of several stage productions including "Shadow of Anthropology," "Yerma," "Celestial Flesh," and "Miss Julie."
She joined Edward James Olmos' company as a producer. Her debut on television was in 2002 with the minor role of Linda in PBS' story about a Latino family living in L.A., "American Family" starring Edward Olmos and Sonia Braga. It was followed by another support role of Giana in the three-hour sci-fi drama miniseries "Battlestar Galactica," a remake of the 1978 movie of the same name. It aired in December 2003 on Syfy channel, and was said to be the network's third most watched series with 4.5 million viewers.
In 2006, she made her film debut in "Thieves and Liars," which was Puerto Rico's entry into the 79th Academy Awards for Best Foreign Language Film, but it didn't make the cut.
Further success
Lymari was cast for the role of Eva, the wife of Frank Lucas played by Denzel Washington, in the crime film, "American Gangster," in 200; the movie was said to be based on a true story about Lucas, his life of crime as a drug trafficker and a Harlem gang leader, as well as arrest by detective Richie Roberts played by Russell Crowe. It was a box-office success, grossing more than $250 million worldwide against a $100 million production budget, and it also earned nominations for Academy and Golden Globe Awards.
Nadal's role was said to be a fictionalized version of the real wife, and those involved in the case said that the movie was not an accurate account of what happened – Lucas said that only a small part in the movie was true, and former DEA agents even filed a lawsuit against the production company, but it was dismissed by the court.
She reprised her role of Giana in "Battlestar Galactica: The Plan," which was a reimagined version that had new material as well as clips from the 2003 miniseries and 2004 TV series. It premiered on DVD and digital download in 2009, and then on Syfy in 2010.
Lymari then appeared in the "Sangre por Sangre" episode of "CSI: New York" in 2010, and in 2011 was the lead in "America", that was based on the 1996 novel of Esmeralda Santiago entitled "El Sueño de America" (America's Dream).
She was presented with the script and liked it, and as part of the production team made some changes to the script, to present a more realistic depiction of Latinos. It was also chosen as Puerto Rico's entry at the 84th Academy Awards, but was disqualified because the Academy no longer accepted an entry from a US protectorate.
Other movies she has appeared of include "Light from the Darkroom" (2014), "The Blackout" (2014), and "Kreep" (2016) for which she was also the executive producer.
Personal life
Despite a 31-year age gap, Lymari and Edward Olmos were married in 2002, but separated in 2013. She was Edward's third wife.
Who is Edward James Olmos?
Edward Huizar Olmos was born on 24 February 1947, in L.A. to a Mexican immigrant, Pedro Olmos, and Mexican-American, Eleanor Huizar. He was raised by his grandparents because his parents were busy working, and then separated when he was seven, which much affected him, so he started playing baseball every day, and improved to the extent that he became a California State batting champion, and was in the farm team of the Los Angeles Dodgers by the time he was 13.
However, in 1960 he quit playing baseball because he wanted to become a rock 'n' roll singer instead – actually he wasn't much of a singer, but he knew how to dance because his father taught him from when he was 10.
When he was able to get a job as a performer, he put himself through high school and college. In 1964 in his first year of college, he took acting classes and started appearing in plays.
His big break in theatre came when he played the role of El Pachuco in "Zoot Suit", which earned him a Tony Award nomination for Best Featured Actor in A Play. The play was written by Luiz Valdes and it premiered at Mark Taper Forum in L.A. in April 1978, then debuted on Broadway at the Winter Garden Theatre in March 1979. A film adaptation was made in 1981 in which Olmos reprised his role.
He made his television debut in 1974 in "Cannon" as an unnamed character, and continued accepting various projects from minor to lead roles.
In 1984, he was part of the main cast as he played the role of Detective Lieutenant Martin "Marty" Castillo in the crime drama series "Miami Vice," which ran for five seasons (1984-1990) and 112 episodes – Olmos was in 106 of them. He also appeared in numerous popular television series, including "American Family" (2002-2004), "Battlestar Galactica" (2003-2009), "Dexter" (2011), and "Mayans M.C." (2018- present).
His movie debut was also in 1974 as he had an uncredited role of a junkie in the bathroom in "Black Fist." After a series of portraying minor and supporting roles, he was cast as Jaime Escalante in 1988 in "Stand and Deliver", which earned him a nomination for Best Actor at the 61st Academy Awards.
He was then part of several hit movies, including "Selena" (1997), "The Green Hornet" (2011), "El Americano: The Movie" (2016), and "Coco" (2017).
Edward was in more than 120 movies and television series from 1974 to 2019, and a few more are yet to be released. He produced and directed some of them as well.
He married Kaija Keel in 1971 they divorced in 1992, having had two kids, Bodie and Mico, and adopted four more, namely Tamiko, Brandon, Michael, and Daniela. His second wife was the actress, Lorraine Bracco, whom he married in 1994, but they divorced in 2002.
Excited to be a part of @StoriesFromTomorrow! Kids from all around the world have written poems, stories & Self-expression lets the world know what is inside you! @StoriesFromTomorrow Text TOMORROW to 707070 to make a donation change children's lives. #StoriesFromTomorrow pic.twitter.com/L5Ke9mIbHE

— Edward James Olmos (@edwardjolmos) June 21, 2020
Interesting facts and rumors
Lymari was involved in a controversy in Ponce, when she was hired to render her services for consultation, promotion of art films, and offering acting workshops for 11 months for $55,000. The legislator Vilma Flores, a member of the Ponceño Autonomous Movement (MAP), accused Mayor Maria Melendez Altieri of hiring Nadal when there are non-profit organizations that can do those things at no cost to the government.
It was said that ABC developed a sitcom that was to be her TV debut, supposedly about her grad school life, but it was never picked up.
Appearance
She is 5ft 8ins (1.73m) tall and weighs around 117lbs (53kg); her dress size is 8. She has brown hair and green eyes..
Net worth
Lymari has an estimated net worth of over $3 million as of June 2020, according to sources.
General Info
| | |
| --- | --- |
| Full Name | Lymari Nadal |
| Date Of Birth | February 11, 1978 |
| Height | 1.75 m |
| Profession | Actor |
| Education | Pontifical Catholic University of Puerto Rico |
Family
| | |
| --- | --- |
| Spouse | Edward James Olmos |
| Children | Bodie Olmos, Mico Olmos |
Accomplishments
| | |
| --- | --- |
| Nominations | Screen Actors Guild Award for Outstanding Performance by a Cast in a Motion Picture |
| Movies | American Gangster, Battlestar Galactica: The Plan, Thieves and Liars, America, Light From the Darkroom |
Social profile links
Facts
Pictures
Movies
Actress
| Title | Year | Status | Character |
| --- | --- | --- | --- |
| Kreep | 2016/I | completed | Kreep |
| Light from the Darkroom | 2014 | | Blanca |
| The Blackout | 2014 | | Julia |
| América | 2011 | | America |
| CSI: NY | 2010 | TV Series | Hazel Ortega |
| Battlestar Galactica: The Plan | 2009 | Video | Giana O'Neill |
| American Gangster | 2007 | | Eva |
| Thieves and Liars | 2006 | | Marisol |
| Te amaré en silencio | 2003 | TV Series | Linda |
| Battlestar Galactica | 2003 | TV Mini-Series | Giana |
| American Family | 2002 | TV Series | Linda |
Writer
| Title | Year | Status | Character |
| --- | --- | --- | --- |
| América | 2011 | written by | |
Producer
| Title | Year | Status | Character |
| --- | --- | --- | --- |
| Kreep | 2016/I | executive producer completed | |
Self
| Title | Year | Status | Character |
| --- | --- | --- | --- |
| Más vale tarde | 2008 | TV Series | Herself |
| Fallen Empire: Making 'American Gangster' | 2008 | Video documentary | Herself |
Awards
Nominated Awards
| Year | Award | Ceremony | Nomination | Movie |
| --- | --- | --- | --- | --- |
| 2008 | Actor | Screen Actors Guild Awards | Outstanding Performance by a Cast in a Motion Picture | American Gangster (2007) |
Source:
IMDb
,
Wikipedia