• Edgar Hansen is an American fisherman and former TV personality known for appearing in Discovery's "Deadliest Catch" as deck boss of shipping boat Northwestern.
• In 2018, Edgar Hansen was found guilty of sexually assaulting a 16 year old girl and was charged with $1,653 in fees as part of his plea deal.
• Edgar is married to his high school sweetheart and they have three children together.
• His brother Sig Hansen is Captain of Northwestern and is an accomplished writer and voice actor.
• Edgar has an estimated net worth of $700,000 and has a degenerative medical condition on his spine.

Known for movies
Short Info
| | |
| --- | --- |
| Date Of Birth | January 14, 1971 |
| Spouse | Louise Hansen |
| Fact | Brother-in-law of June Hansen. |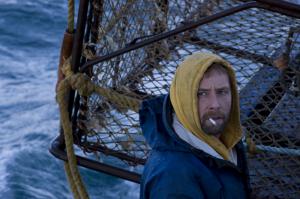 Edgar Hansen is an American fisherman and former TV personality born on 14 January 1971, in Seattle, Washington USA. He's known for appearing in Discovery's "Deadliest Catch" as deck boss of shipping boat Northwestern.
Early Life
Edgar Hansen was born third and youngest son of Sverre and Snefryd Hansen. Following his Norwegian family's decades-long tradition, Edgar along his older brothers Sig and Norman were included into the crab fishing business from an early age.
There's no information about Edgar's childhood or education. It's known though, that he didn't attend College as he officially joined his family's boat Northwestern when he was 18 years old. At the time his brother Sig had already become ship's Captain.
Career
Fishermen
Edgar's first position in Northwestern was as cook, though he soon progressed to become a deck job. Despite being described as "flunky" by his brother Sig in his beginnings, Edgar found himself a place in the ship and successfully became its chief engineer and deck boss, maintaining said position for three decades.
Deadliest Catch
Edgar's first appearance in "Deadliest Catch" was in its first season in 2005. Although it was his brother's Sig who acted as Captain of Northwestern, Edgar gained popularity as well for his achievements as deck boss and engineer. Edgar's most memorable time during the show came when he took over as Captain during Bairdi season, due to his brother's absence from the boat for health issues.
Although full of experience, Edgar was severely criticized as substitute Captain by Northwestern's crew members, who often questioned his decisions and eventually defied his authority when Edgar decided to continue fishing despite facing stormy weather, which could have seriously damaged the boat, cause injuries to the crew or the loss of shipmen.
Edgar's sour experience as Captain didn't face him though, and he returned once again as deck boss in the following seasons of "Deadliest Catch" until 2018, when he officially retired from the show due to legal problems.
Other TV Appearances
Edgar made a variety of appearances in "Deadliest Catch" spin-off specials and documentaries. He was also interviewed in TV shows such as "Jimmy Kimmel Live!" and "Last Call with Carson Daly".
In 2020 Edgar Hansen appeared in one episode of "This Old House: Trade School", series centered on home improvement projects.
Legal Problems
In 2018 Edgar Hansen was found guilty of sexually assaulting a teenage girl. The incident occurred in September 2017, when Edgar forcibly kissed and inappropriately touched the 16 years old at a residence in Mountlake Terrace, Seattle.
The crime, which was confessed by the victim to her therapist and then to a police officer in October 2017, was admitted by Edgar in a public statement: 'I committed this assault for the purpose of my own sexual gratification. I am very sorry for that conduct and I have commenced treatment to ensure that nothing like this assault ever happens again'.
Due to a plea deal with Snohomish County prosecutors, Edgar didn't face jail and was instead charged with $1,653 in fees. Court ordered Edgar to give authorities a DNA sample, in addition to undergo evaluation and treatment on sexual deviancy. Any future charges related to the case are not going to be pursued, prosecutors agreed.
After this scandal, Edgar Hansen didn't appear again in "Deadliest Catch", though he conserved his position as deck boss in Northwestern.
Personal Life
Marriage
Edgar Hansen is married to Louise Hansen, who is said to be his high school sweetheart.
The couple which has been married since the 80's, renewed their marriage votes in 2009 after Edgar proposed it in an aired episode of "Deadliest Catch": 'You've been with me through a lot of crap, you've always been there for me even at the worst. Just to signify for our new start, Will you marry me again?'
The couple has three children together who are named Logan, Erik and Stefanie. The only one of Edgar's children who has followed his family's fishing tradition is Erik, who joined Northwestern's crew in 2017.
Brother – Sig Hansen
Edgar's brother Sig has had a significant career as Captain of Northwestern ever since he took over the position in the 80's, when he was 24 years old.
Sig has made sure his family's ship has an impressive safety record under his command, counting zero deaths at sea for over 30 years. In addition, Northwestern's injury rate is low compared to other crab fishing boats in Alaska. This achievement is outstanding considering crab fishing is one of the most dangerous jobs in US.
On top of his fisherman career, Sig also became an accomplished writer when his book "North By Northwestern: A Seafaring Family on Deadly Alaskan Waters" was published in 2010, turning out a bestseller in Wall Street Journal and New York Times.
Sig's health was severed in 2016 when he suffered a heart attack at sea, forcing him to leave fishing season, returning to his Captain duties in 2017.
Unfortunately, Sig suffered a second heart attack in 2018 produced by an allergic reaction to a medicament. It was during this series of absences though, that his brother Edgar temporarily took over his position as Captain to keep the family business active.
In 2017 Sig's career was partially shadowed by allegations of sexual abuse made by his estranged daughter Melissa Eckstrom, who is the only children resulting of Sig's first marriage to a woman named Lisa Eckstrom.
Melissa, who claims her father sexually abused her when she was two years old, suffered of depression and eating disorders in her childhood resulting of her trauma.
Sig negated his daughter's accusations, claiming it was a stunt: 'This is nothing more than an old-fashioned shakedown. It's a completely frivolous lawsuit full of lies that my ex-wife made up to take away my daughter, and still uses to try to extort money from me. It's blackmail.'
Despite Hansen's efforts to dismiss the allegations, claiming they were a continuation of his divorce and custody trial in 1992, a Washington State Court in 2018 determined Melissa's accusations can proceed to a lawsuit as she 'is entitled to her own day in court'.
Sig is still part of "Deadliest Catch" cast, and his brother Edgar actively defended him from said accusations.
Net Worth
Edgar Hansen has an estimated net worth of $700,000 as a result of his work as deck boss and engineer of his family's boat Northwestern.
Physical Appearance
Edgar Hansen is a man of white ethnicity, with blond hair and blue eyes. Though he has a slender build, his weight and stature are unknown.
Interesting Facts
Despite being wary of Edgar's work ethic, Sig Hansen's opinion of his brother changed as years passed, calling him 'a talented member of the crew' in recent years.
Edgar suffers a degenerative medical condition on his spine, which severely affected the performance of his duties as fisherman.
Edgar saved Northwestern and its crew when a fire broke out in the ship, caused by an engine's room electrical failure.
#SlimeBallAlert @Discovery#EdgarHansen of #DeadliestCatch sexually assaulted a teenage female and was rewarded w/NO jail time. Hell, seems like these crimes pay. The criminal rarely faces the consequences of their actions#SexualAssault #https://t.co/Y4MkJntVT2

— Geo Bush:War Criminal (@Ontheflipside09) July 19, 2018
His zodiac sign is Capricorn.
Edgar and his brothers Sig and Norman speak fluent Norwegian, as his parents actively spoke the language at home when they were kids.
Edgar's father and grandfather were Alaska's pioneers of opilio crab fishing.
Edgar's older brother Norman has the position of deckhand.
Northwestern is the only fishing boat in "Deadliest Catch" that has been featured in its 16 seasons.
Edgar's older brother Sig voiced Crabby's character in "Cars 2".
General Info
| | |
| --- | --- |
| Full Name | Edgar Hansen |
| Date Of Birth | January 14, 1971 |
| Nationality | American |
Family
| | |
| --- | --- |
| Spouse | Louise Hansen |
| Children | Erik Hansen, Stefanie Hansen, Logan Hansen |
| Parents | Sverre Hansen, Snefryd Hansen |
| Siblings | Sig Hansen, Norman Hansen |
Accomplishments
| | |
| --- | --- |
| TV Shows | Deadliest Catch, After the Catch |
Social profile links
Quotes
| # | Quote |
| --- | --- |
| 1 | (on his sons fishing) I don't want this life for them. I want them to stay home and be with their families. |
| 2 | (on fishing) It's not all about the money. There's pride, there's our heritage. It's in our blood. It's addicting. |
Facts
Pictures
Movies
Self
| Title | Year | Status | Character |
| --- | --- | --- | --- |
| Deadliest Catch | 2005-2017 | TV Series documentary | Himself - Deck Boss & Engineer: Northwestern / Himself - Relief Captain & Deck Boss: Northwestern / Himself - Deck Boss / ... |
| Deadliest Catch: Evolution of Danger | 2017 | TV Movie | Himself - Deck Boss: Northwestern (as Edgar) |
| Deadliest Catch: Legends Born & Broken | 2017 | TV Movie | Himself - Relief Skipper & Deck Boss: Northwestern |
| Deadliest Catch: Sig Hansen Legacy | 2016 | TV Movie documentary | Himself - Relief Skipper & Deck Boss: Northwestern |
| Deadliest Catch: The Bait | 2013-2016 | TV Series | Himself / Himself - Co-Host / Himself - Deck Boss: Northwestern / ... |
| Deadliest Catch: A Season in Hell | 2016 | TV Movie | Himself - Relief Captain & Deck Boss: Northwestern |
| Deadliest Catch: Season 10 Revealed | 2015 | TV Movie | Himself - Relief Captain & Deck Boss: Northwestern |
| Deadliest Catch: Legend of the Northwestern | 2014 | TV Movie documentary | Himself - Relief Captain |
| Deadliest Catch: Season 9 Revealed | 2014 | TV Movie documentary | Himself - Deck Boss & Engineer & Captain |
| This Old House | 2014 | TV Series documentary | Himself - Crab Fisherman |
| The Insider | 2013 | TV Series | Himself |
| Deadliest Catch: An Epic Season | 2013 | TV Special | Himself - Deck Boss & Engineer: Northwestern |
| Deadliest Catch: Best of Season 8 | 2013 | TV Special | Himself |
| Deadliest Catch: Behind the Scenes | 2012 | TV Movie documentary | Himself - Deck Boss & Engineer: Northwestern |
| Deadliest Catch: Revelations | 2012 | TV Movie documentary | Himself - Deck Boss & Engineer: Northwestern |
| After the Catch | 2007-2012 | TV Series documentary | Himself |
| Deadliest Catch: Inside the Catch | 2012 | TV Series documentary | Himself - Deck Boss & Engineer: Northwestern |
| Deadliest Catch: Best of Season 7 | 2012 | TV Special | Himself - Deck Boss & Engineer: Northwestern |
| Deadliest Catch: Behind the Scenes - Season 7 | 2011 | TV Movie documentary | Himself - Deck Boss & Engineer: Northwestern |
| Deadliest Catch: Greenhorns | 2011 | TV Movie | Himself - Deck Boss & Engineer: Northwestern |
| Deadliest Catch: Scariest Moments at Sea | 2010 | TV Movie | Himself (uncredited) |
| Deadliest Catch: Best of Season 5 | 2010 | TV Movie | Himself |
| Deadliest Catch: Behind the Scenes - Season 5 | 2009 | TV Movie documentary | Himself (uncredited) |
| Ca$h Cab | 2009 | TV Series | Himself |
| Deadliest Catch: Alaskan Storm | 2008 | Video Game | Himself (voice) |
| The Tonight Show with Jay Leno | 2007-2008 | TV Series | Himself |
| Deadliest Catch: Behind the Scenes | 2007 | TV Movie documentary | Himself |
| Last Call with Carson Daly | 2007 | TV Series | Himself |
| Jimmy Kimmel Live! | 2007 | TV Series | Himself |
| Trading Spaces | 2004 | TV Series | Himself |
Archive Footage
| Title | Year | Status | Character |
| --- | --- | --- | --- |
| Deadliest Catch: The Beginning | 2013 | TV Movie | Himself - Deckboss & Engineer: Northwestern |
Source:
IMDb
,
Wikipedia