• Corey Harrison is a pawn shop owner and cast member of the History Channel show "Pawn Stars"
• He is the son of Rich Harrison and Kim, and the grandson of Richard Benjamin Harrison
• Corey was originally employed as an electrician and construction worker, but eventually returned to the family business
• He is a star of multiple TV shows and documentaries, and is known for his "Big Hoss" nickname
• Corey has a net worth of over $4 million as of mid-2020

Known for movies
Short Info
| | |
| --- | --- |
| Date Of Birth | April 1983 |
| Spouse | Charlene Harrison |
| Fact | Son of Rick Harrison. Grandson of Richard Harrison. |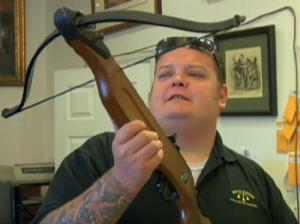 For too many people, pawn shops are a thing of the past. However, for Corey Harrison, this is his job and for him an extremely lucrative business. Following in the footsteps of his father and grandfather, Corey has achieved a significant amount of fame from his appearance in History Channel's show, "Pawn Stars", which is produced by Letfield Pictures. Corey's life is a subject of fascination, consequent of his persevering and determined attitude. He may have been through two divorces, but he's also negotiated his way into a share of the family business. His success is legendary, and he and his relatives number amongst the richest and most prolific members of the "Pawn Stars" cast.
Early Life and Family
Richard Corey Harrison was born on 27 April 1983, in Las Vegas, Nevada USA, to Rich Harrison and Kim, who have since divorced. Corey has three brothers – Adam, Christopher, and Jake – yet he appears to be the only one to carry on the family tradition. In the world of "Pawn Stars", Corey experiences a star-studded existence, his father Rick and grandfather Richard Benjamin Harrison being iconic names in the industry. His grandfather is the origin of the family business, having opened the (now named) World Famous Gold and Silver Pawn Shop in 1989, after serving time in the navy. Corey began to participate in the business when he was only nine, polishing an assortment of items – knobs, antiques, jewelry – and doing other menial chores.
He also became firm friends with Austin Lee Russell (Chumlee), who would later go on to be employed in the Harrison family pawn shop.
Education
The details of Corey's formal schooling is unknown. It is possible that he didn't even matriculate, perhaps following his father who dropped out of school at the age of 13 to assist in the shop. Harrison did, however, become extremely proficient in the pawnshop industry, to the extent that he is often trusted to take care of a majority of the purchases and evaluations.
Career
Early Ventures
It did not always seem that Harrison would follow in the footsteps of his father and grandfather – after all, the business was already thriving with two co-owners at its head.
When Corey first started working, it was not within the walls of World Famous Gold and Silver Pawn shop, but as an electrician, and later at a sawmill where he was contracted as a construction worker. However, these odd jobs left Corey unfulfilled, and he soon returned to the familiar shelves of antiques, jewelry, and other pawned items.
World famous Gold and Silver Pawn Shop
However, Corey was determined not to go back to polishing and cleaning as he had since he was nine years old. His father and grandfather concurred with this notion, and appointed him as manager, in charge of more than 30 employees, including his long-time friend, Chumlee. Harrison developed a knack for his work, and even though he was not a professional appraiser he had an eye for fakes, and an ability to identify the truly valuable.
Corey's abilities soon became indispensable, and he makes most of the purchases and sales, working closely with antique dealers and other professionals in various fields.
"Pawn Stars"
While many shows on the History channel follow multiple storylines and competing businesses, "Pawn Stars" focuses solely on the events that occur in the World Famous Gold and Silver Pawn Shop. The show premiered on 19 July 2009, and at this point has run for 17 seasons. Rick Harrison had been trying to cultivate an interest in doing a show about his experiences for four years, and Brent Montgomery and Colby Gaines of Letfield Pictures ventured into Las Vegas pawn shops during a trip, and spied the possibilities for a series.
The popularity of the show soon saw a spawn of spin-off docuseries, including "Counting Cars" (2012) and "American Restoration" (2010). Corey's role in the show earned him the nickname 'Big Hoss', as well as a reputation of proficiency within the community. During the sixth season of the show in 2012, Corey informed his father and grandfather that he would be seeking alternative employment unless he received a 10% stake in the business.
While this initially caused some uproar, they soon settled on 5% and a promise of more to come.
The store also narrowly avoided legal trouble, when the police raided Chumlee's home while he was under investigation for alleged sexual assault in 2016.
While the outcome of that investigation is unknown, what the police found in his home-raised more than a few eyebrows. Stashes of marijuana, crystal meth, Xanax, firearms, and possible traces of cocaine were unearthed, however, this didn't appear to affect his status on the show and in the store, as he continues to work there to this day, and is still popular in the TV series.
Other Appearances
Corey Harrison has appeared in a host of other TV shows and documentaries, usually to provide enlightenment into the world of pawn shops. Younger viewers may recognize Corey, Rick and Chumlee for their "iCarly" appearance in the 2012 episode "iLost my Head in Vegas".
He has also appeared in "Pawnography" (2014 – 2015), "American Restoration" (2010 – 2011), "Counting Cars" (2012), and notable talk shows such as "Jimmy Kimmel Live!".
Personal Life
Relationships and Family
Like his father, Corey did not have the best luck when it came to marriage. Harrison first married his high-school sweetheart, Charlene in 2009. They had created a strong bond through the years, but the relationship eventually fell apart, and they divorced in 2015. Two years later, Harrison tied the knot in July 2017 in San Diego with his long-time girlfriend, Korina (Kiki), but this marriage lasted only a year, as they filed for divorce in August of 2018, which was finalized on 10 September of that year.
Harrison has at least two children – a son and a daughter named Jacob and Sarina – but it is unclear when, and to whom, they were born. Corey also lost his grandfather on 25 July 2018 after a determined battle with Parkinson's disease.
Health
Pawnshop owners and antique dealers are often associated with a love of motorcycles and antique vehicles, and Corey is no different. In 2014, this proved of utmost detriment to his health, when he was involved in a motorcycle incident on April 26. Corey was on his way to his 31st birthday party, driving at 40 miles per hour when he was forced to dive off his bike to avoid a major accident.
This likely saved his life, but he still sustained multiple injuries including a broken arm, back and foot injuries, and multiple lesions. Despite this, he still went to his party, before he made his way to the emergency room.
This was the second health scare the star had experienced, as in 2011 he had learned that he was pre-diabetic, because of his obese stature. Shocked by the implication of this diagnosis, when he drove past a lap-band surgery clinic on the way home, he decided to give it a shot. This was not as simple as appears, taking him four credit cards to pay for the surgery. Within a couple of days, he had the surgery and embarked on a revolutionized diet and exercise plan. By 2014, he had lost an impressive 192lbs (87kg).
Great times in Mexico City pic.twitter.com/OfdfGlVDTb

— corey harrison (@corey_harrison) December 29, 2018
Appearance
Having lost so much weight, Corey Harrison has completely changed his look and attitude towards life. Harrison has darker blond hair with carrot undertones that he wears long, along with a square beard. He has pale blue eyes, and now appears fit and healthy. Corey Harrison is on the taller side of the spectrum at 6ft (1.8m) tall, and weighs only 208lbs (94kgs) after his dramatic weight loss.
Net Worth
Corey has multiple sources of income, such as the World Famous Gold and Silver Pawn Shop, "Pawn Stars" and other multiple business ventures, such as a beauty salon. He has achieved an impressive net worth of over $4 million, as of mid-2020.
General Info
| | |
| --- | --- |
| Full Name | Corey Harrison |
| Date Of Birth | April 1983 |
| Profession | TV Personality, Businessperson |
| Nationality | American |
Family
| | |
| --- | --- |
| Spouse | Charlene Harrison |
| Parents | Rick Harrison, Kim Harrison |
| Siblings | Jake Harrison, Adam Harrison |
Accomplishments
Social profile links
Facts
| # | Fact |
| --- | --- |
| 1 | Son of Rick Harrison. Grandson of Richard Harrison. |
Pictures
Movies
Actor
| Title | Year | Status | Character |
| --- | --- | --- | --- |
| Pawn Stars | 2014-2016 | TV Series | |
Self
| Title | Year | Status | Character |
| --- | --- | --- | --- |
| Pawnography | 2014-2015 | TV Series | Himself |
| Pawn Stars | 2009-2014 | TV Series | Himself / Himself - 'Big Hoss' / Himself - Big Hoss |
| The Daily Helpline | 2014 | TV Series | Himself - Co-Host |
| Katie | 2013 | TV Series | Himself - Pawn Stars |
| iCarly | 2012 | TV Series | Himself |
| Counting Cars | 2012 | TV Series | Himself |
| Live with Kelly and Ryan | 2012 | TV Series | Himself - Guest |
| The Tonight Show with Jay Leno | 2010-2012 | TV Series | Himself |
| The 2011 American Country Awards | 2011 | TV Special | Himself |
| American Restoration | 2010-2011 | TV Series | Himself |
Source:
IMDb
,
Wikipedia