• Born Kevin Joseph Aloysius Connors on 10 April 1921 in Brooklyn, New York City USA
• Grew up facing poverty with his family's Roman Catholic tradition, and became an altar boy in Sunset Park's school Our Lady of Perpetual Help Basilica, which he also attended
• Showed an amazing physical prowess and talent in various sports, gaining him a spot to play in the local baseball team, Bay Ridge Celtics
• Won viewers' hearts with his memorable role in the TV series "The Rifleman" and the movie "Old Yeller"
• Had an estimated net worth of $5 millions, a result of his career as actor and as a professional basketball and baseball player

Known for movies
Short Info
| | |
| --- | --- |
| Date Of Birth | April 10, 1921 |
| Died | November 10, 1992, Los Angeles, California, United States |
| Spouse | Faith Quabius, Kamala Devi, Elizabeth Riddell |
| Mark | Brooklyn accent. |
| Fact | Was a Boy Scout. |
| Payments | Earned $7,500 /week from Arrest and Trial (1963) |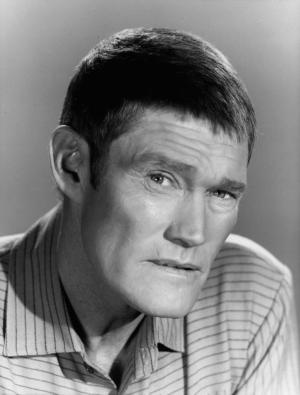 Chuck Connors was an American actor and professional baseball and basketball player, born on 10 April 1921 in Brooklyn, New York City USA. He's known for his memorable role in the TV series "The Rifleman" and the movie "Old Yeller".
Early Life
Kevin Joseph Aloysius Connors was born the only son of Marcella and Alban Connors, Irish immigrants from Newfoundland and Labrador. The 1930's Great Depression left his father unemployed for years, and his mother became the backbone of the family by working in office buildings scrubbing floors.
This resulted in Kevin and his younger sister Gloria growing-up facing the harshness of poverty. In his childhood and following his family's Roman Catholic tradition, Connors became an altar boy in Sunset Park's school Our Lady of Perpetual Help Basilica, which he also attended.
From childhood, Connors showed an amazing physical prowess and talent in various sports, a skill that gained him a spot to play in the local baseball team, Bay Ridge Celtics, and where he met coach John Flynn, who helped Connors to gain a scholarship to attend Adelphi Academy. Besides playing football and basketball during his high school years, Connors became a valuable asset for its baseball team. Allegedly he received numerous scholarship offers to attend various colleges.
However, he finally chose Seton Hall University in New Jersey, where he played in both the college's basketball and baseball teams.
Change of Name
It's rumored that Kevin changed his name during his college years because he disliked his first name "Kevin".
Following a story told by his sister Nancy in 1997, Connors decided to adopt a name he thought suitable for him, trying with various nicknames such as "Lefty", "Stretch" and finally "Chuck", which originated from the custom phrase he would yell from his first base position to the pitcher 'Chuck it to me, baby, chuck it to me!'.
However, other sources contradict this rumor and even Connors said something different in 1945: 'They called me Chuck when I started playing baseball because they thought Kevin was effeminate'. Thus the year he officially started being known like this is undisclosed.
Career
Baseball – First Steps
Connors had been an avid fan of the now disappeared Brooklyn Dodgers since his childhood.
His dream of joining the team became a reality in 1940,  when he signed a contract to play with them in a minor-league, leaving his studies aside in favor of baseball. However, his stay with the Dodgers was short-lived, as he was assigned to a Class-D League in Arkansas. In 1941 he signed with Norfolk Tars of Piedmont League, playing a total of 72 games with them during his one-year stay.
Army – 1942
On 20 October 1942 Connors left the league to enlist in US Army to serve his country during World War II. He was located at Fort Campbell in Kentucky as an instructor in tank-warfare, and was officially discharged in 1946.
Between Basketball and Baseball
After the war ended Chuck Connors went back to sports, though he didn't return to baseball right away, and instead played in the National Basketball League's (NBL) team Rochester Royals, participating in 14 games with them until his exit in March that year, going back to baseball to train with the New York Yankees.
After winning the National Baseball Minor League with a Yankees' small team, Connors was transferred to the Brooklyn Dodgers and joined its farm club in Newport, Virginia. With this team he earned a good reputation as player, and became one of the prime prospects to form part of the main Dodgers team.
In the fall of 1946 Connors returned to his other career, joining the Basketball Association of America signing with the newly formed Boston Celtics. However, his role in the team wasn't that promising: 'I'm positive my greatest value to the Celtics was as an after-dinner speaker. It seems to me I did more public speaking for the team than playing that first season. They sent me all over New England on speaking engagements.'
Despite this, Connors would always been remembered as a legend of the National Basketball Association (NBA), for being the first player to shatter a backboard.
Baseball – Professional League
In 1947 Connors left basketball for good, after noticing that he was losing physical condition for baseball: 'I had to leave the Celtics in late February for spring training, and figured I was in great shape because I had been running on the boards all winter. But because of that I found my legs actually were much tougher to get into condition. I think my baseball legs were bothered very much by basketball'.
Back with the Brooklyn Dodgers, Connors was sent to play in its Class-AA team Mobile, in Alabama, slowly ascending the league chain. This led him to be assigned to play in a top club in Montreal. Although his efforts were compensated by winning the International League, he wasn't close to become a first baseman with the Dodgers. His playful and comedic nature helped him though, earning a good image with media that executives thought would be a positive for the team.
Thus this led him to become Dodger's first base man in 1949.
During one of his first games with the team he was hit in his mouth by a ball, and taken to a hospital. This accident cost him two exhibitions games and a third one lost. Ultimately, Connors was put on the bench by the coach's decision.
Shortly after this event executives took the decision to transfer Connors to the farm team Los Angeles Angels, which resulted in his favor, as in California, he met various producers, directors and other people in the entertainment industry.
Acting
During his time playing with the Angels, Connors received a call from director Bill Grady to be tested for a small role in "Pat and Mike". This served Connors well, as he felt that he'd found his next career: 'I said right then, this is my racket.
Playing with Tracy and Hepburn, I was in the big leagues much faster than I arrived there in baseball'.
Although he continued playing baseball, his acting appearances continued to increase, and by 1952 he had roles in various movies which provided him with a better income than his career in sports. In 1953 he officially left baseball, though he was always grateful for what it gave him: 'Baseball owes me nothing. I owe it all that I have and much of what I hope to have. Baseball made my entrance to the film industry immeasurably easier than I could have made it alone. To the greatest game in the world I shall be eternally in debt'.
In his acting career, Connors appeared in several movies, including "Move Over Darling", "Soylent Green" and "Flipper". He also became a recurrent TV actor, with roles in series such as "Dear Phoebe", "Hey, Jeannie!" and "Here's Lucy".
However, there were two roles that cemented his career in Hollywood. First he appeared as Burn Sanderson in the Disney adventure movie "Old Yeller" in 1958. With this character he won viewers' hearts, and led him to be cast in the starring role of "The Rifleman" as Lucas McCain. The western series ran for five years from 1958 to 1963, and would be the most widely recognized acting work of his career.
Personal Life
Romantic Life
Connors married for the first time in 1948 to Elizabeth Riddel, who he met at a baseball game. The couple had four sons together named Michael, Jeffrey, Stephen and Kevin, but ultimately filed for divorce in 1961.
In 1963 Connors married Kamala Devi, his co-star in "Geronimo". The couple didn't have any children, and divorced in 1973.
In 1973 Connors met actress Faith Quabius during the film of "Soylent Green" and they married four years later. However, the union was short lived, and they filed for divorce in 1979.
Connors' last publicly known romantic relationship was with Rose Mary Grumley, who was with him until he died.
Death
On 10 November 1992 Connors died in a Los Angeles' medical center as a result of complications related to lung cancer, an illness resulting from his decades-long habit of smoking, although he gave it up in 1972.
Net Worth
Chuck Connors had an estimated net worth of $5 millions, a result of his career as actor, and as a professional basketball and baseball player.
Physical Appearance
Chuck Connors was a man of American ethnicity. His impressive stature and defined facial features gave him a tough looking appearance. He was 6ft 6ins (1.98) tall, though his weight is unknown. His hair was dark-brown and his eyes blue.
Interesting Facts
He was interested in charity, and founded his own organization Chuck Connors Charitable Foundation.
Connors was a Republican Party supporter, developing a close friendship with Richard Nixon, and campaigning for Ronald Reagan a former colleague in the acting profession.
Connors met Soviet Union's leader Leonid Brezhnev in 1973, and gifted him two Colt six-guns.
His father obtained his American citizenship in 1914 and his mother in 1930.
General Info
| | |
| --- | --- |
| Full Name | Chuck Connors |
| Date Of Birth | April 10, 1921 |
| Died | November 10, 1992, Los Angeles, California, United States |
| Height | 1.97 m |
| Weight | 86 kg |
| Profession | Screenwriter, Basketball player, Actor, Baseball player |
| Education | Seton Hall University, Adelphi University |
| Nationality | American |
Family
| | |
| --- | --- |
| Spouse | Faith Quabius, Kamala Devi, Elizabeth Riddell |
| Children | Jeff Connors, Kevin Connors, Steve Connors, Mike Connors |
| Parents | Allan Connors, Marcella Connors |
| Siblings | Gloria Connors |
Accomplishments
| | |
| --- | --- |
| Music Groups | The Upsetters |
| Movies | Soylent Green, The Big Country, Old Yeller, Pat and Mike, Tourist Trap, South Sea Woman, Ride Beyond Vengeance, The Proud and Damned, Geronimo, Airplane II: The Sequel, Move Over, Darling, Kill Them All and Come Back Alone, Captain Nemo and the Underwater City, Trouble Along the Way, Flipper, Tomaha... |
| TV Shows | Werewolf, The Yellow Rose, Cowboy in Africa, Branded, Arrest and Trial, The Rifleman, Roots |
Social profile links
Marks
| # | Marks / Signs |
| --- | --- |
| 1 | His rifle. |
| 2 | Brooklyn accent. |
| 3 | Deep commanding voice |
| 4 | Strong jawline and bold blue eyes |
| 5 | Towering height and athletic physique |
Salary
Quotes
| # | Quote |
| --- | --- |
| 1 | [About being a rugged sports player before he became a rugged leading man] I'm in about as good shape as when I quit baseball in 1952. |
| 2 | [In 1958] You're doing fine work. That pitch was right in there. |
| 3 | [of Barry Goldwater who suggested he try for the Senate in February 1967 during a conversation at the Tucson National Country Club] I was in the foursome in front of him and Arnold Palmer. We've met several times before and we were talking about Ronnie's [Ronald Reagan] election and politics in general when the senator said I should run for the Senate. I was flattered. I told him I didn't think it would be possible. He told me I might change my mind later on. |
| 4 | There were two things wrong with me. I had a crew cut and I've never been on a horse. I did something about it. I let my hair grow and I shopped around for a horse. |
| 5 | [on the cancellation of The Rifleman (1958)] I knew what [The Lucy Show (1962)] would do to our ratings and I didn't want to wait around until our show was dropped and I might be an actor nobody wanted. The show would have gone five years, and that's long enough. By that time, you have done everything possible with your characters. If you keep on going, you're just cheating the public. |
| 6 | [on his popularity while playing the 40-something Lucas McCain on The Rifleman (1958)] What did I find out? That the concept of "Rifleman" is sound. I asked if people wanted any changes. Most of them said to leave it as it is. I asked if they wanted Lucas McCain to marry. They said no. |
| 7 | [In 1961] I've been wanting to do a movie. I've had some offers, but they always wanted me to play the same kind of character as Lucas McCain [The Rifleman (1958)]. So I turned the pictures down, including The Alamo (1960). People see me for free every week as Lucas; why would they pay to see me in the same type of role? |
| 8 | [In 1953] I owe baseball all that I have and much of what I hope to have. Baseball made my entrance to the film industry immeasurably easier than I could have made it alone. To the greatest game in the world I shall be eternally in debt. |
| 9 | [on how he landed the starring role in South Sea Woman (1953)] I had done just a couple of pictures, and I was sitting outside a little dressing room at Warner Bros, and they were testing a lot of people [for the role of Pvt. Davie White] and I was sitting in my Marine uniform waiting to be called and I went out to get a breath of fresh air, when down the street comes Burt Lancaster in a Marine uniform. And in those days the stars never tested with the actors. So I said to him, "Mr. Lancaster what are you doing here?" And he was a baseball fan, so he just decided to come down and test with me. So he took me in the dressing room to, as he said, "run the lines", and I didn't even know what that expression meant then. Finally I figured him out and I said, "Oh, you mean you want to practice?" So anyhow we read the scene and man he looked at me and said, "Boy we've got to work on this!" About then my name is called on the loudspeaker to come in on stage and Burt goes to the door and yells out to the people, "Hey, I'm talking here, we'll be another 20 minutes, go ahead and test somebody else". Well he went over that scene, seven pages long, to give me some semblance of approaching it proper. And then I went in and did it and got the part. But Burt took that time on his own and I gotta give him credit. |
| 10 | [on working in Pat and Mike (1952)] They paid me $500 for my week's work in that movie. I figured they'd made some mistake on the adding machine, but I stuck the check in my pocket and shut up. Baseball, I told myself, just lost a first baseman. |
| 11 | I'm more than satisfied to stay put in Los Angeles. The Coast League is one of the best leagues in baseball and the living and playing conditions are superior. |
| 12 | I have only five days to win the job. So I can't take time out for injuries. |
| 13 | [regarding his baseball career] I was a switch-hitter, remember? At most things, I'm a good with one hand as the other. |
| 14 | [In 1988] Somebody would like to have that [my agent]. He'll take that instead of commission. |
| 15 | [comparing his baseball and acting careers] So why not be a switch hitter with the rifle, too? Let's learn both ways. |
| 16 | [In 1960] What's cost? This is insurance. At what we pay Connors, what will it cost if he's crippled? |
| 17 | [on his first introduction to Johnny Crawford, who was auditioning to play his son Mark in The Rifleman (1958)] I remember the first time I saw him, I was sitting there with the producer and we were interviewing kids to play Mark. We must have interviewed 20 or 30, then Johnny came in and before we even talked to him I said, "That's him, that's The Rifleman's son". |
| 18 | [In 1987 about playing the lead in Werewolf (1987)] It's played very straight and dramatically, but with a tinge of black humor, I play evil incarnate, a 1,600-year-old man in full control of his werewolfism. Janos will kill and eat anybody and anything. Eric, on the other hand, kills only bad people in defense of his own life or those of innocent victims. |
| 19 | [In 1992, about being typecasted because of The Rifleman (1958)] If you're ever being typecasted--as most of us are-- that's a great way to be typecasted. So, "The Rifleman" is still popular with a lot of people, and I'm proud to be associated. |
| 20 | [In 1989] I was a bum of a hitter just not cut out for the majors. But, I will never forget Stan's kindness. When he finished watching me cut away at the ball, Stan slapped me on the back and told me to keep swinging. |
| 21 | [About the character he was best-known for] I can never get rid of The Rifleman (1958), and I don't want to. It's a good image. Basically, [the show] was the simplicity of the love between the father and the son. That was the foundation. The rifle was for show, but the relationship was for real. There was some violence, but at the end, I would explain to the boy that the violence was not something we wanted to do, but had to do. |
| 22 | Now who goes to the games in LA? Producers, directors, writers, casting directors. So because of the good year, I became a kind of favorite of the show business people, unbeknownst to myself. |
| 23 | [on his Lucas McCain character] Lucas was a righteous character, despite all the violence. We had the benefit of the father-son relationship, so I could have a little scene at the end of the show where I would explain to Mark, essentially, that sometimes violence is necessary, but it isn't good. And there was a lot of violence on The Rifleman (1958). We once figured out that I killed on the average of two and a half people per show. That's a lot of violence, but it was always covered by the scene with the little boy. And he would say, in essence, "Gee, you won Pa". And I would say, "Wait a minute son. You never win when you kill someone. It demeans you, it takes something away. People have got to learn to do away with violence and guns, and to love each other". And the viewers would forget the fact that I had killed three people during the show, because of the tender epilogue with Mark [Johnny's favorite scenes]. The warm father-son relationship was the heart of the program, and not only did we perform it, but Johnny and I became very close friends. |
| 24 | [Of Johnny Crawford] When Johnny came on the set in 1958, he was a little 12-year-old boy. He called everyone in the cast or crew "Sir" or "Ma'am". During the course of the five years of our run, he had two hit records, and he was nominated for an Emmy for Best Supporting Actor. And yet, when the show was finished after five seasons, Johnny went around and thanked everyone in the cast and crew, and he still called them "Sir" or "Ma'am". |
| 25 | Well, it isn't because I'm the fidgety guy, seriously, I have to sit there like a mummy you can't move. Regular makeup you can turn around and I sit there like that, and the worst part of it is, after working 14 hours, I can't just take it off, I have to sit for another hour because of the way they made these appliances, and they have to be taken out very slowly. |
| 26 | [on The Rifleman (1958)'s theme song] I hear the same thing everywhere I go. |
| 27 | [In 1973] The President gave me about two dozen presidential tie clips and ladies' pins, with instructions to spread them around when I thought it appropriate, Brezhnev [Soviet leader Leonid Brezhnev] will get more than a tie clip. I've ordered two engraved Colt revolvers for the General Secretary, Brezhnev is quite a western buff. |
| 28 | I don't want my kids growing up believing that there is nothing destructive in the world. I want them to know that there is good and bad in the world, that you can be hurt physically, that guns can kill you, that drugs are bad for you, that not everyone means well. |
Facts
| # | Fact |
| --- | --- |
| 1 | He was most widely known to be a social butterfly. |
| 2 | On The Rifleman (1958), his character had used a lot of rifles, in real-life, he owned rifles. |
| 3 | Connors wasn't the only baseball star to appear on The Rifleman (1958), a couple of former baseball stars appeared on that show were: Duke Snider and Don Drysdale. |
| 4 | He smoked three packs of Camel cigarettes a day until the 1970s. |
| 5 | Took part in a parade in New York in support of the Vietnam War in 1967, and campaigned for his friend Ronald Reagan. |
| 6 | Was a Boy Scout. |
| 7 | Was a member of the Sheriff's Advisory Board of Orange County, California. |
| 8 | He joined the Brooklyn Dodgers in 1949. |
| 9 | Connors was one of only twelve athletes in history to have played for both Major League Baseball and in the NBA. |
| 10 | Appeared on the front cover of TV Guide five times. |
| 11 | Acting mentor and friend of Johnny Crawford. |
| 12 | His father was born in Dunville and his mother in St. Marys, Placentia Bay, both in the Dominion of Newfoundland (now Canada). They were both of Irish descent. |
| 13 | Almost one year before his death, his first wife, Elizabeth "Betty" Connors, died on February 27, 1992, after a long illness. |
| 14 | Chuck Connors died on November 10, 1992, at 71. A couple of years before his death, he was devastated to hear about Burt Lancaster's stroke. He tried calling his office one day, but his office wasn't releasing any information at that time. Connors sent a letter in support of David Fury's nomination of Lancaster to the Cowboy Hall of Fame and signed the petition David sent to the American film Institute nominating Burt for the Lifetime Achievement Award in 1991. |
| 15 | Future The Rifleman (1958) co-star, longtime friend and devoted fan, Johnny Crawford, had once said in an interview that when he was just a little boy, he too was an avid baseball fan, like Connors was, and would bring his baseball equipment whenever both he and Connors would be on location, during filming. |
| 16 | Future comedians, Bill Rafferty and Vicki Lawrence, announcers Burton Richardson and Randy West, actors David Cassidy, Kathy Garver, Clarence Gilyard Jr., Bill Mumy, and talk show hostess, Oprah Winfrey describes him as one of their childhood television heroes. |
| 17 | Future actor LeVar Burton was also said to be a huge fan of Connors' series The Rifleman (1958), as a little boy. |
| 18 | Before he was an actor, he was a professional basketball and baseball player. |
| 19 | After he won a scholarship attending a private high school, he played basketball, football & baseball. |
| 20 | Had won numerous scholarships while in high school, but chose to attend Seton Hall College (now Seton Hall University). |
| 21 | His college studies were interrupted when he was enlisted in the United States Army in 1942 in Fort Knox, Kentucky. |
| 22 | Resumed his sports career after the war had ended. Connors had no choice other than to play professional basketball, when he continued to play baseball. |
| 23 | He had 10 hobbies: golfing, riding horses, reading, swimming, fishing, poetry writing, spending time with his family, baseball, philanthropy and politics. |
| 24 | Was best friends with: James Drury, Doug McClure, John Smith, Adam West, Jerry Lewis, Angela Lansbury, Joey Bishop, Regis Philbin, Paul Fix, Fess Parker, Gregory Peck, Alex Cord, James Arness, Peter Graves, Michael Landon, Robert Reed, Bob Hope, Frank Sinatra, Sammy Davis Jr., Dean Martin, Alvy Moore, Dabbs Greer, Richard Anderson, Gene Barry, Bill Quinn, Charlton Heston, Aaron Spelling, Tom Helmore, Richard Nixon, Burt Lancaster, James Stewart, Mickey Rooney, Julie Adams, Jeff York, Aldo Ray, Gerald Ford and Leonid Brezhnev. |
| 25 | His parents were Allan Connors, who was a longshoreman and Marcella Lundrigan Connors, a housewife. |
| 26 | Before he was an actor, he spent most of the war as a tank-warfare instructor in Camp Campbell, Kentucky, before West Point, New York. |
| 27 | Future talk show hosts - his friend, Regis Philbin and Arsenio Hall, were once said to be their admirable television heroes. Philbin was a young adult while Hall was just a child. |
| 28 | He was awarded a Star on the Hollywood Walk of Fame at 6838 Hollywood Boulevard in Hollywood, California on July 18, 1984. |
| 29 | At age 13, he remembered he was a lousy first baseman, and the man who made the biggest impact on his life was his coach on a team called the Celtics, a diminutive gent named John Flynn. |
| 30 | Years after The Rifleman (1958), he was a spokesperson for the United States Bureau of Alcohol, Tobacco and Firearms in the early 1970s. |
| 31 | His father, Allan died in 1966, followed by his mother, Marcella, who died in 1971. |
| 32 | Graduated from Adelphi Academy - a private high school in Brooklyn, New York, in 1940. |
| 33 | His series The Rifleman (1958) was canceled at the end of the fifth season, because both the actor himself and co-star Johnny Crawford had decided to move on to other projects. |
| 34 | Remained good friends with Johnny Crawford during and after The Rifleman (1958). |
| 35 | Best remembered by the public for his starring role as Lucas McCain on The Rifleman (1958). |
| 36 | Biography in: "The Scribner Encyclopedia of American Lives." Volume 3, 1991-1993, pp. 116-118. New York: Charles Scribner's Sons, 2001. |
| 37 | Was a film "enemy" of Charlton Heston at least twice -- as Buck Hannesey in The Big Country (1958) and as Tab Fielding in Soylent Green (1973). |
| 38 | In June 1973, he befriended Soviet Secretary General Leonid Brezhnev in a meeting at the White House. Connors traveled to the Soviet Union in December 1973, and presented Brezhnev with two Colt revolvers. In 1982, he asked his friend President Ronald Reagan if he could attend Brezhnev's funeral service, but he was not allowed to be part of the official US delegation. |
| 39 | A longtime smoker, he was hospitalized with pneumonia three weeks before his death. |
| 40 | He was a staunch supporter of the Republican Party as well as a frequent guest at the White House during the administration of his close friend President Richard Nixon. |
| 41 | Was an altar boy and parishioner at Our Lady of Perpetual Help Church in Bay Ridge, Brooklyn. |
| 42 | Before the 1940 baseball season, he was signed by the Brooklyn Dodgers as an amateur free agent. |
| 43 | On October 10, 1950, he was traded by the Brooklyn Dodgers - with whom he had appeared with in one game in 1949 - with Dee Fondy to the Chicago Cubs for Hank Edwards and cash. He spent part of the 1951 season with the Cubs. |
| 44 | Accepted the role of Mr. Slausen in Tourist Trap (1979) because he wanted to "become the Boris Karloff of the '80s". |
| 45 | He was the first NBA player to shatter a backboard; he did it while playing for the Boston Celtics in 1946. |
| 46 | Lucas McCain, Connors' character on The Rifleman (1958), was ranked #32 in TV Guide's list of the "50 Greatest TV Dads of All Time" [20 June 2004 issue]. |
| 47 | Inducted into the Hall of Great Western Performers of the National Cowboy and Western Heritage Museum in 1991. |
| 48 | In a 1997 biography titled "The Man Behind the Rifle", author David Fury says that "Chuck" Connors acquired his nickname while an athlete playing first base. He had a habit of calling to the pitcher: "Chuck it to me, baby, chuck it to me!". |
| 49 | Was elected to the Cowboy Hall of Fame in 1991. |
| 50 | Very likely the only guest commentator on Monday Night Baseball to use the F-word. |
| 51 | Almost suffered the same fate in each of his two television westerns. On a 10-2-61 episode of The Rifleman (1958) called "The Vaqueros", he was stripped to the waist, tied to a tree and left to die under a scorching sun by a group of Mexican bandits. On an 11-14-65 episode of Branded (1965) called "Fill No Glass for Me", he was stripped to the waist, tied to a tree and left to die under a scorching sun by a group of Indian warriors (in both cases he survived). |
| 52 | According to an article on television westerns in Time Magazine (March 30, 1959), Connors stood 6'5" tall, weighed 215 pounds, and had chest-waist-hips measurements of 45-34-41. |
| 53 | Chuck Person, an NBA Player, is named after him. |
| 54 | Four sons; Mike Connors, Jeff Connors, Steve Connors, Kevin Connors. |
| 55 | Connors also played professional basketball with the Boston Celtics. |
| 56 | Played major league baseball (for the Chicago Cubs) in 1951. |
Pictures
Movies
Actor
| Title | Year | Status | Character |
| --- | --- | --- | --- |
| Fast Backwards | 2001 | Short | The Star |
| A Man Who Fell from the Sky | 2001 | | Narrator and host |
| Three Days to a Kill | 1992 | | Capt. Damian Wright |
| The Gambler Returns: The Luck of the Draw | 1991 | TV Movie | Lucas McCain |
| Salmonberries | 1991 | | Bingo Chuck |
| Face the Edge | 1990 | | Buddy |
| Guns of Paradise | 1989-1990 | TV Series | Gideon McKay |
| Last Flight to Hell | 1990 | | Red Farley |
| High Desert Kill | 1989 | TV Movie | Stan Brown |
| Wolf | 1989 | TV Series | |
| Skinheads | 1989 | | Mr. Huston |
| Trained to Kill | 1989 | | Ed Cooper |
| Taxi Killer | 1988 | | |
| Murder, She Wrote | 1985-1988 | TV Series | Tyler Morgan / FBI Agt. Fred Keller |
| Terror Squad | 1988 | | Chief Rawlings |
| Once Upon a Texas Train | 1988 | TV Movie | Nash Crawford |
| Maniac Killer | 1987 | | Professor Roger Osborne |
| Werewolf | 1987 | TV Series | Janos Skorzeny Captain Janos Skorzeny |
| Summer Camp Nightmare | 1987 | | Mr. Warren |
| Sakura Killers | 1987 | | The Colonel (as Chuck Conners) |
| Eroi dell'inferno | 1987 | | Senator Morris |
| The All American Cowboy | 1985 | TV Movie | |
| Spenser: For Hire | 1985 | TV Series | King Powers |
| The Yellow Rose | 1983-1984 | TV Series | Jeb Hollister |
| Afghanistan pourquoi? | 1983 | | Soviet colonel |
| The Love Boat | 1983 | TV Series | Roy |
| Kelsey's Son | 1983 | TV Movie | Boone Kelsey |
| Balboa | 1983 | | Alabama Dern |
| Matt Houston | 1983 | TV Series | Castanos |
| Lone Star | 1983 | TV Movie | Jake Farrell |
| The Vals | 1983 | | Trish's Father - 'Boom-Boom Girls' Producer |
| There Was a Little Girl | 1982 | | |
| Airplane II: The Sequel | 1982 | | The Sarge |
| Hit Man | 1982 | | Sam Fisher |
| Fantasy Island | 1982 | TV Series | Frank Barton |
| The Capture of Grizzly Adams | 1982 | TV Movie | Frank Briggs |
| Best of the West | 1982 | TV Series | |
| Bordello | 1981 | | Jonathan |
| Walking Tall | 1981 | TV Series | Theo Brewster |
| Day of Resurrection | 1980 | | Capt. McCloud - HMS Nereid |
| Stone | 1980 | TV Series | Tom Lettleman |
| Day of the Assassin | 1979 | | Fleming |
| Tourist Trap | 1979 | | Mr. Slausen |
| Standing Tall | 1978 | TV Movie | Major Roland Hartline |
| The Night They Took Miss Beautiful | 1977 | TV Movie | Mike O'Toole |
| Roots | 1977 | TV Mini-Series | Tom Moore |
| Police Story | 1973-1976 | TV Series | Lt. Lew Randle / Sergeant Ed 'Bugs' Pebbles / Sergeant Barrett / ... |
| Nightmare in Badham County | 1976 | TV Movie | Sheriff Danen |
| Banjo Hackett: Roamin' Free | 1976 | TV Movie | Sam Ivory |
| The Six Million Dollar Man | 1975 | TV Series | Niles Lingstrom |
| Il lupo dei mari | 1975 | | Wolf-Larsen |
| 99 and 44/100% Dead | 1974 | | Claw Zuckerman |
| Here's Lucy | 1973 | TV Series | Chuck Connors |
| Soylent Green | 1973 | | Tab Fielding |
| The Mad Bomber | 1973 | | William Dorn |
| The Horror at 37,000 Feet | 1973 | TV Movie | Captain Ernie Slade |
| Set This Town on Fire | 1973 | TV Movie | Buddy Bates |
| Night Gallery | 1972 | TV Series | Roderick Blanco |
| Pancho Villa | 1972 | | Col. Wilcox |
| Night of Terror | 1972 | TV Movie | Brian DiPaulo |
| The Proud and Damned | 1972 | | Will Hansen |
| Embassy | 1972 | | Kesten |
| The Birdmen | 1971 | TV Movie | Colonel Morgan Crawford |
| Support Your Local Gunfighter | 1971 | | 'Swifty' Morgan (uncredited) |
| The Devil's Backbone | 1971 | | Reynolds |
| The Name of the Game | 1971 | TV Series | Governor Brill |
| The Virginian | 1971 | TV Series | Gustaveson |
| Captain Nemo and the Underwater City | 1969 | | Senator Robert Fraser |
| Kill Them All and Come Back Alone | 1968 | | Clyde McKay |
| Cowboy in Africa | 1967-1968 | TV Series | Jim Sinclair |
| Branded | 1965-1966 | TV Series | Jason McCord |
| Ride Beyond Vengeance | 1966 | | Jonas Trapp, the Tiger |
| Synanon | 1965 | | Ben |
| Arrest and Trial | 1963-1964 | TV Series | John Egan |
| Move Over, Darling | 1963 | | Stephen 'Adam' Burkett |
| Flipper | 1963 | | Porter Ricks |
| The Rifleman | 1958-1963 | TV Series | Lucas McCain / Earl Bantry |
| Geronimo | 1962 | | Geronimo |
| The DuPont Show with June Allyson | 1960 | TV Series | George Aswell |
| The Big Country | 1958 | | Buck Hannassey |
| The Adventures of Jim Bowie | 1958 | TV Series | Cephas K. Ham |
| Zane Grey Theater | 1958 | TV Series | Lucas McCain |
| Love That Jill | 1958 | TV Series | Cliff |
| Date with the Angels | 1958 | TV Series | Stacey L. Stacey |
| Hey, Jeannie! | 1958 | TV Series | Buck Matthews |
| Old Yeller | 1957 | | Burn Sanderson |
| The Restless Gun | 1957 | TV Series | Toby Yeager |
| The Lady Takes a Flyer | 1957 | | Phil Donahoe |
| Wagon Train | 1957 | TV Series | Private John Sumter |
| General Electric Theater | 1954-1957 | TV Series | Long Jack / Soldier |
| The Silent Service | 1957 | TV Series | Liddell |
| The Hired Gun | 1957 | | Judd Farrow |
| Death in Small Doses | 1957 | | Mink Reynolds |
| Tales of Wells Fargo | 1957 | TV Series | Sam Bass / Button Smith / Pete Johnson |
| Designing Woman | 1957 | | Johnnie 'O' |
| The Millionaire | 1957 | TV Series | Hub Grimes |
| Tomahawk Trail | 1957 | | Sgt. Wade McCoy |
| Big-Foot Wallace | 1957 | TV Movie | Big Foot Wallace |
| The Gale Storm Show: Oh! Susanna | 1956 | TV Series | Ooma |
| West Point | 1956 | TV Series | Maj. Neilson / Maj. Nielson |
| Crossroads | 1956 | TV Series | Lou Brissie |
| The Joseph Cotten Show: On Trial | 1956 | TV Series | Andy |
| Hold Back the Night | 1956 | | Sgt. Ekland |
| Climax! | 1956 | TV Series | |
| Hot Rod Girl | 1956 | | Det. Ben Merrill |
| Gunsmoke | 1956 | TV Series | Sam Keeler |
| Walk the Dark Street | 1956 | | Frank Garrick |
| The Star and the Story | 1955-1956 | TV Series | Attendant / Harry Frazier |
| Frontier | 1956 | TV Series | Thorpe Henderson |
| Jane Wyman Presents The Fireside Theatre | 1956 | TV Series | Officer Handley |
| Cavalcade of America | 1955 | TV Series | Harry |
| Matinee Theatre | 1955 | TV Series | |
| Good Morning, Miss Dove | 1955 | | Bill Holloway |
| Screen Directors Playhouse | 1955 | TV Series | Art Shirley |
| Three Stripes in the Sun | 1955 | | Idaho Johnson |
| Target Zero | 1955 | | Pvt. Moose |
| Adventures of Superman | 1955 | TV Series | Sylvester J. Superman |
| Schlitz Playhouse | 1955 | TV Series | Stanley O'Connor |
| Private Secretary | 1955 | TV Series | Mr. Neanderthal |
| TV Reader's Digest | 1955 | TV Series | Charlie Masters |
| City Detective | 1955 | TV Series | Sam |
| Four Star Playhouse | 1954-1955 | TV Series | Stan / Mervyn |
| The Loretta Young Show | 1955 | TV Series | Jess Hayes |
| Big Town | 1954 | TV Series | |
| Naked Alibi | 1954 | | Capt. Owen Kincaide |
| The Human Jungle | 1954 | | Earl Swados |
| Dear Phoebe | 1954 | TV Series | Rocky |
| Dragonfly Squadron | 1954 | | Capt. Warnowski |
| South Sea Woman | 1953 | | Pvt. Davey White |
| Code Two | 1953 | | Deputy Sheriff (uncredited) |
| Trouble Along the Way | 1953 | | Stan Schwegler |
| The Silver Whip | 1953 | | Minor Role (uncredited) |
| Your Jeweler's Showcase | 1953 | TV Series | |
| Pat and Mike | 1952 | | Police Captain |
| Wake Island | 1942 | | Soldier in meal queue (uncredited) |
Writer
| Title | Year | Status | Character |
| --- | --- | --- | --- |
| Branded | 1966 | TV Series story - 2 episodes | |
| The Rifleman | | TV Series story - 3 episodes, 1959 - 1961 story idea - 1 episode, 1959 | |
Director
| Title | Year | Status | Character |
| --- | --- | --- | --- |
| There Was a Little Girl | 1982 | as Martin Herbert | |
Self
| Title | Year | Status | Character |
| --- | --- | --- | --- |
| Later with Bob Costas | 1989 | TV Series | Himself |
| The Pat Sajak Show | 1989 | TV Series | Himself - Guest |
| The Late Show | 1987 | TV Series | Himself - Guest |
| All-Star Party for 'Dutch' Reagan | 1985 | TV Special | Himself |
| Our Time | 1985 | TV Series | Himself |
| The Steel Collar Man | 1985 | TV Special | J.G. Willis |
| The Great Mysteries of Hollywood | 1981 | TV Series documentary | Himself - Host |
| When the West Was Fun: A Western Reunion | 1979 | TV Movie documentary | Himself |
| ABC's Silver Anniversary Celebration | 1978 | TV Special | Himself |
| NBC Special Treat | 1976 | TV Series | Himself - Host |
| The Dean Martin Show | 1974 | TV Series | Himself |
| Chuck Connors in the U.S.S.R. | 1973 | TV Movie documentary | Himself |
| The Sonny and Cher Comedy Hour | 1973 | TV Series | Himself / Various Characters |
| Thrill Seekers | 1973 | TV Series | Himself - Host |
| The David Frost Show | 1971 | TV Series | Himself - Guest |
| Once Upon a Wheel | 1971 | Documentary | Himself |
| The Tonight Show Starring Johnny Carson | 1971 | TV Series | Himself |
| The Don Knotts Show | 1970 | TV Series | Himself |
| The Merv Griffin Show | 1967-1970 | TV Series | Himself - Guest |
| The Joey Bishop Show | 1967-1969 | TV Series | Himself / Himself - Guest Host |
| The Beautiful Phyllis Diller Show | 1968 | TV Series | Himself - Guest |
| The Don Rickles Show | 1968 | TV Series | Himself |
| The Jackie Gleason Show | 1968 | TV Series | Himself |
| Western, Italian Style | 1968 | TV Short documentary | Himself |
| Dateline: Hollywood | 1967 | TV Series | Himself |
| The Mike Douglas Show | 1966 | TV Series | Himself - Guest Host |
| The Hero | 1966 | TV Series | Himself |
| 76th Annual Tournament of Roses Parade | 1965 | TV Movie | Himself |
| Here's Hollywood | 1961-1962 | TV Series | Himself |
| Password All-Stars | 1961 | TV Series | Himself |
| Person to Person | 1961 | TV Series documentary | Himself |
| The Chevy Show | 1960 | TV Series | Himself |
| The Dinah Shore Chevy Show | 1960 | TV Series | Himself |
| What's My Line? | 1959-1960 | TV Series | Himself - Guest Panelist |
| The 12th Annual Primetime Emmy Awards | 1960 | TV Special | Himself |
| The Big Party | 1959 | TV Series | Himself |
| The Steve Allen Plymouth Show | 1958 | TV Series | Himself |
| The Ed Sullivan Show | 1957 | TV Series | Himself |
| Boy with a Knife | 1956 | Documentary short | Bud Williams (uncredited) |
Archive Footage
| Title | Year | Status | Character |
| --- | --- | --- | --- |
| Longhorns | 2011 | | Lucas McCain (uncredited) |
| Here's Harry: Remembering Gale Gordon | 2011 | Video documentary short | Clip from 'Here's Lucy' |
| Pioneers of Television | 2011 | TV Mini-Series documentary | Himself / Lucas McCain from Rifleman |
| The Western World of Ferdinando Baldi | 2005 | Video documentary | Himself |
| Images of Indians: How Hollywood Stereotyped the Native American | 2003 | TV Movie documentary | Himself / Sgt. Wade McCoy (from Tomahawk Trail (1957)) (uncredited) |
| K.D. Lang Talks with Percy Adlon About 'Percy Adlon's Salmonberries': 11 Years Later | 2001 | Video documentary short | Bingo Chuck (uncredited) |
| Television: The First Fifty Years | 1999 | Video documentary | Lucas McCain |
| Hollywood: The Gift of Laughter | 1982 | TV Movie documentary | Actor - 'Move Over Darling' (uncredited) |
| The Best of Sex and Violence | 1982 | Documentary uncredited | |
| Walt Disney's Wonderful World of Color | 1980 | TV Series | Burn Sanderson |
| Blade Rider, Revenge of the Indian Nations | 1966 | | Jason McCord |
| Broken Sabre | 1965 | | Jason McCord |
Awards
Won Awards
| Year | Award | Ceremony | Nomination | Movie |
| --- | --- | --- | --- | --- |
| 1984 | Golden Boot | Golden Boot Awards | | |
| 1984 | Star on the Walk of Fame | Walk of Fame | Television | On 18 July 1984. At 6838 Hollywood Blvd. |
Source:
IMDb
,
Wikipedia