• Sibi Blazic is the wife of Christian Bale, who is famous for his role of Batman/Bruce Wayne in "The Dark Knight Rises".
• She was born in Chicago, and educated at the University of Southern California.
• She has worked as a model, make-up artist, personal assistant, and stunt driver.
• Sibi and Christian Bale married in Las Vegas in 2000, and have two children.
• She has a net worth of $100,000 and Christian has a net worth of $120 million.

Known for movies
Short Info
| | |
| --- | --- |
| Spouse | Christian Bale |
| Fact | Eloped with then-boyfriend Christian Bale to Las Vegas, Nevada where they had an Elvis Presley look-alike marry them. |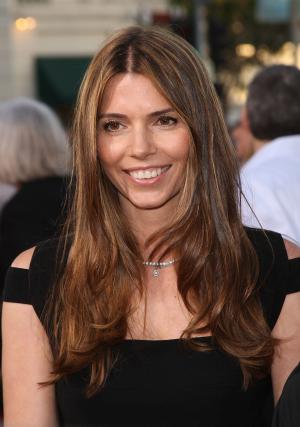 Sibi Blazic is mostly known for being the wife of the popular American actor, Christian Bale, who is famous for his role of Batman/Bruce Wayne in "The Dark Knight Rises".
Early life and family
Srboslava Blazic was born on 14 April 1970, in Chicago, Illinois USA – her zodiac sign is Aries, and she holds American nationality. Her parents were native Serbian, both born in Belgrade; however, Slobodan Blazic and Nadezhda Topalski left for the US, giving birth to their daughter after their immigration. To make it easier for Srboslava, her parents gave her another more American name of Sandra, but the girl was often called Sibi by family members and close friends. She spent all her childhood in Chicago, where her parents still live.
Educational background
Sibi matriculated from her local high school in Chicago in 1988, then enrolled at the University of Southern California, as she moved to that state to advance her modelling career which she'd started developing during her senior high school year. She graduated from her college with a BS in business.
Career
Start of the career
For several years Sibi worked as a model, but dreamt of becoming an actress, so she found a way to get to Hollywood even without an offer from a director – she became a make-up artist and then a personal assistant. After that, Sibi got her first significant job in 1997, when she became assistant to the producer Jordan Kerner, when he produced such famous films as "George of the Jungle" (their first movie when they worked together) and "Red Corner" (1997).
In 1999 Sibi got the job of the personal assistant to Winona Ryder on the set of the movie entitled "Girl, Interrupted", featuring also Angelina Jolie, Brittany Murphy and Jared Leto. Sibi became friends with Winona, so they worked together on other Ryder films, such as "Autumn in New York" (2000), starring Richard Gere and Anthony LaPaglia, and "Lost Souls" (2000). It was then that Winona introduced her old friend, Christian Bale, to Sibi.
Further activities
Sibi participated on such movies as "The Machinist" (2004), "Vice" (2018) and "Ford v Ferrari" (2019), as she is credited in the 'special thanks to' section of those movies, though it is not known what exactly she was thanked for by the directors. As for movies "The Dark Knight Rises" (2012) and "Ford v Ferrari" (2019), Sibi was in the stunt crew, performing various stunts.
'My wife was a stunt driver — she was chasing me through the city in Batman. She was driving one of the cop cars. She can do 180 and stunts and all that', Christian Bale recalls his experience of working with his own wife on the set of "The Dark Knight Rises" in his interview with the Wall Street Journal in 2014, 'She terrifies me. My wife terrifies me'. Sibi also appeared in a number of TV programs about celebrities, but sharing few details on her private life with Christian Bale, as they like keeping their family issues low-key.
Personal life, husband Christian Bale
After being introduced by Winona Ryder, the couple soon became attracted to each other, even though Sibi was four years older than Christian.
Furthermore, Christian was not even sure he was going to marry at all, as his family didn't have any happy examples of a marriage: 'I never planned to marry. Everyone was divorced in my family so I didn't have very healthy ideas about marriage', he shared in his interview with the Wall Street Journal. However, Sibi managed to change Christian's attitude to family life, and the couple married in Las Vegas on 29 January 2000, hosted by an Elvis Presley impersonator, as often happens in the chapels of Las Vegas.
In 2005 their first daughter, Emmeline Bale, was born. Almost 10 years later, the couple welcomed their second child, son Joseph Bal born in 2014.
It is worth mentioning that neither Christian nor Sibi (not even speaking about their kids, as they are too young) have any active social media accounts on which they could share their personal photos. They are seldom caught by paparazzi having a pizza in local restaurants of Brentwood, Los Angeles, where the family currently resides.
Hobbies, favorite things and interesting facts
Sibi is fond of various kinds of active outdoor sports, enjoying cycling and jogging. Sibi likes reading non-fiction literature. She and her husband are active supporters of various environmental groups, such as Greenpeace, Sea Shepherd Conservation Society and the World Wildlife Fund. They're also both members of the Dian Fossey Gorilla Fund's Board of Trustees.
Marrying Christian Bale, Sibi became related to the late animal rights activist and entrepreneur, David Bale, who was her father-in-law. Sibi's mother-in-law is Jenny James, a successful circus performer; she also has Gloria Steinem as her stepmother-in-law; Gloria is a famous writer, feminist, journalist and activist, as well as a political leader.
Who is Christian Bale?
Christian Charles Philip Bale was born on 30 January 1974, in Haverfordwest, Pembrokeshire, Wales in the UK. Christian once emphasized that he is English, even though he was born in Wales, as both of his parents are English. In 1981 Christian's parents divorced, and he moved with his father to Los Angeles, California, when he was seven years old. As an actor, he debuted in the role of Tsarevich Alexei Romanov in Marvin J. Chomsky's TV film "Anastasia: The Mystery of Anna" in 1986.
He continued filming in various movies as a teenage actor, appearing as Yum Yum in "Mio in the Land of Faraway" (1987), Thomas Berger in "Swing Kids" (1993) and Theodore "Laurie" Laurence in "Little Women" (1994).
However, Bale became a significant Hollywood star in 2005 after landing the role of Batman in Christopher Nolan's "Batman Begins" (with Heath Ledger as The Joker, which was his last and posthumous Oscar-winning role), then in "The Dark Knight" in 2008, and finally in "The Dark Knight Rises" in 2012. The trilogy was a great success, also featuring Gary Oldman, Anne Hathaway, and Tom Hardy. Among Christian's latest works there are such movies as "Hostiles" (2017), "Mowgli: Legend of the Jungle" (2018) and "Ford v Ferrari" (2019).
Appearance, clothing style
Sibi has long brown hair and brown eyes. She is 5ft 11ins (1.80m) tall and weighs around 140lbs (64kgs); her vital statistics are not available at the moment.
As to her clothing style, Sibi likes to dress up, not giving up that habit since her modelling days. She and her husband's red carpet photos are often posted by various brands and fashion blogs, as the couple likes to wear Dolce&Gabbana, Armani and many other famous designers' brands. Sibi's favorite color in clothes is black, as she is often caught walking in the streets with her kids wearing black and dark-shade clothes, even if it's of casual style.
Net worth and salary
As of 2020, Sibi is reported to have a net worth of $100,000, as she mostly spends all her time at home with the kids or accompanying her husband to various events he is invited to;
Meanwhile Christian has accumulated a significant fortune of $120 million, developing his super-successful acting career.
General Info
| | |
| --- | --- |
| Full Name | Sibi Blazic |
| Height | 1.8 m |
| Profession | Actor, Model, Make-up artist |
Family
| | |
| --- | --- |
| Spouse | Christian Bale |
| Children | Emmeline Bale |
| Parents | Nadezda Topalski, Slobodan Blazic |
Social profile links
Facts
| # | Fact |
| --- | --- |
| 1 | Gave birth to her 2nd child at age 44, son Joseph, with her husband Christian Bale. [August 2014] |
| 2 | Serbian ancestry. |
| 3 | Gave birth to her 1st child at age 34, a daughter Emmaline Bale on March 27, 2005. Child's father is her husband, Christian Bale. |
| 4 | Eloped with then-boyfriend Christian Bale to Las Vegas, Nevada where they had an Elvis Presley look-alike marry them. |
| 5 | Former model and make-up artist. |
| 6 | Born in Chicago to parents Slobodan Blazic and Nadezda Topalski. Her parents were both born in Belgrade. They married in the Belgrade municipality of Vracar, Serbia. |
| 7 | Stepdaughter-in-law of Gloria Steinem. |
| 8 | She has a B.S. in Business from the University of Southern California. |
| 9 | Was featured in the late Kevyn Aucoin's book Face Forward. |
| 10 | Sister-in-law of Erin, Sharon and Louise Bale. |
| 11 | Daughter-in-law of David Bale and Jenny James. |
| 12 | Longtime friend and former assistant of Winona Ryder. |
Pictures
Movies
Miscellaneous
| Title | Year | Status | Character |
| --- | --- | --- | --- |
| Autumn in New York | 2000 | assistant: Ms. Ryder | |
| Girl, Interrupted | 1999 | assistant: Ms. Ryder | |
| Red Corner | 1997 | assistant: Jordan Kerner | |
| George of the Jungle | 1997 | assistant: Mr. Kerner | |
Stunts
| Title | Year | Status | Character |
| --- | --- | --- | --- |
| The Dark Knight Rises | 2012 | stunts - as Sibi Bale | |
Thanks
| Title | Year | Status | Character |
| --- | --- | --- | --- |
| The Machinist | 2004 | special thanks - as Sibi Bale | |
Self
| Title | Year | Status | Character |
| --- | --- | --- | --- |
| 21st Annual Critics' Choice Awards | 2016 | TV Movie | Herself |
| Celebrity Debut | 2006 | TV Movie | Herself |
Awards
Nominated Awards
| Year | Award | Ceremony | Nomination | Movie |
| --- | --- | --- | --- | --- |
| 2013 | Actor | Screen Actors Guild Awards | Outstanding Action Performance by a Stunt Ensemble in a Motion Picture | The Dark Knight Rises (2012) |
Source:
IMDb
,
Wikipedia