• Danielle Colby is a burlesque dancer, fashion designer, roller derby player, and "American Pickers" star
• Her early life was spent as a religious Jehovah's Witness, which informed her views on body image and behavior
• She opened a store called 4 Miles 2 Memphis in 2013, but it later closed due to financial pressure
• She founded her own burlesque troop, "Bump n' Grind Academy," to help women celebrate their bodies
• She has an estimated net worth of over $1.5 million

Known for movies
Short Info
| | |
| --- | --- |
| Net Worth | $1.5 million |
| Spouse | Alexandre De Meyer |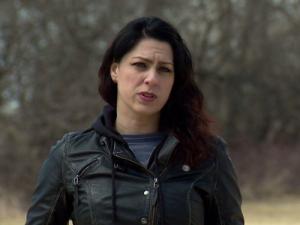 While best known for her appearance on Discovery Channel's "American Pickers", Danielle Colby has a colorful and eventful life that brims with variety and excitement. Aside from being a mother, Danielle plays many roles in her community, presenting herself as a strong and independent woman who can work towards and achieve great heights. Colby is also known as Dannie Diesel, the stage name she uses for her work as a burlesque dancer, a cause close to her heart; she is head of her own troop as well as owning a burlesque studio. Her ability is often underestimated on "American Pickers", despite her being dubbed the "Queen of Rust". Her presence and personality create an atmosphere on the show that speaks to modern audiences.
Early Life and Family
Danielle Colby was born on 3 December 1975, in Iowa, USA to Sue Colby – Danielle has one sister who goes by the name of Carbomb Betty. The family were religious and dedicated Jehovah's Witnesses, which led to Danielle being raised with very definite ideas on right and wrong, especially when it came to body image and behavior. Despite this, when the family moved to Chicago, Danielle attended her first burlesque performance, a star-studded show with both the esteemed dancer, Satan's Angel, and comedian Margret Cho. What Danielle experienced there completely changed her impression of dance and self-expression and proved to be a seminal moment in her life.
Danielle Colby explained that "I went into that evening thinking that burlesque was taboo and wrong and bad.
But what I realized after I left that event was how absolutely liberating it was." Danielle also revealed that she had been sexually assaulted as a child; her embracing of burlesque allows her to live as a survivor, as opposed to a victim, and escape any lasting reticence about her body.
Career
While Danielle has many accolades and accomplishments to her name, it is very difficult to pin down the exact dates of each of her pursuits. There is a general chronological order to the events, but due to her strong personality and focus, she often has multiple things on the go at the same time.
Fashion Designer
During the early stages of her career, Danielle worked as a designer for Gorilla Wear. Although she had no formal training in the industry, her love for fashion and her innovative mind allowed her to excel.
Although she eventually moved on from Gorilla Wear, her love for clothing, especially vintage clothing, persevered and influences her work as a picker.
Roller Derby
Notorious for the aggression and violence of this game, roller derby is a sport that is played on roller skates by opposing teams that try to score laps. Danielle Colby pioneered and played in her own team that was named "Big Mouth Mickies", and led her team to victory in the local championships, but was forced to give up the sport after three years when she suffered a shoulder injury. This was not surprising, as the nature of the game means that participants seldom last longer than three to five years. Many of her team members remained with her when she branched into new industries.
Burlesque
Danielle rekindled the love of dance she had discovered as a child, when she began to work professionally as a burlesque dancer. She renamed herself 'Dannie Diesel', a nickname from her childhood, and founded her own group consisting of nine other dancers, and is whimsically named Burlesque le'Moustache. Despite the notoriety enjoyed by burlesque dancing, Colby confesses that being racy is usually the last thing on her mind – "What's on my mind is my core balance, my ability to breathe within a moment. It takes a lot to just stand and have a moment of pause. You're baring a huge part of yourself…" Her love of this artform also extends to the historical aspect, and she is an avid collector of costumes. She owns items that have been worn by iconic stars such as Josephine Baker and Mata Hari, a convicted German spy.
"American Pickers"
"American Pickers" premiered on Discovery Channel on 18 January 2010. The show follows antique and curiosity collectors who travel across America to source and purchase unique items. Although there was initially some pushback from the filming crew when Colby first appeared on set, her long-time friend, fellow picking-enthusiast and co-star Mike Wolfe, was able to smooth everything over with the directors.
Although Colby lusts for life on the road, accompanying the pickers on chasing leads, she mostly remains at the store – Antique Archaeology – of which she is now the manager. In her spare time, she chases down her own leads, with an eye on and affection for vintage clothes.
Shop
In 2013, her experience on Discovery Channel inspired her to open her store called 4 Miles 2 Memphis, boasting retro and vintage clothes as its main selling point with a few other curiosities and collectibles. However, later that same year she announced on Facebook that due to financial pressure the store would have to close.
Burlesque Instructor
Danielle Colby wanted to spread her love of burlesque, and so opened her studio in 2014. Dannie Diesel's Bump n' Grind Academy aims not only to teach burlesque, but to help women celebrate their bodies and become comfortable in their skin. There was some concern as to whether she would manage to run the studio in conjunction with the show, however, "American Pickers" were supportive and allowed her to implement a schedule that would allow her to film and manage her studio on alternate fortnights.
A quick little tease of some new photo sets coming this week on my Patreon.https://t.co/jzmBCGXC51
📸 by @jeremyscheuch ❤️❤️❤️❤️ pic.twitter.com/zGgvFlb4PK

— Danielle Colby (@daniellecolby) July 19, 2020
Director
Danielle's proficiency in the burlesque industry afforded her the opportunity to act as the executive director for a documentary in 2016 – "Tempest Storm" tells the story of Annie Blanche Banks, aka Tempest Storm. At 87 years old, the film explores her career as an exotic dancer, and the tumultuous relationship with the daughter she hopes to reunite with.
Personal Life
Relationships
Danielle is no stranger to difficulty, yet still manages to present a strong and honest façade to the public. Danielle was first married to a man named Kevin in 2004; they had a daughter named Memphis and a son, but the marriage didn't last. Danielle revealed that the popularity of "American Pickers" and her ensuing fame put a lot of strain on the marriage, and the two divorced. Danielle is still very close to her children and shares updates about their lives on social media.
Danielle remarried in 2015, to French graphic designer and artist Alexander De Meyer. The two had met in 2011 through work contacts, and the working relationship soon developed into a romantic one. The relationship stayed well away from social media, and the subsequent divorce was barely reported on. Although Danielle now frequently appears alongside Jeremy Scheuch on social media, in poses that imply that the two are dating, she hasn't confirmed this.
Interests and Tattoos
Danielle Colby's interests are just as diverse as her professional pursuits, if not more so. Many of these are documented on her body in the form of tattoos., which she describes as being "about death and love and people I've lost." With over 30 tattoos, each symbolic of a different event, she claims that the ones on her hands are her favorite, referring specifically to those designed by her two children.
Danielle also totes a tattoo of a fly on one forearm that represents her fascination with entomology. While this may sound eccentric to some, it fits right in with her punk and rock interests.
Unlike many who make it to fame, Danielle utilizes her platform to bring attention to charities and causes that are close to her heart. Among these are Bately Girls, an organization dedicated to helping victims of sex trafficking, and the animal welfare organisation PAWS.
Appearance
Danielle Colby has a very distinct appearance and is easily recognizable on "American Pickers" for her unconventional style, especially sporting those 30 tattoos that cover her torso and arms, including flower designs, an owl, compasses, faces, with a smattering of leopard print beneath her collar bones.
Colby professes to being extremely comfortable and unashamed of her body, which despite the years (45) is still fit and toned. Danielle wears her hair short and dyed black and has green eyes. She is on the taller end of the spectrum at 5ft 9ins (1.75m), and weighs around 170lbs (78kgs).
Net Worth and Salary
Danielle's income is a combination of many sources, as her business ventures illustrate. She is reported to earn $15,000 per episode of "American Pickers", which has contributed to a large portion of her net worth, that in mid-2020 is at an estimated impressive amount of over $1.5 million, that continues to grow annually.
General Info
| | |
| --- | --- |
| Full Name | Danielle Colby |
| Net Worth | $1.5 million |
| Salary | $1.5 million |
| Height | 1.75 m |
| Profession | TV Personality, Fashion Designer, Dancer, Businessperson |
| Nationality | American |
Family
| | |
| --- | --- |
| Spouse | Alexandre De Meyer |
| Siblings | Carbomb Betty |
Accomplishments
Social profile links
Pictures
Movies
Producer
| Title | Year | Status | Character |
| --- | --- | --- | --- |
| Tempest Storm | 2016 | Documentary executive producer | |
Self
| Title | Year | Status | Character |
| --- | --- | --- | --- |
| American Pickers: Best Of | 2017 | TV Series | Herself |
| American Pickers | 2010-2017 | TV Series documentary | Herself |
| Tempest Storm | 2016 | Documentary | Herself |
Source:
IMDb
,
Wikipedia