Bridgette Wilson:
• Retired American actress, model, and beauty pageant winner
• Won Miss Teen USA pageant in 1990 and was Sonya Blade in the fantasy action film "Mortal Kombat" in 1995
• Grew up in a small coastal town and became aware of her stunningly good looks in high school
• Became popular with minor roles in the late 1990s and starred in multiple Academy Award-nominated biopic "Nixon" in 1995
• Married tennis player Pete Sampras in 2000 and has two sons; has a net worth of $8 million

Known for movies
Short Info
| | |
| --- | --- |
| Net Worth | $8 million |
| Date Of Birth | September 25, 1973 |
| Spouse | Pete Sampras |
| Fact | Got the role of Sonya Blade, in Mortal Kombat (1995), after Cameron Diaz had to drop out, due to a broken wrist. |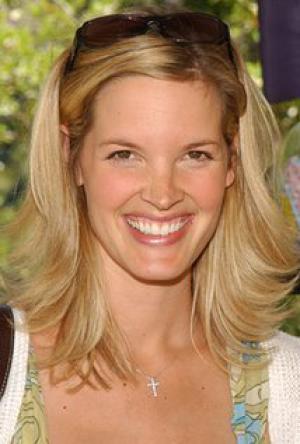 Who is Bridgette Wilson?
Bridgette Wilson is a retired American actress, model, beauty pageant winner, and the wife of the famous tennis player Pete Sampras. She has built fame on her own, primarily by winning the Miss Teen USA pageant in 1990, and then as Sonya Blade in the fantasy action film "Mortal Kombat" in 1995.
Bridgette Wilson' Untold Truth- Age, Childhood, and Education
Born Bridgette Lean Wilson on the 25th September 1973, in Gold Beach, Oregon USA, she is the daughter of Dale Wilson and his wife Kathy.
She grew up in the small coastal town, but while in high school, through her friends she became aware of her stunningly good looks, and so decided to try out in beauty contests. She signed up for the Miss Teen USA pageant in 1990, and was eventually named the. For the next 12 months, Bridgette toured the US in her position as Miss Teen USA, and after her stint ended and she finished high school, took perhaps the obvious step of trying herself out as an actress.
Career Beginnings
Bridgette's acting career started in 1992, when she was selected for the role of Ginger in the TV series "Saved by the Bell".
After this, she was chosen to portray Lisa Fenimore in the daytime drama "Santa Barbara" (1992-1993), appearing in 40 episodes of the award-winning series, so putting her acting talents at full display. Her next role came later in 1993 as Whitney in the action-adventure film "Last Action Hero", starring Arnold Schwarzenegger, F. Murray Abraham, and Art Carney, then throughout the late '90s Bridgette built her fame with minor roles, but the films were more than successful. In 1995 she was Nicole in the crime-thriller film "Higher Learning", starring Omar Epps, Kristy Swanson and Michael Rapaport, and also starred as Sonya Blade in the film "Mortal Kombat", alongside Christopher Lambert, Robin Shou and Cary-Hiroyuki Tagawa.
Rise to Stardom
The same year, Bridgette had her second starring role, as Veronica Vaughn in the comedy film "Billy Madison", co-starring Adam Sandler and Darren McGavin. Bridgette was becoming more popular with every role, and before the end of the decade, appeared in the multiple Academy Award-nominated biopic "Nixon" (1995), starring Anthony Hopkins, Joan Allen and Powers Boothe, then starred in the thriller film "Sweet Evil" (1996), with Seiko Matsuda and Peter Boyle, while in the same year she had a notable role in the romantic drama film "Unhook the Stars".
The next year she starred in the thriller film "The Stepsister", with Rena Sofer and Richard Joseph Paul, and also featured in the horror film "I Know What You Did Last Summer", starring Jennifer Love Hewitt, Sarah Michelle Gellar and Anne Heche, and finished the decade with a role in William Malone's horror film "House on a Haunted Hill", while she also starred in the comedy film "Love Stinks", with French Stewart and Bill Bellamy, both in 1999.
Career Decline and Retirement
With the start of the new millennium, Bridgette's career declined somewhat, but before retiring in 2008, she featured in a couple of guest-starring roles in TV series, and minor roles in B-production films.
She started in the comedy film "Beautiful" (2000), and then co-starred in the romantic comedy film "The Wedding Planner", next to Jennifer Lopez and Matthew McConaughey. She also had a prominent role in the sci-fi comedy film "Just Visiting", alongside Christina Applegate, Jean Reno and Christian Clavier. Afterward, she guest-starred in the TV series "CSI: Miami" (2003), and then had a supporting role in the romantic drama film "Shopgirl" (2003), starring Steve Martin, Claire Danes, and Jason Schwartzman.
She ended her career with the role of Farah in the sports biopic about Sonny Liston, the controversial heavyweight boxing champion of the world, entitled "Phantom Punch" (2008).
Since retiring, Bridgette has been focused on her family, raising her children, and enjoying a peaceful life away from the media.
Bridgette Wilson Net Worth, Height, Weight, and Appearance
Bridgette, although the wife of a tennis legend, has earned a name and place for herself in showbusiness. Although her career ended 12 years ago, she earned a decent amount with the success of projects on which she worked, and according to sources, Bridgette Wilson's net worth is as high as $8 million, as of mid- 2020.
Bridgette stands at 5ft 9ins (1.75m) tall, while she weighs approximately 128lbs ~ 58kgs, and her vital statistics are 34-25-33ins. She has blonde hair and brown eyes.
Bridgette Wilson Personal Life, Dating, Marriage, Children
In one of many interviews, Bridgette stated that she had desired to become a homemaker since 1993, however, she waited for around 10 years to accomplish her dreams. She married Pete Sampras on the 30th of September 2000, and they have two sons together, Christian Charles and Ryan Nikolaos. The family resides in Bel Air, California, where they bought a house in 2014.
Bridgette's husband was born as Petros Sampras on the 12th August 1971, in Washington, D.C. USA and is of Greek, Jewish and Polish ancestry. He played tennis professionally from 1988 until 2003, winning 14 Grand Slam singles titles, including seven Wimbledon titles and five US Open Titles. His fiercest rival was Andre Agassi, winning 20 matches out of 34 played.
Pete Sampras' net worth is estimated at over $160 million, as of mid- 2020.
General Info
| | |
| --- | --- |
| Full Name | Bridgette Wilson |
| Net Worth | $8 million |
| Date Of Birth | September 25, 1973 |
| Height | 1.75 m |
| Profession | Actor, Model, Singer, Songwriter |
| Nationality | American |
Family
| | |
| --- | --- |
| Spouse | Pete Sampras |
| Children | Christian Charles Sampras, Ryan Nikolaos Sampras |
| Parents | Dale Wilson, Kathy Wilson |
| Siblings | Tracy Wilson |
Accomplishments
| | |
| --- | --- |
| Movies | Billy Madison, Mortal Kombat, The Wedding Planner, Shopgirl, Just Visiting, I Know What You Did Last Summer, Last Action Hero, Love Stinks, House on Haunted Hill, The Real Blonde, Phantom Punch, Extreme Ops, Sweet Evil, Buying the Cow, Higher Learning, Unhook the Stars, The Suburbans, The Stepsister... |
| TV Shows | Carpoolers |
Social profile links
Quotes
| # | Quote |
| --- | --- |
| 1 | The first time around as a mom, I held on really tight and I was so stressed. |
| 2 | We had to give each other permission to be different as parents. That's why there's a mom and a dad with two different approaches, because you do need both. |
| 3 | I played varsity on all of them for four years. I'm 5'9 and that's not that tall for a center so I was a forward. I loved playing volleyball and basketball and track I was good at, but it stressed me out. |
| 4 | Celebrities say the darnedest things. |
| 5 | I balance family and career by doing what makes me the happiest! That for me, without question, is putting my family and kids first. |
| 6 | I've only skied a couple of times in my life. Any skier would say I stink. |
| 7 | Of all the movies I've done in my life, the one where I play a crazy awful psycho woman finds me my husband. |
Facts
| # | Fact |
| --- | --- |
| 1 | Recorded a version of Leif Garrett's "I Was Made for Dancing", which went on to be a considerable hit in Japan. |
| 2 | Mother, with her husband Pete Sampras, of a boy named Ryan Nikolaos, born July 29, 2005 at 6 lbs. 4 oz. in Los Angeles. |
| 3 | Insisted on doing all her own stunts for Last Action Hero (1993), in part because she wanted to feel more "in touch" with her character, "Meredith Caprice/ Whitney Slater." Later, Bridgette complained that most of her better footage was left on the cutting room-floor; many of her fans seemed to agree, citing that she disappeared from the movie far too soon. |
| 4 | Is a considerably in-demand singer in Japan, where she has released two CDs: "I Only Wanna Be With You"; and "Gimme a Kiss." |
| 5 | First child Christian Charles Sampras was born 21 November 2002 in Los Angeles. London, UK bookmakers have given Christian a 150-1 chance to win Wimbledon (Sampras has 7 Wimbledon titles); he's a 2,000-1 shot to beat Wimbledon champs Andre Agassi (Sampras's arch-rival) and Steffi Graf's son, Jaden Gil, in a Wimbledon final. |
| 6 | As a child, she taught herself to play the piano. |
| 7 | On Tuesday, June 20, 2000, it was announced that she was engaged to tennis star Pete Sampras, 28. According to Sampras, they got engaged after he lost the first round of the French Open. |
| 8 | Got the role of Sonya Blade, in Mortal Kombat (1995), after Cameron Diaz had to drop out, due to a broken wrist. |
| 9 | Once took the stage at a festival for The Rocky Horror Picture Show (1975). |
| 10 | Sister of Tracy E. Wilson. Their parents are Dale and Kathy Wilson. |
| 11 | Miss Teen USA 1990. |
Pictures
Movies
Actress
| Title | Year | Status | Character |
| --- | --- | --- | --- |
| Phantom Punch | 2008 | | Farah |
| Carpoolers | 2007 | TV Series | Dorrit |
| Mr. and Mrs. Smith | 2007 | TV Short | Ann (as Bridgette Wilson) |
| Shopgirl | 2005 | | Lisa Cramer |
| Jake in Progress | 2005 | TV Series | Chloe |
| CSI: Miami | 2003 | TV Series | Gabriela Betancourt |
| Extreme Ops | 2002 | | Chloe (as Brigette Wilson-Sampras) |
| Buying the Cow | 2002 | | Sarah (as Bridgette L. Wilson) |
| Frasier | 2002 | TV Series | Kris |
| Just Visiting | 2001 | | Amber |
| The Wedding Planner | 2001 | | Fran Donolly |
| The $treet | 2000-2001 | TV Series | Bridget Deshiel |
| Beautiful | 2000 | | Lorna Larkin (as Bridgette L. Wilson) |
| House on Haunted Hill | 1999 | | Melissa Margaret Marr (as Bridgette Wilson) |
| Love Stinks | 1999 | | Chelsea Turner (as Bridgette Wilson) |
| The Suburbans | 1999 | | Lara (as Bridgette Wilson) |
| Starstruck | 1998 | | Sandra (as Bridgette Wilson) |
| Host | 1998 | TV Movie | Juliet Spring (as Bridgette Wilson) |
| Marina | 1997 | Short as Bridgette Wilson | |
| I Know What You Did Last Summer | 1997 | | Elsa Shivers (as Bridgette Wilson) |
| The Real Blonde | 1997 | | Sahara (as Bridgette Wilson) |
| The Stepsister | 1997 | TV Movie | Melinda Harrison (as Bridgette Wilson) |
| Nevada | 1997 | | June (as Bridgette Wilson) |
| Unhook the Stars | 1996 | | Jeannie Hawks (as Bridgette Wilson) |
| Final Vendetta | 1996 | | Jennifer Ray Clark (as Bridgette Wilson) |
| Nixon | 1995 | | Sandy (as Bridgitte Wilson) |
| Mortal Kombat | 1995 | | Sonya Blade (as Bridgette Wilson) |
| Billy Madison | 1995 | | Veronica Vaughn (as Bridgette Wilson) |
| Higher Learning | 1995 | | Nicole (as Bridgette Wilson) |
| Murder, She Wrote | 1993 | TV Series | Emily Griffith |
| Last Action Hero | 1993 | | Whitney Meredith (as Bridgette Wilson) |
| Santa Barbara | 1992-1993 | TV Series | Lisa Fenimore Castillo / Lisa Fenimore |
| Saved by the Bell | 1992 | TV Series | Ginger |
Producer
| Title | Year | Status | Character |
| --- | --- | --- | --- |
| Michael Jackson: HIStory on Film - Volume II | 1997 | Video documentary producer - videos "Childhood", "Earth Song", "Stranger In Moscow", as Bridgette Wilson, Bridgette Wilson, Bridgette Wilson | |
Thanks
| Title | Year | Status | Character |
| --- | --- | --- | --- |
| Mortal Kombat: Deadly Alliance | 2002 | Video Game special thanks: artistic contribution - as Bridgette Wilson | |
Self
| Title | Year | Status | Character |
| --- | --- | --- | --- |
| Signature Series: Pete Sampras | 2008 | TV Movie documentary | Herself (as Bridgette Wilson) |
| Beyond the Glory | 2004 | TV Series documentary | Herself |
| Late Night with Conan O'Brien | 1995 | TV Series | Herself |
| Mortal Kombat: Behind the Dragon | 1995 | TV Movie documentary | Herself (as Bridgette Wilson) |
| Mortal Kombat: Behind the Scenes | 1995 | Video short | Herself (as Bridgette Wilson) |
Archive Footage
| Title | Year | Status | Character |
| --- | --- | --- | --- |
| The Ultimate Hollywood Blonde | 2004 | TV Mini-Series | Herself (as Bridgette Wilson) |
| Boogeymen: The Killer Compilation | 2001 | Video documentary | Elsa Shivers (I Know What You Did Last Summer) (as Bridgette Wilson) |
Source:
IMDb
,
Wikipedia