• Chumlee is an American TV personality, businessman and actor.
• He became an employee of The Gold and Silver Pawn Shop in Las Vegas when he was 21 years old.
• He became one of the memorable stars in the series "Pawn Stars".
• He opened his own candy store named "Chumlee's Candy" in 2017.
• He has an estimated net worth of $5 million.

Known for movies
Short Info
| | |
| --- | --- |
| Net Worth | $5 million, $5 million, $25,000 |
| Date Of Birth | September 8, 1982, September 8, 1982 |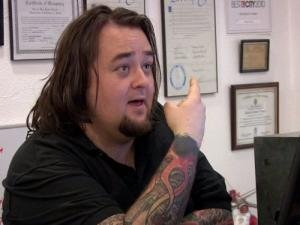 Chumlee is an American TV personality, businessman and actor, born on 8 September 1982, in Henderson, Nevada USA. He's known for appearing in History's channel successful show "Pawn Stars".
Early Life
Better known as Chumlee, Austin Lee Russell was born the first of three children of a middle class family of Scottish descent. Although there's no information about his parents, it's known that his younger siblings are named Terra and Sage. His physical resemblance to Chumley's character in the series "Tennessee Tuxedo", gained him his nickname "Chumlee" in his childhood.
As a result of his close friendship with Corey Harrison, in his youth Chumlee spent countless hours in his friend's family owned business- The Gold and Silver Pawn Shop – and steadily learned about the business of antique objects and jewelry, even if just pawned.
Career
Pawn Shop
Already acquainted with business' work dynamic, Chumlee became an employee of The Gold and Silver Pawn Shop in Las Vegas when he was 21 years old. Although his main occupation was testing and loading objects, his knowledge of history and passion for sneakers and video games led Chumlee to specialize in the pop culture's collectible items, valuating shop's objects in these categories.
The Gold and Silver Pawn Shop was founded in 1989 by Richard Harrison and his son Rick. Although Harrison only counted a capital of $5,000 to fund his business, it quickly became a local success, as an increasing number of customers with valuable items to pawn or sell visited the shop.
Pawn Stars – TV Debut
In 2008 producers Colby Gaines and Brent Montgomery visited Las Vegas, and struck by local pawn shops aesthetic and eclecticism, both producers considered creating a show centered in one of those shops, thinking it would be successful. In the search of a fitting, established family business ideal for their idea, they found The Gold and Silver Pawn Shop.
For years Rick Harrison had been trying to produce a series featuring his shop, so he enthusiastically accepted the proposal made by Gaines and Montgomery.
In 2009 "Pawn Stars" premiered on the History Channel featuring Richard "Old Man" Harrison, his son Rick and grandson Corey, breaking the network's audience records at the time.
Although the show's concept was appealing and items shown in it fascinated audiences interested on America's history, the show was 'lacking something' in Chumlee's words. In an interview with PodKats in March 2020, Russell talked about his beginnings on the show, revealing as well what "Pawn Stars" missing factor was: 'They (producers) were making a short episode, and we had about 12 employees at the time.
They went through everybody, saying, 'All right, who's going to be our fourth member?' I didn't watch too much TV, but I decided I'd go watch some TV, some reality shows, and I kind of realized what was missing was the funny part of the show, the whipping boy is what I called it at the time. Someone they could make fun of and laugh with'. Chumlee's idea to be "Pawn Stars" comedic relief factor was successful, as his popularity increased quickly, and he became one of the memorable stars in the series.
Show's Reception
"Pawn Stars" has received many positive reviews over the years it has been on air. In 2009 Christopher Long from Movie Metropolis generously reviewed the show, stating. '"Pawn Stars" is easily the best show on the History Channel, and maybe the best show on cable.'
"Pawn Stars" became one of the most watched shows in American TV, and it's also become a tourist attraction in Las Vegas, receiving on average 3000 visitors per day. The show is the most profitable of its network, bringing History Channel $3 million on average per episode. Due to its unbelievable success, The Gold & Silver Pawn Shop name was changed to The World Famous Gold & Silver Pawn Shop.
Featuring "Pawn Stars" main cast, the game-show "Pawnography" was premiered on History Channel in 2014. Chumlee along with Rick and Corey Harrison acted as panelists in this show, in which participants competed for cash prices, and to win historical, valuable objects belonging to The World Famous Gold & Silver Pawn Shop.
Over the years, Chumlee has made several appearances in other shows, such as "Top Gear USA", "American Restoration" and Nickelodeon's "iCarly".
Candy Shop
In 2017, Austin Lee Russell opened his own candy store named "Chumlee's Candy", located across from Harrisons' pawn shop on Pawn Plaza. The business managed by Chumlee and his brother Sage, sells a variety kinds of sweets, including "Pawn Stars" themed candies. His candy cigarettes are his most famous product, though: 'For nostalgia candy, in the summer, I cannot keep candy cigarettes and bubble-gum cigarettes on the shelves. People come in and buy as many as can fit in their hands. They want to buy a whole box, and we have boxes in the back. I can't order enough of them.'
Personal Life
Legal Troubles
Facing sexual assault accusations, on March 2016 Chumlee's home was raised and xanax, marijuana, cocaine and crystal meth were found by Police, along with numerous firearms resulting in his arrest. Though sexual assault charges were dropped due to lack of evidence, he was ultimately sentenced to three years probation after being found guilty on arms and drugs possession.
In a press statement released by Chumlee, he expressed his gratitude for fans' support: 'I appreciate everyone's patience in allowing the investigation to take its course, and always had faith the truth would come out in the end. It was rewarding to see that I was not pre-judged by our fans, and that was gratifying over these last two months. (…). Thanks to everyone who supported me during this time.'
Romantic Life
In 2013 Chumlee started dating Tanya Hyjazi, who was a Las Vegas' restaurant chef. Although the relationship ended in 2013 for unknown reasons, Chumlee soon found himself attached again, to Instagram model Olivia Rademann, to whom he proposed in May 2018 after a two-year relationship: 'We were friends for a year or two before we were ever a couple, and got together right around the beginning of 2016.' In August 2019 the couple married in a private ceremony in Hawaii.
Interests
Besides owning at least 200 pairs of sneakers, Chumlee's fortune has allowed him to pursue his other passion: vintage cars. His collection includes a 1964 Impala SS, a Rolls-Royce Phantom, a Mascerati GrandTurismo, and others.
Net Worth
As of mid-2020, Austin Lee "Chumlee" Russell has an estimated net worth of $5 million, as a result of his work in "Pawn Stars", income obtained from his own candy shop, and his appearances on several TV shows.
Physical Appearance
Chumlee is a man of white ethnicity. Although it's speculated he's of Mexican and Native American descent, he hasn't confirmed this information. At the start of "Pawn Stars" he was visibly overweight, however, Chumlee has recently made massive changes to his appearance. In 2018 he lost around 38lbs before undergoing gastric sleeve surgery that year, weighing 230lbs (104 kgs) afterwards.
Interesting Facts
Out of all members of "Pawn Stars", Chumlee's merchandise is a best seller. "Pawn Stars" has been broadcast for 17 seasons, and continues as a TV success.
The Key to the @CityOfLasVegas !! Now let's see what kind of doors this opens! Anyone want to buy it from me today at @GoldSilverPawn #chumlee #pawnstars #gspawn pic.twitter.com/YRTW2bQywQ

— Austin Russell (@chumlee_) June 21, 2019
Richard Harrison, founder and co-owner of The World Famous Gold & Silver Pawn Shop, died on 25 June 2018, after battling with Parkinson's disease for years. In a 2018 interview with Norm!, Chumlee expressed his admiration for his late boss: 'He meant the world to me. He was pretty much a grandfather to me and he didn't have to be. He came off as grumpy, but he was always there with advice and joking around with me. He changed so many lives with his generosity. He was so kind if someone needed help. He loaned someone money when their animal needed surgery. He supported battered women'.
Chumlee also shared the best advice given to him by the "Old Man": 'He told me to keep my head up and focus on the good things in front of me and positive things. He said 'Don't worry about people's opinions.' It's seems pretty basic, but he was married over 50 years and I think he taught me how to become a good husband'.
General Info
| | |
| --- | --- |
| Full Name | Chumlee |
| Net Worth | $5 million, $5 million, $25,000 |
| Salary | $25,000 |
| Date Of Birth | September 8, 1982, September 8, 1982 |
| Profession | TV Personality, TV Personality, TV Personality |
| Nationality | American, American, American |
Family
| | |
| --- | --- |
| Siblings | Terra Russell, Sage Russell, Terra Russell, Sage Russell, Terra Russell, Sage Russell |
Accomplishments
| | |
| --- | --- |
| TV Shows | Pawn Stars, Pawn Stars, Pawn Stars |
Social profile links
Pictures
Movies
Actor
| Title | Year | Status | Character |
| --- | --- | --- | --- |
| Pawnography | 2014 | TV Series | |
| Bob Dylan: Like a Rolling Stone | 2013 | Video short | Host (segment "Pawn Stars") |
Camera Department
| Title | Year | Status | Character |
| --- | --- | --- | --- |
| Driven: The Story of Tanner Godfrey | 2013 | Documentary short camera operator / gaffer | |
Director
| Title | Year | Status | Character |
| --- | --- | --- | --- |
| Driven: The Story of Tanner Godfrey | 2013 | Documentary short co-director | |
Editor
| Title | Year | Status | Character |
| --- | --- | --- | --- |
| Driven: The Story of Tanner Godfrey | 2013 | Documentary short | |
Producer
| Title | Year | Status | Character |
| --- | --- | --- | --- |
| Driven: The Story of Tanner Godfrey | 2013 | Documentary short co-producer | |
Self
| Title | Year | Status | Character |
| --- | --- | --- | --- |
| Pawn Stars | 2009-2015 | TV Series | Himself / Himself - Chumlee / Himself - 'Chumlee' |
| Pawnography | 2014-2015 | TV Series | Himself |
| Counting Cars | 2012-2013 | TV Series | Himself |
| Katie | 2013 | TV Series | Himself - Pawn Stars |
| Pop Star | 2013 | | Himself |
| The Tonight Show with Jay Leno | 2010-2013 | TV Series | Himself / Himself - Celebrity All-Star |
| iCarly | 2012 | TV Series | Himself |
| American Restoration | 2010-2012 | TV Series | Himself |
| Live with Kelly and Ryan | 2012 | TV Series | Himself - Guest |
| American Country New Year's Eve Live | 2011 | TV Special | Himself - Co-Host |
| The 2011 American Country Awards | 2011 | TV Special | Himself |
| Top Gear USA | 2011 | TV Series documentary | Himself |
Source:
IMDb
,
Wikipedia