• Kent McCord is an American film and television actor best known for his role in the NBC television series "Adam-12"
• He had a successful acting career with over 100 appearances in films and television shows
• He was a member of the Screen Actors Guild, having served as its first Vice President
• He was a big fan of motor racing, having participated in a number of races
• He had a net worth of over $1.3 million and currently lives in Los Angeles, California with his wife.

Known for movies
Short Info
| | |
| --- | --- |
| Date Of Birth | September 26, 1942 |
| Spouse | Cynthia Lee Doty |
| Fact | He has played the same character (Officer Jim Reed) in four different series: Dragnet 1967 (1967), Adam-12 (1968), The D.A. (1971) and Emergency! (1972). |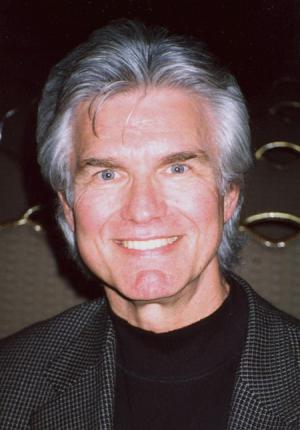 Kent McCord is an American film and television actor, most popular for his role in the NBC television series "Adam-12" as Officer Jim Reed. He is a long time member of the Screen Actors Guild and has served as its first vice president.
Early Life and Educational Background
Kent Franklin McWhirter was born on the 26th September 1942, in Los Angeles, California USA to Laura and Bert McWhirter. He spent his childhood in the town of Baldwin Park, California. At the mere age of 8, he had to take care of his first horse, Toby and just two years later he began working at his father's gas station. Thanks to the help of a family friend, Kent began working at the Brackett Field Airport in La Verne on weekends, and during the summer for a period of five years.
Initially, he was too young to receive pay —just 12 years old— so they provided him with flying lessons instead.
After matriculating from Baldwin Park High School, Kent attended Citrus Junior College with plans of becoming a football coach and physical education instructor. A star football player at high school, he was offered a football scholarship at the University of Utah and accepted. In 1961, a friend asked if he would like to take part in a game of touch football. As luck would have it, Elvis Presley lead the opposing team, while Kent played on the team captained by Ricky Nelson, with whom he subsequently formed a close friendship, and kick-started his acting career.
Career
Actor
His friendship with Ricky Nelson lead to frequent guest roles on his television show, "The Adventures of Ozzie and Harriet", appearing in 44 episodes of the series over the years. He also earned small roles in three of Elvis Presley's films: "Girl Happy", "Roustabout" and "Viva Las Vegas". In 1965, he was signed by Universal Studios, and given more small roles as an extra or stunt double in "Message from Beyond", "Virginian" and "McHale's Navy" under the stage name Kent McCord. His appearances in Jack Webb's "Dragnet" attracted the attention of the show's producers and he was cast in one of the lead roles alongside Martin Milner in the cop drama "Adam-12".
The show became one of the most internationally successful shows in television history, and constantly topped ratings. The series had a total of 174 episodes that are still aired today. He would continue to partner with Milner in films and television shows up until his demise in 2015 at the age of 83.
He subsequently appeared in television shows such as "Galactica 1980","Baa Baa Black Sheep" and "Unsub" and the films "Airplane II: The Sequel", "Predator 2" and "Return of The Living Dead part III". His most recent roles include "Woman's Story", "Megiddo – The Omega Man Code", "Run Ronnie Run" and "Tides of War" in 2005.
He has had a largely successful acting career with over 100 appearances in films and television shows.
Racing
One of his favorite perks of being part of "Adam-12" was being a guest trackside at the Indianapolis 500 race. He went on to compete in various races and events, such as the 12 Hours of Sebring, Toyota Pro Celebrity Challenge in New York and California as well as IMSA and the Sports Car Club of America.
Association with Screen Actors Guild (SAG)
In 1972, Kent was elected to the National Board and '… have fought to keep our union open, inclusive and prepared for the future'. He served on The Board of Directors and became their first Vice President in 1979, and again in 1981. He was also the Chairman of the Children's Committee, aiming to protect child actors globally, and the Chair of the Hollywood Division Board and treasurer.
He ran for SAG presidency in 2003 but lost to Melissa Gilbert, 50% to 42%. A Hollywood Executive Director said, '… McCord's formidable service and diverse experience continually improve the lives of working actors'.
Charities
The actor supports a number of foundations and charities, including the City of Hope National Medical Center, and Beckman Research Institute in Duarte, California, a center for the prevention, treatment and cure of various life-threatening diseases such as HIV/AIDS, cancer and diabetes, coupled with state-of-the-art patient care and cutting edge research. He was a member of the Celebrity All Stars Basketball team for ten years that played across Southern California to raise money for charities.
Relationships
Wife — Cynthia Lee Doty
The pair first met at Baldwin Park High School, and became high school sweethearts. Eventually they tied the knot on the 14th July 1962. They have three children together; two daughters and a son named Kristen, Megan and Michael respectively.
Who is Cynthia Lee Doty?
There is barely any information on Cynthia's life before or after her marriage, as such details are kept extremely private. She stays out of the limelight unless supporting her husband on the red carpet at events and ceremonies.
Awards and Achievements
In 1999, Kent was rewarded by SAG with the Ralph Morgan Award in 'honor of his devotion to the cause of actors'.
In 2000, Kent and Martin were rewarded with The Jack Webb Award by the Los Angeles Police Historical Society, for 'their support of the LAPD and the community it serves'.
Hobbies, Favorite Things and Interesting Facts
Kent enjoys going for bike rides with his wife Cynthia, from their home to the Santa Monica Pier.
His star sign is Libra.
He is a huge fan of motor racing, and he's participated in a number of races.
One of his most memorable moments on the sets of "Adam-12" was a visit from film director John Ford, who was a big fan of the show. McCord was in awe of the talented director he grew up admiring.
By the end of his airport job, Kent had logged more than 100 hours of flying time.
He was offered 20 football scholarships, post high school matriculation.
McCord and his co-star Milner hosted countless telethons nationwide, such as the Variety Club Telethon in Tennessee that featured icons such as Roger Miller, Johnny Cash and Waylon Jennings. They also hosted the annual NBC Macy's Thanksgiving Day Parade.
Appearance and Clothing Style
McCord is a male of Caucasian ethnicity and American nationality who has a height of 6ft 1in (1.86m). At the age of 78 years, he has maintained his fit body by regular cycling with his wife. He has green eyes, was once a natural brunette, and has no tattoos on his body. As to his clothing style, Kent prefers casual yet trendy clothing, varying from a simple shorts and shirt to dark suits and dress shoes.
Net Worth and Salary
As mentioned, McCord has had a lengthy career as an actor. Celebritynetworth.com estimates that Kent's net worth is over $1.3 million, while his salary or income varies according to his commitments each year. He currently lives in Los Angeles, California with his wife.
General Info
| | |
| --- | --- |
| Full Name | Kent McCord |
| Date Of Birth | September 26, 1942 |
| Height | 1.87 m |
| Profession | Actor, Police officer |
| Education | University of Southern California |
| Nationality | American |
Family
| | |
| --- | --- |
| Spouse | Cynthia Lee Doty |
| Children | Kristen McCord, Megan McCord, Michael McCord |
| Parents | Bert McWhirter, Laura McWhirter |
Accomplishments
| | |
| --- | --- |
| Awards | Screen Actors Guild Ralph Morgan Award |
| Movies | Phantom Below, Accidental Meeting, Return of the Living Dead 3, Predator 2, Airplane II: The Sequel, Roustabout, The Adventures of Ozzie and Harriet: Vol. 9 |
| TV Shows | Unsub, Galactica 1980, Adam-12 |
Social profile links
Facts
| # | Fact |
| --- | --- |
| 1 | On his 44th Birthday, he called Julie London on her 60th Birthday, who said: "What the blank is so happy about today?" McCord said, "Is Bobby there?". |
| 2 | Shared the same birthday with Julie London, who was 16 years McCord's senior. She worked with him on both series: Adam-12 (1968) and Emergency! (1972). |
| 3 | Is the longtime friend with the late Julie London, who was also friends with McCord's wife, Cynthia Lee, and their children. |
| 4 | Appeared in Dragnet 1967: The Big Explosion (1967), as a police officer named Martin. He would later star on Adam-12 (1968), where his co-star would be Martin Milner. |
| 5 | He has played the same character (Officer Jim Reed) in four different series: Dragnet 1967 (1967), Adam-12 (1968), The D.A. (1971) and Emergency! (1972). |
| 6 | Elected Treasurer of the Screen Actors Guild [November 2001] |
| 7 | Between 1961 and 1965, besides appearing on The Adventures of Ozzie & Harriet (1952), he worked as an extra, bit player and stuntman. |
| 8 | Started working when he was 10 years old, in his father's gas station. He earned 50 cents an hour. He worked at an airport all through high school. |
| 9 | Is a fan of auto racing, especially the Indianapolis Speedway |
| 10 | Elected to the Screen Actors Guild's National Board of Directors in 1972 and served on the Board for 11 years. He was twice elected First Vice President. He also chaired the Children's Committee, the Guild's Publications Committee, the Agents Relations Committee and represented the American acting community to The Federation Internationale des Acteurs (FIA). |
| 11 | Appeared in over 40 episodes of The Adventures of Ozzie & Harriet (1952) as one of Ricky Nelson's fraternity brothers. He got his start on that show because he was one of Ricky's bodyguards. |
| 12 | Appeared with Adam-12 (1968) co-star Martin Milner in Nashville Beat (1989), a movie for The Nashville Network. McCord played an LAPD captain going to visit his friend, Milner, an ex-LA cop who became a Nashville cop. |
| 13 | Married his high school sweetheart, has three children: Kristen McCord (who appeared on his show, Adam-12 (1968)), Megan McCord (who appeared in Pine Canyon Is Burning (1977)), and Michael. |
| 14 | Won the Screen Actors Guild's prestigious Ralph Morgan Award in June of 1999 |
Pictures
Movies
Actor
| Title | Year | Status | Character |
| --- | --- | --- | --- |
| Tides of War | 2005 | TV Movie | Vice Admiral Sommerville |
| Farscape | 1999-2003 | TV Series | Jack Crichton |
| Run Ronnie Run | 2002 | | Rescue Show Announcer |
| Megiddo: The Omega Code 2 | 2001 | | |
| Woman's Story | 2000 | | Buckley Warner |
| JAG | 1998-2000 | TV Series | Capt. Henry Delario / Rear Admiral Paul Whelan |
| Beyond Belief: Fact or Fiction | 2000 | TV Series | General Henry 'Light-Horse Harry' Lee |
| Silk Stalkings | 1996-1998 | TV Series | D.A. Craig Alexander |
| Pacific Blue | 1997-1998 | TV Series | Brolin Jorgenson |
| Mike Hammer, Private Eye | 1997 | TV Series | Anthony Ropa |
| Diagnosis Murder | 1997 | TV Series | Detective Stang |
| Doomsday Rock | 1997 | TV Movie | |
| Renegade | 1995-1997 | TV Series | Jack Hendricks Marshal Jack Hendricks |
| Dark Skies | 1997 | TV Series | Dick Loengard |
| With Criminal Intent | 1995 | | |
| SeaQuest 2032 | 1994-1995 | TV Series | Commander Scott Keller |
| Accidental Meeting | 1994 | TV Movie | Jack Parris |
| Dark Justice | 1993 | TV Series | McKinnon |
| Return of the Living Dead III | 1993 | | Colonel John Reynolds |
| Illicit Behavior | 1992 | | Dr. Halperin |
| The New Adam-12 | 1990-1991 | TV Series | Lieutenant Jim Reed / Store Owner |
| Murder, She Wrote | 1991 | TV Series | George Harris |
| MacGyver | 1990 | TV Series | Novis Riley |
| Predator 2 | 1990 | | Captain B. Pilgrim |
| Nashville Beat | 1989 | TV Movie | Lieutenant Mike Delaney |
| Monsters | 1989 | TV Series | Tom Solo |
| Unsub | 1989 | TV Series | Alan McWhirter |
| The Highwayman | 1988 | TV Series | |
| 21 Jump Street | 1988 | TV Series | Tom Hanson Sr. |
| Private Eye | 1988 | TV Series | |
| J.J. Starbuck | 1987 | TV Series | Martin |
| Airplane II: The Sequel | 1982 | | Unger |
| Galactica 1980 | 1980 | TV Series | Captain Troy |
| The Love Boat | 1980 | TV Series | Howard Samuels |
| Heaven Only Knows | 1979 | TV Movie | |
| Telethon | 1977 | TV Movie | Tom Galvin |
| Pine Canyon Is Burning | 1977 | TV Movie | Captain William Stone |
| Black Sheep Squadron | 1976 | TV Series | Capt. Charles W. Dobson |
| Marcus Welby, M.D. | 1976 | TV Series | Scott Fritchie |
| Adam-12 | 1968-1975 | TV Series | Officer Jim Reed |
| Sonic Boom | 1974 | Short | |
| Beg, Borrow, or Steal | 1973 | TV Movie | Lester Yates |
| Emergency! | 1972 | TV Series | Officer Jim Reed |
| The D.A. | 1971 | TV Series | Officer Jim Reed |
| Breakout | 1970 | TV Movie | Hunter |
| Dragnet 1966 | 1969 | TV Movie | Brewster - Desk Clerk (uncredited) |
| The Outsider | 1968 | TV Series | Bill Elison |
| Dragnet 1967 | 1967-1968 | TV Series | Officer Reed / Officer / Officer Jim Reed / ... |
| Did You Hear the One About the Traveling Saleslady? | 1968 | | |
| Jigsaw | 1968 | | |
| Shadow Over Elveron | 1968 | TV Movie | Jessie's Boyfriend (as Kent McWhirter) |
| The Outsider | 1967 | TV Movie | Officer Dutton |
| Ironside | 1967 | TV Series | Patrolman Kellogg |
| The Virginian | 1966-1967 | TV Series | Bill Lee / Hotel Clerk |
| Run for Your Life | 1966-1967 | TV Series | Policeman / Mike Ramsey |
| The Young Warriors | 1966 | | |
| Pistols 'n' Petticoats | 1966 | TV Series | Cousin Fred |
| McHale's Navy | 1966 | TV Series | The Courier |
| The Adventures of Ozzie & Harriet | 1962-1966 | TV Series | Kent / Fraternity brother at party / Student in Hallway |
| The War Lord | 1965 | | Extra (uncredited) |
| Billie | 1965 | | Student in Bleachers (uncredited) |
| Girl Happy | 1965 | uncredited | |
| John Goldfarb, Please Come Home! | 1965 | | Football Player (uncredited) |
| The Disorderly Orderly | 1964 | | Pre-Opening Credit Hospital Intern (uncredited) |
| Roustabout | 1964 | | Carnival Worker (uncredited) |
| The Americanization of Emily | 1964 | | Soldier (uncredited) |
| The Lieutenant | 1964 | TV Series | Marine Officer in Waiting Room |
| Viva Las Vegas | 1964 | | Casino Patron (uncredited) |
| Kissin' Cousins | 1964 | | Extra (uncredited) |
| Seven Days in May | 1964 | | Presidential Aide (uncredited) |
Soundtrack
| Title | Year | Status | Character |
| --- | --- | --- | --- |
| The Adventures of Ozzie & Harriet | 1963-1964 | TV Series performer - 2 episodes | |
Writer
| Title | Year | Status | Character |
| --- | --- | --- | --- |
| Nashville Beat | 1989 | TV Movie story | |
Producer
| Title | Year | Status | Character |
| --- | --- | --- | --- |
| Nashville Beat | 1989 | TV Movie executive producer | |
Self
| Title | Year | Status | Character |
| --- | --- | --- | --- |
| Hollywood Squares | 2004 | TV Series | Himself - Panelist |
| 8th Annual Screen Actors Guild Awards | 2002 | TV Special | Himself |
| Behind the Music | 2001 | TV Series documentary | Himself |
| E! True Hollywood Story | 2000-2001 | TV Series documentary | Narrator |
| All-Star Party for 'Dutch' Reagan | 1985 | TV Special | Himself |
| Battle of the Network Stars VIII | 1980 | TV Special | Himself - ABC Team |
| Tattletales | 1975 | TV Series | Himself |
| The Hollywood Squares | 1969-1975 | TV Series | Himself - Panelist |
| Dinah! | 1974 | TV Series | Himself |
| The Dean Martin Show | 1973 | TV Series | Himself |
| RCA's Opening Night | 1973 | TV Movie | Himself |
| The Mike Douglas Show | 1973 | TV Series | Himself - Co-Host |
| Laugh-In | 1972-1973 | TV Series | Himself |
| Celebrity Bowling | 1972-1973 | TV Series | Himself |
| The Merv Griffin Show | 1972 | TV Series | Himself |
| The Virginia Graham Show | 1971 | TV Series | Himself |
| The Tonight Show Starring Johnny Carson | 1970 | TV Series | Himself |
| You Don't Say | 1969 | TV Series | Himself |
| Today | 1968 | TV Series | Himself |
Archive Footage
| Title | Year | Status | Character |
| --- | --- | --- | --- |
| Dark Skies | 1997 | TV Series | Dick Loengard |
| 21 Jump Street | 1990 | TV Series | Tom Hanson Sr. |
| Conquest of the Earth | 1981 | TV Movie | Captain Troy |
Awards
Won Awards
| Year | Award | Ceremony | Nomination | Movie |
| --- | --- | --- | --- | --- |
| 1999 | Ralph Morgan Award | Screen Actors Guild Awards | | |
Source:
IMDb
,
Wikipedia