• Lisa Kelly is a trucker on "Ice Road Truckers" and other shows, who was previously a motocross champion.
• She was born in Grand Rapids, Michigan and grew up on a farm in Alaska.
• She is the brand ambassador for Delo, a branch of Chevron Products Co.
• She is an avid horse rider and owns three horses, a cat, and a former puppy named Rampur Jackson.
• She has a net worth estimated at over $500,000.

Known for movies
Short Info
| | |
| --- | --- |
| Date Of Birth | December 8, 1980, March 5, 1970 |
| Died | August 15, 2013, Altadena, California, United States, August 15, 2013, Altadena, California, United States |
| Spouse | Traves Kelly, Robert Joseph Gilliam |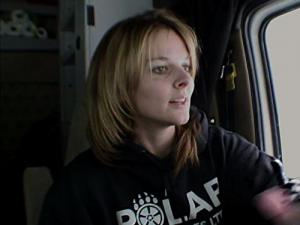 Lisa Kelly has one of the most unusual sources of fame in the celebrity world. Lisa found fame as a result of her appearance as a trucker in "Ice Road Truckers" on the History channel, and her popularity paved the way for appearances on multiple other shows and spin-offs. Lisa Kelly may have always been a tomboy, but trucking was not her first choice – before she started transporting enormous loads across the country, Kelly was a motocross champion.
Early Life and Family
Lisa Kelly was born on 8 December 1980, in Grand Rapids, Michigan USA – there isn't much information regarding her family and her siblings, if she has any.
When she was six, her family moved to the colder climate of Sterling, Alaska where they lived on a small farm. While she has never explicitly said so, it is logical to deduce that she was an extremely athletic child. Lisa Kelly still enjoys many of those activities – horse riding, motocross, skydiving, hang gliding, and snowboarding.
Education
Kelly attended school in Alaska, but then decided to move back to Great Rapids to attend Cornerstone University. It was not long before she realized that she was not meant for conventional study, and dropped out of university after only one semester.
Career
Small Origins
Lisa Kelly began her career working in odd jobs, such as driving school buses and delivery vans, and at a pizza store for a while. Although this may have been the most inauspicious time in her career, she was able to pursue other interests, even becoming the State Motocross Champion. After earning her CDL (Commercial Driver's License), she decided to follow a career that would allow her to express her love of trucks.
"Ice Truck Drivers"
The risky nature of transporting heavy loads on the iced-up Alaskan roads, and being one of the few females in her line of work bought her to the attention of the History channel directors. Lisa Kelly was scheduled to make her first appearance in 2007 in the third season of the show, subsequently in seasons four, five and seven as well, taking a break during the sixth season. She partnered with Darrel Ward for a time, but he was tragically killed in an airplane crash on 28 August 2016.
Although trucking does not seem to be the most illustrious of careers, it can be life-threatening and requires fast reflexes. Kelly once had to leap from her 22-wheeler when the ice began to crack under the wheels of her truck.
Bludgeoning Success
Her prowess on the road earned her a position on "IRT: Deadliest Roads", a spin-off from 2010 until 2011, on which she drove hair-raising routes all over the world. Her fame in the trucking community made her an ideal choice to be the brand ambassador for Delo, a branch of Chevron Products Co,. for whom she had been working for three years, wherever they chose to send her. Delo was producing a line of heavy-duty engine oil.
Personal Life
Lisa and Traves Kelly
Lisa Kelly met her future husband in 2004; a fellow bike enthusiast and a motorcycle mechanic, they met when Kelly was purchasing a Kawasaki 125; the two married in 2008 after four years of dating. Traves Kelly is an Aleut Native Alaskan who has now moved on from motorcycles to plumbing. Lisa often expresses how grateful she is to her husband. While she was working as a trucker, Lisa Kelly was forced to work for months at a time away from home, but the two apparently remain happily married – they don't have any children.
Hobbies and Pets
While Kelly is childless, she and her husband have an entire menagerie of pets. An avid horse rider, Kelly has three horses, including a miniature named Rocky. She also has a cat named Tanzi. While she was still on the set of "Ice Road Truckers", she adopted a puppy to keep her company on the road, and named him Rampur Jackson, but gave him up to the producers as soon as she was finished filming. While this may seem surprising, the puppy was mainly cared for by her Indian helper, Tashi.
Kelly has also been able to live out many of her dreams, even getting the opportunity to fly in a fighter jet with the US Navy Blue Angels Display Team. She still pursues the adrenaline rush that she finds on the road, outside of work, and loves hang gliding and sky diving, snowboarding, and horse riding.
Appearance
Although Lisa Kelly has been known to say that the road is no place to maintain a healthy lifestyle, she still manages to maintain a fit and slender figure.
Lisa is 5ft 2ins (1.70m) tall and weighs 127lbs (58kgs). She has blonde hair and brown hair, and could not be more different from the others in the male-dominated trucking industry.
Net Worth and Salary
Lisa Kelly has a net worth estimated at over $500,000. While she used to receive income from both her trucking and her appearance on "Ice Road Truckers", she quit the show in 2017, and is spending less time on the road to cultivate a healthier lifestyle. It is assumed she is subsisting off her husband's income, and what she still earns as a trucker.
General Info
| | |
| --- | --- |
| Full Name | Lisa Kelly |
| Date Of Birth | December 8, 1980, March 5, 1970 |
| Died | August 15, 2013, Altadena, California, United States, August 15, 2013, Altadena, California, United States |
| Height | 1.7 m, 1.7 m |
| Profession | Truck driver, Actor |
| Education | The Theatre School at DePaul University |
| Nationality | American, American |
Family
| | |
| --- | --- |
| Spouse | Traves Kelly, Robert Joseph Gilliam |
| Parents | Thomas C. Kelly, Linda Diane Grimm |
Accomplishments
| | |
| --- | --- |
| Music Groups | Celtic Woman |
| TV Shows | Ice Road Truckers, That '70s Show |
Social profile links
Pictures
Movies
Self
| Title | Year | Status | Character |
| --- | --- | --- | --- |
| Ice Road Truckers | 2007-2017 | TV Series documentary | Herself - Ice Road Trucker / Herself - Ice Road Trucker: Polar Industries / Ice Road Trucker / ... |
| Ice Road Truckers Canada | 2014 | TV Series documentary | Herself |
| Luciana by Night | 2013 | TV Series | Herself |
| IRT: Deadliest Roads | 2010-2011 | TV Series | Herself - Trucker |
| Late Show with David Letterman | 2010 | TV Series | Herself |
Source:
IMDb
,
Wikipedia