• Jake Anderson is a fourth-generation crab fisherman and Captain of a fishing vessel featured on the Discovery series "Deadliest Catch"
• His early life included skating professionally, beginning fishing at the age of 17, and eventually obtaining his USCG Mate 1600-ton Fishing License and Master 100-ton Captain's Fishing License
• His struggles with addiction have been documented and he has published an autobiography entitled "Relapse"
• He is married with two children and has a net worth of $2 million
• He has a signature pair of DVS shoes and is a heartthrob to "Deadliest Catch" fans

Known for movies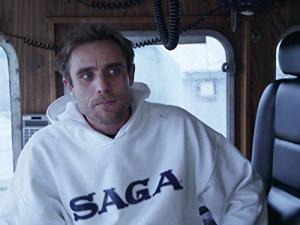 Although famous, Anderson does not derive his fame through conventional means. Captain of a fishing vessel, Jake Anderson has appeared as a recurring character in the Discovery series "Deadliest Catch". Anderson's personal life has been featured on the show too, including deaths and tragedies that have molded his personality – Anderson is a married man with a close bond to his family. He commands respect on his vessel and his prowess has earned him esteem and veneration from his peers. From drug addiction and a sentimental tattoo, there are so many facets that make Anderson the fascinating star and personality that he has become.
Early Life and Family
Jakob Venn Martin Anderson was born 16 September 1980, in Anacortes, Washington State, USA, and is a fourth-generation crab fisherman. His mother's name has not been disclosed, but his father was Keith A. Anderson, and his sister was named Chelsea Dawn Anderson. He grew up in Anacortes, surrounded by the age of tradition of the sea and its produce. Jakob was incredibly close with his sister, which would later devastate him when she died young. At the age of 13, Jake picked up a skateboard and took to it with an innate skill. By the age of 19, he was skating professionally for local stores. His first experience of independence and source of income, this held a special place in his heart.
Education
Anderson only took to the sea after his future became distinctly bleak. He was hired as a greenhorn – apprentice, novice – by Sig Hansen in 2007. He began his training on the Northwestern where he discovered his passion for the job. He went on to obtain his USCG Mate 1600-ton Fishing License, and his Master 100-ton Captain's Fishing Licence in 2012, completing his transition from amateur to a master of his craft.
Career
Early Days
Jake Anderson began his career at sea at the age of 17 in 1997. His first job was not the most glamourous, fishing for salmon in Alaska off the coast of Bristol Bay.
When he turned 20, he sensed that it was time to move on in life, and started work as a trawler processor, messy work done processing fish on trawler vessels that can stay away from shore for days at a time. In 2006, he changed jobs again to pot fishing, a type done with stationary traps, aiming to capture crustaceans such as crabs and lobsters.
Fishing
In 2007 his luck changed, when his uncle, Nick Mavar landed him a position on the Northwestern under Captain Sig Hansen. His dedication and hard work saw him accelerating up the ladder from an untrained greenhorn to a full-share deckhand, and then to Deck Boss. After he received his fishing licenses, he sought out deeper seas, captaining the Kiska Sea in 2013.
His tenure was fraught with friction, as he battled to win the respect of his crewmembers. He eventually despaired of being able to establish a good relationship with the crew, and slunk back to the Northwestern. Despite his proficiency and skill, the Northwestern did not exactly welcome him back with open arms, sending him right back down to the bottom of the ladder. His luck finally changed in 2015 when he was invited to replace Captain Elliot Neese on Saga, which he eventually carried to greatness, building a healthy relationship with the crew and making incredible catches.
Author
As a recovered addict, Jake Anderson has used his experiences to inspire others, cataloging his journey in an autobiography entitles "Relapse", published by Coventry House Publishing on 29 April 2014.
The book was very well received by readers and critics alike, many people identifying with the battles he had fought.
"Deadliest Catch"
Jake Anderson has been appearing on the Discovery show since 2007, first at the beginning of the third season in an episode entitled "New Beginnings". The show follows crab fishing vessels in the Bering Sea, which in that part of the world can be dangerous, due to the freezing climate and volatile weather. The show has captured very emotional event in Anderson's life, such as the death of his sister and the trauma of his father going missing. His character development illustrated during the show has created a lot of sympathy for him, and a fascination with his family.
Personal Life
Addiction
Jake Anderson has experienced so much of life, living through its highs and lows, and navigating the most tumultuous seas. When Anderson was 19 he broke his ankle; while this would be traumatic for most people, it was coupled with the fact that he relied on his feet to make a living, as it meant that Jake would not be able to continue as a professional skateboarder, and not working meant that he couldn't pay his bills. Distraught, Anderson turned to drugs and alcohol; he initially stuck to pain killers and marijuana, but soon escalated to using cocaine and methamphetamines. He ended up homeless for two years, every cent he made going to fund his drug habit. It was only other traumas in his life that forced him to take stock of his situation, and finally beat addiction in 2010.
Personal Tragedies
Many of the tragedies that Anderson experienced were documented during his appearance on "Deadliest Catch". The two that always remain in the minds of the viewers are the death of his sister and father. In 2009, while on the set of the show, Jake Anderson received word that his sister Chelsea Dawn had died due to complications with pneumonia. The two had always been close, and Anderson was shattered. Wanting to always remember his sister and the light that she was in his life, he got a tattoo of her face encased within a halo, so that he could carry her with him always.
On 6 January 2010, Keith Anderson, Jake's father got into his car to visit an undisclosed person – he never came back. Again, Jake received this information at sea, his mother traveling all the way to give him the news.
Although the show never followed up on this tragedy, we know that his father's car was found two weeks later, abandoned and empty. As if this was not difficult enough for the family, Keith's body was only found in 2012 by a hiker who came across his remains in the woods.
DVS Shoes
Jake Anderson relates that he purchased his first pair of DVS shoes in 1998, a pair of Tory Mid's, at the age of 18. The shoes saw him through his skateboarding career, and he still wears them on the boat to this day. He even claims that he introduced the rest of the Northwestern crew to the shoes. This proved to a smart decision. One of the film crew happened to know the owner of DVS, and noticed Jake's trademark footwear.
Here's a new "Captain Jake's Tools of the Trade" for @DeadliestCatch! Take a trip inside the Saga's engine room and check out my centrifuges! PT 2 pic.twitter.com/ECVa1ngD3e

— Jake Anderson (@JakeVAnderson) June 5, 2019
In 2010, Jake was rewarded with the chance to produce his own shoes with the brand.
Family
Anderson's family life is not all tragedy and despair. At a music festival in Seattle, a family swamped him for autographs, his reputation preceding him, and among them was Jenna Patterson. Immediately stricken, he gave her an autograph with a little note saying, 'You're beautiful'. From there, their relationship only grew, and they married on 12 May 2012, the same year that his father's remains were found. The couple had their first son, Aiden Ben Arthur Anderson in January 2015, and were blessed with a second son, Cadence, on 13 June 2017. His family life sometimes comes under strain as his job required him to spend large periods away from his family' he even had to leave for Alaska only two days after Aiden was born.
Despite this, he and Jenna appear to have a happy and secure relationship.
Appearance
Jake Anderson is tall, standing at 6ft (1.8m), and weighing 175lbs (80kgs). He has blonde hair that appears closer to pale brown at times, paired with a subtle beard. He has icy blue eyes, and is a heartthrob to "Deadliest Catch" fans.
Net Worth and Salary
Jake Anderson has a net worth of $2 million – an unusual state of affairs for a fisherman, even a captain. Anderson owes his success largely to the fame that "Deadliest Catch" earned him, as well as the sympathy his path to success has garnered. His income is from a combination of his book royalties, the money he makes as a captain, and his salary from the Discovery show – which has not been revealed to date.
General Info
| | |
| --- | --- |
| Full Name | Jake Anderson |
| Date Of Birth | September 16, 1980 |
| Profession | TV Personality, Author, Skateboarder |
| Nationality | American |
Family
| | |
| --- | --- |
| Spouse | Jenna Anderson |
| Parents | Keith Anderson |
| Siblings | Chelsea Dawn Anderson |
Accomplishments
Social profile links
Facts
Movies
Self
| Title | Year | Status | Character |
| --- | --- | --- | --- |
| Deadliest Catch | 2007-2017 | TV Series documentary | Himself - Deckhand: Northwestern / Himself - Captain: Saga / Himself - Greenhorn: Northwestern / ... |
| Deadliest Catch: Evolution of Danger | 2017 | TV Movie | Himself - Captain: Saga (as Jake) |
| Deadliest Catch: Legends Born & Broken | 2017 | TV Movie | Himself - Captain: Saga |
| Deadliest Catch: The Bait | 2013-2016 | TV Series | Himself / Himself - Co-Host / Himself - Deckhand / ... |
| Deadliest Catch: Sig Hansen Legacy | 2016 | TV Movie documentary | Himself - Captain: Saga |
| Deadliest Catch: A Season in Hell | 2016 | TV Movie | Himself - Captain: Saga |
| Steve Harvey | 2015 | TV Series | Himself |
| Good Morning America | 2015 | TV Series | Himself |
| Deadliest Catch: Captain's Choice 10: Sig Hansen and Jake Anderson | 2015 | TV Movie documentary | Himself |
| Deadliest Catch: Captain's Choice 9: Josh and Jake Harris | 2015 | TV Movie documentary | Himself |
| Deadliest Catch: Season 10 Revealed | 2015 | TV Movie | Himself - Deckhand & Engineer: Northwestern |
| TakePart Live | 2014 | TV Series | Himself - Guest |
| The Playboy Morning Show | 2014 | TV Series | Himself |
| Deadliest Catch: Legend of the Northwestern | 2014 | TV Movie documentary | Himself - Deckhand: Northwestern (uncredited) |
| Deadliest Catch: Season 9 Revealed | 2014 | TV Movie documentary | Himself - Deckhand: Northwestern & Deckhand: Kiska Sea |
| Deadliest Catch: An Epic Season | 2013 | TV Special | Himself - Deckhand: Northwestern |
| Deadliest Catch: Best of Season 8 | 2013 | TV Special | Himself |
| Deadliest Catch: Revelations | 2012 | TV Movie documentary | Himself - Deckhand: Northwestern |
| After the Catch | 2008-2012 | TV Series documentary | Himself |
| Deadliest Catch: Inside the Catch | 2012 | TV Series documentary | Himself - Deckhand: Northwestern |
| Deadliest Catch: Best of Season 7 | 2012 | TV Special | Himself - Deckhand: Northwestern |
| Deadliest Catch: Greenhorns | 2011 | TV Movie | Himself - Greenhorn: Northwestern |
| Deadliest Catch: Best of Season 5 | 2010 | TV Movie | Himself |
Source:
IMDb
,
Wikipedia