• Sheri Moon Zombie is an actress, fashion designer, dancer, and model, known for being the wife of film director Rob Zombie.
• She has a net worth of over $5 million and her husband has a net worth of over $40 million.
• She grew up in Connecticut and later moved to Los Angeles to pursue a career in voice acting.
• She has acted in numerous of her husband's films, including "House of 1000 Corpses" and "The Devil's Rejects".
• She is a vegan and advocates for animal rights.

Known for movies
Short Info
| | |
| --- | --- |
| Date Of Birth | September 26, 1970 |
| Spouse | Rob Zombie |
| Mark | Slender figure |
| Fact | Ranked #7 on Maxim's "Hottest Women of Horror Movies" list. |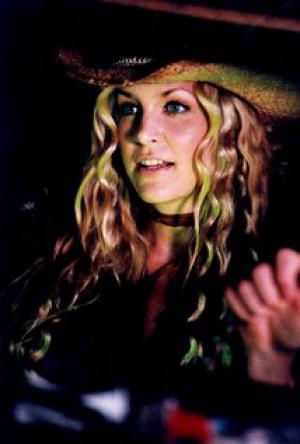 Who is Sheri Moon Zombie?
Sheri Lyn Skurkis was born on 26 September 1970, in San Jose, California, USA. She is an actress, fashion designer, dancer, and a model, but perhaps best known for being the wife of film director Rob Zombie. She's appeared in numerous of her husband's feature films during her career, including "House of 1000 Corpses" and "The Devil's Rejects".
The Wealth of Sheri Moon Zombie
As of mid-2020, Sheri Moon Zombie's net worth is estimated to be over $5 million, earned through a successful career in the entertainment industry. Aside from her film appearances, she's also worked on numerous music videos, and has done charity work.
Most of her work has been done in association with her husband Rob, and she may benefit financially from his success as well, as he has a net worth estimated to be over $40 million.
Early Life, Education, and Career Beginnings
While Sheri was born in San Jose, her family later moved and settled in Connecticut. She grew up alongside a brother in Plainville, where she attended Plainville High School, the only one in the area. During this time, she aspired to become a voice actress, inspired by cartoons she watched during her youth. After matriculating, she moved back to California, to Los Angeles, looking for opportunities within the voice acting world.
However, it was difficult, and she found herself moving between her home state and L.A, looking for work while attending voice acting classes.
She enrolled at the Connecticut School of Broadcasting, briefly going there to find a career as a video jockey (VJ) for Music Television (MTV). She worked as a dancer to make ends meet, and found a lucrative opportunity working as a dancer for the band White Zombie, fronted by Rob Zombie.
Dancing and Acting
Moon was the go-to dancer and choreographer during White Zombie's tour, and earned well with the band, helping create routines as well as becoming involved with the costume work.
After White Zombie disbanded, she remained under contract with Rob who hired her as a dancer during his solo career. She worked on several of his music videos, and appeared in the video for "Living Dead Girl", and was featured on the cover of the albums "Demon Speeding" and "American Made Music to Strip". She continued featuring in several of Zombie's works, and the two developed a relationship. Meantime she also worked with the bands Prong and Black Label Society during this period.
When Rob ventured into film work, Sheri was cast as one of the stars of his first feature – "House of 1000 Corpses" – in which she portrayed Baby Firefly.
The film tells the story of a group of teenagers who are lured to a farm where they are tortured by a family of psychopaths, The film takes inspiration from horror films of the 1970s, such as "The Hills Have Eyes" and "The Texas Chain Saw Massacre". Despite gaining negative reviews, the film was successful at the box office, and eventually developed a cult following.
Continued Acting Work
The following year, Sheri continued to gain acting opportunities, making and appearance in the film "Toolbox Murders" directed by Toby Hooper. The film is a remake of the 1978 film of the same name, following the story of occupants of an apartment who become the target of a masked killer.
To date, this is the only film she's appeared in that's not a project of her husband.
She quickly returned to Zombie's work in 2005, reprising her role as Baby in "The Devil's Rejects", a sequel to "House of 1000 Corpses". The film was again successful at the box office, earning well over its $7 million budget, while this time gaining positive reviews from many high profile critics. She won a Scream Award for her role, which she shared with the rest of the cast members who portrayed the Firefly family. She also won a Fuse/Fangoria Chainsaw Award.
After this work, she ventured into business, releasing a clothing line called Total Skull, and went on tour promoting her products.
Recent Projects
In 2007 Moon was cast in her husband's film "Grindhouse", playing the character Eva Krupp as a part of the fictional trailer for "Werewolf Women of the SS". The film was intended as an ode to the exploitation film of the 1970s, also known as the grindhouse theatres; the film features a segment directed by Quentin Tarantino. Following her work there, she was cast in the revival of "Halloween", in which she portrayed Deborah Myers, the mother of the serial killer Michael Myers. The film was noted for exploring the slasher character Michael Myers further, and was very successful in the box office despite mixed reviews, becoming the highest-grossing in the entire franchise.
She later reprised her role in the sequel "Halloween II", which was released the following year.
Afterwards, she worked on another Zombie film – "The Haunted World of El Superbeasto" – voicing the character "Suzi-X". The film is based on the comic book series of the same name created by Rob Zombie, and takes place in the universe of his Firefly film franchise. The film had a more comical approach to it being that it is animated, though it was released straight to video, only released in theatres in selected places internationally.
One of her latest projects is the film "3 From Hell", a sequel to "The Devil's Rejects", and released in 2019.
Personal Life
Sheri married Rob Zombie in 2002 after almost nine years of being together, and changed her name to Sheri Moon Zombie to fit better with her husband and their work. The couple resides in Los Angeles, and they also have a home in Connecticut, a farm that they bought many years back. Outside of her work, she promotes a lot of advocacies concerning animal rights, and their farm is the home of many of rescue animals. Perhaps unsurprisingly, Sheri is a vegan.
General Info
| | |
| --- | --- |
| Full Name | Sheri Moon Zombie |
| Date Of Birth | September 26, 1970 |
| Height | 1.78 m |
| Profession | Fashion Designer, Actor, Dancer, Model |
| Education | Plainville High School |
| Nationality | American |
Family
| | |
| --- | --- |
| Spouse | Rob Zombie |
| Parents | Carol A. Skurkis, William B. Skurkis |
Accomplishments
| | |
| --- | --- |
| Movies | 31, The Lords of Salem, The Haunted World of El Superbeasto, Halloween II, Halloween, Grindhouse, The Devil's Rejects, Toolbox Murders, House of 1000 Corpses |
Social profile links
Marks
| # | Marks / Signs |
| --- | --- |
| 1 | Blonde hair |
| 2 | Slender figure |
| 3 | Frequently cast by her husband, Rob Zombie |
| 4 | Shrill laugh |
Quotes
| # | Quote |
| --- | --- |
| 1 | I really fell in love with the art of making clothes when I was dancing on tour. Creating my stage image through clothes was a blast. I discovered a total sense for what cool chicks and rockin' dudes like to wear. Total Skull is for those people. People that like to rock - total rock. |
| 2 | I actually started making tank tops under the name Kitty Moon many, many years ago, but I just didn't have the time to fully devote to it. Now that we don't go on the road as much, I have a better ability to focus on a line; that's why I started Total Skull. |
| 3 | I don't really feel like I want to try to sell myself or market myself to people. I don't have an agent. I don't give many interviews. I don't actively seek work. I just don't like the whole audition process that actors have to go through, God bless them. It's so demeaning and terrible for the most part. That's a big reason why I [didn't for so long]. I know there's somebody that has a website out there where you can get information. I think for the most part, things are almost right. It's sort of like the tabloids. There's a bit of information that's true, but then the rest of it is sort of fluffed up. |
| 4 | The hardest thing about being on the road is getting healthy food sometimes. Everyone's a big carnivore this country and it's a fast food nation. The hardest thing about being on the road is getting good, healthy food. I don't think I've eaten McDonald's since I saw Super Size Me (2004). |
| 5 | [on her 31 (2016) character]: Charly is totally a victim in this movie and she's only doing everything out of the instinct to survive, like Heidi in The Lords of Salem (2012). I think it shows that everyone has that in them and they can come out. It's kill or be killed. |
| 6 | I read a lot of books, I do a lot of crossword puzzles, [Rob Zombie and I] watch movies on the bus. On the last tour that we did this summer, everyone wanted to watch music documentaries, so we were really into watching those. We also have, like, these big Uno championship games - we're, like, mad for Uno on the bus! |
| 7 | [on her relationship with Rob Zombie]: We were together for nine years. We both really didn't want to get married. Then all of a sudden something happened and I was just like, "You know what? Maybe we should. We might as well." It was weird, but there was nothing profound about it. We planned the wedding and then we said, "No, forget it. Let's just elope and then we'll have a party here." So that's what we did. We were actually taking a walk in our neighborhood the day before [Halloween]. The wedding date was to be November 9th. We're like, "Oh god, we've been together for nine years. We should just say our vows privately." It was just like a spur-of-the-moment decision. It just happens that the next day was Halloween. We didn't do it for any spooky reasons or anything. We were not in costume. I wore a white sweater and jeans. |
| 8 | I consider myself a California girl now. I moved out here when I was 17. As soon as I graduated high school, I came out to California and had a couple of tries. I mean, I moved back to Connecticut where I grew up, twice, and went to broadcasting school. But I moved back and forth. Seventeen is really young to move out of state and be on your own. I mean, I wanted to play and have fun and be responsibility-free, but eventually you have to buckle down and get a job. So I was a little wild child when I was younger. |
| 9 | I love working out. I wake up, have my egg white breakfast and then I get on the treadmill and the elliptical. If I don't do that in the morning, I'm in a bad mood for the rest of the day. It really does release, like, some sort of crazy endorphins that gets out your bad energy. I love it. I've also done Pilates, yoga and all that kind of stuff. |
| 10 | Nothing can shock me. |
| 11 | I guess you could say the beginning of my career as an actress was when I started performing in music videos. |
| 12 | Salem is such a cool little town that's very touristy. It's fun to walk around all the shops and get the feeling there. |
Facts
| # | Fact |
| --- | --- |
| 1 | Has stated that she never desired to become an actress and thus will only act in movies directed by her husband, Rob Zombie. The only film Sheri has appeared in that was not directed by her husband is Tobe Hooper's Toolbox Murders (2004), which she did as a personal favor since Rob and Hooper are friends. According to Sheri, she receives offers to appear in other movies, but turns them all down. |
| 2 | Enjoys reading in her free time. |
| 3 | Quit smoking in 2014. |
| 4 | Is a vegan. |
| 5 | Currently filming The Devil's Rejects (2005). [June 2004] |
| 6 | On a convention tour to promote The Devil's Rejects (2005). [July 2005] |
| 7 | Had a personal clothing line, "Total Skull". The hoodie Laurie Strode (Scout Taylor-Compton) wears in Halloween (2007) was from the line. The line went out of business in 2013. |
| 8 | Ranked #7 on Maxim's "Hottest Women of Horror Movies" list. |
| 9 | Named by USA Today as one of today's top Scream Queens. [2007] |
| 10 | Appeared in the December 2005 issue of Playboy. |
| 11 | Began dating Rob Zombie in 1993. |
| 12 | Was a dancer and model before meeting husband Rob Zombie. |
| 13 | Is featured on the soundtrack for her debut movie House of 1000 Corpses (2003). |
Pictures
Movies
Actress
| Title | Year | Status | Character |
| --- | --- | --- | --- |
| 31 | 2016 | | Charly |
| The Scissoring Part 2 | 2013 | | Evil Queen |
| The Lords of Salem | 2012 | | Heidi Hawthorne |
| CSI: Miami | 2010 | TV Series | Olivia Burch |
| The Haunted World of El Superbeasto | 2009 | Video | Suzi X (voice) |
| Halloween II | 2009 | | Deborah Myers |
| Californication | 2008 | TV Series | Nurse |
| Halloween | 2007 | | Deborah Myers |
| Grindhouse | 2007 | | Eva Krupp (segment "Werewolf Women of the SS") |
| The Devil's Rejects | 2005 | | Baby |
| Toolbox Murders | 2004 | | Daisy Rain (as Sheri Moon) |
| House of 1000 Corpses | 2003 | | Baby Firefly (as Sheri Moon) |
| Rob Zombie: Living Dead Girl | 1999 | Video short | Living Dead Girl |
| Rob Zombie: Superbeast | 1999 | Short | Woman Riding Motorcycle |
Producer
| Title | Year | Status | Character |
| --- | --- | --- | --- |
| Total Skull Halloween | 2011 | Video short executive producer | |
| Total Skull | 2011 | Video short executive producer | |
Soundtrack
| Title | Year | Status | Character |
| --- | --- | --- | --- |
| 31 | 2016 | performer: "You Digging What You See Pops?", "Hunt These Freaks Down" | |
Self
| Title | Year | Status | Character |
| --- | --- | --- | --- |
| In Hell Everybody Loves Popcorn: The Making of 31 | 2016 | Documentary | Herself |
| Lennon or McCartney | 2014 | Documentary short | Herself |
| Howard Stern Birthday Bash | 2014 | Video | Herself - Audience Member |
| MSN Exclusives | 2012 | TV Series | Herself |
| Michael Lives: The Making of 'Halloween' | 2008 | Video documentary | Herself |
| Scream Awards 2007 | 2007 | TV Special | Herself (as Sheri Moon) |
| Up Close with Carrie Keagan | 2007 | TV Series | Herself |
| Fuse Fangoria Chainsaw Awards | 2006 | TV Special | Herself (as Sheri Moon) |
| Scream Awards 2006 | 2006 | TV Special | Herself (as Sheri Moon) |
| 30 Days in Hell: The Making of 'The Devil's Rejects' | 2005 | Video documentary | Herself - 'Baby' |
| The 100 Scariest Movie Moments | 2004 | TV Mini-Series documentary | Herself |
| Toolbox Murders: As It Was | 2003 | Documentary | Herself (as Sheri Moon) |
| Being Rob Zombie | 2002 | TV Series documentary | Herself |
| Howard Stern | 1996 | TV Series | Herself |
Archive Footage
| Title | Year | Status | Character |
| --- | --- | --- | --- |
| Cinemassacre's Monster Madness | 2009-2011 | TV Series documentary | Deborah Myers / Baby |
| Going to Pieces: The Rise and Fall of the Slasher Film | 2006 | Documentary | Herself |
Awards
Won Awards
| Year | Award | Ceremony | Nomination | Movie |
| --- | --- | --- | --- | --- |
| 2007 | Eyegore Award | Eyegore Awards | | |
| 2006 | Chainsaw Award | Fangoria Chainsaw Awards | Relationship from Hell | The Devil's Rejects (2005) |
| 2006 | Scream Award | Scream Awards | Most Vile Villain | The Devil's Rejects (2005) |
Nominated Awards
| Year | Award | Ceremony | Nomination | Movie |
| --- | --- | --- | --- | --- |
| 2007 | Fright Meter Award | Fright Meter Awards | Best Supporting Actress | Halloween (2007) |
Source:
IMDb
,
Wikipedia