• Sean Lance Berdy was born deaf and is fluent in American Sign Language (ASL)
• He is of Irish-Russian ethnicity and won first place at the World Children's Magicians Festival in Saint Petersburg, Russia
• In 2010, he won the title of Mr. Deaf Teen America and starred as Emmett Bledsoe in the ABC Family series "Switched at Birth" from 2011-2017
• In 2018, he appeared as Frank Bowe in the episode "Civil Rights" of the series "Drunk History" and co-stars as Sam Eliot in Netflix's "The Society" as of 2019
• He has been featured in several public service commercials and opened up about his struggles with bipolar disorder in 2018

Known for movies
Short Info
| | |
| --- | --- |
| Fact | Sean's deaf name sign is a touch of the cheek with the fingers closed together. His parents gave him the sign because he was always smiling as a baby. |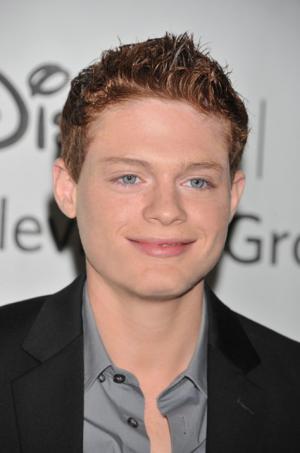 Early life, family, educational background
American producer, actor and writer, Sean Lance Berdy was born on 3 June 1993, in Boca Raton, Florida USA. He was raised with his younger brother, Tyler by Scott and Terrie Berdy, in a Hebrew Catholic family. All four of them are deaf. Sean was born deaf and is fluent in American Sign Language (ASL), but he can speak English. He is of Irish-Russian ethnicity due to his father having Russian ancestry and his mother being of Irish descent; Sean has American nationality.
From a young age, Sean would put on comedic improv shows, with Tyler in charge of lighting; the shows ignited his passion for performing. When he was a young child, he was especially interested in magic. and won first place at the World Children's Magicians Festival in Saint Petersburg, Russia.
From elementary school, he attended the Indiana School of the Deaf, and in 2010 during his sophomore year, he won the title of Mr. Deaf Teen America. The Model Secondary School started the pageant for the Deaf in 1999. Part of his duty as the winner was to travel the US and spread awareness of the disability. His travels and performances led him to matriculate remotely from California in 2011. He performed with the school's arts touring group, Vibrations, when he was in high school, signing "The Way You Make Me Feel" by Michael Jackson in American Sign Language. He performed nationwide with the band, and the performances became popular, not only live, but also on YouTube on which a video of the performance was posted.
Career
His acting career began in 2005, when he played the mischievous but lovable Sammy "Fingers" Samuelson in the film sequel, "The Sandlot 2," which was narrated and directed by David Mickey Evans. In 2006 he played alongside Michael Angarano as the supporting role of Young Trey in the film "The Bondage," directed and written by Eric Allen Bell. In 2008, he appeared as Nick in "The Legend of the Mountain Man", and as Wesley in "The Deaf Family."
From 2011 to 2017, he played in five seasons of "Switched at Birth", moving to California to film the ABC Family series, and starring as the main character, Emmett Bledsoe, one of two deaf characters on the show. Marlee Matlin played Melody Bledsoe, Emmett's mother; Vanessa Marano and Katie Leclerc were also permanent actors in the series.
Emmett is a photographer, rides a motorcycle and plays the drums in a band. Sean was awarded the Deaf Nation Inspiration Award for Entertainment for the positive influence his role brought to the deaf community, and the series was recognized for having encouraged people to learn American Sign Language, and for raising awareness of the deaf community.
In 2011, Sean was nominated for a Teen Choice Award for TV Breakout Star. In an interview with Time magazine, Sean shared his experience of playing Emmett, saying that although Emmett grew up deaf like himself, he has always been able to hear a little bit – he can hear sounds with a hearing aid, and enjoys listening to music. He considers himself bilingual because he does have the ability to speak and understand English.
He added that he appreciates that people have taken the initiative to learn American Sign Language after watching the show. Sean explained that when he goes out to a bakery or a restaurant, or anywhere public, people thank him and sign something, to which he responds, 'Where did you learn that?' and they reply, 'From the show,' proving that "Switched at Birth" has had an incredible impact.
In "Ice Age: Continental Drift," the Twentieth Century-Fox animated film released in 2012, Sean signed the movie in American Sign Language for the DVD version. He can be seen during the movie, displayed in a picture-in-picture window. In 2018, he appeared as Frank Bowe in the episode "Civil Rights" of the series "Drunk History."
He co-stars as Sam Eliot in Netflix's "The Society" as of 2019, one of the main characters who is deaf and gay.
Sam's best friends, Gordie (played by Jose Julian) and Becca Gelb (Gideon Adlon) both taught themselves American Sign Language to communicate easier with him. Jack Mulhern plays Grizz, Sam's boyfriend, who is also learning to communicate with Sam after he accidentally begins learning British Sign Language. Sean once again spoke with Time magazine when he joined the cast of "The Society", and talked about how the show tackled sign language. He told the magazine that none of the actors knew how to sign, so then there was an American Sign Language coach on set who would help the actors learn their lines in sign language – the cast would have lessons over the weekends, and during their free time on days of filming. Sean expressed his admiration for Gideon Adlon, who plays Becca, saying that her determination to learn sign language perfectly impressed him enormously.
Gideon had a week-and-a-half to two weeks to learn her lines, and be able to sign them fluently, but nailed them every episode. In his interview, he also spoke about the films "A Quiet Place" and "The Shape of Water," which are two major Hollywood films featuring sign language and deaf characters '…in different ways.'
When interviewed by The Wall Street Journal, he spoke on why deaf representation is so important. Sean explained that proper representation shows that deaf people don't just, '… move their hands…' but there is a whole culture, community and language. That relationships between deaf people and hearing people contain multiple challenges, but are joyful and happy, exactly like 'normal' relationships. He has appeared in several music videos to provide sign language interpretations, and has given numerous motivational keynote speeches all over the country.
One of the most famous American Sign Language versions of his is of Enrique Iglesias's well-known song, "Hero" – Sean's version has received over a million views on YouTube. In 2012, he performed "Hero" live in sign language at Disneyland's inaugural SIGNin' in the Street; the event celebrated creativity within the deaf community. In May 2019 he announced that he was in the process of writing a romantic movie in American Sign Language. He has been featured in several public service commercials throughout his career. He plans to develop his comedy "The Sean Berdy Show," which will contain skits, stand-up comedy, personal life stories and other topics. He also wants to make more sign music videos.
Personal life
He has said that he the opposite of his "Switched at Birth" character, Emmett, who is secluded and icy; Sean describes himself as outgoing and playful.
From the age of 11, he has suffered from bipolar disorder. He opened up about his struggles in June 2018, when he shared an Instagram post and said, 'I have been hiding for so long, and I'm done with it because I know when I share – I will receive more support.' He practices yoga and meditation, and goes for walks and hikes to help him cope with his disorder. He was dating Mary Harman, but the pair have since broken-up, following which she became engaged and married Colin Whited, but Sean is seemingly still single.
Hobbies, favorite things and interesting facts
In his interview with theTVaddict.com, Sean stated that his favourite actor is Jim Carrey, who has inspired him from a very young age; his dream would be to star opposite Jim in a major comedy movie. He gushed, 'He [Jim] is one of the big inspirations in my young life, and he still is.' His fluidity and speed when signing has earned him the nickname 'signing ninja.'
When he was two years old, his aunt jokingly said that he would become an actor like Marlee Matlin, who ironically played his mother 15 years later in "Switched at Birth." He is regularly recognized and applauded for his work in revolutionizing people's interest in the deaf community, and learning sign language.
Appearance
He has reddish-brown hair and blue eyes. He is 5ft 10in (1.78m) tall and weighs about 150lbs (68kgs).
Net worth and salary
As from early 2020, his net worth is estimated at over $2 million.
General Info
| | |
| --- | --- |
| Full Name | Sean Berdy |
| Height | 1.78 m |
| Profession | Actor, Comedian |
| Nationality | American |
Family
| | |
| --- | --- |
| Parents | Terrie Berdy, Scott Berdy |
| Siblings | Tyler Berdy |
Accomplishments
| | |
| --- | --- |
| Nominations | Teen Choice Award for Choice TV: Breakout Star |
| Movies | The Sandlot 2 |
| TV Shows | Switched at Birth |
Social profile links
Quotes
| # | Quote |
| --- | --- |
| 1 | I see a need to continue breaking down barriers between the hearing and Deaf communities, and I'd like to take part in building bridges that close that gap. |
| 2 | It is the greatest gift and honor of my career to see that my work has inspired so many of the show's millions of fans to learn sign language. |
| 3 | I grew up using hearing aids, and I had speech therapy and so forth, and that helped me to develop a passion for music and helped me to develop my drumming talents. |
| 4 | I was born deaf. I was raised in a hearing world and in a deaf world at the same time. I can't say that I like one better than I like the other. I like them both. I speak pretty well; I gesture. If I don't understand something, you know, pen and paper, texting. I use it all. |
| 5 | It is one of my dreams that a great screenwriter like Nancy Meyers will write a romantic script, with maybe a little hint of comedy, featuring a young deaf actor. I would love to be that actor! |
| 6 | I've always admired Marlee Matlin, and what a great woman, what a great heart, what a wonderful actress. I've always looked up to her. As a person, she is inspiring. |
| 7 | Humor is a big part of how deaf people get through the day. |
| 8 | My purpose is to show the world through my acting the authenticity of Deaf culture. |
| 9 | I believe in the power and the beauty of American Sign Language. I believe everyone should learn it. |
| 10 | It's not all about acting. It's about giving the art of entertainment to humanity. |
| 11 | Shake a bam. |
Facts
| # | Fact |
| --- | --- |
| 1 | When Sean was only two years old, his aunt predicted that he would be an actor like Marlee Matlin. Ironically, 15 years later Matlin was cast in the role of his mother on "Switched at Birth.". |
| 2 | Sean's deaf name sign is a touch of the cheek with the fingers closed together. His parents gave him the sign because he was always smiling as a baby. |
| 3 | Sean's parents and younger brother, Tyler, are also deaf. |
| 4 | Has a brother, Tyler Berdy. |
| 5 | Sean produced an ASL version of Enrique Iglesias' "Hero" that has been viewed nearly one million times on line. Sean has also performed the ASL version live at Disney. |
| 6 | Sean has been called a "signing ninja" because of the speed with which he can sign in American Sign Language. |
| 7 | Sean Lance Berdy was born in Boca Raton, Florida; June, 3, 1993, better known by his screen name of "Sean Berdy". He is a deaf film actor, comedian and live performer. He has enjoyed success in film. He was born deaf, he started acting when he was a little boy giving shows. |
| 8 | Jim Carrey has been Sean's acting idol since he was a little boy. Sean's ultimate dream is to one day star in a motion picture comedy opposite Jim. |
Pictures
Movies
Actor
| Title | Year | Status | Character |
| --- | --- | --- | --- |
| Switched at Birth | 2011-2017 | TV Series | Emmett Bledsoe Emmett |
| The Deaf Family | 2008 | | Wesley |
| The Legend of the Mountain Man | 2008 | | Nick |
| The Bondage | 2006 | | Young Trey |
| The Sandlot 2 | 2005 | Video | Sammy |
Soundtrack
| Title | Year | Status | Character |
| --- | --- | --- | --- |
| Switched at Birth | 2011 | TV Series performer - 1 episode | |
Self
| Title | Year | Status | Character |
| --- | --- | --- | --- |
| Megan Clancy Interview-Sean Berdy | 2014 | Video short | Himself |
| Sign Along: Ice Age Continental Drift | 2012 | Video | Himself |
| Disney Parks Christmas Day Parade | 2011 | TV Movie | Himself |
| Vibrations: A Documentary | 2010 | TV Movie documentary | Himself |
Awards
Nominated Awards
| Year | Award | Ceremony | Nomination | Movie |
| --- | --- | --- | --- | --- |
| 2011 | Teen Choice Award | Teen Choice Awards | Choice TV: Breakout Star | Switched at Birth (2011) |
Source:
IMDb
,
Wikipedia