• Sadie Frost is an English fashion designer, actress, author, and producer
• She has appeared in several music videos, films, and television series
• In 1999 she co-founded the fashion label Frost French, and in 2004 co-founded production company Natural Nylon
• In 2010 she wrote and published "Crazy Days", an autobiography
• She is the godmother of Lila Grace Moss, Kate Moss' daughter

Known for movies
Short Info
| | |
| --- | --- |
| Spouse | Jude Law, Gary Kemp |
| Fact | Former husband, Gary Kemp, is famous as guitarist and songwriter of the British band, Spandau Ballet. |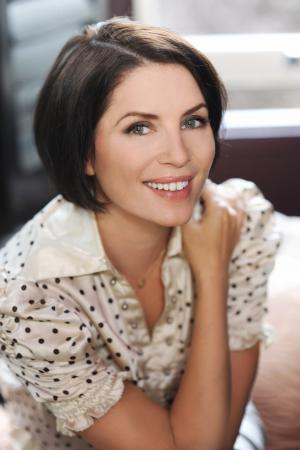 Early life, family, educational background
English fashion designer, actress, author, and producer Sadie Liza Vaughan was born on 19 June 1965, in Islington, London, England, to actress Mary Davidson and David Vaughan, a psychedelic artist who worked for The Beatles.
When she spoke to the Sunday Times, she said her childhood was a 'chaotic but positive experience.' She was born in Islington, but after her parents' split, she spent the majority of her childhood in Ashton-under-Lyne, Lancashire. David and Mary had multiple relationships between the two of them, which resulted in Sadie having a lot of siblings. She is the half-sister of fellow actresses Jade Davidson and Holly Davidson; brothers Tobias Vaughan and Gabriel Jupiter; primary school teacher Jessi Frost and a sister, Sunshine Purple Tara Velvet.
When she was three-years-old, she starred in a Jelly Tots ad, and when five-years-old appeared with the comic double act, Morecambe and Wise. She won a scholarship to attend the Italia Conti Academy of Theatre Arts, but after suffering from an early eating disorder, she left the school when she was 13 and gave up acting. She then attended Hampstead School.
Building on her foundation from studying acting at the Italia Conti Academy of Theatre Arts, she attended the Manchester Royal Exchange Theatre when she was 19. After graduating in 1984, she escaped her parents by leaving home, and that year appeared in "Mumbo Jumbo" at the Royal Exchange Theatre, Manchester, a play directed by Nicholas Hytner.
Career
Sadie's debut film role was in 1987 in "Empire State." In 1989 she appeared in "Diamond Skulls," and in 1990 played Alice in the television movie "A Ghost in Monte Carlo."
Her best-known appearance was as vampire Lucy Westerna in 1992's "Bram Stoker's Dracula," which was produced by Francis Ford Coppola.
However, she became noted for appearing in music videos, including "Not Over Yet '99" by Planet Perfecto featuring Grace, "Common People" by Pulp, and several Spandau Ballet videos. It was at the Spandau Ballet productions that she met Gary Kemp, her first husband. In 1990, they appeared in the film "The Krays" together, then appeared in two other films as well, including 1994's "Magic Hunter" wherein they had to perform a love scene together, although they were separated at the time in real life.
In 1994 she was cast as Jo, the lead role in Paul W.S. Anderson's directorial debut "Shopping", acting opposite Jude Law. After marrying Jude and giving birth to their three children, she took fewer acting roles, and turned her focus to co-founding a production company and producing films. In 1997 she founded the production company Natural Nylon with several other actors, including Jude Law, Jonny Lee Miller, and Ewan McGregor. In 1999 the company produced "eXistenZ," a science-fiction-horror film, and in 2000 created "Nora." The production company no longer exists.
In 1999 she played Laura Cheveley in "An Ideal Husband", and the Governess in "Presence of Mind." In 2000 she played Sadie in "Love, Honor, and Obey," and the following year appeared in "Uprising" as Zivia Lubetkin.
Sadie has appeared in several television series too, including "Casualty" in 1988, "Press Gang"" in 1989, and "Ruth Rendell Mysteries" in 1999.
In 2004 she co-produced "Sky Captain and the World of Tomorrow," starring Gwyneth Paltrow and Angelina Jolie.
Along with her friend, Jemima French, in 1999 Sadie co-founded the fashion label Frost French. The label began with only lingerie, and then grew into also producing clothing collections. In 2004, Frost French won Elle's Designers of the Year Award. Sadie and Jemima appeared on "Project Runway" as guest judges. In 2011 the label closed due to issues regarding merchandise supply and investments.
In 2004 she wrote and produced "What Sadie Did Next," a short series for E4. In 2005 she appeared in BBC 2's "Eating with… Sadie Frost."
For the Homes of Hope project in March 2006, she flew to South Africa to part-fund an orphanage.
She posed naked in September 2006 for Canadian photographer Bryan Adams. The photographs were a PETA anti-fur advert, and came out at the same time as London Fashion Week. She was 41 at the time.
She made her West End debut in 2009 in Zoë Lewis' play, "Touched For the Very First Time"; the play was produced by Imogen Lloyd Webber, directed by Douglas Rintoul, and was a one-woman show.
In January 2010, she co-starred alongside Carl Barat in the play "Fool for Love" at the Riverside Studios theater.
In 2012 Sadie co-founded Blonde to Black Pictures, another production company with Emma Comley, a long-term friend. Sadie shared with the Guardian, 'Our entire vision was supposed to cultivate new talent, provide individuals chances … take risks and to do a lot of it on our own.' Their first feature movie was "Buttercup Bill" in 2014.
Personal life
Sadie met songwriter and guitarist Gary Kemp of the British band, Spandau Ballet, in 1981 while dancing in one of their music videos. She was 16 at the time, so they fell out of contact until they were both 21. They began dating soon after reuniting, and married on 7 May 1988, shortly before her 23rd birthday. On 20 September 1990, their son, Finlay Munro Kemp, was born, but Sadie and Gary divorced on 19 August 1995.
While working on the film "Shopping," she met fellow actor Jude Law on set.
On 2 September 1997 they married, and had three children together – son Rafferty born on 6 October 1996, daughter Iris Tallulah on 25 October 2000, and another son, Rudy Indiana Otis Law born on 10 September 2002, but Sadie and Jude divorced on 29 October 2003. She declared Kate Moss as Iris' godmother and BBC Radio 1 DJ, Nick Grimshaw as her godfather. Their older son was named among GQ's best dressed British guys.
In 2010 Sadie wrote and published "Crazy Days," an autobiography. Jude hired a leading firm of solicitors, Atkins Thomson, to demand that all mention of their marriage would be removed from the book, a document consisting of 100 pages. Additionally, he objected to the publication of photographs of their children and any minor domestic details. The case was settled at the High Court.
Hobbies, favorite things, and interesting facts
Sadie is a vegetarian.
She is the godmother of Lila Grace Moss, Kate Moss' daughter.
In 1994 she turned down the role of Elizabeth in "Frankenstein" as she did not want to be typecast, as in 1992 she portrayed a similar role in "Bram Stoker's Dracula."
The director of "Mary Reilly," Stephen Frears, chose Sadie to play the title role in 1996, but the studio wanted Julia Roberts.
In 1995, Michael Caton-Jones chose her to play Mary in the film, "Rob Roy." However, the producers disagreed with the director's choice and encouraged him to cast a more famous actress; Jessica Lange landed the role.
Appearance
She has hazel eyes and dark brown hair. She is 5ft 3ins (1.6m) tall, weighs around 128lbs (58kgs), and her vital statistics are 36-28-34.
Net worth and salary
Sadie's net worth has been estimated at around $4 million, as of mid-2020.
Who is Jude Law?
English actor David Jude Heyworth Law was born on 29 December 1972 in London, where he was raised.
He began acting in theatre before appearing in small roles in feature films. In 1999 his performance in Anthony Minghella's "The Talented Mr. Ripley" gained recognition, and for which he won a BAFTA Award for Best Actor in a Supporting Role, and was nominated for an Academy Award and a Golden Globe Award. In 2001 he appeared in Steven Spielberg's "A.I. Artificial Intelligence" and "Enemy at the Gates," for both of which he received commercial and critical acclaim. He earned BAFTA, Golden Globe and Academy Award nominations for his role in the 2003 war film "Cold Mountain."
Some of his films have not received the same critical and commercial success, such as the 2004 films "Alfie" and "Sky Captain and the World of Tomorrow", but the same year he also starred in "Closer" as the romantic lead, which was well-received, much like his appearance in "The Holiday" in 2006.
Jude Law makes me WEAK 🔥🔥 #JudeLaw pic.twitter.com/BlQzbpEg2W

— Lu✨ R.I.P NAYA RIVERA ♥️ (@barchiedestiny) June 3, 2020
In 2009 he played Dr. Watson in "Sherlock Holmes" alongside Robert Downey Jr., who played the title character, roles they reprised in the 2011 sequel "Sherlock Holmes: A Game of Shadows." That year, he also appeared in supporting roles in two other films, "Hugo" and "Contagion," both receiving positive reviews.
He starred in the 2017 film "The Young Pope," and in 2018 played Albus Dumbledore in "Fantastic Beasts: The Crimes of Grindelwald." The following year he played Yon-Rogg in "Captain Marvel," which is his highest-grossing film to date.
Jude has appeared on stage and has appeared in several Broadway and West End productions, including "Hamlet," "Les Parents Terribles" and "Anna Christie."
He has five children with three different women. Sadie and Jude have three children together, his daughter with American model Samantha Burke was born in September 2009, and his daughter with Catherine Harding was born in 2015. On 1 May 2019, he married Phillipa Coan.
He has received numerous awards, including a BAFTA Film Award as well as nominations for two Tony Awards, two Academy Awards, three Laurence Olivier Awards, and four Golden Globe Awards. In 2007 he was recognized for his contribution to World Cinema Arts and was thereafter named a knight of the Order of Arts and Letters by the French government.
His net worth is estimated at over $45 million, as of mid-2020.
General Info
| | |
| --- | --- |
| Full Name | Sadie Frost |
| Height | 1.63 m |
| Profession | Actor, Designer, Businessperson, Film producer |
| Education | Italia Conti Academy of Theatre Arts |
| Nationality | British |
Family
| | |
| --- | --- |
| Spouse | Jude Law, Gary Kemp |
| Children | Rafferty Law, Iris Law, Rudy Law, Finlay Munro Kemp |
| Parents | David Vaughan, Mary Davidson |
| Siblings | Holly Davidson, Jade Davidson, Sunshine Purple Tara Velvet, Jessi Frost, Tobias Vaughan, Gabriel Jupiter Vaughan |
Accomplishments
| | |
| --- | --- |
| Movies | Bram Stoker's Dracula, Love, Honour and Obey, Shopping, The Krays, Shoot on Sight, Set the Thames on Fire, Presence of Mind, Sky Captain and the World of Tomorrow, Crimetime, Final Cut, Diamond Skulls, Rancid Aluminium, A Pyromaniac's Love Story, Splitting Heirs, Molly Moon: The Incredible Hypnotist... |
| TV Shows | Bedsitcom, Les Girls, Pulaski, Uprising |
Social profile links
Quotes
| # | Quote |
| --- | --- |
| 1 | I'm playing a very strong character, it's the story of the woman Polish Jews out of the Warsaw ghetto. I've just begun my weapons training and the SAS type training that's getting me fit. |
| 2 | I've concentrated for a long time on English films because I've got two kids but my oldest son is 11 and I think I'm going to be away for about four months of year now. |
| 3 | I'm always the girl at the party who, within five minutes, has taken my heels off, hitched up my dress in my knickers, and probably spilt drink down my cleavage. |
| 4 | When I had my first boy it all started and that male energy seemed to keep me awake but since my daughter, who's incredibly serene, I can't seem to stop sleeping because she's asleep all the time. It's a pattern. |
| 5 | I don't allow meat in my house or in my oven. My whole family is vegetarian - and although I've given my kids the choice to order meat at a restaurant when they reach five, they're not interested. |
| 6 | I was a very defiant child, and my father encouraged that. He wanted me to be as wild and creative as possible and didn't believe in disciplining children. |
| 7 | I was the eldest daughter with these four beautiful younger sisters with ringlets and pretty faces, and I used to dress them up in Victorian clothes and take them out for the day and pretend they were mine. |
| 8 | My kids inspire me to be the person I am today - without them I wouldn't be who I am today. |
| 9 | My parents are from Manchester but I was brought up in London, Camden Town. |
| 10 | My style is scruffy with a touch of androgyny. |
| 11 | There are people out there who want me to fail, who want Jude to fail, who want our relationship to fail. |
| 12 | When you love someone so much that you are in pain when you are apart it ends up being destructive. I never want to be in that place again. |
| 13 | If I am in London I like a quick get away to The Olde Bell in Hurley... It's nearby and no stress - great food and beautiful walks. |
| 14 | If the kids did want to get into showbiz then so be it, but I would never project anything on to my children. |
| 15 | Just to be remembered is good enough for me. Lots of people are forgotten. |
| 16 | My childhood was colorfully anarchic and punctuated by a lot of change. |
| 17 | My father was a painter and an anarchist, always getting in trouble for his performance art. |
| 18 | I want to get up at 6 A.M. and go swimming and do 30 lengths. |
| 19 | I was fiercely independent and ambitious from a very young age. |
| 20 | I'm the kind of person who'll have a few drinks and fall asleep at 11. |
| 21 | I've had four children and I've done a good job and I'm happy in life. |
| 22 | I've never got into debt and I've always been in control of my taxes and VAT, but having four children costs a lot. They are my weakness. |
| 23 | From 16 years old, I wanted to have a baby, that's all I wanted. |
| 24 | Having money has given me a certain freedom, but being in the public eye has taken away a lot. |
| 25 | I haven't done an international film for a long time. |
| 26 | I love babies. I love being pregnant and I loved giving birth. |
| 27 | I really enjoy making dinner for my kids and my husband - chopping ginger and marinating the tofu. |
| 28 | I find a lot of young filmmakers make too much of an effort to be trendy and they can be pretentious. |
| 29 | I really fought to make my character not a stereotype. I play a soap star with dyed blonde hair. |
| 30 | I've never worn fur, either. I'm a naturally squeamish person, and fur smells like dead animal to me. |
| 31 | At home it's all Batman and Star Wars and they do gang up on me. Sometimes I don't want to dress up as Darth Vader or play train sets, so I'll go out for a drink with the girls. |
| 32 | By 17, I was modeling and had bought myself a flat. I've always tried to be self-sufficient. |
| 33 | It is so important that you don't stay with someone just for the children and for the wrong reasons. |
| 34 | I'm a strong woman. |
| 35 | I always wear flat shoes, because I can't walk in anything else. |
| 36 | I never thought I'd spend all my life with Gary. I suppose I was quite cynical about marriage. But with Jude, I knew right from the beginning: there was an electricity I'd never felt before. It was so easy, we talked for hours. It was a relief, really. |
| 37 | I don't like it when people don't act on their words. |
Facts
| # | Fact |
| --- | --- |
| 1 | Ex-daughter-in-law of Peter Law and Maggie Law. |
| 2 | Ex-sister-in-law of Natasha Law. |
| 3 | Has split from Welsh actor Andy Jones [December 29, 2009]. |
| 4 | Recovering after undergoing emergency surgery on her hand [July 7, 2009]. |
| 5 | She studied acting at the Italia Conti Academy of Theatre Arts. |
| 6 | Her father, David Vaughan, was a psychedelic artist who had done work for The Beatles. |
| 7 | At nineteen she joined the Manchester Royal Exchange Theatre. |
| 8 | Former husband, Gary Kemp, is famous as guitarist and songwriter of the British band, Spandau Ballet. |
| 9 | She and Jude Law fought a custody battle for over 2 years |
| 10 | Godmother of Kate Moss' daughter Lila |
| 11 | Kate Moss is the godmother of her daughter Iris |
| 12 | Her friendship with best friend Kate Moss ended because of Moss' relationship with rock singer Pete Doherty. |
| 13 | Children: Finlay Munro Kemp (b. 20 September 1990) with Gary Kemp, Rafferty Law (b. 6 October 1996), Iris Law (b. 25 October 2000), Rudy Indiana Otis Law (b. 10 September 2002) with Jude Law. |
| 14 | Is best friends with supermodel Kate Moss. |
| 15 | Older sister of actresses Holly Davidson and Jade Davidson. |
| 16 | Co-owns film company Ewan McGregor, Jonny Lee Miller, Sean Pertwee and former husband Jude Law. |
| 17 | Parents are Mary Davidson & David Vaughn |
| 18 | Co-owns fashion label FrostFrench |
| 19 | Staunch friend and fan of Annie Lennox. |
| 20 | She's a vegetarian. |
Pictures
Movies
Actress
| Title | Year | Status | Character |
| --- | --- | --- | --- |
| Lucid | | post-production | Georgina |
| The Confusion of Tongues | | completed | Sadie Frost |
| Absolutely Fabulous: The Movie | 2016 | | Fashion Show / Huki Muki Attendee |
| Set the Thames on Fire | 2015 | | Mrs. Hortense |
| Molly Moon and the Incredible Book of Hypnotism | 2015 | | Mrs. Alabaster |
| Deadly Virtues: Love.Honour.Obey. | 2014 | | Beautiful Woman |
| Dotty | 2013 | Short | Dotty |
| Wizard's Way | 2013 | | Escort |
| Animal Charm | 2012 | Short | |
| The Actress | 2012/I | Short | Mabel Stanford |
| Fortune's Smile | 2011 | Short | Harriet Fabian |
| The Heavy | 2010 | | Dutch |
| The Last Supper | 2009/IV | Short | Wife |
| The Town That Boars Me | 2008 | Short | The Queen |
| Beyond the Rave | 2008 | Video | Fallen Angel |
| Shoot on Sight | 2007 | | Advocate Fiona Monroe |
| Bedsitcom | 2003 | TV Series | Introducer (voice) |
| Uprising | 2001 | TV Movie | Zivia Lubetkin |
| The Anniversary Party | 2001 | | Lucy - Joe's Sister (voice, uncredited) |
| The Fear | 2001 | TV Series | Storyteller |
| Soul Patrol | 2000 | Short | Luisa |
| Love, Honor and Obey | 2000 | | Sadie |
| Rancid Aluminum | 2000 | | Sarah Thompson |
| Presence of Mind | 1999 | | Governess |
| Flypaper | 1999 | | Natalie |
| Captain Jack | 1999 | | Tessa |
| Ruth Rendell Mysteries | 1999 | TV Series | Francesca |
| An Ideal Husband | 1999/II | | Laura Cheveley |
| Final Cut | 1998 | | Sadie |
| Bent | 1997 | | Max's Friend |
| Crimetime | 1996 | | Val |
| A Pyromaniac's Love Story | 1995 | | Hattie |
| Büvös vadász | 1994 | | Eva |
| Shopping | 1994 | | Jo |
| The Cisco Kid | 1994 | TV Movie | Dominique |
| Splitting Heirs | 1993 | | Angela |
| Dracula | 1992 | | Lucy Westenra |
| Papierowe malzenstwo | 1992 | | Employment Agency Interviewer |
| The Krays | 1990 | | Sharon Pellam |
| A Ghost in Monte Carlo | 1990 | TV Movie | Alice 20 yrs |
| Dark Obsession | 1989 | | Rebecca |
| Press Gang | 1989 | TV Series | Jenny Eliot |
| Casualty | 1988 | TV Series | Natasha |
| Les Girls | 1988 | TV Series | Amanda |
| Gentlemen and Players | 1988 | TV Series | Kate Beaufort |
| Pulaski: The TV Detective | 1987 | TV Series | Sandy |
| Boon | 1987 | TV Series | Nurse |
| Empire State | 1987 | | Tracy |
| Vardo | 1986 | Short | |
| A Horse Called Jester | 1979 | | Tina Harris |
Producer
| Title | Year | Status | Character |
| --- | --- | --- | --- |
| David Vaughan: Black on Canvas | 2016 | Documentary executive producer completed | |
| Rags | 2016/II | Short producer | |
| Set the Thames on Fire | 2015 | producer | |
| Buttercup Bill | 2014 | producer | |
| Dotty | 2013 | Short producer | |
| Come Here Today | 2008 | Short executive producer / producer | |
| Sky Captain and the World of Tomorrow | 2004 | producer | |
| Enchantement | 2004 | Short executive producer | |
| Love, Honor and Obey | 2000 | associate producer | |
Soundtrack
| Title | Year | Status | Character |
| --- | --- | --- | --- |
| Love, Honor and Obey | 2000 | performer: "When You Are a King" | |
Thanks
| Title | Year | Status | Character |
| --- | --- | --- | --- |
| Murder in Mind | 2009 | thanks | |
| The Anniversary Party | 2001 | special thanks | |
Self
| Title | Year | Status | Character |
| --- | --- | --- | --- |
| The Orange British Academy Film Awards | 2000 | TV Special | Herself |
| Cinema 3 | 1999 | TV Series | Herself |
| In Search of Dracula with Jonathan Ross | 1996 | TV Movie documentary | Herself |
| The 49th Annual Tony Awards | 1995 | TV Special | Herself - Audience Member (uncredited) |
| Blood Lines: Dracula - The Man. The Myth. The Movies. | 1992 | TV Short documentary | Herself |
| BBC News 8pm Summary | 2015 | TV Series short | Herself |
| Sunday Brunch | 2014 | TV Series | Herself - Guest |
| Flim: The Movie | 2014 | | Herself |
| Strictly Come Dancing: It Takes Two | 2011 | TV Series documentary | Herself |
| The Xtra Factor | 2010 | TV Series | Herself |
| Britain's Next Top Model | 2008 | TV Series | Herself - Creative Director |
| The Blood Is the Life: The Making of 'Bram Stoker's Dracula' | 2007 | Video documentary short | Herself |
| The Costumes Are the Sets: The Design of Eiko Ishioka | 2007 | Video documentary short | Herself |
| Extinct | 2006 | TV Series documentary | Herself |
| The Allstar Workout | 2006 | Video | Herself |
| Eating with... | 2006 | TV Series documentary | Herself |
| Project Catwalk | 2006 | TV Series documentary | Herself - Guest Panelist |
| The 100 Greatest Pop Videos | 2005 | TV Movie | Herself |
| The Friday Night Project | 2005 | TV Series | Herself - Guest Host |
| Liquid News | 2004 | TV Series | Herself |
| What Sadie Did Next | 2004 | TV Series | Herself - Presenter |
| Terry & Liz | 2004 | TV Short documentary | Herself |
| NME Awards 2004 | 2004 | TV Movie | Herself |
| The 100 Greatest Musicals | 2003 | TV Movie documentary | Herself |
Archive Footage
| Title | Year | Status | Character |
| --- | --- | --- | --- |
| Biography | 2008 | TV Series documentary | Herself |
Awards
Nominated Awards
| Year | Award | Ceremony | Nomination | Movie |
| --- | --- | --- | --- | --- |
| 1992 | Chainsaw Award | Fangoria Chainsaw Awards | Best Supporting Actress | Dracula (1992) |
Source:
IMDb
,
Wikipedia