Rick Harrison:
• American TV personality, producer and entrepreneur
• Known for appearing in History Channel's show "Pawn Stars"
• Dropped out of school at 14 and entered the workforce
• Founded Gold & Silver Pawn Shop in 1988 which has grown to success
• Net worth estimated at $8 million

Known for movies
Short Info
| | |
| --- | --- |
| Date Of Birth | March 22, 1965 |
| Spouse | Deanna Burditt, Tracy Harrison, Kim Harrison |
| Mark | Shaved head |
| Fact | Suffers from Epilepsy. As a child he was unable to participate in sports and so he would spend most of his time reading. |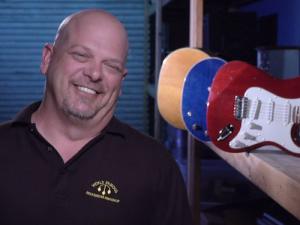 Rick Harrison is an American TV personality, producer and entrepreneur born on 22 March 1965 in Lexington, North Carolina USA. He's known for appearing in History Channel's show "Pawn Stars".
Early Life
Richard Kevin was born the third child of Richard Benjamin and Joanne Rhue Harrison. Rick's older sister Sherry was born with Down syndrome, suffering severe complications on her health that caused her unfortunate death at six years old. Rick's brothers are Joseph and Chris.
Rick's father served in the Navy for 20 years and his mother –a future real estate agent- was the daughter of one of the most prominent attorneys of the city. Rick's family moved to California when he was two years old and his father was transferred there.
In his childhood, Rick became an avid book reader. His favorite work was "The Great Brain" by John D. Fitzgerald, but he also became a fan of history books and his favorite subject was UK's naval force Royal Navy.
He attended Taft Middle School though he never finished his studies as he dropped out of school at 14 years old. In 1981 when Rick was barely 16 years old, his parents' real estate business collapsed when they lost over $1 million due to high interest rates. This caused his family to move Las Vegas, Nevada searching for new opportunities.
Career
First Steps
After dropping out of school at 14 years old, Rick Harrison entered the workforce. He had many jobs such as car repossessing and selling faux haute-couture items.
Now settled in Las Vegas, his father opened his first second-hand shop named the Gold & Silver Coin Shop in 1981, giving Rick the opportunity to work with him in the day while having other jobs at night.
The store grew up exponentially, which caused the business to be moved to another bigger location in Fremont Street, though the experience was short lived and the store had to be moved to a place in Las Vegas Boulevard due to various problems with their lease.
In 1988 both Rick and his father thought about converting their store into a pawn shop. At the time Las Vegas' population was 200,000 and as per Nevada's laws dictated, business of that nature should be limited until the city's population grew: 'The good-ol' boys, back in the '50s, figured we've got our pawn shops, we don't want any competition, so they passed a law saying that they would issue one more pawn license when there's 250,000 people in the city of Las Vegas.
This was when there was only 20,000 people in Las Vegas and nobody ever thought it would get to 250,000. But lo and behold, in 1988, I was the first to get a license.'
Obtaining said license wasn't an easy task though; Harrisons legally struggled for a while until they succeed. The second hand store didn't exist anymore as the Gold & Silver Pawn Shop took its place.
In late 1990s the business had gathered a huge success with an inventory of more than 5,000 items, and by 2005 it grossed around $3 million annually. The items the shop was most famous for were rare collectible sport goods and jewelry.
Rick Harrison's passion for history also helped him to improve on the business, which brings him great pride: 'We definitely have a different type of store. There are three generations who work here. It's really eclectic. Think about it: We're American Chopper one week, Antiques Roadshow the next week, Pimp My Ride the next. We're a little bit of everything.'
TV Show
The first time the Gold & Silver Pawn Shop was shown in TV was in 2003, when it was featured in "Insomniac with Dave Attell". Due to this, Rick Harrison thought it would be a good idea to create a TV show surrounding the store's operations. His efforts to turn this dream into a reality were unsuccessful for a few years until 2008, when producers of Leftfield Pictures with the same idea found the store.
The original idea was to bring the show to HBO, though the series' concept was quite different from what Rick and his father had thought. It wasn't until History Channel's producer Nancy Dubuc changed the format of the show to a more real, peaceful setting with customers appreciating the items on display or selling their own to the store that the show finally made sense.
"Pawn Stars" was premiered in 2009 and by 2011 it was one the highest rated series of the network.  To date the show has been on air for over 11 years and is on its 17th season.
The show has turned the Gold & Silver Pawn Shop into a nationwide attraction, and attracts tourists, TV fans and history enthusiasts to the store. For this reason Rick, his father, son Corey and best friend "Chumlee" can't be found on the store off show season.
Other TV Appearances
Rick Harrison has made other several TV appearances, such as in "The Tonight Show with Jay Leno" and "Late Show with David Letterman".
Rick also has obtained small acting roles such as in TV series "iCarly" and "The Middle", along with movies "I Lost My Head in Vegas" and "The Safe". He also made a minor appearance in Bob Dylan's short-video "Like a Rolling Stone".
Advocacy
In 2018 Rick partnered with Epilepsy Foundation to bring awareness of the decease, which has affected Harrison personally in his childhood as he declared in in an interview: 'Because of my seizures, I was forced to spend a lot of time in bed in my room away from the television when I was a kid.
The best way to entertain myself was to read so I became very interested in history books'.
In addition to this, Rick expressed his happiness at being contacted by the non-profit organization: 'I am honored to work with them and want to encourage everyone to talk about their stories and build a community to help in every way possible as we progress in finding more solutions for those who have epilepsy'.
Personal Life
At 17 years old Rick and his girlfriend Kim were expecting their first child together. Unfortunately, complications on the pregnancy caused Kim a miscarriage.
Despite of it and their young age Rick and Kim decided to marry, welcoming two sons together named Corey and Adam. After the birth of their second son, the couple divorced and Rick was in charge of raising both kids.
Not long after the separation Rick met a woman named Tracy Ann Hill, who he married in 1987. The marriage lasted over two decades until they filed for divorce in 2011.
Next year Harrison proposed to his girlfriend Deanna Burditt, who he finally married in July 2013 in California.
Net Worth
Rick Harrison's net worth is estimated at $8 million, which is a result of his various entrepreneurship projects, his shares from Gold & Silver Pawn Shop and many appearances on TV. It's reported he was included as well on his father's will -who died in 2018-, though it's not certain how much money he received from it.
Physical Appearance
Rick Harrison is a man of white ethnicity, who has green eyes and sports a bald head. His weight and height are unknown, though he's certainly strong built.
Interesting Facts
His father Richard cut Rick's brother Christopher out of his will for unknown reasons.
His son Corey also works at the Gold & Silver Pawn Shop, and is good friends with Austin "Chumlee" Russell.
Rick Harrison was a spokesperson for shaving products Micro Touch One Razor.
Rick discussions with "Chumlee" are one of the main attractions of "Pawn Stars". However, the pair has said they're good friends off-camera.
Rick has an Instagram account on which he shares details of his everyday life.
General Info
| | |
| --- | --- |
| Full Name | Rick Harrison |
| Date Of Birth | March 22, 1965 |
| Profession | TV Personality, Television producer, Actor, Businessperson |
| Nationality | American |
Family
| | |
| --- | --- |
| Spouse | Deanna Burditt, Tracy Harrison, Kim Harrison |
| Children | Corey Harrison, Adam Harrison, Jake Harrison |
| Parents | JoAnne Rhue Harrison, Richard Benjamin Harrison |
| Siblings | Sherry Harrison, Chris Harrison, Joe Harrison |
Accomplishments
Social profile links
Marks
| # | Marks / Signs |
| --- | --- |
| 1 | Shaved head |
Facts
| # | Fact |
| --- | --- |
| 1 | Suffers from Epilepsy. As a child he was unable to participate in sports and so he would spend most of his time reading. |
| 2 | Co-owner of the Gold & Silver Pawn Shop (Las Vegas, Nevada) with his father Richard Harrison. Father of Corey Harrison. |
Pictures
Movies
Producer
| Title | Year | Status | Character |
| --- | --- | --- | --- |
| Pawn Stars | 2012-2014 | TV Series executive producer - 148 episodes | |
| Blood Sweat and Heels | 2014 | TV Series documentary executive producer - 1 episode | |
Actor
| Title | Year | Status | Character |
| --- | --- | --- | --- |
| Bob Dylan: Like a Rolling Stone | 2013 | Video short | Host (segment "Pawn Stars") |
| The Middle | 2012 | TV Series | Rick |
Soundtrack
| Title | Year | Status | Character |
| --- | --- | --- | --- |
| Pawn Stars | 2013 | TV Series performer - 1 episode | |
Self
| Title | Year | Status | Character |
| --- | --- | --- | --- |
| Pawnography | 2014-2015 | TV Series | Himself |
| Fox and Friends | 2014-2015 | TV Series | Himself - Host, Pawn Stars / Himself - Pawn Stars |
| United Stuff of America | 2014 | TV Series | Himself |
| American Restoration | 2010-2014 | TV Series | Himself |
| Late Show with David Letterman | 2010-2014 | TV Series | Himself / Himself - Guest |
| Celebrity Home Raiders | 2014 | TV Series | Himself |
| Counting Cars | 2012-2014 | TV Series | Himself |
| The Tonight Show with Jay Leno | 2012-2013 | TV Series | Himself |
| iCarly | 2012 | TV Series | Himself |
| Live with Kelly and Ryan | 2012 | TV Series | Himself - Guest |
| American Country New Year's Eve Live | 2011 | TV Special | Himself - Co-Host |
| The 2011 American Country Awards | 2011 | TV Special | Himself |
| Top Gear USA | 2011 | TV Series documentary | Himself |
| American Pickers | 2011 | TV Series documentary | Himself |
| Rachael Ray | 2010 | TV Series | |
| America: The Story of Us | 2010 | TV Series documentary | Himself |
| Insomniac with Dave Attell | 2003 | TV Series | Himself |
| Midway USA's Gun Stories | 2016 | TV Series | Himself |
| The Weekend in Vegas | 2016 | TV Series | Himself (2016-) |
| Coked Up! | 2016 | Documentary | Himself |
| Pawn Stars | 2009-2015 | TV Series | Himself / Himself - 'The Spotter' / Himself - The Spotter / ... |
| The Playboy Morning Show | 2015 | TV Series | Himself |
Source:
IMDb
,
Wikipedia