• Richard Moll is an American actor best known for his role in "Night Court".
• He attended University of California, Berkeley majoring in history and psychology.
• His career began in 1977 with a role in "Brigham" and later "The Jericho Mile".
• He has had various voice roles in video games and films.
• Richard Moll has an estimated net worth of $5 million.

Known for movies
Short Info
| | |
| --- | --- |
| Date Of Birth | January 13, 1943 |
| Spouse | Susan Brown, Laura Class |
| Mark | Deep gravelly voice |
| Fact | Before his audition, the creators of "Batman: The Animated Series" had set their hearts on a Marlon Brando-"Godfather"-esque style voice for the villain Two-Face. Moll's raspy, growling voice changed their plans completely and the new Two-Face became one of the more popular of the comic book-adapted villains on the show. |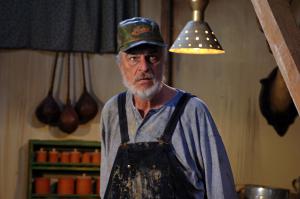 Who is Richard Moll?
Richard Moll is a talented American actor, perhaps best known for his role as Bull from "Night Court." He is also distinguished by his uniquely deep voice, that has helped him land various voice roles in video games and films.
Richard Moll Age, Early Life, Family, and Education Background
Richard was born under the Capricorn Zodiac sign on 13 January 1943, in Pasadena, California, USA, to parents Violet Anita Grill and Harry Findley Moll, making him 77 years old as of 2020. His father was a renowned city lawyer, while his mother worked as a nurse. He is American by nationality and belongs to white ethnicity.
Richard had an extraordinary growth rate during his childhood. While an average 12-year-old boy would stand at 4.8 feet, Richard was already six feet at that age. It's not clear whether he has any siblings or was an only child as he has not shared such information online.
Regarding his education, after matriculating from high school, Richard joined and graduated from the University of California, Berkeley, majoring in history and psychology. While at university, he was a member of the Kappa Alpha Order fraternity.
Richard Moll Career Beginnings and Rise to Prominence
After graduating in 1964, Richard worked as a deputy probation officer in Alameda County, but only lasted ten months. After that, he worked in ladies' hosiery as the head of stock at a San Francisco store – according to him, he believed that he was in the wrong place.
In 1968, Richard relocated to Hollywood, with the intention of making it big in the film industry, however, what followed was a decade of stops and starts. While trying to make ends meet, he took up odd jobs and occasional commercial roles, including playing a cannibal in the mid-70s Hertz commercial with "Get Smart's" Don Adams.
Richard's acting career took off in 1977, when he landed the role of Joseph Smith in the movie "Brigham", and later a support role in the Emmy Award-winning TV film "The Jericho Mile", alongside Richard Lawson, Peter Strauss and Roger E. Mosley.
He continued working in minor roles in various films, including the adventure movie "The Sword and the Sorcerer", before he finally got his breakthrough. In 1984, Moll was chosen for one of his notable roles, as Aristotle Nostradamus "Bull" Shannon to appear in the television comedy series "Night Court."
The series ran from 1984 to 1992; in 2013 when he was asked whether he would love to have a reunion with the cast and shoot a new season of the show, his response was a stern 'no'. He was quoted saying, 'No way in hell I would do a reunion.'
Richard enjoyed his success while this series lasted, and it led to more notable roles. Richard was at his peak during the '80s and '90s with various roles such as in "Getting By" as Boo, "Sidekicks" as Horn, and as Dementor in the movie "Jingle All the Way," among other roles, all of which led to his prominence.
Other films he appeared in during this time included "Out of this World," "Loaded Weapon 1," "Martin," "Babylon 5," "Sabrina The Teenage Witch," and "Dr. Quinn Medicine Woman."
Although Richard appeared in various films on screen, the one on which he left his mark was the television series "Night Court," but from 2000 onwards, he has been in more than 40 television series and films. However, none of those roles has been notable in any way since they have all been minor parts in B-production films. They include "Scary Movie 2," "Cold Case," "Smallville," "Nightmare Man," a horror-comedy, "Love at First Hiccup," a comedy movie, "Sorority Party Massacre," a horror-comedy, "Anger Management" and "Slay Belles," his most recent horror film appearance in 2018.
Richard Moll Voice Acting
Moll has contributed as a voice actor to numerous animated films and video games, including "Mighty Max," in which he played Norman. However, his best voice roles are Dent in "Batman: The Animated Series," Harvey in "Two-Face," and the Scorpion on "Spider-Man: The Animated Series." The first and the third films ran on FOX between the early and mid-'90s. Richard has also lent his voice to various video games, including "The Incredible Hulk: Ultimate Destruction," and "Fallout."
Richard Moll Personal Life, Wife, and Children
Moll met and fell in love with Laura Class in 1988, and the couple tied the knot the same year.
However, their love story was short-lived as they divorced after just four years in 1992. Soon after Richard met yet another damsel, Khrystyne Haje, but the relationship never materialized into a marriage, and they broke up the same year.
He then dated Susan Brown for a year, introduced to her by her stepfather, the late Milton Berle, a comedian, and the couple married in 1993. They were blessed with two children, Chloe born in 1995 and Mason in 1996; the marriage lasted 12 years but in 2005, the couple called it quits and divorced.
Richard is also a stepfather to Cassandra and Morgan. Richard was fond of his father-in-law, who passed on in March 2002. He says 'I loved Milton and I miss him more than I realized.' After his divorce, there is no information of Richard getting into another relationship.
Moll resides in Los Angeles. He is an avid antique collector, and his biggest goal is to keep improving his craft.
Richard Moll Net Worth
After being in the acting industry for such a long time, Richard has amassed a good amount of wealth. According to reputable sources, his net worth is estimated to be as high as $5 million as of 2020.
General Info
| | |
| --- | --- |
| Full Name | Richard Moll |
| Date Of Birth | January 13, 1943 |
| Height | 2.03 m |
| Profession | Voice Actor |
| Education | University of California, Berkeley |
| Nationality | American |
Family
| | |
| --- | --- |
| Spouse | Susan Brown, Laura Class |
| Children | Chloe Moll, Mason Moll |
| Parents | Violet Anita Grill, Harry Findley Moll |
Accomplishments
| | |
| --- | --- |
| Movies | Scary Movie 2, The Flintstones, House, The Sword and the Sorcerer, Metalstorm: The Destruction of Jared-Syn, The Dungeonmaster, But I'm a Cheerleader, Casper Meets Wendy, Spiders II: Breeding Ground, Caveman, American Pop, Night Train to Terror, Casper: A Spirited Beginning, Galaxis, Hard Country, W... |
| TV Shows | 100 Deeds for Eddie McDowd, Highlander: The Series, Batman: The Animated Series, Night Court, One to Grow On, Mighty Max |
Social profile links
Marks
| # | Marks / Signs |
| --- | --- |
| 1 | Towering height |
| 2 | Muscular stature |
| 3 | Deep gravelly voice |
Facts
| # | Fact |
| --- | --- |
| 1 | Best remembered by the public for his role as Bull Shannon in Night Court (1984). |
| 2 | In between filming seasons of Night Court (1984), he grew his hair back. Many would then mistake him for his Night Court co-star John Larroquette. |
| 3 | Before his audition, the creators of "Batman: The Animated Series" had set their hearts on a Marlon Brando-"Godfather"-esque style voice for the villain Two-Face. Moll's raspy, growling voice changed their plans completely and the new Two-Face became one of the more popular of the comic book-adapted villains on the show. |
| 4 | He was cast in Night Court (1984) not only for his comic skill as an actor, but also because the producers needed someone who could realistically tower over the fairly tall male cast (including Harry Anderson and John Larroquette) as the imposing yet lovable court guard Bull Shannon. |
| 5 | Is an avid fly-fisherman. |
Pictures
Movies
Actor
| Title | Year | Status | Character |
| --- | --- | --- | --- |
| Living in Peril | 1997 | | Fritz |
| Snide and Prejudice | 1997 | | General Von Ludendorf |
| Happily Ever After: Fairy Tales for Every Child | 1997 | TV Series | Dinky |
| The Legend of Calamity Jane | 1997 | TV Series | Additional Voices |
| The Elevator | 1996 | | Man Nun |
| The Lawyer | 1996 | | Centurion |
| Aaahh!!! Real Monsters | 1996 | TV Series | Big Bunny / Bunny / Gangster #1 |
| Freakazoid! | 1996 | TV Series | Wolf Man / Vorn the Unspeakable |
| Jingle All the Way | 1996 | | Dementor |
| Superman | 1996 | TV Series | Emperor Spooj |
| 7th Heaven | 1996 | TV Series | Mike 'The Mutant' Mitchell |
| The Glass Cage | 1996 | | Ian Dexter |
| Chercheurs d'or | 1996 | TV Mini-Series | |
| The Secret Agent Club | 1996 | | Wrecks |
| Storybook | 1996 | | Woody |
| Married with Children | 1996 | TV Series | Gino |
| Weird Science | 1996 | TV Series | Frankenstein's Monster |
| The Twisted Tales of Felix the Cat | 1995 | TV Series | Voices |
| Baywatch | 1995 | TV Series | Trapper |
| Galaxis | 1995 | | Kyla |
| Dr. Quinn, Medicine Woman | 1994-1995 | TV Series | John |
| Babylon 5 | 1995 | TV Series | Max |
| Hercules: The Legendary Journeys | 1995 | TV Series | The Cyclops |
| Beanstalk | 1994 | | Richard Leech |
| Due South | 1994 | TV Series | Zaleb Carney |
| Summertime Switch | 1994 | TV Movie | Jimmy |
| Batman: The Animated Series | 1992-1994 | TV Series | Harvey Dent Two-Face Bat Computer ... |
| No Dessert, Dad, Till You Mow the Lawn | 1994 | | Boot Camp Sergeant |
| Getting By | 1993-1994 | TV Series | Boo |
| The Flintstones | 1994 | | Hoagie |
| Mighty Max | 1993-1994 | TV Series | Norman |
| Loaded Weapon 1 | 1993 | | Prison Attendant |
| Let's Kill All the Lawyers | 1992 | | The Centurian |
| Marilyn Alive and Behind Bars | 1992 | | Otto |
| Sidekicks | 1992 | | Horn |
| CBS Schoolbreak Special | 1992 | TV Series | Coach Hillman |
| Martin | 1992 | TV Series | Officer Warren |
| Highlander | 1992 | TV Series | Slan Quince |
| Night Court | 1984-1992 | TV Series | Nostradamus 'Bull' Shannon |
| The Last Halloween | 1991 | TV Short | Hans |
| Driving Me Crazy | 1991 | | Buzz |
| Out of This World | 1989-1990 | TV Series | Skull Basher / Driver License Examiner |
| The Munsters Today | 1990 | TV Series | Gengas Khan |
| The American Film Institute Presents: TV or Not TV? | 1990 | TV Movie | |
| 227 | 1990 | TV Series | Burnie |
| Murphy's Laws of Golf | 1989 | Short | Golf Police |
| Monsters | 1989 | TV Series | Arturus |
| Class Cruise | 1989 | TV Movie | Saunders |
| Dream Date | 1989 | TV Movie | The Man in the Theatre |
| Think Big | 1989 | | Thornton |
| My Two Dads | 1989 | TV Series | Nostradamus 'Bull' Shannon |
| Wicked Stepmother | 1989 | | Nathan Pringle |
| Pulse Pounders | 1988 | | Mestema (Dungeonmaster 2 sequence) |
| Sledge Hammer! | 1987 | TV Series | Dr. Arthur Deco |
| The Facts of Life | 1987 | TV Series | Richard Moll |
| If It's Tuesday, It Still Must Be Belgium | 1987 | TV Movie | |
| Survivor | 1987 | | Kragg |
| House | 1986 | | Big Ben |
| Combat High | 1986 | TV Movie | Col. Felix Long Sr. |
| Alvin Goes Back to School | 1986 | TV Movie | Mr. Conroy |
| Santa Barbara | 1985 | TV Series | Morgan Malone |
| Night Train to Terror | 1985 | | Otto (segment "The Case of Harry Billings") / James Hansen (segment "The Case of Claire Hansen") (as Charles Moll) |
| The A-Team | 1984 | TV Series | Churlisco |
| The Dungeonmaster | 1984 | | Mestema |
| Under Arrest | 1983 | | Patrino |
| The Dukes of Hazzard | 1983 | TV Series | Milo Beaudry |
| Just Our Luck | 1983 | TV Series | |
| Metalstorm: The Destruction of Jared-Syn | 1983 | | Hurok |
| Alice | 1983 | TV Series | Hank |
| Fantasy Island | 1983 | TV Series | Omo |
| Remington Steele | 1983 | TV Series | Pimp |
| Savage Journey | 1983 | TV Movie | Joseph Smith (as Charles Moll) |
| The Sword and the Sorcerer | 1982 | | Xusia |
| T.J. Hooker | 1982 | TV Series | Mauler Mort |
| Liar's Moon | 1982 | | Det. Roy Logan |
| The Fall Guy | 1981 | TV Series | Ethan |
| Through the Magic Pyramid | 1981 | TV Movie | Mayhu |
| Mork & Mindy | 1981 | TV Series | Baba Gentle |
| Bret Maverick | 1981 | TV Series | Sloate |
| Laverne & Shirley | 1981 | TV Series | Louis Armstrong / Biker |
| Here's Boomer | 1981 | TV Series | The Monster |
| Best of the West | 1981 | TV Series | Prisoner |
| Evilspeak | 1981 | | Father Esteban |
| Caveman | 1981 | | Abominable Snowman |
| The Archer: Fugitive from the Empire | 1981 | TV Movie | The Bovum Ferryman |
| Hard Country | 1981 | | Top Gun |
| American Pop | 1981 | | Beat Poet |
| Cataclysm | 1980 | | James Hanson (as Charles Moll) |
| The Bad News Bears | 1980 | TV Series | Rust |
| Buck Rogers in the 25th Century | 1980 | TV Series | Yarat |
| Mark Twain: Beneath the Laughter | 1979 | TV Movie | Stranger |
| The Misadventures of Sheriff Lobo | 1979 | TV Series | Biker Leader Willie / Willie / Rufus |
| B.J. and the Bear | 1979 | TV Series | Willie |
| The Jericho Mile | 1979 | TV Movie | Joker Gibb |
| Happy Days | 1979 | TV Series | Eugene |
| How the West Was Won | 1979 | TV Series | Mose |
| The Rockford Files | 1978 | TV Series | Ludes |
| Welcome Back, Kotter | 1978 | TV Series | Big Thug |
| Brigham | 1977 | | Joseph Smith (as Charles Moll) |
| Family Affair | 1967 | TV Series | Lewis |
| For Play | 2016 | Short post-production | Morty |
| Slay Belles | 2017 | | Officer Green |
| DaZe: Vol. Too (sic) - NonSeNse | 2016 | | Mr. Isoherranen |
| Pub Quiz | 2016 | TV Movie | Berwick |
| Razor | 2016 | | Jon Creadon |
| Kids vs Monsters | 2015 | | Butler |
| Kirby Buckets | 2015 | TV Series | Mr. Bostwick |
| BFFs | 2014/I | | Ken |
| Jurassic: Stoned Age | 2013 | | Judge Holt |
| Ghost Shark | 2013 | TV Movie | Finch |
| Anger Management | 2013 | TV Series | Carlos |
| Hemingway | 2012 | | The Lawyer |
| Sorority Party Massacre | 2012 | | Kreeger |
| The End, My F.R.E.N.D. | 2012 | Short | Old Man |
| DisOrientation | 2012 | | Mr. Mackenzie |
| Lake Effects | 2012 | TV Movie | Old Vic |
| Assassins' Code | 2011 | | Ernest Altman |
| Hazelwood | 2011 | Short | Dr. Vulkovich |
| Scooby-Doo! Curse of the Lake Monster | 2010 | TV Movie | Elmer Uggins |
| Batman: The Brave and the Bold | 2010 | TV Series | Lew Moxon / Two-Face |
| Dante's Inferno | 2010 | Video Game | Death King Minos (voice) |
| Cold Case | 2010 | TV Series | Chuck 'French' Jaworski '10 |
| Love at First Hiccup | 2009 | | Store Owner |
| Thomas Kinkade's Christmas Cottage | 2008 | | Big Jim |
| The Kitty Landers Show | 2008 | Short | Old Man MacGruder |
| A Four Cent Carol | 2008 | Short | The Ghost of Hollywood Future |
| Headless Horseman | 2007 | | Kolchak Jefferson Stillwall |
| The Fantastic Two | 2007 | TV Mini-Series | Duane Torn |
| Nightmare Man | 2006 | | Captain McCormack |
| Angels with Angles | 2005 | | Robert |
| The Incredible Hulk: Ultimate Destruction | 2005 | Video Game | Devil Hulk (voice) |
| Diamond Zero | 2005 | | Detective Jackson |
| Boy-Next-Door | 2004 | Short | Tim |
| Uh Oh! | 2004 | | Diablo |
| Cats and Mice | 2003 | | Cortez |
| The Work and the Story | 2003 | | Oliver Wendelle |
| Dumb Luck | 2003 | | Special Agent Osborne |
| The Biggest Fan | 2002 | | Harold Worden |
| No Place Like Home | 2002 | | Deputy 'Dead Ned' Nussbaun |
| Smallville | 2002 | TV Series | Mr. Moore |
| QIK2JDG | 2002 | Short | The Judge |
| Justice League | 2002 | TV Series | Java / Mr. Braddock |
| The Zeta Project | 2002 | TV Series | Krick |
| 100 Deeds for Eddie McDowd | 2000-2002 | TV Series | Drifter |
| Angel Blade | 2002 | | Carl Shank |
| The Defectors | 2001 | TV Movie | Al |
| Call Me Claus | 2001 | TV Movie | Brooding Santa |
| Scary Movie 2 | 2001 | | Hell House Ghost |
| Evolution | 2001 | | Fire Training Inspector |
| Spiders II: Breeding Ground | 2001 | | Dr. Grbac |
| Flamingo Dreams | 2000 | | Deke |
| That Summer in LA | 2000 | | Hotel Manager |
| Dish Dogs | 2000 | Video | Dewitt |
| Big Monster on Campus | 2000 | | Mr. O'Reilly |
| Shadow Hours | 2000 | | Homeless Man |
| The Wacky Adventures of Ronald McDonald: The Visitors from Outer Space | 1999 | Video short | Org's Dad (voice) |
| But I'm a Cheerleader | 1999 | | Larry |
| The Parent 'Hood | 1999 | TV Series | Sam Bates |
| Foreign Correspondents | 1999 | | Man in Bookstore |
| Monkey Business | 1998 | | Leader |
| Route 66 | 1998 | | |
| The New Batman Adventures | 1997-1998 | TV Series | Two-Face Harvey Dent |
| Casper Meets Wendy | 1998 | Video | Jules |
| The Survivor | 1998 | | Kyla |
| The Ransom of Red Chief | 1998 | TV Movie | Filthy McNasty |
| Cow and Chicken | 1998 | TV Series | TV Anchor / Chef |
| Farticus | 1997 | | Hades |
| Little Cobras: Operation Dalmatian | 1997 | | Leader |
| Outlaws | 1997 | Video Game | 'Gentleman' Bob Graham (voice) |
| Fallout: A Post-Nuclear Role-Playing Game | 1997 | Video Game | Cabbot (voice) |
| Spider-Man | 1997 | TV Series | Scorpion MacGargan |
| The Incredible Hulk | 1996-1997 | TV Series | Abomination / Homeless Man |
| Sabrina, the Teenage Witch | 1997 | TV Series | Sgt. Slater |
| Casper: A Spirited Beginning | 1997 | Video | Principal Rabie |
Soundtrack
| Title | Year | Status | Character |
| --- | --- | --- | --- |
| Night Court | 1984-1991 | TV Series performer - 10 episodes | |
Self
| Title | Year | Status | Character |
| --- | --- | --- | --- |
| Celluloid Wizards in the Video Wasteland: The Saga of Empire Pictures | | Documentary post-production | Himself |
| Sharkmania: The Top 15 Biggest Baddest Bloodiest Bites | 2014 | TV Movie | Himself |
| Satan's Pigs & Severed Heads: Making Evilspeak | 2014 | Documentary short | Himself |
| The 8th Annual TV Land Awards | 2010 | TV Special | Himself - Glee Club |
| Whatever Happened To? | 2008 | TV Series | Himself |
| Making of 'Highlander: The Series' | 1992 | TV Movie documentary | Himself / Slan Quince |
| CBS Schoolbreak Special | 1992 | TV Series | Himself |
| One on One with John Tesh | 1991 | TV Series | Himself |
| The Horror Hall of Fame II | 1991 | TV Movie | Himself - Presenter |
| The Chipmunks: Rockin' Through the Decades | 1990 | TV Movie | Himself |
| The Marsha Warfield Show | 1990 | TV Series | Himself |
| The Arsenio Hall Show | 1989 | TV Series | Himself |
| The 3rd Annual American Comedy Awards | 1989 | TV Special | Himself |
| The Pat Sajak Show | 1989 | TV Series | Himself |
| The New Hollywood Squares | 1986-1987 | TV Series | Himself - Panelist / Himself - Center Square |
| The Wil Shriner Show | 1987 | TV Series | Himself |
| The 39th Annual Primetime Emmy Awards | 1987 | TV Special | Himself - Audience Member |
| Golden Anniversary of Snow White and the Seven Dwarfs | 1987 | TV Movie documentary | Himself |
| Super Password | 1984-1987 | TV Series | Himself - Celebrity Contestant |
| Wordplay | 1986 | TV Series | Himself |
| Star's Table | 1986 | TV Series | Himself |
| The Making of 'House' | 1986 | Video documentary short | Himself |
| Macy's Thanksgiving Day Parade | 1985 | TV Special | Himself |
| The NBC All Star Hour | 1985 | TV Movie | Himself |
| Body Language | 1984-1985 | TV Series | Himself |
| The $10,000 Pyramid | 1985 | TV Series | Himself |
| Match Game/Hollywood Squares Hour | 1984 | TV Series | Himself - Panelist |
| One to Grow On | 1982 | TV Series short | Himself |
| An Evening at the Improv | 1982 | TV Series | Guest host |
Archive Footage
| Title | Year | Status | Character |
| --- | --- | --- | --- |
| Dr. Quinn, Medicine Woman | 1997 | TV Series | John |
| The Tonight Show Starring Johnny Carson | 1987 | TV Series | Bull Shannon |
Awards
Nominated Awards
| Year | Award | Ceremony | Nomination | Movie |
| --- | --- | --- | --- | --- |
| 1987 | Saturn Award | Academy of Science Fiction, Fantasy & Horror Films, USA | Best Supporting Actor | House (1986) |
Source:
IMDb
,
Wikipedia