Known for movies
Short Info
| | |
| --- | --- |
| Net Worth | $1 million |
| Date Of Birth | January 20, 1969 |
| Spouse | Coco Fausone |
| Fact | Plays the character of "Officer Carl McMillan", on Mike & Molly (2010) to Cleo King character, "Grandma", however, Reno Wilson, born January 1969, is only 6 years & 5 months younger than Cleo King, born August 1962, possibly the smallest age difference between actors playing grandchild and grandparent in regular series television history. |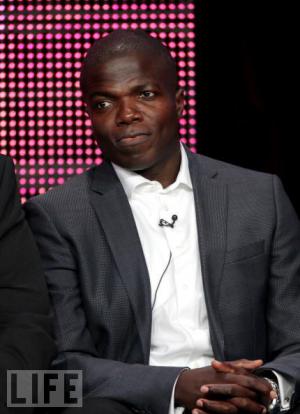 Who is Reno Wilson?
Reno Wilson is an American actor, who is perhaps still best known to the world as Howard in the TV comedy series "The Cosby Show", while in recent years he has been recognized as the voice of several characters in the franchise "Transformers", starting in 2007 as the voice of Frenzy, and most recently as Mohawk/ Sqweeks in "Transformers: The Last Knight".
Reno Wilson Biography- Age, Childhood, and Education
Born Roy Wilson on the 20th January 1969, in Brooklyn, New York City USA, he is the son of African-American parents – his father was a jazz pianist and mother an opera singer. He changed his name to Reno to honor his father.
He went to the prestigious Fiorello H. LaGuardia High School of Music & Art and Performing Arts, where one of his classmates was the future famous actress Jennifer Aniston. Following matriculation, he entered the State University of New York at Purchase.
Career Start and Initial Success
Reno started his career in the late '80s, and almost immediately shot to stardom when he was selected as Howard in the TV comedy series "The Cosby Show" (1988-1989), which made him popular with the public, thanks to the success of the series. However, he focused on his college degree and waited for his next role until 1993, as Sonny in a couple of episodes of the TV series "Martin".
The following year he played Steve in the TV comedy series "The Fresh Prince of Bel-Air", while in 1995 he portrayed Bobby Beaumont in the TV series "If Not for You".
He continued with minor roles in films such as the sports comedy film "The Great White Hype" (1996), starring Samuel L. Jackson and Jeff Goldblum, while in 1997 he had a minor role in the crime-drama film "City of Industry", while in 1998 he joined Denzel Washington, John Goodman, and Donald Sutherland in the action crime-drama film "Fallen". The same year he appeared in the Academy Award-nominated action-adventure film "Mighty Joe Young", starring Bill Paxton, Charlize Theron and Rade Serbedzija, and before the decade ended he was selected for the role of Owen Davies in the TV series "The Hoop Life", appearing in 22 episodes of the sports drama series through 2000.
The 2000s, Extended Fame
From 2001 to 2002 Reno had the role of Wes Freewald in the TV sci-fi horror-comedy series "The Chronicle", while in 2002 he was Garrett in the comedy crime film "R.S.V.P.". He struggled to obtain a major role until 2006, when he co-starred as Orlando in the action-thriller film "Crank", starring Jason Statham, Amy Smart and Carlos Sanz; he reprised the role in the sequel "Crank: High Voltage" in 2009. He appeared in the action-thriller film "Kill Speed" (2010), and also was selected for the role of Officer Carl McMillan in the TV comedy series "Mike & Molly", appearing in all 127 episodes of the Primetime Emmy Award-winning series, which yet again re-ignited his career; he wasn't very active on other projects during this period, but did work on his voice acting career for that time, somewhat less time-consuming.
After "Mike & Molly" ended, he continued with his on-screen career, playing Carter in the film "Officer Downe" in 2016, then in 2018, he was selected for the role of Stan Hill in the TV comedy crime series "Good Girls", and up to mid-2020 has appeared in 34 episodes of the popular TV series.
Most Recent Projects
Reno is still very active in Hollywood too, and in 2019 he portrayed Louis Armstrong in the drama film about Buddy Bolden, the first Cornet King of New Orleans, entitled "Bolden", and co-starring alongside Gary Carr, Erik LaRay Harvey and Ian McShane. Furthermore, he portrayed Det Jordan in a couple of episodes in the TV comedy series "Quarantine" (2020), and is currently working on several films, including the action film "Mickey Kelley", then the drama film "Tyson's Run", and the comedy film "HeadShop", all scheduled for release late in 2020.
Voice Acting
Reno is also known for his voice-over skills; when he was struggling to obtain any major on-screen role, he auditioned as a voice actor and made his debut as the voice of the Singing Sergeant in the animated series "American Dad!" in 2006. After this, he was selected as the voice of Frenzy in the film "Transformers", which was a huge hit and a box office success, which helped him increase his wealth. Since then, he has continued his career as a voice actor as well – in 2009 he gave voice to a couple of characters in the video game "MadWorld", and the same year to Mudflap in the sequel of the "Transformers", entitled "Transformers: Revenge of the Fallen". This wasn't all for 2009 as he also lent his voice to Sazh Katzroy in the video game "Final Fantasy XIII".
From 2010 to 2015 he became more focused on voice acting, and featured in video games "Naruto Shppuden: Ultimate Ninja Storm 2", then "Operation Flashpoint: Red River" (2011), "Final Fantasy XIII- 2", also in 2011, and another video game from the "Final Fantasy" franchise, entitled "Lightning Returns: Final Fantasy XIII" (2013). Most recently, he provided the voice of Mohawk and Sqweeks in the recent take on the "Transformers" franchise, entitled "Transformers: The Last Knight" in 2017.
Reno Wilson Net Worth, Height, Weight, and Appearance
Reno Wilson has achieved world fame and his wealth has increased accordingly – sources have estimated that Reno Wilson's wealth is around $1 million, as of mid- 2020.
Reno is known for his height as he stands at 6ft1ins (1.85m) tall, while he weighs approximately 165lbs ~ 75kgs. He has short black hair and brown eyes.
Reno Wilson Personal Life, Marriage, Wife, Children
Reno is a highly secretive person, despite being very popular in Hollywood circles ,and as a result, there aren't many details about his personal life. However, we have discovered that he is a married man and that his wife's name is Coco Fausone, who is a spinning and yoga instructor. She works at YAS Fitness Centers. There is no information when the couple married, but according to some sources, they have met at a spinning class, as Reno himself is a spinning enthusiast. Reno and Coco have two children together.
Reno Wilson News, Facts, Influence
Although born in New York, Reno now resides in Los Angeles, California with his wife and their two children. He was just six years younger than Cleo King, who played Grandma in the TV series "Mike & Molly", and according to reports, it is the smallest age gap between actors who play grandchild and grandparent in any TV series.
Recently, Reno got into the media as the new season of the popular TV series "Good Girls" was announced in the media. Unlike other popular actors of his generation, Reno isn't active on Instagram, though he uses Facebook and Twitter, through which he promotes his career and communicates with his loyal fans.
General Info
| | |
| --- | --- |
| Full Name | Reno Wilson |
| Net Worth | $1 million |
| Date Of Birth | January 20, 1969 |
| Height | 1.85 m |
| Profession | Comedian, Voice Actor |
| Nationality | American |
Family
Accomplishments
| | |
| --- | --- |
| Movies | Crank: High Voltage, Transformers: Dark of the Moon, Crank, Transformers, Transformers: Revenge of the Fallen, Mermaid Chronicles Part 1: She Creature, Kill Speed, Tooken, City of Industry, Fallen, Fronterz, Mighty Joe Young, Diary of a Serial Killer, Officer Downe, Sgt. Bilko, Los Locos, R.S.V.P., ... |
| TV Shows | Mike & Molly, Friday: The Animated Series, Heist, Blind Justice, The Chronicle, The Hoop Life, Hitz, If Not for You, The More Things Change |
Social profile links
Facts
| # | Fact |
| --- | --- |
| 1 | Plays the character of "Officer Carl McMillan", on Mike & Molly (2010) to Cleo King character, "Grandma", however, Reno Wilson, born January 1969, is only 6 years & 5 months younger than Cleo King, born August 1962, possibly the smallest age difference between actors playing grandchild and grandparent in regular series television history. |
| 2 | Attended the State University of New York, SUNY Purchase. |
Pictures
Movies
Actor
| Title | Year | Status | Character |
| --- | --- | --- | --- |
| Bolden! | | post-production | Louis Armstrong |
| Officer Downe | 2016 | | Carter |
| Mike & Molly | 2010-2016 | TV Series | Officer Carl McMillan / Officer Carl |
| The Week | 2015 | | Jaron Young |
| Tales from the Toilet | 2015 | Short | Brian |
| Tooken | 2015 | | Money Maker |
| The Return | 2015/I | Short | Max / The General |
| Isaac and Quincy | 2015 | Short | Isaac |
| Transformers: Age of Extinction | 2014 | | Brains (voice) |
| The Courier | 2014/III | Short | Lee / The Courier |
| Raitoningu ritânzu: Fainaru fantajî XIII | 2013 | Video Game | Sazh Katzroy (voice) |
| Buds | 2012 | Short | Vinny |
| Star Wars: The Old Republic | 2011 | Video Game | Lieutenant Coria / Additional Voices (voice) |
| Fainaru fantajî XIII-2 | 2011 | Video Game | Sazh Katzroy (English version, voice) |
| Transformers: Dark of the Moon | 2011 | | Brains (voice) |
| Naruto Shippûden: Ultimate Ninja Storm 2 | 2010 | Video Game | Killer Bee (English version, voice) |
| Kill Speed | 2010 | | Kyle Jackson |
| From Cape Town with Love | 2010 | Video short | Photographer |
| Scrubs | 2010 | TV Series | Russell Vaughn |
| Fainaru fantajî XIII | 2009 | Video Game | Sazh Katzroy (English version, voice) |
| Arrow Heads | 2009 | Short | Destroyer |
| The Philanthropist | 2009 | TV Series | |
| Transformers: Revenge of the Fallen | 2009 | | Mudflap (voice) |
| Prison Break | 2009 | TV Series | FBI Agent Wilson Wright / Agent Wilson Wright |
| Crank: High Voltage | 2009 | | Orlando |
| Madworld | 2009 | Video Game | The Black Baron / Male Reporter (English version, voice) |
| Best Thing Ever | 2009 | TV Movie | Seth |
| The More Things Change... | 2008 | TV Movie | Wayne Carter |
| Raising the Bar | 2008 | TV Series | Trey Hansen |
| Life | 2007 | TV Series | Officer Zerco |
| Falling | 2007/I | Short | Spencer |
| Friday: The Animated Series | 2007 | TV Series | |
| Transformers | 2007 | | Frenzy (voice) |
| TV Virus | 2007 | | Robert |
| Lincoln Heights | 2007 | TV Series | Ricky Taylor |
| Three Strikes | 2006 | TV Movie | |
| Las Vegas | 2003-2006 | TV Series | Willy Hammond / Frank Kulchak |
| Crank | 2006 | | Orlando |
| American Dad! | 2006 | TV Series | Singing Sergeant |
| Heist | 2006 | TV Series | Tyrese Evans |
| Blind Justice | 2005 | TV Series | Detective Tom Selway |
| Fronterz | 2004 | | Tracy Baker / Lil' Problem |
| Wanda at Large | 2003 | TV Series | Laven |
| The Dan Show | 2003 | TV Movie | Henry |
| Touched by an Angel | 2002 | TV Series | Tony |
| The Chronicle | 2001-2002 | TV Series | Wes Freewald |
| R.S.V.P. | 2002/I | | Garrett |
| The Greg Giraldo Show | 2002 | TV Movie | |
| Mermaid Chronicles Part 1: She Creature | 2001 | TV Movie | Bailey |
| FreakyLinks | 2001 | TV Series | XT / Greg Purdell |
| The Hoop Life | 1999-2000 | TV Series | Owen Davies |
| Whiteboyz | 1999 | | Mace |
| Good vs Evil | 1999 | TV Series | Terry Culpepper |
| Sliders | 1999 | TV Series | James |
| Mighty Joe Young | 1998 | | Poacher |
| Fallen | 1998 | | Mike |
| NYPD Blue | 1996-1998 | TV Series | Roger / Lonnie Edwards |
| Rough Draft | 1998 | | Laroue |
| Los Locos | 1997 | | Deacon |
| Chicago Sons | 1997 | TV Series | Stan |
| Stir | 1997 | | Wardell |
| Chicago Hope | 1997 | TV Series | Larry Sugar |
| City of Industry | 1997 | | Keshaun Brown |
| Goode Behavior | 1996 | TV Series | |
| Don't Look Back | 1996 | TV Movie | Man in Park Intrance |
| The Great White Hype | 1996 | | Roper's Crony #3 |
| The Sentinel | 1996 | TV Series | Tyrell Lang |
| Sgt. Bilko | 1996 | | Radio DJ |
| Cybill | 1995 | TV Series | Cop |
| If Not for You | 1995 | TV Series | Bobby Beaumont |
| Martin | 1993-1995 | TV Series | Sonny |
| Under One Roof | 1995 | TV Series | Nate |
| Coach | 1994 | TV Series | Chip |
| The Fresh Prince of Bel-Air | 1994 | TV Series | Steve |
| The Cosby Show | 1988-1989 | TV Series | Howard |
Producer
| Title | Year | Status | Character |
| --- | --- | --- | --- |
| The Return | 2015/I | Short producer | |
| The Empty Morning | 2015 | Short executive producer | |
| The Courier | 2014/III | Short producer | |
| Fronterz | 2004 | co-executive producer | |
Soundtrack
| Title | Year | Status | Character |
| --- | --- | --- | --- |
| Mike & Molly | 2013 | TV Series performer - 1 episode | |
Self
| Title | Year | Status | Character |
| --- | --- | --- | --- |
| Must See TV: A Tribute to James Burrows | 2016 | TV Special | Himself |
| A Director Prepares: Bobby Roth's Masterclass | 2016 | TV Series documentary | Himself |
| Q N' A with Mikki and Shay | 2015 | TV Series | Himself |
| One Question Interviews | 2014-2015 | TV Series | Himself - Guest |
| Home & Family | 2014 | TV Series | Himself - Guest |
| The Talk | 2011-2013 | TV Series | Himself |
| 17th Annual PRISM Showcase | 2013 | TV Movie | Himself |
| Hollywood Uncensored with Sam Rubin | 2012 | TV Series | Himself - Panelist |
| The Late Late Show with Craig Ferguson | 2012 | TV Series | Himself - Guest |
| Attack of the Show! | 2012 | TV Series | Himself - Guest |
| CBS Cares | 2011-2012 | TV Series | Himself |
| The Mo'Nique Show | 2011 | TV Series | Himself |
| The Human Factor: Exacting Revenge of the Fallen | 2009 | Video documentary | Himself |
| In the Cutz | 2006 | TV Series | Guest |
Awards
Nominated Awards
| Year | Award | Ceremony | Nomination | Movie |
| --- | --- | --- | --- | --- |
| 2015 | BTVA Video Game Voice Acting Award | Behind the Voice Actors Awards | Best Vocal Ensemble in a Video Game | Raitoningu ritânzu: Fainaru fantajî XIII (2013) |
| 2012 | BTVA Feature Film Voice Acting Award | Behind the Voice Actors Awards | Best Vocal Ensemble in a Feature Film | Transformers: Dark of the Moon (2011) |
Source:
IMDb
,
Wikipedia