• Paul Wahlberg is an American chef, reality TV star, and actor, co-owner of the restaurant chain "Wahlburgers" and "Alma Nove".
• He has gained experience attending Newbury College for culinary arts and working at various restaurants.
• He opened his own restaurant named "Alma Nove" and partnered with his brothers to open "Wahlburgers".
• He starred in the A&E Network show "Wahlburgers" for 10 seasons and 95 episodes.
• Paul Wahlberg has a net worth estimated at over $10 million.

Known for movies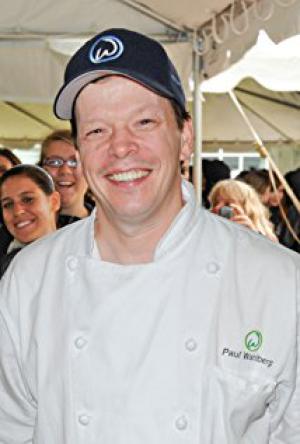 Paul Wahlberg is a renowned American chef, reality TV star, and actor, best known as the co-owner of the restaurant chain "Wahlburgers" and "Alma Nove"
Early Life and Educational Background
Paul. A. Wahlberg was born on the 20th March 1964, in Dorchester, Boston, Massachusetts to Alma and Donald Wahlberg—a truck driver and bank clerk/nurse's aid, respectively. He is the fifth of nine children including famous actors Mark and Donnie Wahlberg, Arthur, Jim, Michelle, Tracey, Robert and Debbie. He has half-siblings in Buddy, Scott and Donna Wahlberg.
His parents divorced during his early 20s, and his mother remarried; his father passed away in 2008. The Wahlbergs are a large family, and with related to celebrities such as Walt Disney, Madonna, and Matt Damon, as well as former presidents such as George Bush.
Career
Renowned Chef
Wahlberg had a keen interest in food from a young age, and spent most of his childhood in the kitchen with his mother Alma, and watching cooking shows such as "The Galloping Gourmet". When he was 12, he fell in love with food over a meal at a friend's house, and eventually decided to pursue a career as a professional chef.
'There's a kind of energy working in a kitchen that is very, very different from working in an office… It's not like any other job. It's crazy and you're always putting out [figurative] fires', he said of the decision. He worked as a caterer while he was still in high school, and washed dishes in the restaurant of his friend's family. After matriculation, he gained valuable experience attending Newbury College for culinary arts, and working at a number of restaurants such as "The Four Seasons", "The Charles Hotel" and "Bridgeman's" in Hull, Massachusetts, where he was the Executive Chef for nine years. He was also a caterer on two sets of Mark's films – "Max Payne" and "The Happening" – as well as many other films.
Eventually, he gained enough experience and expertise in the field and opened his own restaurant named Alma Nove— "Nove" is the Italian word for nine, the number of children his mother has— in Boston. It is a Mediterranean/ Italian-influenced restaurant that includes classic dishes like sautéed Prince Edward Island mussels, wood-grilled sirloin steak and braised pork meatballs with polenta. Paul supports local grocers by using their fresh ingredients in his meals, and serving seafood fresh from the sea.
In 2011, he partnered with Mark and Donnie to open "Wahlburgers", a casual dining burger restaurant and bar based in Hingham, Boston near Alma Nove, boasting the '… sloppiest Sloppy Joe's, the tastiest tater tots, and the frothiest frappes'.
Following the success of the restaurant, the brothers opened up more chains in the US, Canada, the UK and Germany with a total of 36 chains.
Reality TV Star
In 2014, the brothers launched a series on the A&E Network entitled "Wahlburgers", showcasing the Wahlberg family, their lives behind the scenes, and the handling of the restaurant. Initially the series was set to run for 18 episodes but due to popular demand, it went on for 10 seasons and 95 episodes. It received an Emmy nomination for the "Outstanding Unstructured Reality Program" award; after five years of airing, it came to an end on the 31st July 2019 in Dorchester, where it all began.
It was followed by the spin-off "Donnie loves Jenny", based on Donnie Wahlberg and Jenny McCarthy's newlywed relationship.
Relationships
Paul is a married man who has two children — a daughter named Madison and a son named Ethan. Despite his public career, the reality TV star has kept his private life out of the limelight, and little to no details are available about his wife. Her identity has been kept a secret although their children often appear in his television show. The family of four currently reside in their home in Hingham, Massachusetts.
Hobbies, Favorite Things and Interesting Facts
His mother is immensely proud of his accomplishments and enjoys praising him. She said, 'Everybody just loves Paul… when we first opened and were hiring guys for the kitchen, it was freezing cold out and there were four of them who didn't have jackets, so what did he do? He bought them all jackets. That's the kind of person he is'.
When he's not running his restaurants, Wahlberg participates in charities, Quincy Community Action, Father Bill's and Dorchester Boys and Girls Club, among other local charities.
He owes his love of food to Sunday night family meals at home, their favorite being Alma's pasta sauce and lasagna. It is Paul's hope that, '… Alma Nove becomes a gathering place for friends and family to come together, break bread and share good times'.
Paul and his siblings were raised as Roman Catholics.
His favorite holiday destination is anywhere warm, such as San Diego and Florida. Ultimately, his kids get the last say, '… anywhere my kids want to go is good with me'.
He enjoys eating local food during vacations, to experience the specific culture of each place.
Paul wishes he could travel to Hawaii and the continent of Asia, having never been there, but really wanting to try authentic Asian street food.
The one thing he always packs before travelling is a good book. The chef reads all kinds of books – from detective stories to non-fiction.
He prefers to sit in the window seat in an airplane.
His guilty pleasure when travelling is taking walks and getting lost.
One of his favorite childhood memories was travelling with all his siblings to the beach or pond. He reminisced, '… it would be like a clown car when we all got out'.
His zodiac sign is Pisces.
His sister Debbie passed away in 2003 and he became depressed. He recalls it as one of the saddest times in his life and credits his family for helping him out of the depressed state he was in.
He is the first of his siblings to matriculate from high school.
The accounts of his restaurants have gained a significant fan following on social medias such as Twitter and Instagram; there is an official site for the restaurant.
Appearance and Clothing Style
Paul is a male of Caucasian ethnicity and American nationality, who has dark brown hair and brown eyes. He has a height of 5ft 2ins (1.57m), weighs around 172lbs (78kgs) and has a chubby body shape. The 64 year-old has no tattoos, nor does he smoke.
Net Worth and Salary
Paul has had a lengthy and largely successful career as a chef and restaurant owner, and it is the primary source of his income. He has also had a brief career as a reality TV star that was quite popular. He has managed to accumulate an impressive net worth estimated at over $10 million, according to celebritynetworth.com. His more famous younger brothers—Mark and Donnie – are reputedly worth $225 million and $20 million respectively thanks to careers as actors, singers, producers and investors.
General Info
| | |
| --- | --- |
| Full Name | Paul Wahlberg |
| Profession | Chef |
Family
| | |
| --- | --- |
| Children | Madison Wahlberg, Ethan Wahlberg |
| Parents | Alma Wahlberg, Donald Wahlberg |
| Siblings | Mark Wahlberg, Donnie Wahlberg, Robert Wahlberg, Jim Wahlberg, Arthur Wahlberg, Tracey Wahlberg, Debbie Wahlberg, Michelle Wahlberg, Scott Wahlberg, Buddy Wahlberg, Donna Wahlberg |
Accomplishments
Social profile links
Facts
| # | Fact |
| --- | --- |
| 1 | Son of Alma McPeck and Donald Edward Wahlberg. |
| 2 | Chef. |
| 3 | Brother of Donnie Wahlberg, Robert Wahlberg and Mark Wahlberg. |
Pictures
Movies
Miscellaneous
| Title | Year | Status | Character |
| --- | --- | --- | --- |
| Max Payne | 2008 | chef: Mark Wahlberg / trainer: Mark Wahlberg | |
| The Happening | 2008 | chef: Mr. Wahlberg | |
Actor
| Title | Year | Status | Character |
| --- | --- | --- | --- |
| Wahlburgers | 2014 | TV Series | |
Self
| Title | Year | Status | Character |
| --- | --- | --- | --- |
| Wahlburgers | 2014-2016 | TV Series | Himself |
| Rachael Ray | 2011-2014 | TV Series | Himself |
| Anderson Live | 2011 | TV Series | Himself |
Source:
IMDb
,
Wikipedia