• Born in 1939 in Los Angeles, California, USA
• Net worth estimated to be over $15 million
• Second son of four children born to John Wayne and Josephine Alicia Saenz
• Appeared in numerous films and television shows, often collaborating with his father
• Married twice, has four children, and is active in supporting cancer research through the John Wayne Cancer Foundation

Known for movies
Short Info
| | |
| --- | --- |
| Date Of Birth | July 15, 1939 |
| Spouse | Misha Anderson, Peggy Hunt |
| Fact | Was offered the role of Superman in the Superman (1978) film but declined because of his father's cancer. |
| Payments | Earned $10 from Rio Grande (1950) |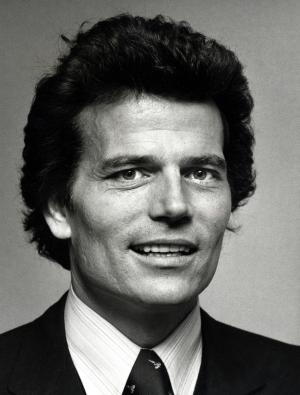 Who is Patrick Wayne?
Patrick John Morrison was born on 15 July 1939, in Los Angeles, California, USA, and is a retired actor, also known for being the son of famous actor John Wayne – real name Michael Morrison. Patrick was very active from the 1950s up to the 1990s, appearing in numerous films, in some of which he collaborated with his father.
The Wealth of Patrick Wayne
As of early-2020, Patrick Wayne's net worth is estimated to be over $15 million, earned through a successful career in the entertainment industry, working consistently for decades. He probably benefitted from the success of his father as well, including an inheritance as John had a net worth estimated to be over $50 million at the time of his passing.
Early Life and Career Beginnings
Patrick grew up in Los Angeles, the second son of four children from John Wayne and his first wife Josephine Alicia Saenz. His mother was the daughter of the Consul General to the US in Panama. At a young age, he aspired to follow in the footsteps of his father, being one of the most successful actors during his time. He made his first collaboration with his father in "Rio Grande" when he was 11 years old, a western film which his father became known for, is a part of the cavalry trilogy by director John Ford.
A few years later he appeared in "The Quiet Man", a romantic comedy film starring his father, Maureen O'Hara and Ward Bond.
The film is known for its depiction of the Irish countryside and was highly successful, winning two Academy Awards. Eventually, Patrick began working on other projects thanks to the help of John Ford, who had become a family friend of the Waynes. He appeared in "The Sun Shines Bright", and then worked with his father once more in "The Searchers".
Continued Acting Success
In 1955, Patrick worked on the television movie "Rookie of the Year", which was another collaborative effort between him and his father. The film features Patrick as a talented prospect for professional baseball, but is the son of a former professional who was banned from Major League Baseball (MLB).
His father played the role of a sports journalist. After matriculating from high school, he enrolled at Loyola Marymount University, and took a few years off from acting.
On his return, he appeared in another John Ford movie – "Flashing Spikes" – which follows the life of a former professional baseball player. In 1959 he started to build on his own identity, establishing himself as a star in "The Young Land", which featured him alongside Yvonne Craig and Dennis Hopper. This was one of the few attempts he made at a leading role separate from his father. In the years after, he enlisted with the US Coast Guard and stopped his momentum in leading rules.
He eventually returned to films to support his father, including in "The Deserter", "An Eye for an Eye" and "Cheyenne Autumn. He was also cast as the main star in "The Bears and I".
Later Career
In the 1970s, Patrick became an established star in his own right, often appearing in science fiction films that established him as a mainstay of the genre. He also had other projects, starring in "Sinbad and the Eye of the Tiger", before working on "The People That Time Forgot", which is based on the novels of Edgar Rice Burroughs. In 1979, he played the love interest of Shirley Jones' character in the show "Shirley", before venturing into hosting work.
While doing these projects, he also took on guest roles – some of the popular programs he appeared in include "The Love Boat", "Charlie's Angels", "Fantasy Island", and "Sledge Hammer!" In 1990, he became the host of the revival of the game show "Tic-Tac-Dough", and remained active in acting as well as hosting up to his retirement in 1997. He was awarded the Almeria Tierra de Cine in Spain for his achievements in film, receiving the award due to his Spanish lineage from his mother's side.
While he no longer takes acting projects due to his age, he is still a philanthropist.
Father – John Wayne
John Wayne grew up in Southern California, and was intent on pursuing a career in professional American Football at a young age. He was set to play college football with the University of Southern California, but his scholarship was withdrawn after he suffered an accident while bodysurfing. Dismayed, he discontinued his college education and then found a new passion in acting. He first began working for the Fox Film Corporation, mainly in support roles.
In 1930, he got his first lead role in "The Big Trail" which didn't fare well in the box office, and the string of B-movies continued. Eventually, he established himself as a regular in Western films, elevating to stardom in "Stagecoach" which began his collaboration with John Ford. He ultimately appeared in over 140 films as the lead, with many of them set during the time of the wild west or the frontier. Some of his most notable projects include "Red River", "True Grit", "Rio Bravo", and "The Longest Day". For three decades, he remained a mainstay in top box office hits, and his achievements led to him being awarded the Presidential Medal of Freedom.
Personal Life
Patrick married Peggy Hunt in 1965 after a few years in a relationship, and they stayed together for 13 years before divorcing. He remained single until 1999, when he married Misha Anderson. He has four children across his marriages. He is very active in supporting various efforts towards treating cancer, and is the chairman of the John Wayne Cancer Foundation. This was because his father suffered from stomach cancer, and passed away from the disease at the peak of Patrick's career. Before his death, his father was active in looking for possible cures for cancer.
General Info
| | |
| --- | --- |
| Full Name | Patrick Wayne |
| Date Of Birth | July 15, 1939 |
| Height | 1.87 m |
| Profession | Actor |
| Education | Beverly Hills Playhouse Acting School, San Jacinto College, Joffrey Ballet, Waltrip High School, Harkness Ballet |
| Nationality | American |
Family
| | |
| --- | --- |
| Spouse | Misha Anderson, Peggy Hunt |
| Children | Melanie Wayne, Michael Wayne, Anthony Wayne |
| Parents | Josephine Wayne, John Wayne |
| Siblings | Ethan Wayne, Michael Wayne, Aissa Wayne, Mary Antonia Wayne LaCava, Marisa Wayne, Melinda Wayne Munoz |
Accomplishments
| | |
| --- | --- |
| Awards | Golden Globe Award for Best New Star of the Year – Actor |
| Nominations | Golden Globe Award for Best Actor – Motion Picture Musical or Comedy, MTV Movie Award for Most Desirable Male, People's Choice Award for Favorite Movie Actor, People's Choice Award for Favorite Dramatic Movie Actor, Kids' Choice Award for Favorite Movie Actor |
| Movies | McLintock!, Big Jake, The Searchers, The Alamo, Sinbad and the Eye of the Tiger, The Comancheros, The Green Berets, The People That Time Forgot, The Young Land, Shenandoah, The Long Gray Line, Cheyenne Autumn, Rustlers' Rhapsody, Beyond Atlantis, An Eye for an Eye, The Bears and I, Her Alibi, The Ga... |
| TV Shows | The Monte Carlo Show, Tic-Tac-Dough, Mr. Adams and Eve, Shirley, The Rounders, The New Tic Tac Dough, Tic Tac Dough (1990) |
Social profile links
Salary
Quotes
| # | Quote |
| --- | --- |
| 1 | [on his acting debut in "Rio Grande" in a 1985 interview] I was visiting my father on location. It was the first time I was able to do that, and my father asked if I'd like to be in the picture.. He told me, "You come in, put the water on, and they give you $10." There followed other films, and he considers his work in them as being comparable to a summer job. If my father had worked in a paint store, I might have been stocking the shelves. |
| 2 | I don't know what it's like to be anyone else's son; it's the only life I have known. |
| 3 | [In a 1985 interview] There were incredible privileges and experiences in my life that obviously other children did not enjoy. I mean traveling around the world and meeting not only people within the industry, but others who gravitated to him; Presidents, politicians, royalty. When I was with him, I was treated differently - just because I was John Wayne's son... When I was very young, I didn't understand that being his son was like an extension of meeting John Wayne. I was very suspicious of people, very confused. It was on reflection later that I realized what was going on. |
| 4 | [In 1985] In acting, there is no perfect performance. To me, if you can do a perfect performance, then there is no reason to continue. There's always working to do better. I haven't accomplished everything I've wanted to, |
| 5 | [In 1974] I don't think I'll ever be any more than a personality, but that's all right with me. |
Facts
| # | Fact |
| --- | --- |
| 1 | Currently living in Arizonia [September 2016]. |
| 2 | Among the summer stock and dinner theater productions Wayne starred in included 'My Three Angels," "Angel on my Shoulder," "Romantic Comedy," "Come Blow Your Horn," and "Arsenic and Old Lace" at the Burt Reynolds Theatre in Florida, which reunited him with Henry Brandon, his co-star in "The Searchers.". |
| 3 | "Big Jake" was the ninth and last of his co-starring roles with his father. |
| 4 | Fifteen year-old Wayne was big for his age and able to pass as a cadet in John Ford's "The Long Grey Line.". |
| 5 | Met his second wife, Misha Anderson, at a mutual friend's daughter's wedding at the Sherwood Country Club. |
| 6 | Stepson of Pilar Wayne. |
| 7 | Nephew of Robert E. Morrison. |
| 8 | Uncle of Brendan Wayne. |
| 9 | Was offered the role of Superman in the Superman (1978) film but declined because of his father's cancer. |
| 10 | Brother of Michael Wayne, Toni Wayne and Melinda Wayne |
| 11 | Half-brother of Ethan Wayne, Aissa Wayne, and Marisa Wayne. |
| 12 | Son of John Wayne and Josephine Alicia Saenz. |
Pictures
Movies
Actor
| Title | Year | Status | Character |
| --- | --- | --- | --- |
| Shirley | 1979-1980 | TV Series | Lew Armitage |
| Texas Detour | 1978 | | Clay McCarthy |
| The Life and Times of Grizzly Adams | 1978 | TV Series | |
| Three on a Date | 1978 | TV Movie | Roger Powell |
| The Last Hurrah | 1977 | TV Movie | Robert 'Bobby' Skeffington |
| Sinbad and the Eye of the Tiger | 1977 | | Sinbad |
| The People That Time Forgot | 1977 | | Ben McBride |
| Flight to Holocaust | 1977 | TV Movie | Les Taggart |
| Yesterday's Child | 1977 | TV Movie | Sanford Grant |
| Mustang Country | 1976 | | Tee Jay |
| The New Spartans | 1975 | | Bigdick McCracken |
| Police Woman | 1974 | TV Series | Kevin Duffy |
| Marcus Welby, M.D. | 1974 | TV Series | Sergeant Buchanan |
| The Bears and I | 1974 | | Bob Leslie |
| McCloud | 1974 | TV Series | Deputy Morris Knowles |
| Beyond Atlantis | 1973 | | Vic Mathias |
| The F.B.I. | 1968-1972 | TV Series | Al Linden / Fred Bruno |
| Movin' On | 1972 | TV Movie | Clint Daniels |
| Big Jake | 1971 | | James McCandles |
| The Gatling Gun | 1971 | | Jim Boland |
| The Devil's Backbone | 1971 | | Capt. Bill Robinson |
| Swing Out, Sweet Land | 1970 | TV Movie | James Caldwell (uncredited) |
| Love, American Style | 1970 | TV Series | Oliver (segment "Love and Grandma") |
| Sole Survivor | 1970 | TV Movie | Mac (as Pat Wayne) |
| All My Children | 1970 | TV Series | Capt. Nils Lindstrom (1990) |
| The Green Berets | 1968 | | Lt. Jamison |
| The Rounders | 1966-1967 | TV Series | 'Howdy' Lewis |
| An Eye for an Eye | 1966 | | Benny Wallace (as Pat Wayne) |
| 12 O'Clock High | 1966 | TV Series | Lieutenant Gabriel |
| Voyage to the Bottom of the Sea | 1966 | TV Series | Fraser |
| Shenandoah | 1965 | | James |
| Branded | 1965 | TV Series | Cpl. Dewey |
| Cheyenne Autumn | 1964 | | 2nd Lt. Scott |
| McLintock! | 1963 | | Devlin Warren |
| Donovan's Reef | 1963 | | Australian Navy Lieutenant (uncredited) |
| Alcoa Premiere | 1962 | TV Series | Bill Riley |
| The Comancheros | 1961 | | Tobe (as Pat Wayne) |
| The Alamo | 1960 | | Capt. James Butler Bonham |
| Have Gun - Will Travel | 1960 | TV Series | Ben Huttner |
| The Young Land | 1959 | | Sheriff Jim Ellison (as Pat Wayne) |
| Teenage Idol | 1958 | TV Movie | |
| Mr. Adams and Eve | 1957 | TV Series | Walter |
| The Searchers | 1956 | | Lt. Greenhill (as Pat Wayne) |
| The Conqueror | 1956 | uncredited | |
| Screen Directors Playhouse | 1955 | TV Series | Lyn Goodhue |
| Mister Roberts | 1955 | | Bookser (as Pat Wayne) |
| The Long Gray Line | 1955 | | Abner 'Cherub' Overton |
| The Sun Shines Bright | 1953 | | Cadet (uncredited) |
| The Quiet Man | 1952 | | Boy on Wagon at Horse Race (uncredited) |
| Rio Grande | 1950 | | Boy (uncredited) |
| Deep Cover | 1997 | | Ray |
| Silk Stalkings | 1997 | TV Series | Harmon Lange |
| High Tide | 1997 | TV Series | |
| Kung Fu: The Legend Continues | 1995 | TV Series | Garrison |
| They Came from Outer Space | 1991 | TV Series | Lester Kerwick |
| Alfred Hitchcock Presents | 1989 | TV Series | Michael Roberts |
| Her Alibi | 1989 | | Gary Blackwood |
| Chill Factor | 1989 | | Jerry Rivers |
| MacGyver | 1988 | TV Series | Jeff Stone |
| Out of This World | 1988 | TV Series | Robby Jamison |
| Young Guns | 1988 | | Patrick Floyd 'Pat' Garrett |
| Frank's Place | 1988 | TV Series | Brandman Carr |
| Murder, She Wrote | 1987 | TV Series | Randy Witworth |
| Danger Bay | 1987 | TV Series | Mr. Cormier |
| Sledge Hammer! | 1987 | TV Series | Myles |
| The Love Boat | 1979-1986 | TV Series | Jim Stanton / Mike Morel / Jeff Peterson / ... |
| Revenge | 1986 | Video | Michael Hogan |
| New Love, American Style | 1985 | TV Series | |
| Rustlers' Rhapsody | 1985 | | Bob Barber |
| Matt Houston | 1984 | TV Series | Jack Wolcott |
| Lottery! | 1983 | TV Series | |
| Fantasy Island | 1981-1983 | TV Series | Francois / Major Wood / John Apensdale |
| Charlie's Angels | 1981 | TV Series | Steve Walters |
| The Monte Carlo Show | 1980 | TV Series | Host (1980) |
Art Department
| Title | Year | Status | Character |
| --- | --- | --- | --- |
| The High and the Mighty | 1954 | props assistant - uncredited | |
Self
| Title | Year | Status | Character |
| --- | --- | --- | --- |
| The Personal Property of John Wayne | 2011 | Video documentary | Himself |
| Machete Maidens Unleashed! | 2010 | Documentary | Himself |
| Tournament of Roses Parade | 2009 | TV Movie | Himself |
| The O'Reilly Factor | 2008 | TV Series | Himself - Son of John Wayne |
| 100 Years of John Wayne | 2007 | TV Short documentary | Himself |
| 50 Films to See Before You Die | 2006 | TV Movie documentary | Himself |
| American Masters | 2006 | TV Series documentary | Himself |
| The Quiet Man: The Joy of Ireland | 2002 | Video documentary short | Himself |
| A Turning of the Earth: John Ford, John Wayne and the Searchers | 1998 | Documentary short | Narrator (voice) |
| Tic Tac Dough | 1990 | TV Series | Host |
| Super Password | 1985 | TV Series | Himself - Celebrity Contestant |
| Body Language | 1984-1985 | TV Series | Himself |
| Hollywood Greats | 1984 | TV Series documentary | Himself |
| Password Plus | 1981 | TV Series | Himself - Celebrity Contestant |
| The Alan Thicke Show | 1981 | TV Series | Himself |
| The Hollywood Squares | 1979-1980 | TV Series | Himself - Panelist |
| Kraft Salutes Disneyland's 25th Anniversary | 1980 | TV Special | Himself |
| Good Morning America | 1977-1980 | TV Series | Himself |
| Battle of the Network Stars VII | 1979 | TV Special | Himself - NBC Team (as Pat Wayne) |
| The Mike Douglas Show | 1974-1979 | TV Series | Himself - Actor |
| The David Frost Show | 1971 | TV Series | Himself |
| The Tonight Show Starring Johnny Carson | 1971 | TV Series | Himself |
| Laugh-In | 1968 | TV Series | Himself |
| The Woody Woodbury Show | 1968 | TV Series | Himself |
| Dateline: Hollywood | 1967 | TV Series | Himself |
| New American Bandstand 1965 | 1965 | TV Series | Himself - Interview |
| Here's Hollywood | 1962 | TV Series | Himself |
| Spirit of the Alamo | 1960 | TV Movie documentary | Himself |
| The Juke Box Jury | 1959 | TV Series | Himself |
Archive Footage
| Title | Year | Status | Character |
| --- | --- | --- | --- |
| The Harryhausen Chronicles | 1998 | TV Movie documentary | Sinbad (uncredited) |
| John Wayne: On Board with the Duke | 1997 | Video documentary | Himself |
| Walt Disney's Wonderful World of Color | 1976 | TV Series | Bob Leslie |
| Broken Sabre | 1965 | | Corporal Dewey |
Awards
Won Awards
| Year | Award | Ceremony | Nomination | Movie |
| --- | --- | --- | --- | --- |
| 1998 | Golden Boot | Golden Boot Awards | | |
| 1958 | Golden Globe | Golden Globes, USA | Most Promising Newcomer - Male | The Searchers (1956) |
Source:
IMDb
,
Wikipedia