Noureen DeWulf:
• Born in New York City, USA in 1984
• An actress, known for appearances in films and television shows such as "The Back-up Plan" and "Anger Management"
• Net worth of over $3 million
• Educated at Boston University, studied theatre and international relations
• Married to professional hockey player Ryan Miller and has one child

Known for movies
Short Info
| | |
| --- | --- |
| Date Of Birth | February 28, 1984 |
| Spouse | Ryan Miller (m. 2011), James DeWulf (m. 2000–2010) |
| Fact | Gave birth to her 1st child at age 31, a son named Bodhi Ryan Miller on March 20, 2015 in in Vancouver, Canada after 10 hours of labor and weighing 7 lbs. Child's father is her 2nd husband, Ryan Miller. |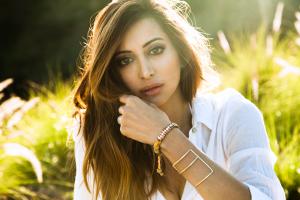 Who is Noureen DeWulf?
Noureen Ahmed was born on 28 February 1984, in New York City, USA, and is an actress, best known for her appearances in a variety of films, including "The Back-up Plan", "West Bank Story", and "Ghosts of Girlfriends Past". She's also worked on numerous television shows, including "Anger Management" and the reality program "Hockey Wives".
The Net Worth of Noureen DeWulf
As of mid-2020, Noureen DeWulf's net worth is estimated to be over $3 million, earned through a successful career in the acting profession, in the entertainment industry since 2005. She probably benefits from the success of her husband too, professional hockey player Ryan Miller who has a net worth estimated to be over $14 million.
Early Life, Education, and Career Beginnings
While Noureen was born in New York City, her family later moved to Stone Mountain, Georgia where she would grow up. Her parents were originally from Pune, India, and she was raised with Muslim beliefs. She is the middle child among three daughters – both of her sisters would pursue careers in law, so she is the only one who aspired to a career in acting.
After matriculating from high school, she enrolled at Boston University where she took up a degree in theatre and international relations.
It's a private university that was once affiliated with the United Methodist Church, but has long become non-sectarian, and is known for quality education, having numerous alumni who have succeeded in various fields. After completing her studies, she followed up on her desire to become an actress, moving to Los Angeles to audition and look for opportunities. She quickly gained recognition in her first project, as she was cast in the short film "West Bank Story" playing the lead role of a cashier who falls in love with a soldier; the short would win an Academy Award.
Continued Acting Work
More projects would come DeWulf's way following this success, and she was cast in "Ocean's Thirteen" which is a sequel to "Ocean's Twelve", starring George Clooney, Matt Damon and Brad Pitt. She then appeared in the romantic comedy "Ghosts of Girlfriends Past", which starred Matthew McConaughey and Jennifer Garner, andas the name denotes, is inspired by the novella "A Christmas Carol" written by Charles Dickens in 1843.
She also worked alongside Jeremy Piven in "The Goods: Live Hard, Sell Hard", which was a mild success at the box office despite mostly negative reviews.
Afterwards she began focusing on television work, and was cast in a recurring role in "Outsourced", which is a series set in an Indian workplace. She also appeared in the MTV program "The Hard Times of RJ Berger", which tells the story of the unpopular high school titular character who goes on his journey through high school filled with embarrassments and misadventures. She also made appearances in "Maneater" and "Hawthorne".
Rise to Prominence
In 2010, Noureen worked on the film "The Back-up Plan" which starred Jennifer Lopez, and then appeared in the independent feature "The Taqwacores" which is based on the novel of the same name by Michael Muhammad Knight.
Afterwards, she was cast in one of her biggest roles in "Anger Management", a series based on the 2003 film of the same name, this time starring Charlie Sheen as a variation of the character portrayed by Jack Nicholson in the original. The show had a strong start, and eventually ran for 100 episodes, ending in 2014.
Aside from her various acting projects, she's been featured in several popular magazines thanks to her attractiveness, doing features and photoshoots for such as "Men's Health", "Giant", "Complex" and "Nylon". She was named as a part of the "Maxim" Hot 100, a list voted by readers of the most desirable women in the world.
In 2014 she was cast in the independent film "Coffee, Kill Boss", in which she portrayed a murderous temp worker, and won a Comedy Ninja Film and Screenplay Festival Award for her role. One of her latest projects is the reality show "Hockey Wives", which follows the lives of several women involved with professional hockey players.
Husband – Ryan Miller
Ryan grew up playing hockey, originally playing as a forward, but after becoming frustrated with his youth team's goaltender, he switched his role. He comes from a family of professional hockey players, and during his time at Michigan State University, he played with the university's team in the National Collegiate Athletic Association (NCAA).
He set a record in career shutouts during his time there, and won several accolades; he had already been drafted by the Buffalo Sabers in the 1999 National Hockey League (NHL) Draft.
In 2002 he made his debut with the Sabres, and developed his skills over the years, leading him to be named as the league's best goaltender, winning the Vezina Award as proof in 2010. He also holds the record for the most winningest goalie in the NHL, who is of American descent in the league's entire history.
He became known for his hybrid style, a style of goaltending that focuses more on reactions. He is one of 30 players in the history of the NHL to win 300 games in one's career.
Aside from the NHL, he's also played with the US team in the 2010 Winter Olympics, helping them win the silver medal as the team's starting goaltender. He also played in the 2014 Winter Olympics, but the US didn't get pass the qualifying round.
Personal Life
Noureen was first married to artist James DeWulf, who is known for his avant-garde style.
The two married in 2000 just shortly before she embarked on her acting career, which is one of the reasons she used his last name as her stage name; they divorced after a decade together. In 2011, she married Ryan Miller after being together for a year. They had a child four years later.
In recent months she's been spending more time with the family, as restrictions have left most people staying at home to prevent the spread of the coronavirus. The family still takes trips to their local beach, but are mindful of their distance to others. She is very connected to her Indian heritage, and is critical of exercise routines that try to mimic Indian practices and the Indian climate.
General Info
| | |
| --- | --- |
| Full Name | Noureen DeWulf |
| Date Of Birth | February 28, 1984 |
| Height | 1.6 m |
| Profession | Actor |
| Education | Boston University |
| Nationality | American |
Family
| | |
| --- | --- |
| Spouse | Ryan Miller (m. 2011), James DeWulf (m. 2000–2010) |
| Children | Bodhi Ryan Miller |
Accomplishments
| | |
| --- | --- |
| Movies | The Back-up Plan, The 41 Year Old Virgin Who Knocked Up Sarah Marshall and Felt Superbad About It, Ghosts of Girlfriends Past, The Comebacks, American Dreamz, National Lampoon's Pledge This!, West Bank Story, Ocean's Thirteen, They Came Together, The Goods: Live Hard, Sell Hard, The Taqwacores, Amer... |
| TV Shows | Anger Management, Burning Love, Two Dollar Beer |
Social profile links
Quotes
| # | Quote |
| --- | --- |
| 1 | I'm used to always being different, in any context. People always want to know how I grew up, so I just say I grew up Muslim. That's the truth. Two Muslim girls can write me two extremely different letters - and they do. Some are very supportive, and some question what I do. |
| 2 | I was in more of the artsy crowd in high school. |
| 3 | My go-to drink is a mix of cukes, kale, apple and other healthy stuff. |
| 4 | I think it's great when dramatic actors do lighter, funny roles. |
| 5 | Sometimes I go through a yoga phase or a spinning phase, but I try to vary my workouts so my body doesn't get used to any one thing. |
| 6 | It is challenging and hard not to accept all stereotypical roles that get thrown your way. For me, I've been really, really lucky because I have been able to play a lot of different parts. |
| 7 | I put a lot of pressure to keep working. And when I'm not working, my agent books three auditions a day. I'd rather go to the set and work. |
| 8 | I love my heritage both as someone who grew up as a Muslim and as an Indian - it's part of who I am and I would never deny it. |
| 9 | Even in comedy it's important to get your body acquainted with what you're going to do. |
| 10 | Friends always ask me what the best Indian restaurant in L.A. is. I'm like, 'I don't know, dude. I have an app on my iPhone for that.' |
| 11 | I like to make sure I get enough rest, so I don't make it a priority to go out late night. |
| 12 | Ironically, it was because I was raised as a Muslim in the South, that I realised the value in being true to who you really are. I've just got so many things going on inside. I don't know how to resolve all of them other than being true to who I am. |
| 13 | Yoga is the most boring exercise. It's for people who are too lazy to get on the elliptical. Bikram, where they heat up the room to mimic India's climate, is especially stupid. People in India are not skinny because they're doing yoga in 105-degree rooms; they're skinny because there's no food. |
| 14 | I recently have gotten into juicing as an in-between-meals snack. I think the more vegetable ingredients the better, especially if they are green. I find that a good juice can really curb my appetite when I need to wait for the next meal. |
| 15 | I really enjoy Martin Sheen - he is very unexpectedly funny, very quick. |
| 16 | One of my personal indulgences is getting a weekly massage - it helps to re-align my body. I usually feel so much less tense after I've gotten rid of some knots in my shoulders and back. |
Facts
| # | Fact |
| --- | --- |
| 1 | Gave birth to her 1st child at age 31, a son named Bodhi Ryan Miller on March 20, 2015 in in Vancouver, Canada after 10 hours of labor and weighing 7 lbs. Child's father is her 2nd husband, Ryan Miller. |
| 2 | Ranked 93 on Maxim Magazine's HOT 100 list in 2014. This was the second time she appeared on their list, the first being in 2007 when she ranked number 100. |
| 3 | Ranked number 100 on Maxim's Hot 100 (2007). |
| 4 | Attended Boston University's School of the Arts. |
| 5 | Wore a fat suit for her role in Americanizing Shelley (2007). |
Pictures
Movies
Actress
| Title | Year | Status | Character |
| --- | --- | --- | --- |
| Good Match | 2017 | post-production | Terri Webster |
| The Threeway | 2017 | pre-production | |
| When We First Met | 2017 | completed | Margo |
| Chee and T | 2016 | | Shana |
| Grandfathered | 2015-2016 | TV Series | Priya |
| Life in Pieces | 2016 | TV Series | Dionne |
| Square Roots | 2016 | TV Movie | Saleena Desai |
| Anger Management | 2012-2014 | TV Series | Lacey |
| Over the Garden Wall | 2014 | TV Mini-Series | Pumpkin Gal / Additional Voices |
| Garfunkel and Oates | 2014 | TV Series | Jennifer |
| Kiss Her I'm Famous | 2014 | TV Series short | Hannah |
| They Came Together | 2014 | | Melanie |
| Coffee, Kill Boss | 2013 | | Temp |
| How to Be A Terrorist: In Hollywood with Abu Nazir | 2013 | Short | |
| Burning Love | 2012-2013 | TV Series | Titi |
| Zambezia | 2012 | | Pavi (voice) |
| First Dates with Toby Harris | 2012 | TV Series short | Sarah |
| The Babymakers | 2012 | | Bride |
| Hail Mary | 2011 | TV Movie | Ingrid |
| Happy Endings | 2011 | TV Series | Molly |
| Breakaway | 2011 | | Reena Singh |
| Hawthorne | 2010-2011 | TV Series | Judy Pasram |
| Outsourced | 2011 | TV Series | Vimi |
| The Hard Times of RJ Berger | 2010 | TV Series | Claire |
| The Back-up Plan | 2010 | | Daphne |
| 'Til Death | 2010 | TV Series | Dina |
| The Taqwacores | 2010 | | Rabeya |
| The 41-Year-Old Virgin Who Knocked Up Sarah Marshall and Felt Superbad About It | 2010 | Video | Kim |
| The Goods: Live Hard, Sell Hard | 2009 | | Heather |
| Maneater | 2009 | TV Mini-Series | Polo |
| Reno 911! | 2009 | TV Series | Hot Librarian |
| Ghosts of Girlfriends Past | 2009 | | Melanie |
| 90210 | 2009 | TV Series | Nika Raygani |
| The Strip | 2009 | | Maliah |
| Two Dollar Beer | 2009 | TV Movie | Fakhri |
| Pulse 3 | 2008 | Video | Salwa |
| Pulse 2: Afterlife | 2008 | Video | Salwa Al Hakim (uncredited) |
| Welcome to the Captain | 2008 | TV Series | Shampoo Girl |
| Killer Pad | 2008 | | Delilah |
| Chuck | 2008 | TV Series | Lizzie |
| Courtroom K | 2008 | TV Movie | Rose Marie Cheeks |
| The Comebacks | 2007 | | Jizminder Featherfoot |
| Ocean's Thirteen | 2007 | | 'Nuff Said Expo Girl |
| Revenge | 2007 | TV Movie | Nadia |
| Americanizing Shelley | 2007 | | Littly J. Singh |
| Welcome to the Jungle Gym | 2006 | TV Movie | Amy |
| Pledge This! | 2006 | | Poo Poo |
| Mindy and Brenda | 2006 | TV Movie | Mindy |
| American Dreamz | 2006 | | Shazzy Riza (as Noureen Dewulf) |
| Love, Inc. | 2006 | TV Series | Tricia |
| Numb3rs | 2006 | TV Series | Santi |
| Girlfriends | 2005 | TV Series | Jasmine Crane |
| CSI: NY | 2005 | TV Series | Matrice Singh |
| West Bank Story | 2005 | Short | Fatima |
| Happy Birthday | 2004 | Video short | |
Miscellaneous
| Title | Year | Status | Character |
| --- | --- | --- | --- |
| Breakaway: Making Breakaway | 2012 | Video short additional interviews | |
Thanks
| Title | Year | Status | Character |
| --- | --- | --- | --- |
| Inner Child | 2017 | TV Movie special thanks | |
| Equal Opportunity | 2007 | special thanks | |
Self
| Title | Year | Status | Character |
| --- | --- | --- | --- |
| Hell's Kitchen | 2016 | TV Series | Herself - Restaurant Patron |
| Hockey Wives | 2015-2016 | TV Series documentary | Herself |
| The Pre-Game | 2014 | TV Series | Herself |
| Today | 2014 | TV Series | Herself |
| Attack of the Show! | 2012 | TV Series | Herself - Guest |
| Fashion Police | 2012 | TV Series | Herself |
| The Wendy Williams Show | 2012 | TV Series | Herself - Guest |
| ACME Hollywood Dream Role | 2010 | TV Series | Herself |
| Backstage: Hollywood Fashion | 2007 | TV Movie | Herself |
| Red Eye w/Tom Shillue | 2007 | TV Series | Herself |
| Guys Choice | 2007 | TV Movie | Herself |
Awards
Won Awards
| Year | Award | Ceremony | Nomination | Movie |
| --- | --- | --- | --- | --- |
| 2014 | Best Actress | Gwinnett Center International Film Festival | Feature Film | Coffee, Kill Boss (2013) |
| 2010 | Special Jury Prize | VC FilmFest - Los Angeles Asian Pacific Film Festival | Best Ensemble Acting - Narrative Feature | The Taqwacores (2010) |
Source:
IMDb
,
Wikipedia