• Simonetta Stefanelli is an Italian entrepreneur and actress, known for playing Apollonia Vitelli-Corleone in the "The Godfather"
• Started her career in her early teens with small roles in mostly Italian films
• Went on to appear in "The Godfather" and other Italian films, refusing offers from Hollywood to avoid being type-cast
• Was famously married to director/actor Michele Placido and has three children including actress Violante Placido
• Has a net worth of $20 million and classic looks with brown hair, brown eyes, and olive skin

Known for movies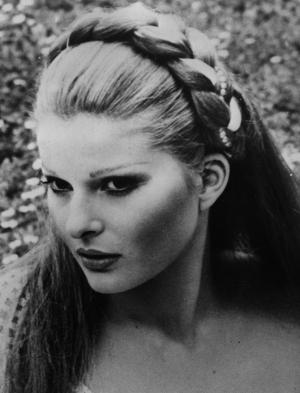 Introduction
Simonetta will go down in history being known as the women who played the daughter of the infamous 'Godfather', but Simonetta wanted more for her life than being seen as a Hollywood sex symbol.
Early Life
Simonetta Stefanelli was born on 30 November 1954 in Lazio, Rome, Italy. Nothing is known about her family and early life, including education.
Career
Stefanelli has made a name for herself as a well-known entrepreneur and actress. She is best known for playing Apollonia Vitelli-Corleone in the "The Godfather", but that is not where her career starting.
It started with a few small roles in her early teens, appearing in mostly Italian films.
Most of which were in Italian-style sex comedies that were very popular during that time, such as "La Moglie Giapponese" a filmed directed by Gian Luigi and which translated means the Japanese wife; "Non Commettere atti Impuri" (Do not commit adultery) by Guilio Petroni, as well as "In Nome Del Popolo Italiano" (In the name of the Italian people) by Dino Risi.
In 1972 she was cast in "Die Sonne Angriefen" (The Sun Attack) a German Television film by Peter Lilienthal, and in that same year she got the role in "The Godfather" as the daughter of a big crime boss.
The movie featured many Hollywood heavyweights such as Marlon Brando, Diane Keaton, Al Pacino and Robert Duval, and was directed by Francis Ford Coppola. The story spans from 1945-1955 following the life of the Corleone family, headed up by Vito Corleone, who is focused on taking one of his sons, Michael Corleone a reclusive outsider of the family, and turning him into a ruthless boss of the mafia.
After appearing in "The Godfather" Stefanelli turned down numerous job offers from Hollywood filmmakers, to avoid being type cast, wanting to be seen as more than just a sex symbol. In an interview in 1997 when talking about all the job offers, she said 'They wanted nothing more than to expose my body. I refused so much work.'
She decided instead to continue her work in Italy, where she filmed the Spanish movie "El Mejor Alcade, el Ray" (The Best Mayor, the King) directed by Rafael Gil.
The following year in 1974 Stefanelli made an appearance in "Moses and the Lawgiver" a mini-series starring the likes of Anthony Quayle, Ingrid Thulin, and Burt Lancaster. She went on to be cast in many Italian films, such as "Le Amiche Del Cuore" (Close Friends), "Peccati in Famiglia" (Scandal in the Family) as well as starring in an erotic drama next to her husband at the time, in "Tre Fratelli" (Three Brothers).
Meeting spouse
Stefanelli was most famously married to director/actor Michele Placido, with whom she played alongside in many films.
The couple divorced in 1994, but before separating had three children together, one of whom is now famous actress. Violante Placido – Violante made her first onscreen appearances next to her father just after her mother gave up acting for good to pursue a career as an entrepreneur. Simonetta opened a designer store "Simo Bloom" famous for its shoes and  accessories, and even though she no longer acts she still has a large group of fans who follow her on social media, on which she is still recognized, and an Italian celebrity.
Net worth
Sources indicate that Stefanelli's net worth is about $20 million, as of early 2020.
Physical Characteristic
Simonetta's classic looks with her brown hair, brown eyes, and olive skin made her famous as the Italian beauty she is still known as. She is 5ft6in (1.68m) tall and weighs about 123lbs(53kg).
General Info
| | |
| --- | --- |
| Full Name | Simonetta Stefanelli |
| Net Worth | $20 million dollars |
| Date Of Birth | November 30, 1954 |
| Height | 1.68 m |
| Profession | Entrepreneur, Fashion Designer, Actor |
| Nationality | Italian |
Family
| | |
| --- | --- |
| Spouse | Michele Placido |
| Children | Violante Placido, Brenno Placido, Michelangelo Placido |
Accomplishments
| | |
| --- | --- |
| Movies | Close Friends, Department Store, Three Brothers, Splendori e miserie di Madame Royale, Il caso Pisciotta, The Godfather, Man of the Year, The King is the Best Mayor |
Social profile links
Quotes
| # | Quote |
| --- | --- |
| 1 | [on working with Al Pacino] He would want to speak with me, I could tell. But sometimes it is not important to speak. When you have a good feeling, the eyes speak. |
| 2 | [on why she did not do more Hollywood films] They wanted nothing more than to expose my body. I refused so much work. |
| 3 | The Mafia has the same fascination as the monarchy. But I am not mafioso. I could never do that. I like to speak too much. I am not discreet. I would die immediately. |
Facts
Pictures
Movies
Actress
| Title | Year | Status | Character |
| --- | --- | --- | --- |
| Le amiche del cuore | 1992 | | Giuliana |
| Scoop | 1992 | TV Mini-Series | |
| Non basta una vita | 1988 | TV Series | Stefania |
| Grandi magazzini | 1986 | | Segretaria |
| Art of Love | 1983 | | Widow |
| Quer pasticciaccio brutto de via Merulana | 1983 | TV Mini-Series | Assuntina |
| Il falco e la colomba | 1981 | | Rita Alemani |
| Tre fratelli | 1981 | | Young Donato's Wife |
| The Godfather: A Novel for Television | 1977 | TV Mini-Series | Apollonia Vitelli Corleone |
| La nuora giovane | 1975 | | Signora Flora |
| Scandal in the Family | 1975 | | Doris |
| Moses the Lawgiver | 1974-1975 | TV Mini-Series | Cotbi |
| Lucrezia giovane | 1974 | | Lucrezia Borgia |
| El mejor alcalde, el rey | 1974 | | Elvira |
| Ho incontrato un'ombra | 1974 | TV Mini-Series | Gal Fabian |
| La profanazione | 1974 | | |
| L'onorata famiglia - Uccidere è cosa nostra | 1973 | | Mrs. Vitale |
| Gli amici degli amici hanno saputo | 1973 | | |
| Il caso Pisciotta | 1972 | | Anna |
| The Godfather | 1972 | | Apollonia - Sicilian Sequence |
| Non commettere atti impuri | 1971 | | Maria Teresa |
| In nome del popolo italiano | 1971 | | 'Giugi' Santenocito |
| Homo Eroticus | 1971 | | Tano's daughter |
| Die Sonne angreifen | 1971 | TV Movie | Henia |
| La moglie giapponese | 1968 | | |
Archive Footage
| Title | Year | Status | Character |
| --- | --- | --- | --- |
| The Godfather Trilogy: 1901-1980 | 1992 | Video | Apollonia Vitelli-Corleone |
| The Godfather: Part III | 1990 | | Apollonia Vitelli-Corleone |
Source:
IMDb
,
Wikipedia