• Nicollette Sheridan is an English-American actress, producer, and writer, best known for her roles in "Knots Landing", "Desperate Housewives", and "Dynasty"
• She attended the Arts Educational School in London and started her career as a fashion model
• Her net worth is estimated to be around $25 million
• She has been married twice and has been engaged to Swedish personal trainer Nicklas Soderblom
• She is a vegetarian and is active on social media, with around 700,000 followers on Instagram

Known for movies
Short Info
| | |
| --- | --- |
| Date Of Birth | November 21, 1963 |
| Spouse | Aaron Phypers, Harry Hamlin |
| Mark | Blonde hair |
| Fact | Has a golden retriever named Oliver. |
| Payments | Earned $25,000 (season 1 / per episode) from Desperate Housewives (2004) |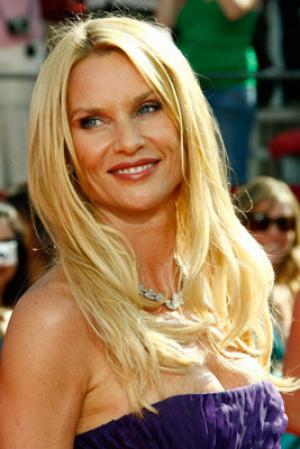 Who is Nicolette Sheridan?
Nicollette Sheridan is an English-American actress, producer, and writer, who achieved stardom with the roles of Paige Matheson in the soap opera "Knots Landing", Edie Britt in the TV series "Desperate Housewives" (2004-2009), and most recently as Alexis Carrington in the soap opera "Dynasty" (2018-2019), in addition to other characters she has portrayed during her career.
Nicollette Sheridan- The Naked Truth: Childhood, Education
Born Nicollette Flora Vivianne Sheridan on the 21st November 1963, in Worthing, Sussex, England, she is the daughter of Sally Adams, an actress, and Arthur Sheridan.
She has a half brother, Nick Savalas, from her mother's relationship with Telly Savalas; Telly became her stepfather. Nicollette moved to the US in 1973, when she was just ten years old, but before this she attended the Arts Educational School in London.
Career Beginnings
Nicollette started her journey as a fashion model in the early '80s, and made appearances in Vogue and also graced the cover page of Cosmopolitan. However, as she got older, her interest in acting increased, and in 1984 she made her acting debut as Taryn Blake in the TV series "Paper Dolls".
Two years later, Nicollette won the role of Paige Matheson in the soap opera "Knots Landing" (1986-1993) and appeared in over 180 episodes of the Golden Globe Award-nominated series, which made her very popular.
Rise to Prominence
She continued with several television films during the '90s, appearing in "A Time to Heal" (1994), "Shadows of Desire" (1994), then the sci-fi thriller "Virus", co-starring William Devane, Stephen Caffrey, the Golden Globe Award-winning thriller-drama film "Indictment: The McMartin Trial" (1995), and the crime thriller film "Raw Nerve" (1999).
"Lending a hand to those in need, not only changes their lives but yours as well…" – @IamNicollette @ProjAngelFood #support #kindness #generosity #love pic.twitter.com/MUQy3ilH1U

— Biolumière Organics (@Biolumiere_) September 20, 2019
She waited until 2004 for another notable role, but the wait paid off when she was chosen as Edie Britt in the Golden Globe Award-winning drama series "Desperate Housewives". She appeared in 111 episodes from 2004 until 2009, when she announced that she is leaving the show. In 2010 she sued Marc Cherry, producer and creator of the show, claiming that she was maltreated while in the show, and sought $20 million, but the jury failed to reach a verdict and a mistrial was declared. After this, she started several times to renew the trial, but without success.
Nicollette continued her career, and in 2010 starred in the comedy television film "Lee Mathers", and in 2011 appeared in the Hallmark channel television romantic comedy film "Honeymoon for One".
Most Recent Projects
In the next few years, Nicollette featured in several projects, but without any major success. After this period of her life, she had the lead role in the romantic comedy television film "All Yours" (2016), co-starring Dan Payne and Kiefer O'Reilly, and most recently Nicollette was selected to play Alexis Carrington in the "Dynasty" reboot, and is now working on the television film "The Chameleon", which is yet to be released.
Nicollette Sheridan Net Worth, Height, Weight, Appearance
Nicollette has featured in over 50 films and TV series, and her net worth has grown significantly during her career, especially when she starred in "Desperate Housewives" – she has a Golden Globe Award- nomination for her work on the show.
Sources have estimated Sheridan's net worth to be as high as $25 million, as of early 2020.
Nicollette Sheridan stands at 5ft 7ins (1.71m) tall, while she weighs approximately 137lbs ~ 62kg, and her vital statistics are 38-26-37; she has blonde hair and blue eyes.
Nicollette Sheridan Personal Life, Dating, Marriage, Divorce
Nicollette has had a very rich love life; when she was still in her teens she was dating Leif Garrett, singer and actor, and even lived with him in his family home.
Her career took off and she became something of a sex symbol, and she then dated such stars as Scott Baio, Roger Wilson, and Jimmy Van Patten.
Her first marriage was to Harry Hamlin – the two married on the 7th September 1991, but divorced less than a year later, on the 21st August 1992. She then began a romance with famous singer, Michael Bolton, which lasted from 1992 until 1997.
Her next lover was Nicklas Soderblom, a Swedish personal trainer, and the pair even became engaged, but called off their affair after two years of romance.
She returned to Bolton in 2005, and they became engaged in early 2006, but in August 2008  they broke-up again.
Years later, she started dating Aaron Phypers, and the two married in December 2015; however, that marriage was also short-lived, as she filed for divorce on the 15th July 2016, finalized only in August 2018. Since then Nicollette has remained single, while her ex-husband is dating former fashion model and Hollywood star, Denise Richards.
Nicollette Sheridan News and Facts
Nicollette has recently stepped down from her role of Alexis Carrington, only to have more time with her cancer-ridden mother, of which she talked following the announcement of her exit from the show. Her replacement is Elaine Hendrix.
Nicollette's father left the family when she was less than a year old and she has never seen him again. She went to the Buckley School, from which she was almost expelled after being caught forging her mother's signature. As a result, her mother transferred her to Millfield School for girls, from which she eventually matriculated in 1981.
Nicollette likes horse riding and is an avid dog lover, and has a golden retriever as a pet, which she named Oliver.
Back in 1991, she was named one of magazine People's 50 Most Beautiful People.
Nicollette is a vegetarian and has a strict diet which she tends to follow daily. She is active on social media, and has around 700,000 followers on Instagram.
General Info
| | |
| --- | --- |
| Full Name | Nicollette Sheridan |
| Date Of Birth | November 21, 1963 |
| Height | 1.71 m |
| Profession | Actor |
| Education | Millfield |
| Nationality | British |
Family
| | |
| --- | --- |
| Spouse | Aaron Phypers, Harry Hamlin |
| Parents | Sally Sheridan, Arthur Sheridan |
| Siblings | Nick Savalas |
Accomplishments
| | |
| --- | --- |
| Awards | Screen Actors Guild Award for Outstanding Performance by an Ensemble in a Comedy Series, Glamour Award for US TV Actress |
| Movies | The Sure Thing, Code Name: The Cleaner, Spy Hard, Beverly Hills Ninja, Noises Off, Honeymoon for One, Deceptions, Raw Nerve, Deadly Betrayal, The Christmas Spirit, Tarzan & Jane, The People Next Door, Fly Me to the Moon, Jewtopia, Deadly Visions, Dead Husbands, A Time to Heal, I Woke Up Early The Da... |
| TV Shows | Desperate Housewives, The Legend of Tarzan, Knots Landing: Back to the Cul-de-Sac, Knots Landing, Paper Dolls, Paradise, Seitenblicke, Retrosexual: The '80s |
Social profile links
Marks
| # | Marks / Signs |
| --- | --- |
| 1 | Blonde hair |
Salary
Quotes
| # | Quote |
| --- | --- |
| 1 | When people meet me for the first time they usually think I am a real snoot. |
| 2 | Some people find safety in the institution of marriage or some sort of a further commitment. Others think that if you're in a very happy relationship, why mess with it? Marriage has never been something I've needed to have in my life. I've always been extremely independent. |
| 3 | It's quite a feat to pull off a bad girl and have people relate to her. The key is to somehow find a way to make her likable. I thoroughly enjoyed creating and playing Edie. I do miss her. She was a big part of my life for five years. |
| 4 | When I was young, I was a control freak. I was a great organizer. That was my sense of control. I liked having an orderly house, having everything clean and aesthetically pleasing. I found some sort of comfort in that. I've definitely worked on letting that go. I try to leave myself open to see what life offers up. |
| 5 | I have actually played some nice characters. |
| 6 | I really try to take one day at a time and enjoy the moments. |
| 7 | It really is sort of my peace and my serenity when I'm out with the horses and my dog. You know, you have a responsibility when you have animals. They need to be exercised, just like we do, so I get out there as often as I can. I think it's very important to be able to take in your surroundings and breathe the fresh air and appreciate the beauty of nature. |
| 8 | I praise the Lord above because God only knows what they would have Edie doing on cable--probably some of the things Kim Cattrall had to do on Sex and the City (1998). |
| 9 | I did Knots Landing (1979) and many TV movies and features back-to-back, I got so caught up in work driving my life, that I decided I needed a break, to enjoy the simple things in life, and be with my horse and dogs, and travel. When I wanted to re-emerge, I found that I didn't have the bevy of things that I'd previously had at my fingertips. That said, I had to address my career differently. I explored other avenues, from writing to producing and then, four years ago, Desperate Housewives (2004) fell into my hands and that was that. When I read the script, I knew it was special because of the line it walked between comedy and drama, and the twisted nature of its story lines. But you can't help but be surprised when something takes off like that. |
| 10 | I have been accused of doing things to my face, but I haven't had anything done. I'm not saying that there won't be a time when I say. "Okay, maybe", but I'm very blessed to come from generations of very good skin. My mother looks a lot younger than she is, and so did her mother. I have a bit of sun damage but, otherwise, I come from a pool of good genes. |
| 11 | I just liked having intelligent conversations and hearing both sides of an argument. I've always been quite opinionated and I thought the field of law was for me. It's funny how life can change when you least expect it. |
| 12 | I think there are a lot of factors that the universe can conspire and make happen if it's meant to be. Also with perseverance, if you really follow your passion and your bliss you can make anything happen ... in any field. I think fear stops us. It's always been a motto of mine to embrace my fears and walk through them because it's always amazing what you come out to on the other side. |
| 13 | I think I've always been a fighter in a healthy way. |
| 14 | I'm actually more comfortable playing the stroke victim or the girl with no makeup on, looking scruffy and it's all about what's going on inside rather than on the outside. But I'm making friends with it. At times, it's embarrassing being in some outfits that I might personally never be caught dead in, but they serve "Edie" on [Desperate Housewives (2004)]. It was nice actually wearing pants and a proper shirt as "Diane" in [Code Name: The Cleaner (2007)]. |
| 15 | I could say doing what I've wanted to do with my life could be looked at as being selfish. But I think it's a healthy selfish, because if you're really not ready to (have children), it's not the right thing to do. |
| 16 | I think I've been very lucky. A lot of this business is being in the right place at the right time with the right thing. |
| 17 | [on Telly Savalas] He was officially my stepfather, but I always thought of him as my daddy. |
| 18 | I grew up feeling like the ugly duckling, and things have not changed that much. For some reason, Hollywood seems to have painted me as a gorgeous vixen at times or the sweet girl. I don't get it. |
Facts
| # | Fact |
| --- | --- |
| 1 | Her mother was 16 when she had her. |
| 2 | Credits Michele Lee as her favorite acting mentor/best friend. |
| 3 | Was in a relationship with Aussie drug trafficker Simon Main (stepson of Barry Crocker) from 1997 until 2000. Then back again in 2005 following his release from prison. |
| 4 | Filming her new movie in Ireland. [September 2010] |
| 5 | Acting protégée of Michele Lee. |
| 6 | Best known by the public for her roles as Paige Matheson on Knots Landing (1979) and as Edie Britt on Desperate Housewives (2004). |
| 7 | Met her future Desperate Housewives (2004) co-star Marcia Cross on the set of Knots Landing (1979) in 1991. They played rivals. |
| 8 | She spent three of her high school years at The Buckley School, a private college preparatory day school in Sherman Oaks near Los Angeles. Was almost kicked out when she was caught forging her mother's signature on a note. Her mother shipped her off to Millfield, a no-nonsense girl's school outside London, which she graduated from in 1981. |
| 9 | Was the spoke-woman for National Guide Dog Month on September 2010. |
| 10 | Was considered for the role of Rose DeWitt Bukater in Titanic (1997). |
| 11 | Nicollette and Michael Bolton have called off their engagement [August 26, 2008]. |
| 12 | Is of Punjabi descent through her great-grandmother. |
| 13 | Is a vegetarian and believes that any life, big or small, deserves the right to live. |
| 14 | Was engaged to Swede Nick Soderblom but the couple split in November 2005. |
| 15 | Engaged to Michael Bolton [March 14, 2006]. |
| 16 | Originally auditioned for the role of "Bree Van de Kamp" (now played by Marcia Cross) on Desperate Housewives (2004), before auditioning for and getting the role of Edie Britt. |
| 17 | Has been riding horses since she was 3 years old. |
| 18 | Learned about Greek culture from her stepfather and godfather, Telly Savalas. |
| 19 | Speaks Greek fluently. |
| 20 | She only has 1 ear pierced, so she often wears clip on earrings. |
| 21 | Has a golden retriever named Oliver. |
| 22 | Lost the part of Grace Adler, in Will & Grace (1998), to Debra Messing at the final auditions. |
| 23 | Chosen the worst-dressed celebrity in 2004 by fashion critic Mr. Blackwell (Richard Selzer). |
| 24 | In November 2004 she spent a week in the center of the sports world as a key figure in a controversial skit preceding ABC's NFL Monday Night Football (1970), in which she ran supposedly nude into the arms of Philadelphia WR Terrell Owens. The skit was designed to bring viewers to ABC's Desperate Housewives (2004), whose next episode posted the show's highest ratings to date. |
| 25 | Contrary to several sources, she is not the granddaughter of British actress Dinah Sheridan. Both were born in Great Britain, but they are not related. |
| 26 | Met Leif Garrett at age 15. Lived with him under his mother's roof as a minor. The relationship lasted 6 years. |
| 27 | Mother is English actress Sally Sheridan. Father is Arthur Sheridan, a former British Air Force pilot whom Nicollette has not seen since she was an infant. |
| 28 | Was in a long-term relationship with singer Michael Bolton (1992-1995; 2006-2008). |
| 29 | Half-sister of Nick Savalas (his father was Telly Savalas). |
| 30 | Chosen by People magazine as one of the 50 Most Beautiful People in the world [1990] |
Pictures
Movies
Actress
| Title | Year | Status | Character |
| --- | --- | --- | --- |
| The Chameleon | 2016 | TV Movie pre-production | Gentry |
| All Yours | 2016 | TV Movie | Cass |
| Let's Kill Ward's Wife | 2014 | | Robin Peters |
| The Christmas Spirit | 2013 | TV Movie | Charlotte Hart |
| Jewtopia | 2012 | | Betsy O'Connell |
| Noah | 2012/III | | Zenna (voice) |
| Canon C300 Demo: XXIT | 2011 | Short | Nikki Williams |
| Honeymoon for One | 2011 | TV Movie | Eve Parker |
| Lee Mathers | 2010 | TV Movie | Lori Mays |
| Desperate Housewives | 2004-2009 | TV Series | Edie Britt |
| Fly Me to the Moon 3D | 2008 | | Nadia (voice) |
| Code Name: The Cleaner | 2007 | | Diane |
| The Karate Dog | 2005 | TV Movie | White Cat (voice, as Nicolette Sheridan) |
| Desperate Housewives: Oprah Winfrey Is the New Neighbor | 2005 | TV Short | Edie Britt |
| Deadly Visions | 2004 | TV Movie | Ann Culver |
| Becker | 2003 | TV Series | Anna |
| Lost Treasure | 2003 | | Carrie |
| Will & Grace | 2003 | TV Series | Dr. Danielle Morty |
| Static Shock | 2003 | TV Series | Miss Moore / Darcy |
| Deadly Betrayal | 2003 | TV Movie | Donna Randal |
| .com for Murder | 2002 | | Misty |
| Tarzan & Jane | 2002 | | Eleanor (voice) |
| Haven't We Met Before? | 2002 | TV Movie | Eliza / Kate / Emily Winton |
| The Legend of Tarzan | 2001 | TV Series | Eleanor |
| The Spiral Staircase | 2000 | TV Movie | Helen Capel |
| Raw Nerve | 1999 | | Izabel Sauvestre |
| Dead Husbands | 1998 | TV Movie | Alexandra Elston |
| I Woke Up Early the Day I Died | 1998 | | Ballroom Woman |
| Knots Landing: Back to the Cul-de-Sac | 1997 | TV Mini-Series | Paige Matheson |
| Murder in My Mind | 1997 | TV Movie | Callain Pearson |
| Beverly Hills Ninja | 1997 | | Allison Page / Sally Jones |
| The Larry Sanders Show | 1997 | TV Series | Nicollette Sheridan |
| The People Next Door | 1996 | TV Movie | Anna Morse |
| Spy Hard | 1996 | | Veronique Ukrinsky, Agent 3.14 |
| Silver Strand | 1995 | TV Movie | Michelle Hughes |
| Indictment: The McMartin Trial | 1995 | TV Movie | Grace (uncredited) |
| Virus | 1995 | TV Movie | Marissa Blumenthal |
| Shadows of Desire | 1994 | TV Movie | Rowena Ecklund |
| A Time to Heal | 1994 | TV Movie | Jenny Barton |
| Knots Landing | 1986-1993 | TV Series | Paige Matheson |
| Incredi-Girl | 1993 | TV Movie | Taylor |
| Somebody's Daughter | 1992 | TV Movie | Sara |
| Noises Off... | 1992 | | Brooke Ashton / Vicki |
| Guns of Paradise | 1991 | TV Series | Lily |
| Deceptions | 1990 | TV Movie | Adrienne Erickson |
| Lucky Chances | 1990 | TV Mini-Series | Lucky Santangelo |
| Dark Mansions | 1986 | TV Movie | Banda Drake |
| Dead Man's Folly | 1986 | TV Movie | Hattie Stubbs (as Nicolette Sheridan) |
| Scene of the Crime | 1985 | TV Series | Liza |
| The Sure Thing | 1985 | | The Sure Thing |
| Paper Dolls | 1984 | TV Series | Taryn Blake |
Producer
| Title | Year | Status | Character |
| --- | --- | --- | --- |
| All Yours | 2016 | TV Movie executive producer | |
| The Christmas Spirit | 2013 | TV Movie executive producer | |
Writer
| Title | Year | Status | Character |
| --- | --- | --- | --- |
| The Christmas Spirit | 2013 | TV Movie story | |
Thanks
| Title | Year | Status | Character |
| --- | --- | --- | --- |
| Searching | 2013 | TV Movie very special thanks | |
| Desperate Housewives Special: The More You Know, the Juicier It Gets | 2006 | TV Movie special thanks | |
| Desperate Housewives Special: All the Juicy Details | 2006 | TV Movie special thanks | |
| Desperate Housewives Special: Sorting Out the Dirty Laundry | 2005 | TV Movie special thanks | |
Self
| Title | Year | Status | Character |
| --- | --- | --- | --- |
| The Knots Landing Block Party | 1993 | TV Special documentary | Herself / Paige Matheson |
| The 43rd Annual Primetime Emmy Awards | 1991 | TV Special | Herself - Presenter: Outstanding Drama Series |
| Voices that Care | 1991 | TV Movie documentary | Herself - Choir Member |
| The 48th Annual Golden Globe Awards | 1991 | TV Special | Herself - Presenter: Best Actor / Actress in a TV-Series - Comedy / Musical |
| The Tonight Show Starring Johnny Carson | 1990 | TV Series | Herself |
| The 42nd Annual Primetime Emmy Awards | 1990 | TV Special | Herself - Audience Member |
| Dirty Tennis | 1989 | Video short | Herself |
| Battle of the Network Stars XIX | 1988 | TV Special | Herself - CBS Team |
| All-Star Party for Joan Collins | 1987 | TV Special | Herself |
| CBS All-American Thanksgiving Day Parade | 1987 | TV Special | Herself |
| The Annual Entertainment Industry Honors Presentes a Salute to Bud Grant | 1987 | TV Movie | Herself |
| Today | 2013-2016 | TV Series | Herself - Guest |
| Home & Family | 2013-2016 | TV Series | Herself - Guest / Herself |
| Access Hollywood Live | 2016 | TV Series | Herself |
| Extra | 2007-2013 | TV Series | Herself / Herself - Guest |
| Fox and Friends | 2013 | TV Series | Herself - Guest |
| 15th Annual Prism Awards | 2011 | TV Special | Herself |
| Access Hollywood | 2008-2011 | TV Series | Herself - Guest / Herself |
| I Know Things Now: Desperate Housewives Celebrates 100 | 2009 | Video short | Herself |
| Entertainment Tonight | 2000-2009 | TV Series | Herself |
| Seitenblicke | 2009 | TV Series documentary | Herself / Guest of Richard Lugner |
| Ellen: The Ellen DeGeneres Show | 2005-2009 | TV Series | Herself / Herself - Guest |
| Jimmy Kimmel Live! | 2005-2008 | TV Series | Herself / Herself - Guest |
| Backstage Exclusive at the National Television Awards | 2008 | TV Special | Herself |
| The National Television Awards 2008 | 2008 | TV Special | Herself - Presenter |
| The 60th Primetime Emmy Awards | 2008 | TV Special | Herself - Co-Presenter: Outstanding Supporting Actor in a Drama Series |
| Infanity | 2008 | TV Series documentary | Herself |
| Speechless | 2008 | TV Movie documentary | Herself |
| Corazón de... | 2006-2007 | TV Series | Herself |
| Rachael Ray | 2007 | TV Series | Herself |
| Late Show with David Letterman | 2005-2007 | TV Series | Herself - Guest / Herself |
| Live with Kelly and Michael | 2004-2007 | TV Series | Herself |
| 13th Annual Screen Actors Guild Awards | 2007 | TV Special | Herself |
| The 64th Annual Golden Globe Awards | 2007 | TV Special | Herself - Audience Member (uncredited) |
| The View | 2005-2007 | TV Series | Herself / Herself - Co-Host |
| Up Close with Carrie Keagan | 2007 | TV Series | Herself |
| 75th Annual Hollywood Christmas Parade | 2006 | TV Special | Herself |
| The Tonight Show with Jay Leno | 2005-2006 | TV Series | Herself |
| Keith Barry: Extraordinary | 2006 | TV Movie | Herself |
| Punk'd | 2006 | TV Series | Herself |
| Late Night with Conan O'Brien | 1994-2006 | TV Series | Herself |
| 12th Annual Screen Actors Guild Awards | 2006 | TV Special | Herself |
| The 63rd Annual Golden Globe Awards | 2006 | TV Movie documentary | Herself - Presenter: Best Actress in a Television Series - Drama |
| The 32nd Annual People's Choice Awards | 2006 | TV Special documentary | Herself |
| Knots Landing Reunion: Together Again | 2005 | TV Movie documentary | Herself / Paige Matheson |
| Rove Live | 2005 | TV Series | Herself |
| E! True Hollywood Story | 2005 | TV Series documentary | Herself |
| The 57th Annual Primetime Emmy Awards | 2005 | TV Special | Herself - Co-Presenter: Outstanding Supporting Actor in a Comedy Series |
| The Tony Danza Show | 2005 | TV Series | Herself |
| ESPY Awards | 2005 | TV Special | Herself |
| Richard & Judy | 2005 | TV Series | Herself |
| Hollywood Beat | 2005 | TV Series | Herself, guest |
| 77th Annual Academy Awards - UK | 2005 | TV Special | Herself |
| 11th Annual Screen Actors Guild Awards | 2005 | TV Special | Herself - Winner: Outstanding Performance by an Ensemble in a Comedy Series |
| The Oprah Winfrey Show | 2004-2005 | TV Series | Herself |
| The 62nd Annual Golden Globe Awards | 2005 | TV Special documentary | Herself - Co-Presenter: Best Actor in a TV Mini-Series or Made for TV Movie / Nominee: Best Supporting Actress in a Television Series, Mini-Series or Made for TV Movie |
| Tsunami Aid: A Concert of Hope | 2005 | TV Special | Herself |
| NFL Monday Night Football | 2004 | TV Series | Edie Britt |
| Life & Style | 2004 | TV Series | Herself - Guest |
| The Late Late Show with Craig Kilborn | 2004 | TV Series | Herself |
| The Rosie O'Donnell Show | 1996 | TV Series | Herself |
| The 53rd Annual Golden Globe Awards | 1996 | TV Special | Herself - Audience Member |
| The 17th Annual CableACE Awards | 1995 | TV Special | Herself - Presenter |
| The 22nd Annual American Music Awards | 1995 | TV Special | Herself |
Archive Footage
| Title | Year | Status | Character |
| --- | --- | --- | --- |
| Fashion Police | 2012 | TV Series | Herself |
| Edición Especial Coleccionista | 2012 | TV Series | Brooke Ashton |
| NBC Nightly News with Lester Holt | 2012 | TV Series | Herself |
| Entertainment Tonight | 2010 | TV Series | Herself |
| Live from Studio Five | 2010 | TV Series | Herself |
| 50 años de | 2009 | TV Series | Herself |
| Los mejores años | 2009 | TV Series | Chica Martini |
| E! True Hollywood Story | 2009 | TV Series documentary | Herself |
| How TV Changed Britain | 2008 | TV Series documentary | Edie Britt |
| Reinventando Hollywood | 2008 | TV Movie documentary | Edie Britt |
| La rentadora | 2006-2007 | TV Series | |
| Desperate Housewives Special: Secrets and Lies | 2007 | TV Movie | Edie Britt |
| Desperate Housewives Special: The Juiciest Bites | 2007 | TV Movie | Edie Britt |
| Corazón de... | 2005-2006 | TV Series | Herself |
| Las cinco caras de David LaChapelle | 2006 | TV Movie | Edie Britt |
| Celebrity Debut | 2006 | TV Movie | Herself |
| Desperate Housewives Special: The More You Know, the Juicier It Gets | 2006 | TV Movie | Edie Britt (uncredited) |
| Desperate Housewives Special: All the Juicy Details | 2006 | TV Movie | Edie Britt (uncredited) |
| 80s | 2005 | TV Series documentary | Herself |
| Desperate Housewives Special: Sorting Out the Dirty Laundry | 2005 | TV Movie | Edie Britt (uncredited) |
| Retrosexual: The 80's | 2004 | TV Mini-Series documentary | |
| 50 Most Wicked Women of Primetime | 2004 | TV Movie documentary | Edie Britt - Desperate Housewives |
Awards
Won Awards
| Year | Award | Ceremony | Nomination | Movie |
| --- | --- | --- | --- | --- |
| 2006 | Actor | Screen Actors Guild Awards | Outstanding Performance by an Ensemble in a Comedy Series | Desperate Housewives (2004) |
| 2005 | Actor | Screen Actors Guild Awards | Outstanding Performance by an Ensemble in a Comedy Series | Desperate Housewives (2004) |
| 1991 | Soap Opera Digest Award | Soap Opera Digest Awards | Outstanding Heroine: Prime Time | Knots Landing (1979) |
| 1990 | Soap Opera Digest Award | Soap Opera Digest Awards | Outstanding Lead Actress: Prime Time | Knots Landing (1979) |
Nominated Awards
| Year | Award | Ceremony | Nomination | Movie |
| --- | --- | --- | --- | --- |
| 2009 | Actor | Screen Actors Guild Awards | Outstanding Performance by an Ensemble in a Comedy Series | Desperate Housewives (2004) |
| 2008 | Razzie Award | Razzie Awards | Worst Supporting Actress | Code Name: The Cleaner (2007) |
| 2008 | Actor | Screen Actors Guild Awards | Outstanding Performance by an Ensemble in a Comedy Series | Desperate Housewives (2004) |
| 2007 | Gold Derby TV Award | Gold Derby Awards | Comedy Supporting Actress | Desperate Housewives (2004) |
| 2007 | Actor | Screen Actors Guild Awards | Outstanding Performance by an Ensemble in a Comedy Series | Desperate Housewives (2004) |
| 2006 | Gold Derby TV Award | Gold Derby Awards | Ensemble of the Year | Desperate Housewives (2004) |
| 2005 | Golden Globe | Golden Globes, USA | Best Performance by an Actress in a Supporting Role in a Series, Miniseries or Motion Picture Made for Television | Desperate Housewives (2004) |
| 2005 | Gold Derby TV Award | Gold Derby Awards | Comedy Supporting Actress | Desperate Housewives (2004) |
Source:
IMDb
,
Wikipedia