• Mary Frances Crosby is an American actress, known for her roles in "Dallas" and "The Legend of Zorro".
• She was raised in Los Angeles by her father Bing Crosby and mother Kathryn Grant.
• She left college to pursue her acting career, and has appeared in numerous TV series and films since.
• Mary is married to Mark Andrew Brodka and the couple have two children.
• She is 60 years old, and her net worth is estimated at over $5 million.

Known for movies
Short Info
| | |
| --- | --- |
| Fact | Is fluent in Spanish. |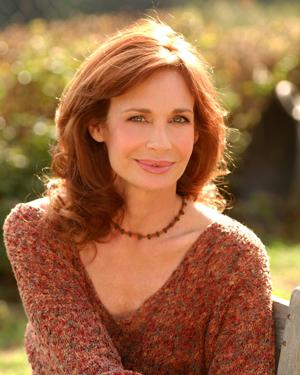 Who is Mary Crosby? Wiki Bio
Mary Frances Crosby was born in Los Angeles, California USA, on 14 September 1959, so her zodiac sign is Virgo and she holds American nationality. She is an actress, probably best known for portraying Kristin Shepard in the TV show "Dallas".
Early life and education
Mary was raised in Los Angeles by her father Bing Crosby, who was a world famous singer and actor who died in 1977, and his second wife Kathryn Grant who was an actress. Mary has two brothers Harry Crosby III and Nathaniel Crosby and four half-brothers. She grew up being interested in acting thanks to Kathryn, who often took her to the sets of the movies and TV series she was shooting for, while the two also watched a lot of TV together.
Mary attended a public high school where she was a member of the school's drama club, and upon matriculation apparently at the age of 15, she enrolled at the University of Texas, at Austin. While there, she practiced several sports, and dancing and acting, and was also a member of the Delta Delta Delta sorority; however, she quit before graduation to pursue her acting career.
Roles in TV series
Mary made her debut TV series appearance in "The Danny Thomas Hour" in 1967, but her full-time career started with guest roles in "Starsky & Hutch" in 1978 and "CHiPs" in 1979.
She gained recognition in the same year, portraying Suzy Cooper in twelve episodes of the comedy mini-series "Brothers and Sisters", which starred Chris Lemmon and Randy Brooks, and followed a fraternity at the made-up Larry Crandall College.
Her next notable role was in "Dallas" in which she portrayed Kristin Shepard in 28 episodes between 1979 and 1981, and again in 1991. This drama romance series was about a man who became rich thanks to his oil business, and his ways of making people do what he wants done. Mary appeared in five episodes of "Dick Turpin" in 1981, which was followed by her roles in "Automan" in 1983, "The Fall Guy" and "Cover Up" both in 1984.
She went on to appear in "Hollywood Wives" in 1985 before being invited to guest star in one or several episodes of "In the Heat of the Night" in 1989, "Freddy's Nightmares" in 1990, and "Paradise" in 1991. Some of her following appearances were in "Lois & Clark: The New Adventures of Superman" in 1993, "Star Trek: Deep Space Nine" in 1994, and "Platypus Man" in 1995.
Mary's latest roles in TV series have been in "Beverly Hills, 90210" in 1995 and 1996, "Mike Hammer, Private Eye" in 1997, and "Dallas Reunion: The Return to Southfork" in 2004.
Mary's film appearances
Mary made her debut film appearance at the age of 11 playing the lead character in "Goldilocks and the Three Bears" in 1970, and when she went full-time, was cast as the lead character in movies such as "With This Ring" in 1978, "Midnight Lace" in 1981, and "Confessions of a Married Man" in 1983. She gained greater recognition after portraying Elizabeth Rush in the action war film "Last Plane Out", which starred Jan-Michael Vincent and Julie Carmen, and follows an American journalist who, while working in Nicaragua, falls in love with a rebel woman.
She played side roles in movies such as "The Ice Pirates" in 1984, "Final Jeopardy" in 1985, and "Crazy Dan" in 1986, before starring as Mrs Lucy Mallory in the hit western action film "Stagecoach", released in 1986. The year 1990 saw her appear in four movies, including "Quicker Than the Eye" and "Eating", which were followed by her roles in "Crack Me Up" in 1991 and "The Berlin Conspiracy" in 1992.
Mary's next notable role was in 2005 in the action adventure film "The Legend of Zorro", which starred Antonio Banderas and Catherine Zeta-Jones, and follows the masked Zorro, a man who decides to take justice into his own hands.
Some of Mary's latest appearances in movies have been in "Queen of the Lot" in 2010, "Just 45 Minutes from Broadway" in 2012, and "The M Word" in 2013.
Love life and husband
Mary met her first husband Eb Lottimer in 1976 when the two were cast to appear in the same film, and they started dating a month later. They married on 24 November 1978 at an event attended by nearly 200 people, however, they divorced in 1989, and don't have any children together. Eb is an American actor and a director, best known for his roles in films "Divorce: A Contemporary Western" in 1998, "Sicario" in 2015, and "The Space Between Us" in 2017. As of March 2020, he is 68 years old.
Mary met Mark Andrew Brodka, a Californian lawyer, in 1996 and the two married two years later in 1998 in a small ceremony. Mary gave birth to their first child in 1999, while their second followed in 2002. Mary and Mark are currently living together in Los Angeles, California while their two children have moved out.
Hobbies and other interests
Mary was physically active during her childhood, and after turning 19 began going to the gym, having several training sessions each week which was somewhat required of her as she had already started working as a model. She was modelling only for fun and as a hobby, but was still following a strict diet eating healthy food and avoiding her favorite food which is pizza.
She enjoys watching movies in her spare time with som,e of her favorite actors and actresses being Brad Pitt, Robert De Niro and Angelina Jolie while some of her favorite movies are "Mr. and Mrs Smith", "Sleepers", and the trilogy "The Godfather". She is a lover of animals, and prefers cats over dogs.
Mary's main hobby while she was younger was travelling – she travelled across the US twice, and has also visited many European countries, including Croatia, Finland and Iceland.
Appearance and net worth
Mary is 60 years old. She has long blonde hair and green eyes, is 5ft 5ins (1.65m) tall, and weighs around 128lbs (58kgs). As of March 2020, her net worth is estimated at over $5 million.
General Info
Social profile links
Quotes
| # | Quote |
| --- | --- |
| 1 | The best feedback I ever got on shooting J.R. Ewing was from this angelic little old English lady, who said, 'Why didn't you shoot lower?' |
| 2 | I used to give part answers until I realized people could see through them, that there was much more dignity -- for everyone -- in telling the truth. |
| 3 | I don't think poor Daddy had the vaguest idea of what to do with a girl. He'd had four sons on his first marriage, and I was wedged between Harry and Nathaniel and was a terrible tomboy, beating both of them up until I was eleven -- when they started to beat ME up. Daddy would treat me like a boy -- teaching me to shoot, taking me on safaris to Africa -- and then turn around and get wonderfully befuddled by what he'd just done. 'Wait a minute, I can't take her duck hunting: she's a girl!' And 'What the heck is she doing out there playing football? Oh, yeah ... that's right ... I taught her.' |
| 4 | [on Bing Crosby] I've never met anyone in the profession who was so unconcerned about his work. I don't mean he was unprofessional. Quite the contrary. It's just that once he finished a movie or a performance, that was that. He never watched his old movies on TV, always preferring to look at a baseball match, instead. |
Facts
| # | Fact |
| --- | --- |
| 1 | Gave birth to her 2nd child with her 2nd husband Mark Brodka. [2002] |
| 2 | Gave birth to her 1st child with her 2nd husband Mark Brodka. [1999] |
| 3 | Aunt of Gregory Crosby. |
| 4 | Got her Actor's Equity card at the age of four. |
| 5 | Her father once appeared on a Barbara Walters program threatening to disown Mary if she ever lived with a man before marrying him. He died in October 1977 and Mary went on live with her first husband, Eb Lottimer before they married in November of 1978. |
| 6 | Acting since she was four, she made her first theatrical appearance with her mother in a production of Peter Pan and later, in the company of her siblings in her father's popular Christmas-season TV specials of the 1960s and 1970s. |
| 7 | She made cult TV history by enacting the role of "Kristin Shepard" (Sue Ellen Ewing's scheming sister) on the TV series Dallas (1978). Her character was one of several suspects in the 1980 cliffhanger ending. Shot by an unknown assailant, viewers had to wait the entire summer (and most of the fall due to a Hollywood actors' strike) to learn who J.R.'s assailant was. During the summer, the question, "Who shot J.R.?", was part of water cooler conversations around the world. Ultimately, Crosby's character was revealed as the culprit in the classic episode, Dallas: Who Done It? (1980), that aired on November 21, 1980. It was one of the highest-rated episodes of a TV show ever aired. Crosby's character later crossed over to the TV series, Knots Landing (1979), and then returned to Dallas (1978) in 1981, where she was eventually found drowned in the Southfork Ranch swimming pool. |
| 8 | Member of Delta Delta Delta sorority, Theta Zeta chapter at the University of Texas at Austin. |
| 9 | Niece of Bob Crosby |
| 10 | Younger half-sister of Gary Crosby, Lindsay Crosby, Phillip Crosby and Dennis Crosby. |
| 11 | Cousin of Chris Crosby and Cathy Crosby |
| 12 | Is fluent in Spanish. |
| 13 | Graduated high school at 15. |
| 14 | Entered the University of Texas at Austin at 15, but dropped out after a year and a half to study at the American Conservatory Theatre in Los Angeles. |
| 15 | Aunt of Denise Crosby and L. Chip Crosby Jr. |
| 16 | Middle sister of Harry Crosby and Nathaniel Crosby. |
| 17 | Best known as the person who shot J.R. in her role of Kristen Shepherd, in Dallas (1978). |
| 18 | Daughter of Bing Crosby and Kathryn Grant |
Pictures
Movies
Actress
| Title | Year | Status | Character |
| --- | --- | --- | --- |
| The M Word | 2014 | | Aunt Rita Stephenson |
| Just 45 Minutes from Broadway | 2012 | | Sharon Cooper |
| Queen of the Lot | 2010 | | Frances Lambert Sapir |
| The Legend of Zorro | 2005 | | Governor's Wife |
| Sharing the Secret | 2000 | TV Movie | Irene |
| The Night Caller | 1998 | | Nikki Rogers |
| Mike Hammer, Private Eye | 1997 | TV Series | Sheryl Weathersby |
| Cupid | 1997 | | Dana Rhodes |
| Orleans | 1997 | TV Series | Alya Ransom |
| Beverly Hills, 90210 | 1995-1996 | TV Series | Claudia Van Eyck |
| Dream On | 1995 | TV Series | Beverly |
| Burke's Law | 1995 | TV Series | Heather Bonham |
| Pointman | 1995 | TV Series | Dr. Elizabeth Andreas |
| Platypus Man | 1995 | TV Series | Beth Garland |
| Men Who Hate Women & the Women Who Love Them | 1994 | TV Movie | Jennifer |
| Heaven Help Us | 1994 | TV Series | |
| Star Trek: Deep Space Nine | 1994 | TV Series | Natima Lang |
| Lois & Clark: The New Adventures of Superman | 1993 | TV Series | Monique |
| Distant Cousins | 1993 | | Marcie |
| The Berlin Conspiracy | 1992 | | Ursula Schneider |
| Murder, She Wrote | 1991-1992 | TV Series | Mariah Osborn / Laura Corman |
| Crack Me Up | 1991 | | Stacey |
| Dallas | 1979-1991 | TV Series | Kristin Shepard |
| Guns of Paradise | 1991 | TV Series | K. C. Cavanaugh |
| Eating | 1990 | | Kate |
| Shades of LA | 1990 | TV Series | Jessica Pope |
| Corporate Affairs | 1990 | | Jessica Pierce |
| Body Chemistry | 1990 | | Marlee Redding |
| Freddy's Nightmares | 1989-1990 | TV Series | Greta Moss / Greta Nordhoff-Roscoe |
| Deadly Innocents | 1989 | | Beth / Cathy |
| In the Heat of the Night | 1989 | TV Series | J.D. Sinclaire |
| Quicker Than the Eye | 1988 | | Mary Preston |
| Tapeheads | 1988 | | Samantha Gregory |
| The New Adventures of Beans Baxter | 1987 | TV Series | Professor Vankleef |
| Johann Strauss - Der König ohne Krone | 1987 | | Adele |
| Stagecoach | 1986 | TV Movie | Mrs. Lucy Mallory |
| North and South, Book II | 1986 | TV Mini-Series | Isabel Hazard |
| The Love Boat | 1982-1986 | TV Series | Megan Lewis / Elaine Kennedy / Helen Elaine / ... |
| Crazy Dan | 1986 | TV Movie | Bonnie |
| Final Jeopardy | 1985 | TV Movie | Susan Campbell |
| Hotel | 1984-1985 | TV Series | Natalie Rogers / Barbara Medford / Maggie Blackwood |
| Hollywood Wives | 1985 | TV Mini-Series | Karen Lancaster |
| Glitter | 1984 | TV Series | Karinova |
| Finder of Lost Loves | 1984 | TV Series | Blythe Stewart |
| Cover Up | 1984 | TV Series | Merilee Taylor |
| Fox Mystery Theater | 1984 | TV Series | Ann Preston |
| The Fall Guy | 1982-1984 | TV Series | Kim Donnelly / Sue Jackson / Coleen Wilcox |
| The Ice Pirates | 1984 | | Princess Karina |
| Automan | 1983 | TV Series | Ellen Fowler |
| Last Plane Out | 1983 | | Elizabeth Rush |
| Confessions of a Married Man | 1983 | TV Movie | Ellen |
| Golden Gate | 1981 | TV Movie | Natalie Kingsley |
| Dick Turpin | 1981 | TV Series | Jane Harding |
| Midnight Lace | 1981 | TV Movie | Cathy Preston |
| Knots Landing | 1980 | TV Series | Kristin Shepard |
| The Magic of David Copperfield III: Levitating Ferrari | 1980 | TV Movie | David's girlfriend - Special Guest |
| Brothers and Sisters | 1979 | TV Series | Suzy Cooper |
| CHiPs | 1979 | TV Series | Chris |
| Pearl | 1978 | TV Mini-Series | Patricia North |
| Starsky and Hutch | 1978 | TV Series | Leslie Slate |
| A Guide for the Married Woman | 1978 | TV Movie | Eloise |
| With This Ring | 1978 | TV Movie | Lisa Harris |
| Goldilocks | 1970 | TV Short | Goldilocks (as Mary Frances Crosby) |
| The Danny Thomas Hour | 1967 | TV Series | Joan |
Thanks
| Title | Year | Status | Character |
| --- | --- | --- | --- |
| Love | 2015/I | Documentary short grateful thanks | |
Self
| Title | Year | Status | Character |
| --- | --- | --- | --- |
| When Shoulderpads Ruled the World | 2002 | TV Special | Herself |
| I Love 1980's | 2001 | TV Series documentary | Herself |
| E! True Hollywood Story | 2000 | TV Series documentary | Herself |
| The 42nd Annual Golden Globe Awards | 1985 | TV Special | Herself - Presenter: Best Actress / Actor in a Supporting Role in a Series, Mini-Series or Motion Picture Made for TV |
| Breakaway | 1984 | TV Series | Herself |
| The 41st Annual Golden Globe Awards | 1984 | TV Special | Herself |
| The New Battlestars | 1983 | TV Series | Herself |
| Hour Magazine | 1980-1981 | TV Series | Herself |
| The Grammy Hall of Fame | 1981 | TV Movie | Herself |
| The 7th Annual People's Choice Awards | 1981 | TV Special | Herself - Presenter: Favourite New Song |
| The John Davidson Show | 1981 | TV Series | Herself |
| The 8th Annual American Music Awards | 1981 | TV Special | Herself |
| The Hollywood Squares | 1979-1980 | TV Series | Herself |
| Saturday Night at the Mill | 1980 | TV Series | Herself |
| The Alan Hamel Show | 1979 | TV Series | Herself |
| Battle of the Network Stars VI | 1979 | TV Special | Herself - NBC Team |
| Bing Crosby the Christmas Years | 1978 | TV Movie | Herself |
| Bing Crosby's Merrie Olde Christmas | 1977 | TV Special | Herself |
| Bing Crosby's White Christmas | 1976 | TV Special | Herself |
| Bing Crosby and Fred Astaire: A Couple of Song and Dance Men | 1975 | TV Special documentary | Herself |
| Bing Crosby and the Sounds of Christmas | 1971 | TV Movie | Herself (as Mary Frances Crosby) |
| The Hollywood Palace | 1966-1968 | TV Series | Herself - Singer |
| American Masters | 2014 | TV Series documentary | Herself |
| The Nation's Favourite Christmas Song | 2012 | TV Movie documentary | Herself - Daughter of Bing Crosby |
| Dallas VIP: 30 Year Reunion at Southfork Ranch | 2010 | Video documentary | |
| The Legendary Bing Crosby | 2010 | TV Movie documentary | Herself - Narrator / Contributor |
| Bring Back... Dallas | 2007 | TV Movie documentary | Herself |
| The 4th Annual TV Land Awards | 2006 | TV Special | Herself |
| Best Ever Christmas Films | 2005 | TV Movie documentary | Herself |
| The 100 Greatest Christmas Moments | 2004 | TV Movie documentary | Herself |
| Dallas Reunion: Return to Southfork | 2004 | TV Movie documentary | Herself / Kristin Shepard |
| Biography | 2004 | TV Series documentary | Herself |
Archive Footage
| Title | Year | Status | Character |
| --- | --- | --- | --- |
| A Bing Crosby Christmas | 1998 | Video documentary | Herself |
| Magico David | 1992 | TV Mini-Series | David's girlfriend |
| Dallas | 1981-1989 | TV Series | Kristin Shepard |
Awards
Won Awards
| Year | Award | Ceremony | Nomination | Movie |
| --- | --- | --- | --- | --- |
| 2006 | Pop Culture Award | TV Land Awards | | Dallas (1978) |
Source:
IMDb
,
Wikipedia