• Liz Vassey is an actress from Raleigh, North Carolina, USA with an estimated net worth of $5 million.
• She began her acting career as a teenager, starting with a role in the soap opera "All My Children".
• She has appeared in a variety of films and television series, such as "CSI: Crime Scene Investigation", "Nikki & Nora", and "Brotherly Love".
• She is married to camera operator David Emmerichs and is the founder of Neurosis to a T(ee).
• Her latest project is an adaptation of "The Tick", which aired as a part of Amazon Video programming.

Known for movies
Short Info
| | |
| --- | --- |
| Date Of Birth | August 9, 1972 |
| Spouse | David Emmerichs |
| Mark | Prominent cheekbones that accentuate her bright smile |
| Fact | Ranked #74 in Stuff magazine's "102 Sexiest Women In The World". [2002] |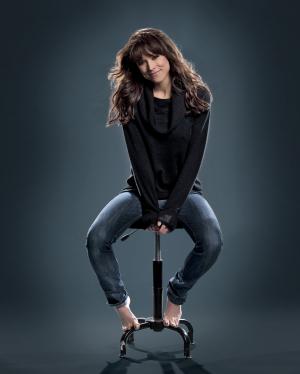 Who is Liz Vassey?
Elizabeth Leigh Vassey was born on 9 August 1972, in Raleigh, North Carolina, USA, and is an actress, known for her work in various television series. She portrayed the character, Wendy Simms, in "CSI: Crime Scene Investigation", and other projects she's worked on include "The Tick", "All My Children" and "Nikki & Nora".
The Riches of Liz Vassey
As of early-2020, Liz Vassey's net worth is estimated to be over $5 million, earned through a successful career in acting since 1988, appearing in numerous films and web shows. Primarily, she has worked on television programs as a guest, as well as in a more regular capacity.
Career Beginnings
Liz developed an interest in acting at a very young age, and began attending auditions as a teenager. Her first role helped her gain prominence on television, as she was cast as Emily Martin in the soap opera "All My Children", a role which she held for four years. She didn't appear regularly because she was still completing her education at the time she was accepted into the show. "All My Children" began in 1970 in ABC and follows the story of families living within a fictional suburb in Philadelphia.
Concurrently, she also took a few guest roles in shows such as "Quantum Leap" and "Superboy".
After the end of her run, she then made her film debut in 1993 in "Calendar Girl" as the character Sylvia. The film starred Jerry O'Connell and Jason Priestly, telling the story of a group of three friends who go to Hollywood in hopes of meeting their dream girl Marilyn Monroe. The film's story is based on a true story of a man who traveled to America and had a date with Monroe.
Continued Acting Work
Throughout the 1990s, Vassey pursued acting projects, though didn't have any big roles as she mainly made guest appearances.
Some of the notable shows she worked on during this period included "Star Trek: The Next Generation", "Beverly Hills, 90210", "Married… with Children", and "Murder, She Wrote". She also had a four-episode role in "ER" before being cast in the short-lived sitcom "Pig Sty", which aired on UPN.
In 1995, she gained a bit of attention as she became a regular cast member of the show "Brotherly Love", portraying the character Lou Davis. The show aired on NBC and follows the lives of three brothers who are actually portrayed by brothers in real-life.
After her two year run with the show, she then returned to doing guest work, appearing in "Dawson's Creek" and "Dharma & Greg". In 2001, she was cast in the television series "The Tick", which is a television adaptation of the comic book of the same name. The show starred Patrick Warburton and was eventually canceled due to poor performance – Warburton later spoke out about how the network Fox mishandled the show.
CSI – Rise to Prominence
After a few more years working on television movies and guest work, Liz found her next home in "CSI: Crime Scene Investigation".
She joined the show during its fifth season, and gained a lot of international attention as the "CSI" franchise was enjoying high ratings, elevating the careers of many of its cast members. It tells the story of forensic crime-scene investigators who examine the evidence, hopefully discovering something that would solve the crime. The show ran for 15 seasons though she exited the show in its 11th season, with producers announcing that she would not be returning to the show.
She's had a few other projects including her last film to-date – "Man of the House" – which starred Tommy Lee Jones, and tells the story of a Texas Ranger who goes undercover, pretending to be an assistant coach to college cheerleaders in hopes of protecting those among them who are witnesses to a murder.
After her run with "CSI", she then appeared in the web show musical "Dr. Horrible's Sing-Along Blog" created by Joss Whedon.
Latest Projects
In 2010 she returned to the show "Two and a Half Men", after making a guest appearance many years earlier. This time around, she played a different character, appearing in three episodes of the show, which coincided with actor Charlie Sheen being dropped from the show due to drug issues, being replaced with Ashton Kutcher. Afterward, she appeared as a guest in "Castle", and then worked on the show "Nine" which ran in 2011.
During the same time, she was cast in "Necessary Roughness" playing the character, Gabrielle Pittman. The show aired on the USA Network, and tells the story of a divorcee who quickly gains fame as a therapist for a professional team, leading to many celebrities pursuing her services. The following year, she was cast in the television movie "Sexting in Suburbia", a Lifetime Original film, in which she played the mother of the protagonist in the film, played by Jenn Proske. She then took a long break from the traditional television format, and ventured into production, working on the show "Nikki & Nora" which she also starred in. In 2017, she was the star of the short-lived web series "Riley Parra.
Her latest project is another adaptation of "The Tick", which this time aired as a part of Amazon Video programming.
Personal Life
Liz met camera operator David Emmerichs while working on a project together, and the two started a romance, leading to their marriage in 2004. It is not known if they have any children together, as she doesn't reveal a lot about life outside of work – she doesn't have any social about a lot media accounts. She was previously a part of the business venture called Neurosis to a T(ee). She became very interested in it because she wanted to shine a light on how women are often overly concerned of things, particularly relationships.
General Info
| | |
| --- | --- |
| Full Name | Liz Vassey |
| Date Of Birth | August 9, 1972 |
| Height | 1.75 m |
| Profession | Actor |
| Nationality | American |
Family
Accomplishments
| | |
| --- | --- |
| Nominations | Daytime Emmy Award for Outstanding Younger Actress in a Drama Series |
| Movies | Last Hours in Suburbia, Man of the House, Pursuit of Happiness, Saved by the Bell: Wedding in Las Vegas, Calendar Girl |
| TV Shows | CSI: Crime Scene Investigation, Push, Nevada, The Tick, Maximum Bob, Brotherly Love, Nikki and Nora, Pig Sty |
Social profile links
Marks
| # | Marks / Signs |
| --- | --- |
| 1 | Prominent cheekbones that accentuate her bright smile |
Facts
| # | Fact |
| --- | --- |
| 1 | Has appeared as two separate characters on Two and a Half Men (2003) whose love life is complicated by children. In 2003, played a soccer mom with a 10-year-old son; in 2010, took the role of a mother of a 20-year-old webcam starlet. |
| 2 | Along with Kristin Bauer van Straten, Liz runs a company called "Neurosis to a T(ee)", which designs and sells slogan-covered t-shirts for women. The slogans poke fun at female worries and neuroses, often relating to relationships. |
| 3 | Has a cameo on Joss Whedon's web-based musical Dr. Horrible's Sing-Along Blog as "Fury Leika". |
| 4 | Ranked #74 in Stuff magazine's "102 Sexiest Women In The World". [2002] |
Pictures
Movies
Actress
| Title | Year | Status | Character |
| --- | --- | --- | --- |
| Riley Parra | 2017 | TV Series pre-production | Gillian Hunt |
| Nikki & Nora: The N&N Files | 2014 | TV Series | Nikki Beaumont |
| Last Hours in Suburbia | 2012 | | Ann |
| Necessary Roughness | 2011-2012 | TV Series | Gabrielle Pittman |
| Sexting in Suburbia | 2012 | TV Movie | Rachel Van Cleve |
| Two and a Half Men | 2003-2011 | TV Series | Michelle Kate |
| 9ine | 2011 | TV Series | Andrea Valente |
| Castle | 2011 | TV Series | Monica Wyatt |
| CSI: Crime Scene Investigation | 2005-2010 | TV Series | Wendy Simms |
| 3Way | 2008-2009 | TV Series | Mikki Majors |
| Dr. Horrible's Sing-Along Blog | 2008 | TV Mini-Series | Fury Leika |
| The Cure | 2007 | TV Movie | |
| Cooked | 2005 | TV Movie | Dakota |
| Tru Calling | 2005 | TV Series | Dr. Carrie Allen |
| Man of the House | 2005/I | | Maggie Swanson |
| 20 Things to Do Before You're 30 | 2005 | TV Movie | |
| Nikki and Nora | 2004 | TV Movie | Nikki Beaumont |
| The Partners | 2003 | TV Movie | Christine Ryder |
| Veritas: The Quest | 2003 | TV Series | Bella Nicholson |
| Push, Nevada | 2002 | TV Series | Dawn / Dawn F. Mitchell / Dawn Mitchell |
| The Tick | 2001-2002 | TV Series | Captain Liberty |
| Dragans of New York | 2002 | TV Movie | |
| Pursuit of Happiness | 2001 | | Renee |
| Life with David J | 2001 | TV Movie | |
| 9mm of Love | 2000 | Short | Julia |
| Dharma & Greg | 2000 | TV Series | Kim |
| Dawson's Creek | 1999 | TV Series | Wendy Dalrymple |
| Fantasy Island | 1998 | TV Series | Brenda |
| Maximum Bob | 1998 | TV Series | Kathy Baker |
| Home Improvement | 1997 | TV Series | Donna |
| Early Edition | 1997 | TV Series | Mona the Waitress |
| Brotherly Love | 1995-1997 | TV Series | Louise Davis / Lou Davis |
| The Adventures of Captain Zoom in Outer Space | 1995 | TV Movie | Princess Tyra, Pangea's Leader |
| Dream On | 1995 | TV Series | Christine Copeland |
| Pig Sty | 1995 | TV Series | Tess Galaway |
| ER | 1994 | TV Series | Liz |
| Saved by the Bell: Wedding in Las Vegas | 1994 | TV Movie | Carla |
| Diagnosis Murder | 1994 | TV Series | Ilene Bennett |
| Wings | 1994 | TV Series | Courtney |
| Love & War | 1994 | TV Series | Stephanie |
| Murder, She Wrote | 1993 | TV Series | Candace Bennett / Monica Evers |
| The Secrets of Lake Success | 1993 | TV Mini-Series | Suzy Atkins |
| Calendar Girl | 1993 | | Sylvia |
| Danger Theatre | 1993 | TV Series | Lexie |
| Bodies of Evidence | 1993 | TV Series | Jane Rice |
| Love, Lies & Lullabies | 1993 | TV Movie | Chloe |
| Quantum Leap | 1991-1993 | TV Series | Barbara Whitmore / Paula Fletcher |
| Murphy Brown | 1992 | TV Series | Amy Madrid |
| Herman's Head | 1992 | TV Series | Rebecca Woods |
| Married with Children | 1992 | TV Series | Lorraine |
| Parker Lewis Can't Lose | 1992 | TV Series | Mary |
| Grapevine | 1992 | TV Series | Janice |
| All My Children | 1990-1992 | TV Series | Emily Ann Sago Martin #4 / Emily Ann Sago Martin |
| Beverly Hills, 90210 | 1992 | TV Series | Marcie St. Claire |
| Jake and the Fatman | 1992 | TV Series | Dina Rowen |
| Walter & Emily | 1992 | TV Series | |
| Star Trek: The Next Generation | 1992 | TV Series | Kristin |
| The New Leave It to Beaver | 1989 | TV Series | Candy |
| Superboy | 1989 | TV Series | Student |
Producer
| Title | Year | Status | Character |
| --- | --- | --- | --- |
| Nikki & Nora: The N&N Files | 2013 | TV Series co-executive producer | |
| Sexting in Suburbia | 2012 | TV Movie associate producer | |
Writer
| Title | Year | Status | Character |
| --- | --- | --- | --- |
| CSI: Crime Scene Investigation | 2010 | TV Series teleplay by - 1 episode | |
Archive Footage
| Title | Year | Status | Character |
| --- | --- | --- | --- |
| Wings | 1995 | TV Series | Courtney |
Awards
Nominated Awards
| Year | Award | Ceremony | Nomination | Movie |
| --- | --- | --- | --- | --- |
| 1990 | Daytime Emmy | Daytime Emmy Awards | Outstanding Juvenile Female in a Drama Series | All My Children (1970) |
Source:
IMDb
,
Wikipedia