• Brooke Langton is an American TV & film actress, of Swedish-American descent
• She graduated with a Bachelor's degree in Marine Biology from San Diego State University in 1992
• Her TV debut came with "Beverly Hills 90210" & "Freshman Dorm" & film debut was in "Terminal Velocity"
• Her biggest break was in the TV show "Melrose Place" & in 2000 she had a lead role in "The Replacements"
• She has a net worth of around $2 million as of May 2020

Known for movies
Short Info
| | |
| --- | --- |
| Date Of Birth | November 27, 1970 |
| Fact | Comes from a long line of prospectors and geologists. Her grandfather was chief prospector for H.L. Hunt, and her father, Jackson Langton, was chief geologist for Phelps Dodge. Her Father published a memoir entitled, "All Trappers Don't Wear Fur Hats: The Prospector and His Protege". |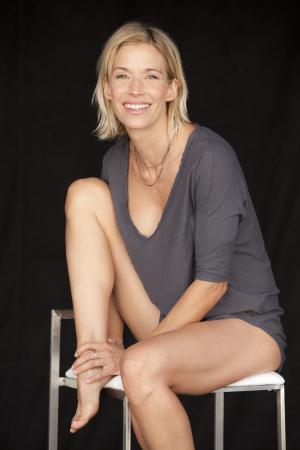 Brooke Langton is an American television and film actress, who rose to prominence for her work in the popular TV series' "Melrose Place" and "The Net."
Early Life and Family
Brooke Langton of Swedish-American descent, was born on 27 November 1970, in an on-site hospital inside a copper mine in a town in Arizona. Her father Jackson Langton, a chief geologist, and her mother, a surgical nurse, raised her in Illinois before moving to Texas, and she also lived in Portland, Oregon for a short period. Her father came from a family of geologists and prospectors of mining companies. Her paternal grandfather was Head Prospector for oil magnate H.L. Hunt, while her father became the Chief Geologist for Phelps Dodge, and later was Vice President of Superior Oil in Indianapolis.
On her maternal side, she had a World War II bomber pilot for a grandfather, and a Swedish immigrant farmer for a grandmother who settled in Minnesota. She also has an aunt who was a scriptwriter.
Education
Brooke's family kept moving when she was growing up, so she attended Herscher High School in Herscher, Illinois but matriculated from L.D. Bell High School in Tarrant County, Texas. She graduated with a Bachelor's degree in Marine Biology from San Diego State University in 1992.
Career
First Step
After college, Brooke moved to Los Angeles to pursue her love for acting and make it as her full-time profession.
She attended training programs in The Second City, an improvisational comedy company, which offers training classes and from where successful actors and comedians such as Steve Carell, Tina Fey, Bill Murray and Stephen Colbert came from.
In 1993, she started playing minor roles in several television shows, such as the popular teen drama series "Beverly Hills 90210" with Jason Priestly and Shannen Doherty, and the "Freshman Dorm" with Paige French and Robyn Lively. She also appeared in several episodes of "Baywatch," the most-watched TV series about Los Angeles lifeguards in the '90s with David Hasselhoff.
Her film debut came with an off-beat role of a drug addict in the movie, "Terminal Velocity," released in 1994, with Charlie Sheen and Nastassja Kinski. It was followed by "Extreme," an ABC drama series that was given the most sought after timeslot, which happened to be right after the Super Bowl coverage. She was included in the regular cast of the drama series with James Brolin, but unfortunately, it was cancelled after airing seven episodes with the remaining six episodes unaired – the network had a hard time getting solid viewership rating.
For the next two years, she continued to appear as a guest in several popular TV series, honing her talent as well as reaching the mainstream television viewers.
She was seen in "Chicago Hope" with Mandy Pantinkin and Adam Arkin and "Party of Five" with Matthew Fox and Scott Wolfe both in 1995, and "Sliders" with John-Rhys Davies and Jerry O'Connell in 1996.
Further success
A year later, her biggest break came via the TV show "Melrose Place." She joined the popular drama series as a recurring guest in Season 4, and was elevated to regular cast the next season, playing the role of Samantha Reilly until the seventh episode of the final season. The show ran for seven seasons, but she only appeared in 68 of 226 episodes.
After leaving Melrose Place, she was tapped to play the lead role of the TV adaptation of Sandra Bullock's box‑office hit movie, "The Net." It ran for one season with 22 episodes, but was cancelled due to low ratings.
Brooke also started accepting movie roles in between filming TV series. She was in "Swingers" in 1996 that catapulted the careers of Jon Favreau, Vince Vaughn and Heather Graham to prominence; co-starred with Djimon Hounsou in "The Small Hours" in 1997; and took part in the comedy drama film, "Reach the Rock," produced by John Hughes in 1998.
Her biggest movie role was in 2000 in "The Replacements," in which she played one of the lead roles along with Gene Hackman and Keanu Reeves. It was loosely based on a real National Football League (NFL) strike back in 1987, when the Washington Redskins won three games without their regular football stars, and then won Super Bowl XXII to end the football season.
Brooke accepted more movie roles from independent movie makers, including "Partners" in 2005 with Jay Harrington, "Beautiful Dreamer" with Colin Egglesfield, and "Primeval" with Dominic Purcell in 2007.
She went back to doing TV series and had a recurring role for two years in "Friday Nights Lights," the TV adaptation of the 2004 movie with the same name. It ran for five seasons before ending. A string of TV guest appearances followed, in long‑running drama series' "The Closer," "Supernatural," and "Bones," in which she played the mother of the lead character, Temperance "Bones" Brennan played by Emily Deschanel. She also had a recurring role as Lt. Maddie Rawlings in the action-drama series, "The Last Ship," aired on TNT in 2018.
In between filming TV series, Brooke took part in a Sweden reality TV game show, "Allt för Sverige" in 2015, as one of the contestants in which they try to trace a person's ancestry;, she discovered that she is related to Swedish film actor, Adolf Jhar.
Her last TV appearance was in an episode of the TV thriller series, "The Passage," in 2019.
Personal Life
Brooke is currently single and isn't known to have been engaged. She is quite private and it shocked everyone when it was revealed to the public that she has a son named Zane. She brought the little boy to the 2nd Annual Kidstock Music and Art Festival in 2008.
No one knows who the father is, as there had been no news about a pregnancy.
She was previously in one public relationship, and that was with David Chokachi from 1996 to 1998. There have been several rumored boyfriends, including George Clooney, Tiger Woods, Andrew Shue, and Karl Hagmier, but no one was able to confirm them.
Appearance
Brooke is 5ft 5ins (1.67m) tall, weighs around 117lbs (53kgs), and her vital statistics are 34-24-35. She has a slim and properly well-toned body. She is Caucasian with dark brown hair and hazel eyes. Her dress size is 4 and shoe size 9.
Net worth
Authoritative sources estimate that her net worth is around $2 million as of May 2020.
General Info
| | |
| --- | --- |
| Full Name | Brooke Langton |
| Date Of Birth | November 27, 1970 |
| Height | 1.64 m |
| Profession | Actor, Model |
| Education | San Diego State University |
| Nationality | American |
Family
Accomplishments
| | |
| --- | --- |
| Movies | The Replacements, Primeval, Kiss the Bride, Playing Mona Lisa, Swingers, Beautiful Dreamer, Reach the Rock, Chilly Christmas, Oliver's Deal, K-9 Adventures: Legend of the Lost Gold, The Benchwarmers, Eye of the Stalker, Terminal Velocity, Moment of Truth: A Mother's Deception, Partner(s), Beach Hous... |
| TV Shows | Life, Melrose Place, The Net, Extreme |
Social profile links
Quotes
| # | Quote |
| --- | --- |
| 1 | Honesty, integrity and perseverence! |
| 2 | On Keanu Reeves: They love Keanu and he was so generous with his responses. There was never even a hint that he found any of this intrusive. |
| 3 | "Keep your eye on the dough-nut not the hole" my father always said. Now, as adult, I understand. He was saying focus on what you love, your art...and not beyond it. |
| 4 | Simple formula for the actor, prove you're creative enough to get the job, sane enough to keep the job, and hungry enough to give up everything else to keep them happy. |
Facts
| # | Fact |
| --- | --- |
| 1 | Related to Swedish actor Adolf Jahr. |
| 2 | Comes from a long line of prospectors and geologists. Her grandfather was chief prospector for H.L. Hunt, and her father, Jackson Langton, was chief geologist for Phelps Dodge. Her Father published a memoir entitled, "All Trappers Don't Wear Fur Hats: The Prospector and His Protege". |
| 3 | Brooke was born in an on site hospital in an actual copper mine in Arizona. Her father was Chief Geologist for Phelps Dodge and later Vice President of Superior Oil. He has a published memoir of his called "A Prospectors Protege - All Trappers Do Not Wear Fur Hats". |
| 4 | Her role as the wife of Kyle Chandler's character in The Kingdom (2007), wound up on the cutting room floor. |
| 5 | Good friends with Catherine Oxenberg. |
| 6 | Father, Jackson Langton, wrote the published novel "All Trappers Do Not Wear Fur Hats" |
| 7 | Attended San Diego State University. |
| 8 | Began her career as a model, working primarily in Japan. |
Pictures
Movies
Actress
| Title | Year | Status | Character |
| --- | --- | --- | --- |
| Gentlemen Only Ladies Forbidden : Puddy McFadden License to Golf | 2016 | Short completed | Debra Garner - LPGA Champion |
| Antisocial.app | 2016 | completed | Emily |
| Shifting Gears | | post-production | Carol Williamson |
| Satisfaction | 2015 | TV Series | |
| Are You My Daughter? | 2015 | TV Movie | Laura Paddington |
| Impact Earth | 2015 | | Stella Harrison |
| Oliver's Deal | 2015 | | Kate Campbell |
| K-9 Adventures: Legend of the Lost Gold | 2014 | | Courtney Lewis |
| The Glades | 2013 | TV Series | Nicky Holloway |
| Supernatural | 2013 | TV Series | Hayley |
| Bones | 2013 | TV Series | Christine Brennan |
| Chilly Christmas | 2012 | Video | Lt. Mel Stone |
| The Mentalist | 2012 | TV Series | Pella Goodwin |
| The Closer | 2009 | TV Series | Detective Ally Moore |
| Life | 2007-2008 | TV Series | Constance Griffiths |
| Friday Night Lights | 2007-2008 | TV Series | Jackie Miller |
| Primeval | 2007 | | Aviva Masters |
| Beautiful Dreamer | 2006 | | Claire |
| The Benchwarmers | 2006 | | Kathy Dobson |
| Monk | 2006 | TV Series | Terri |
| Partner(s) | 2005 | | Lucy |
| Weeds | 2005 | TV Series | Sharon |
| The Break | 2003 | TV Movie | Sara |
| Kiss the Bride | 2002 | | Nicoletta 'Niki' Sposato |
| Fling | 2001 | TV Series | Elizabeth Gillcrest |
| The Replacements | 2000 | | Annabelle Farrell |
| Playing Mona Lisa | 2000 | | Sabrina |
| The Net | 1998-1999 | TV Series | Angela Bennett |
| Reach the Rock | 1998 | | Lise |
| Melrose Place | 1996-1998 | TV Series | Samantha Reilly |
| The Small Hours | 1997 | | |
| Mixed Signals | 1997 | | Judy |
| Listen | 1996 | | Sarah Ross |
| Swingers | 1996 | | Nikki |
| Sliders | 1996 | TV Series | Daelin Richards |
| The Adventures of Young Indiana Jones: Travels with Father | 1996 | TV Movie | Rebecca Donelly (uncredited) |
| Beach House | 1996 | | Caitlin |
| Party of Five | 1995 | TV Series | Courtney |
| Eye of the Stalker | 1995 | TV Movie | Beth |
| The Single Guy | 1995 | TV Series | Amanda |
| Chicago Hope | 1995 | TV Series | Sandra Keyes |
| Extreme | 1995 | TV Series | Sarah Bowen |
| Moment of Truth: Cult Rescue | 1994 | TV Movie | Kim McGill |
| Terminal Velocity | 1994 | | Jump Junkie #2 |
| California Dreams | 1992 | TV Series | Kimberly Blanchard |
| Baywatch | 1992 | TV Series | Tanya |
| Beverly Hills, 90210 | 1992 | TV Series | Suds Lipton |
| Freshman Dorm | 1992 | TV Series | Nikki |
Producer
| Title | Year | Status | Character |
| --- | --- | --- | --- |
| Beautiful Dreamer | 2006 | co-producer | |
Self
| Title | Year | Status | Character |
| --- | --- | --- | --- |
| Allt för Sverige | 2015 | TV Series | Herself |
| I Married a Princess | 2005 | TV Series | Herself |
| HBO First Look | 2000 | TV Series documentary | Herself |
| The Tonight Show with Jay Leno | 1998 | TV Series | Herself |
Archive Footage
| Title | Year | Status | Character |
| --- | --- | --- | --- |
| The Adventures of Young Indiana Jones: Winds of Change | 2008 | Video | Amy |
Source:
IMDb
,
Wikipedia