• Mila Kunis is an American actress born in Chernivtsi, Ukraine in 1983
• She was raised in Los Angeles, CA and attended Fairfax High School
• She launched her acting career in 1994 and gained recognition for her role in the critically acclaimed comedy series "That '70s Show"
• She has also starred in movies such as "Black Swan", "Friends with Benefits", and "The Spy Who Dumped Me"
• As of November 2020, Mila's net worth is estimated to be over $66 million

Known for movies
Short Info
| | |
| --- | --- |
| Net Worth | $30 million |
| Date Of Birth | August 14, 1983 |
| Spouse | Ashton Kutcher |
| Mark | Seductive husky voice |
| Fact | Ranked #5 on Maxim magazine's Hot 100 Women of 2011 list. |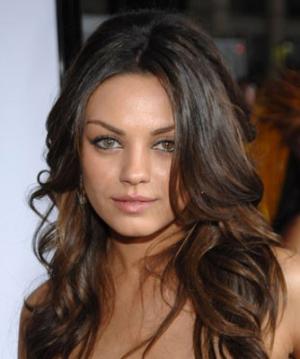 Who is Mila Kunis?
Milena Markovna Kunis was born in Chernivtsi, (then) Ukrainian SSR, Soviet Union on 14 August 1983 – her zodiac sign is Leo and she now holds American nationality, as her family moved to the US when she was seven. She is an actress who might still be known best for her portrayal of Jackie Burkhart, one of the lead characters in the critically acclaimed comedy series "That '70s Show"m created by Mark Brazill, Bonnie Turner and Terry Turner, and which also starred Topher Grace and Laura Prepon. The story follows several teenagers spending most of their free time in their friend's basement in Wisconsin – the series won 15 awards including a Primetime Emmy while it was nominated for 77 other awards.
Childhood and education
Mila was raised with her older brother Michael in Los Angeles, California by their father who was a mechanical engineer and who worked as a taxi driver, and their mother Elvira who is the owner of a pharmacy, and a physics teacher – when the family entered the US, they were allowed to bring in only $250 with them, and their qualifications weren't recognised.
Mila attended Rosewood Elementary School without knowing English, and thus cried every day as she wasn't able to understand anything – she went on to attend Hubert Howe Bancroft Middle School before moving to Fairfax High School. She matriculated in 2001, and then enrolled at the University of California, Los Angeles, but dropped out to pursue her acting career.
Career as an actress
She was nine when her father enrolled her at an acting school, and Mila won her first audition to appear in a Barbie commercial. She launched her acting career in 1994 with a role in the soap opera "Days of Our Lives", and then appear in the TV series "Baywatch" and "7th Heaven", and the family comedy movie "Honey, We Shrunk Ourselves".
When cast to play Jackie in "That '70s Show", the producers believed Mila to be 18 years old when she was actually only 15 – they eventually found out but still decided that she was the best choice for the role, even though because of her English, there was a tutor helping her on the set for four years.
For her performance, Mila won two Young Star Awards in 1999 and 2000.
In 1999, she was invited to voice Meg Griffin in the critically acclaimed animated comedy series "Family Guy", and for her performance was nominated for an Annie Award – she also voiced Meg in the 2006 "Family Guy Video Game!"
Mila was given an opportunity to switch to roles in movies in 2001, when she appeared in the teen comedy film "Get Over It", and a few roles which followed were in movies "American Psycho 2", "Tony 'n' Tina's Wedding", and "Moving McAllister".
She gained recognition in 2008 when cast to play the lead character, Rachel Jansen in the comedy movie "Forgetting Sarah Marshall" which earned $105 million at the box office – Mila was praised for her performance, and was nominated for a Teen Choice Award.
The year 2010 saw her star in the psychological horror movie "Black Swan", alongside Natalie Portman and Vincent Cassel, and for her performance Mila was nominated for a Golden Globe Award. She was praised for her performance in the romantic comedy movie "Friends with Benefits", in which she starred alongside Justin Timberlake and which earned around $150 million worldwide.
She went on to star alongside Mark Wahlberg in the comedy movie "Ted", which grossed around $550 million worldwide, her best-earning movie to this day, then in 2013 she starred alongside James Franco in the film "Oz the Great and Powerful", which grossed around $490 million.
Three of her most recent roles have been in the 2018 comedy film "The Spy Who Dumped Me", the 2020 drama "Four Good Days", and the comedy drama "Breaking News in Yuba Country" scheduled for release in early 2021.
Love life and relationship with Ashton Kutcher
Before Ashton Kutcher, Mila was in a relationship with Macaulay Culkin, an American actor and musician.
They dated in 2002, and there were rumors circulating the internet that the two were planning to marry, however, Mila denied this, stating that marriage was never something important to her. Mila's publicist confirmed on 3 January 2011 that she and Macaulay had split.
In April 2012, she started dating Ashton Kutcher, whom she had first met on the set of "That '70s Show" 14 years prior, and they became engaged in February 2014. The wedding took place in July 2015, attended by their wide circle of friends and family – in October 2014, Mila gave birth to their daughter, while their son followed in November 2016.
As of November 2020, Mila is married to Ashton and has two children.
Hobbies and other interests
Mila is interested in politics, and today supports the Democratic Party since Barack Obama was a candidate for the President of the United States of America. Mila has openly criticized the Republican Party, stating that they attack women and are too Christian.
She is a huge fan of video games – her favorite is "World of Warcraft" which she has been playing for years – Mila hasn't disclosed which server she's on, but has talked about her gaming experience on the podcast "One of Swords".
In her spare time, she likes to watch comedy movies starring some of her favorite actors and actresses – Jim Carrey, Will Smith and Julia Roberts – such as "Liar Liar", "Bruce Almighty" and "The Runaway Bride" – her favorite TV shows are "Dexter" and "8 Simple Rules".
Age, height and net worth
Mila's age is 37. She has long brown hair and brown eyes, her height is 5ft 4ins (1.63m) and she weighs around 110lbs (50kgs).
As of November 2020, her net worth has been estimated at over $66 million, while Ashton's net worth is reputedly over $200 million.
General Info
| | |
| --- | --- |
| Full Name | Mila Kunis |
| Net Worth | $30 million |
| Salary | $30 million |
| Date Of Birth | August 14, 1983 |
| Height | 1.63 m |
| Profession | Voice Actor, Model |
| Education | Fairfax High School, Rosewood Elementary School, Loyola Marymount University, University of California, Los Angeles, Bancroft Middle School |
Family
| | |
| --- | --- |
| Spouse | Ashton Kutcher |
| Children | Wyatt Isabelle Kutcher, Dimitri Portwood Kutcher |
| Parents | Mark Kunis, Elvira Kunis |
| Siblings | Michael Kunis |
| Partner | Macaulay Culkin |
Accomplishments
| | |
| --- | --- |
| Awards | MTV Movie Award for Best Villain, Marcello Mastroianni Award, Saturn Award for Best Supporting Actress, Young Hollywood Award for 'One To Watch' - Female, YoungStar Award Best Performance by a Young Actress in a Comedy TV, Oklahoma Film Critics Circle Award for Best Supporting Actress |
| Nominations | MTV Movie Award for Best Kiss, Golden Globe Award for Best Supporting Actress – Motion Picture, MTV Movie Award for Best Female Performance, Teen Choice Award for Choice Female Hottie, Screen Actors Guild Award for Outstanding Performance by a Female Actor in a Supporting Role, Screen Actors Guild... |
| Movies | Black Swan, Bad Moms, Friends with Benefits, Jupiter Ascending, Ted, Oz the Great and Powerful, Forgetting Sarah Marshall, The Book of Eli, Max Payne, Date Night, Get Over It, American Psycho 2, The Third Person, Gia, Extract, The Angriest Man in Brooklyn, Honey, We Shrunk Ourselves, After Sex, Bloo... |
| TV Shows | That '70s Show, Nick Freno: Licensed Teacher, Family Guy, Robot Chicken |
Social profile links
Marks
| # | Marks / Signs |
| --- | --- |
| 1 | Long brown hair |
| 2 | Seductive husky voice |
| 3 | Has one brown eye and one green eye |
Quotes
| # | Quote |
| --- | --- |
| 1 | [on two of her early movies, Santa with Muscles (1996) and American Psycho II: All American Girl (2002)] I was too young to fully understand the importance of working with Hulk Hogan. I just thought he was this huge man. William Shatner was different. I'm a massive Trekkie, so that was crazy. He's exactly what you think he is. |
| 2 | There are two people out there, Star Trek fans and Star Wars fans... I'm a Star Trek fan. I respect Star Wars, I'm a bit of a Sci-Fi nerd but, geared towards one or the other, I'd choose Star Trek. |
| 3 | I've always been a big proponent of not working for the sake of working because I don't want to work for the rest of my life; I want to live. |
| 4 | Over the course of That '70s Show (1998), you can see me go through puberty, and who wants to watch that? No one should have that part of their life on record. |
| 5 | You have to laugh at the absurdity of this entire industry and the absurdity of what it is we do. If I didn't, I'd go crazy. |
| 6 | [on Oz the Great and Powerful (2013)] This is the first film that I've ever done that kids are allowed to see. |
| 7 | I think the second you think that you're funny is when you stop being funny. |
| 8 | I think than an actor is more likely to be forgiven in the public's eye than an actress. There will always be a double standard between males and females, so I think that an actress is more likely to protect her public persona, so to speak, than an actor would be. An actor goes crazy in a hotel room, gets trashed, throws a bench, breaks a window, and he is considered a rock star. An actress does that and she's sent to rehab and is thought to have problems and issues and can't get a job. |
| 9 | No-strings sex is great in theory but falls short in execution. You can't sustain a friends with benefits relationship for a long time. It's inevitable it will either go one way or the other. I have plenty of males who are my friends... without the benefits. If you're friends with someone, let's just leave it at that. There needs to be nothing more. |
| 10 | I started acting when I was nine as a hobby because it was fun and I could get out of school. I didn't ever think that I would have it as a job because I didn't know you could have a job in acting. But now I really love what I do and I can't even imagine doing anything else. |
| 11 | I never dated Wilmer Valderrama. I never dated Danny Masterson. They're like my brothers. That's disgusting. That's wrong. |
| 12 | Well, I was born and grew up in Russia. I wasn't allowed to be religious. My whole family was in the Holocaust. My grandparents passed [away] and not many survived. After the Holocaust in Russia, you were not allowed to be religious. So my parents raised me to know I was Jewish. You know who you are inside. You don't need to tell the whole world. You believe what you believe, and that's what's important. And that's how I was raised. My family was like "You are Jewish in your blood." We can celebrate Yom Kippur and Hannukah in Russia--but not by the book. We do it to our own extent because being in Russia... Bar Mitzvahs weren't held. When I was in school over there, up until I was seven, you would still see anti-Semitic signs. One of my friends who grew up in Russia... she was in second grade... and she came home one day crying. Her mother asked why she was crying and she said on the back of her seat there was a swastika. Now this is a country that obviously does not want you. So my parents raised me Jewish as much as they could and they came to America. I love my religion. I think it's a beautiful religion, but I took parts of it that I want for myself. I don't need to go to temple. I will, but I don't need to. |
| 13 | [Denying reports of marriage] I've been engaged, I think I've already been married, And I'm sure I have a child somewhere. I'm waiting to have something else happen. No, I'm not married. And, no, I'm not engaged. And, no, I do not have a child. No one seems to listen. And next week I'll be engaged again. I think, at one point, they were like "Seen shopping in Beverly Hills for engagement rings." We were in Japan working. What is wrong with these people? Half the time you can say they misconstrued facts. But more often than not, they just make stuff up. |
| 14 | [on her That '70s Show (1998) character, Jackie Burkhart, switching boyfriends from Michael Kelso to Steven Hyde] I think her relationship with Steven has taught her to be less selfish. |
| 15 | Blondes definitely do not have more fun. Trust me. |
Facts
| # | Fact |
| --- | --- |
| 1 | (June 15, 2016) Expecting her 2nd child with her husband, Ashton Kutcher. |
| 2 | (October 6, 2016) Expecting a son with her husband, Ashton Kutcher. |
| 3 | Returned to work 16 months after giving birth to her daughter Wyatt to begin filming Bad Moms (2016). |
| 4 | Her first kiss was onscreen with Ashton Kutcher during That '70s Show (1998). She was really nervous. To help her own confidence, she perfumed herself and acted cool towards Ashton. Ashton did not knew about this until three years later. |
| 5 | Not long after her relationship with Macaulay Culkin ended, she admitted that Ashton Kutcher was her celebrity crush. During that time, Ashton was married to Demi Moore. |
| 6 | She describes her role as Jupiter Jones in Jupiter Ascending (2015) as unhappy with her job and life, but also lazy and with no aspirations to do anything about this until Caine Wise (Channing Tatum) finds her. |
| 7 | (July 4, 2015) Married her boyfriend of 3 years Ashton Kutcher in The Secret Garden at Parrish Ranch in Oak Glen, San Bernardino County, California following a 17-month-long engagement. |
| 8 | Gave birth to her 1st child at age 31, a daughter named Wyatt Isabelle Kutcher on October 1, 2014 at Cedars-Sinai Medical Center in Los Angeles. She weighed 9 lb. 8 oz. Child's father is her fiancé (now husband), Ashton Kutcher. |
| 9 | She is of Ashkenazi Jewish ancestry on both sides of her family. |
| 10 | Ranked #9 on Maxim magazine's Hot 100 Women of 2014 list. |
| 11 | Has appeared with Seth Green on two situation comedies: That '70s Show (1998) and Family Guy (1999). |
| 12 | In addition to being a frequent co-star with, being engaged to, and being expectant parents with Ashton Kutcher, they also have consecutive IMDb profile numbers, Mila having nm0005109 and Ashton having nm0005110. |
| 13 | Has played two characters named "Rachel": Rachael Newman in American Psycho II: All American Girl (2002), and Rachel Jensen in Forgetting Sarah Marshall (2008). |
| 14 | Sister-in-law of Alexandra Blacker, who trained her for her role in Black Swan (2010). |
| 15 | Attended the San Diego Comic-Con alongside director John Moore and Mark Wahlberg to promote Max Payne (2008). [July 2008] |
| 16 | Ranked #1 in the 2013 FHM list of "100 Sexiest Women in the World". |
| 17 | Had a body double for her nude scene in Friends with Benefits (2011). |
| 18 | Speaks English, Russian and some Spanish. |
| 19 | Ranked #2 in Ask men's top 99 "most desirable" women of 2013. |
| 20 | Her favorite television series are 8 Simple Rules (2002) and Dexter (2006). |
| 21 | (October 6, 2012) Named "Sexiest Woman Alive" by Esquire magazine. |
| 22 | Is a self-confessed huge fan of the Star Trek franchise. |
| 23 | Friends with Emma Stone and Justin Timberlake. |
| 24 | Ranked #3 on Maxim magazine's Hot 100 Women of 2012 list. |
| 25 | Ranked #9 in the 2012 FHM list of "100 Sexiest Women in the World". |
| 26 | Ranked #13 in Ask men's top 99 "most desirable" women of 2012. |
| 27 | (January 5, 2012) Named the new face of Dior. |
| 28 | She and her ex-boyfriend, actor Macaulay Culkin, were close friends with Michael Jackson and his family for many years until Jackson's death. Culkin is godfather of his children. Kunis attended a private funeral for Jackson on September 3, 2009, with Culkin. |
| 29 | Ranked #14 in the 2010 FHM UK list of "100 Sexiest Women in the World". |
| 30 | Ranked #16 in the 2011 FHM list of "100 Sexiest Women in the World". |
| 31 | Ranked #6 in the 2011 FHM Australia list of "100 Sexiest Women in the World". |
| 32 | Was invited via YouTube on July 7, 2011, to a US Marine Corps Ball in Greenville, MC, by Sgt. Scott Moore. At the time of the Internet invite, Moore was stationed in Musa Qala, Afghanistan, with the 3rd Battalion, 2nd Marines. Her Friends with Benefits (2011) co-star Justin Timberlake came into contact with Sgt. Moore after seeing his video and then contacted Kunis about the invite. Kunis accepted the invite on July 12, 2011. |
| 33 | Won the 2011 Guys Choice Award "Holy Grail of Hot" beating out Minka Kelly. |
| 34 | Ranked #5 on Maxim magazine's Hot 100 Women of 2011 list. |
| 35 | Ranked #2 in Ask men's top 99 "most desirable" women of 2011. |
| 36 | Mila said that she was blind in one eye due to a condition called chronic iritis. She underwent surgery to correct the blindness. [January 2011] |
| 37 | Ranked #22 on Maxim magazine's Hot 100 Women of 2010 list. |
| 38 | Close friends with James Franco and Natalie Portman. |
| 39 | Ranked #5 on Maxim magazine's Hot 100 Women of 2009 list. |
| 40 | Her name is pronounced MEE-luh koon-iss. |
| 41 | On the television show Loveline (1996), she mentioned that when she was younger, she had serious migraines that were caused by an eye condition. She had to insert steroid injections straight into her eye. |
| 42 | She and Macaulay Culkin were on vacation in Israel in 2006 when a war broke out between Israel and Hezbollah in Lebanon. They flew out of the country and back to the United States; Mila later stated that they were never in any danger from rocket fire. |
| 43 | She and Sarah Michelle Gellar have a special credit in every episode of Robot Chicken (2005). |
| 44 | Was in a relationship with Macaulay Culkin (May 2002-December 2010). |
| 45 | Auditioned for a role in the romantic comedy Knocked Up (2007). |
| 46 | Graduated from Fairfax Senior High School in June 2001, with Fernanda Romero. |
| 47 | The nude pictures of her in Forgetting Sarah Marshall (2008) were not real, according to the film's director, Nicholas Stoller. |
| 48 | Learned how to use a gun while filming Max Payne (2008). |
| 49 | Ranked #81 on Maxim magazine's Hot 100 Women of 2008 list. |
| 50 | Is a huge fan of the famed MMORPG World of Warcraft. |
| 51 | The shark-tooth necklace she wears in Forgetting Sarah Marshall (2008) is designed by Pade Vavra Designs. |
| 52 | Her favorite movies are The Wizard of Oz (1939) and Dirty Dancing (1987). |
| 53 | Ranked #47 on Maxim magazine's Hot 100 Women of 2006 list. |
| 54 | Her best friend was Maria Osadchy when she was younger, an Aries whom she met in second grade. Maria is Russian and helped Mila learn English. In an interview, Mila had Maria with her and talked about how they spent the night together on the weekends. |
| 55 | At age nine, she started to take afterschool acting classes at the Beverly Hills Studio. At one of the Studio's public showcases, Mila was approached by entertainment manager Susan Curtis, who offered to make her a client. |
| 56 | Is a huge fan of the hard rock band Aerosmith. |
| 57 | She and Laura Prepon were often filmed sitting down for their scenes on That '70s Show (1998) because Laura, at 5'10", is six inches taller than Mila, at 5'4". In other scenes, Mila wore platform shoes to give her four extra inches. |
| 58 | Ranked #54 in Stuff magazine's 2002 edition of the 102 Sexiest Women in the World. |
| 59 | Terrified of bugs so much that during her May 2004 appearance on Late Night with Conan O'Brien (1993), she ran offstage when the Bug Man appeared after her interview. |
| 60 | Auditioned for the situation comedy That '70s Show (1998) at age 14. Though actors had to be at least 18 to get the role, she truthfully claimed she would be 18 on her birthday, not specifying which birthday, and won the role. |
| 61 | Missed her senior prom because of a scheduling conflict. |
| 62 | Met her manager at the Beverly Hills Studios (an afterschool acting class). Her father enrolled her there when she was nine. |
| 63 | Mila and her family moved from Ukraine to Los Angeles, California, when she was age seven. Her father Mark is a mechanical engineer. Her mother Elvira is a physics teacher. Her brother Michael is a biochemist. |
Pictures
Movies
Actress
| Title | Year | Status | Character |
| --- | --- | --- | --- |
| Jackpot | | pre-production | |
| Family Guy | 1999-2016 | TV Series | Meg Griffin Bank Teller Meg Griffin as Donkey ... |
| Rotten Tomatoes | 2016 | TV Series | |
| Bad Moms | 2016 | | Amy |
| Hell and Back | 2015 | | Deema (voice) |
| Jupiter Ascending | 2015 | | Jupiter Jones |
| Annie | 2014 | | Andrea Alvin |
| The Angriest Man in Brooklyn | 2014 | | Dr. Sharon Gill |
| Family Guy: The Quest for Stuff | 2014 | Video Game | Meg Griffin |
| Two and a Half Men | 2014 | TV Series | Vivian |
| Third Person | 2013 | | Julia |
| Blood Ties | 2013/I | | Natalie |
| Oz the Great and Powerful | 2013 | | Theodora Wicked Witch of the West |
| Family Guy: Back to the Multiverse | 2012 | Video Game | Meg Griffin (voice) |
| The Color of Time | 2012/II | | Catherine |
| Ted | 2012 | | Lori Collins |
| Robot Chicken | 2005-2011 | TV Series | Girl Woman Belle ... |
| Friends with Benefits | 2011 | | Jamie |
| Black Swan | 2010 | | Lily The Black Swan |
| Date Night | 2010 | | Whippit |
| The Late Late Show with Craig Ferguson | 2010 | TV Series | Snooki |
| The Book of Eli | 2010 | | Solara |
| Seth & Alex's Almost Live Comedy Show | 2009 | TV Short | Meg Griffin (voice) |
| The Cleveland Show | 2009 | TV Series | Meg Griffin |
| Extract | 2009 | | Cindy |
| Tom Cool | 2009 | | |
| Max Payne | 2008 | | Mona Sax |
| Boot Camp | 2008 | | Sophie |
| Forgetting Sarah Marshall | 2008 | | Rachel Jansen |
| The Hills with James Franco and Mila Kunis | 2007 | Video short | Audrina |
| The Family Guy 100th Episode Celebration | 2007 | TV Movie | Meg Griffin (voice) |
| After Sex | 2007 | | Nikki |
| Moving McAllister | 2007 | | Michelle McAllister |
| Family Guy | 2006 | Video Game | Meg Griffin (voice) |
| Saints Row | 2006 | Video Game | Tanya Winters (voice) |
| That '70s Show | 1998-2006 | TV Series | Jackie Burkhart |
| That '70s Show Special: The Final Goodbye | 2006 | TV Special | Jackie Burkhart |
| Stewie Griffin: The Untold Story | 2005 | Video | Meg Griffin / Additional Voices (voice) |
| Grounded for Life | 2004 | TV Series | Lana |
| The Latin Lover | 2004 | Short | Girl on street |
| Tony 'n' Tina's Wedding | 2004 | | Tina |
| MADtv | 2002 | TV Series | Daisy |
| American Psycho II: All American Girl | 2002 | Video | Rachael |
| Get Over It | 2001 | | Basin |
| Get Real | 1999 | TV Series | Taylor Vaughn |
| Milo | 1998 | | Martice (uncredited) |
| Krippendorf's Tribe | 1998 | | Abbey Tournquist |
| Gia | 1998 | TV Movie | Gia - Age 11 |
| Pensacola: Wings of Gold | 1998 | TV Series | Jessie Kerwood |
| 7th Heaven | 1996-1997 | TV Series | Ashley |
| Honey, We Shrunk Ourselves | 1997 | Video | Jill, Party Guest / Jenn's Friend |
| Nick Freno: Licensed Teacher | 1996-1997 | TV Series | Anna-Maria Del Bono |
| Walker, Texas Ranger | 1997 | TV Series | Pepper |
| Santa with Muscles | 1996 | | Sarah |
| Unhappily Ever After | 1996 | TV Series | Chloe |
| Baywatch | 1994-1995 | TV Series | Bonnie / Annie |
| Hudson Street | 1995 | TV Series | Devon |
| Piranha | 1995 | | Susie Grogan |
| Make a Wish, Molly | 1995 | Short | Melinda |
| The John Larroquette Show | 1995 | TV Series | Lucy |
| Days of Our Lives | 1994 | TV Series | Young Hope |
Soundtrack
| Title | Year | Status | Character |
| --- | --- | --- | --- |
| Family Guy | 2002-2010 | TV Series performer - 2 episodes | |
| Rage | 2008 | TV Series 1 episode | |
| That '70s Show | 1998-2006 | TV Series performer - 4 episodes | |
Producer
| Title | Year | Status | Character |
| --- | --- | --- | --- |
| Hunted | | TV Series executive producer announced | |
| Made in LA | | TV Series executive producer announced | |
| The Angriest Man in Brooklyn | 2014 | executive producer | |
Make Up Department
| Title | Year | Status | Character |
| --- | --- | --- | --- |
| Robot Chicken | 2006 | TV Series hair stylist - 1 episode | |
Thanks
| Title | Year | Status | Character |
| --- | --- | --- | --- |
| The Blockbuster Buster | 2015 | TV Series dedicatee - 1 episode | |
| Family Guy: 200 Episodes Later | 2012 | TV Movie documentary special thanks: to the cast | |
| Method | 2011/I | very special thanks | |
| Black Swan: Metamorphosis | 2011 | Documentary thanks | |
Self
| Title | Year | Status | Character |
| --- | --- | --- | --- |
| Made in Hollywood | 2010-2016 | TV Series | Herself |
| Conan | 2012-2016 | TV Series | Herself - Guest |
| Entertainment Tonight | 2013-2016 | TV Series | Herself |
| The Talk | 2016 | TV Series | Herself - Guest |
| The Late Late Show with James Corden | 2015-2016 | TV Series | Herself / Herself - Guest |
| Today | 2008-2016 | TV Series | Herself - Guest / Herself |
| Live with Kelly and Michael | 2016 | TV Series | Herself - Guest |
| The Tonight Show Starring Jimmy Fallon | 2016 | TV Series | Herself |
| The Insider | 2016 | TV Series | Herself |
| Access Hollywood | 2016 | TV Series | Herself |
| Extra | 2014-2016 | TV Series | Herself |
| 2016 Billboard Music Awards | 2016 | TV Movie | Herself - Presenter |
| Ellen: The Ellen DeGeneres Show | 2008-2016 | TV Series | Herself - Guest / Herself |
| Chopped Junior | 2015 | TV Series | Herself - Judge |
| Jimmy Kimmel Live! | 2003-2015 | TV Series | Herself - Guest |
| Film '72 | 2015 | TV Series | Herself - Interviewee |
| Brisant | 2015 | TV Series documentary | Herself |
| The Late Late Show with Craig Ferguson | 2009-2014 | TV Series | Herself - Guest |
| Inside Edition | 2014 | TV Series documentary | Herself |
| 2014 MTV Movie Awards | 2014 | TV Special | Herself - Winner / Presenter |
| E! News | 2014 | TV Series | Herself |
| 71st Golden Globe Awards | 2014 | TV Special | Herself - Presenter (uncredited) |
| ES.TV HD | 2013 | TV Series | Herself - Guest |
| Vivir de cine | 2013 | TV Series | Herself |
| E! Special: Oz - The Great and Powerful | 2013 | TV Movie | Herself |
| Ant & Dec's Saturday Night Takeaway | 2013 | TV Series | Herself |
| The Graham Norton Show | 2013 | TV Series | Herself - Guest |
| Fantástico | 2013 | TV Series documentary | Herself |
| Celebrity Style Story | 2013 | TV Series | Herself |
| Comic Con 2012 Live | 2012 | TV Movie | Herself |
| The Tonight Show with Jay Leno | 2012 | TV Series | Herself - Guest |
| Guys Choice Awards 2012 | 2012 | TV Special | Herself |
| 2012 MTV Movie Awards | 2012 | TV Special | Herself - Presenter |
| FOX 25th Anniversary Special | 2012 | TV Movie | Herself |
| The 69th Annual Golden Globe Awards | 2012 | TV Special | Herself - Presenter: Best Actor in a Supporting Role in a Motion Picture |
| Comedy of a Sexomedy | 2011 | Video short | Herself |
| In a Flash: Choreographing a Mob | 2011 | Video short | Herself |
| On Set with FWB | 2011 | Video short | Herself |
| Sesame Street | 2011 | TV Series | Herself |
| Daybreak | 2011 | TV Series | Herself |
| Janela Indiscreta | 2011 | TV Series | Herself |
| Late Night with Jimmy Fallon | 2011 | TV Series | Herself - Guest |
| Guys Choice Awards 2011 | 2011 | TV Special | Herself - Award Winner |
| 2011 MTV Movie Awards | 2011 | TV Special | Herself - Presenter |
| Black Swan: Metamorphosis | 2011 | Documentary | Herself |
| La noche de los Oscar | 2011 | TV Movie | Herself |
| The 83rd Annual Academy Awards | 2011 | TV Special | Herself - Presenter: Best Animated Short Film and Best Animated Feature Film |
| 17th Annual Screen Actors Guild Awards | 2011 | TV Special | Herself |
| The 7PM Project | 2010-2011 | TV Series | Herself |
| The 68th Annual Golden Globe Awards | 2011 | TV Special | Herself - Nominee: Best Actress in a Supporting Role in a Motion Picture |
| 16th Annual Critics' Choice Movie Awards | 2011 | TV Movie documentary | Herself |
| The 37th Annual People's Choice Awards | 2011 | TV Special | Herself - Presenter, Favorite Talk Show Host |
| Alan Carr: Chatty Man | 2011 | TV Series | Herself - Guest |
| Lopez Tonight | 2010 | TV Series | Herself - Guest |
| Date Night: Disaster Dates | 2010 | Video short | Herself |
| The Book of Eli: Eli's Journey | 2010 | Video short | Herself |
| Family Guy: The Top 20 Characters | 2010 | TV Movie | Herself |
| Up Close with Carrie Keagan | 2008-2010 | TV Series | Herself - Guest |
| Extract: Mike Judge's Secret Recipe | 2009 | Video documentary short | Herself |
| The Tonight Show with Conan O'Brien | 2009 | TV Series | Herself - Guest |
| Spike's Guys Choice | 2009 | TV Movie | Herself (as Mila Kunas) |
| Family Guy: Creating the Chaos | 2009 | TV Movie documentary | Herself |
| Family Guy: The Story So Far... | 2009 | TV Movie documentary | Herself |
| Picture | 2009 | Video documentary | Herself |
| VH1 Rock Honors | 2008 | TV Movie | Herself |
| VH1 Rock Honors: The Who | 2008 | TV Movie | Herself |
| Total Request Live | 2008 | TV Series | Herself |
| The Daily 10 | 2008 | TV Series | Herself |
| Last Call with Carson Daly | 2002-2007 | TV Series | Herself - Guest |
| DP/30: Conversations About Movies | 2007 | TV Series | Herself |
| Take Alex to Work Day | 2006 | Video documentary short | |
| Made in Hollywood: Teen Edition | 2006 | TV Series | Herself |
| E! True Hollywood Story | 2006 | TV Series documentary | Herself |
| World Domination: The 'Family Guy' Phenomenon | 2005 | Video documentary short | Herself |
| Punk'd | 2005 | TV Series | Herself |
| The View | 2005 | TV Series | Herself - Guest Host |
| Late Night with Conan O'Brien | 2004-2005 | TV Series | Herself - Guest |
| E! Hollywood Hold'em | 2005 | TV Series | Herself |
| The Oprah Winfrey Show | 2005 | TV Series | Herself - Guest |
| 2004 World Series | 2004 | TV Mini-Series | Herself - Crowd Member |
| The Sharon Osbourne Show | 2003 | TV Series | Herself - Guest |
| The Late Late Show with Craig Kilborn | 2001-2003 | TV Series | Herself - Guest |
| The Michael Essany Show | 2003 | TV Series | Herself - Guest |
| Making the Show: 'That '70s Show' | 2003 | TV Movie documentary | Jackie Burkhart |
| MTV Icon: Aerosmith | 2002 | TV Movie documentary | |
| Seaside Survivor | 2002 | TV Movie | Herself - Host |
| Young Hollywood Awards | 2002 | TV Special | Herself |
| The Rosie O'Donnell Show | 2001-2002 | TV Series | Herself - Guest |
| Nickelodeon Kids' Choice Awards '02 | 2002 | TV Special documentary | Herself |
| Late Show with David Letterman | 2002 | TV Series | Herself |
| The Teen Choice Awards 2001 | 2001 | TV Special | Herself |
| Young Hollywood Awards | 2001 | TV Special | Herself |
| Nickelodeon Kids' Choice Awards | 2001 | TV Special | Herself |
| Hollywood Squares | 2000 | TV Series | Herself |
| The Teen Choice Awards 2000 | 2000 | TV Special | Herself |
| The 1999 Billboard Music Awards | 1999 | TV Special | Herself |
| The Teen Choice Awards 1999 | 1999 | TV Special | Herself |
Archive Footage
| Title | Year | Status | Character |
| --- | --- | --- | --- |
| Access Hollywood | 2016 | TV Series | Herself |
| Extra | 2014-2016 | TV Series | Herself |
| Entertainment Tonight | 2014-2016 | TV Series | Herself |
| Inside Edition | 2014-2015 | TV Series documentary | Herself |
| The Drunken Peasants | 2015 | TV Series | Herself |
| The Insider | 2014 | TV Series | Herself |
| TMZ on TV | 2014 | TV Series | Herself |
| Family Guy: 200 Episodes Later | 2012 | TV Movie documentary | Meg Griffin (uncredited) |
| Chelsea Lately | 2012 | TV Series | Herself |
| Family Guy: Ground Breaking Gags | 2011 | TV Movie documentary | Meg Griffin (uncredited) |
| 50 Most Wicked Women of Primetime | 2004 | TV Movie documentary | Jackie Burkhart - That '70s Show |
Awards
Won Awards
| Year | Award | Ceremony | Nomination | Movie |
| --- | --- | --- | --- | --- |
| 2016 | CinemaCon Award | CinemaCon, USA | Female Stars of the Year | Bad Moms (2016) |
| 2014 | MTV Movie Award | MTV Movie Awards | Best Villain | Oz the Great and Powerful (2013) |
| 2012 | CinEuphoria | CinEuphoria Awards | Best Supporting Actress - Audience Award | Black Swan (2010) |
| 2011 | Saturn Award | Academy of Science Fiction, Fantasy & Horror Films, USA | Best Supporting Actress | Black Swan (2010) |
| 2011 | Scream Award | Scream Awards | Best Supporting Actress | Black Swan (2010) |
| 2010 | Spotlight Award | Hollywood Film Awards | | |
| 2010 | OFCC Award | Oklahoma Film Critics Circle Awards | Best Supporting Actress | Black Swan (2010) |
| 2010 | Marcello Mastroianni Award | Venice Film Festival | | Black Swan (2010) |
| 2008 | Golden Schmoes | Golden Schmoes Awards | Best T&A of the Year | Forgetting Sarah Marshall (2008) |
| 2002 | Young Hollywood Award | Young Hollywood Awards | One to Watch - Female | |
| 2000 | YoungStar Award | YoungStar Awards | Best Young Actress/Performance in a Comedy TV Series | That '70s Show (1998) |
| 1999 | YoungStar Award | YoungStar Awards | Best Performance by a Young Actress in a Comedy TV Series | That '70s Show (1998) |
Nominated Awards
| Year | Award | Ceremony | Nomination | Movie |
| --- | --- | --- | --- | --- |
| 2016 | BTVA Feature Film Voice Acting Award | Behind the Voice Actors Awards | Best Vocal Ensemble in a Feature Film | Hell and Back (2015) |
| 2016 | Razzie Award | Razzie Awards | Worst Actress | Jupiter Ascending (2015) |
| 2015 | Teen Choice Award | Teen Choice Awards | Choice Movie Actress: Sci-Fi/Fantasy | Jupiter Ascending (2015) |
| 2014 | Blimp Award | Kids' Choice Awards, USA | Favorite Movie Actress | Oz the Great and Powerful (2013) |
| 2013 | Critics Choice Award | Broadcast Film Critics Association Awards | Best Actress in a Comedy | Ted (2012) |
| 2013 | MTV Movie Award | MTV Movie Awards | Best Female Performance | Ted (2012) |
| 2013 | MTV Movie Award | MTV Movie Awards | Best Kiss | Ted (2012) |
| 2013 | People's Choice Award | People's Choice Awards, USA | Favorite Comedic Movie Actress | |
| 2013 | People's Choice Award | People's Choice Awards, USA | Favorite Movie Actress | |
| 2013 | Teen Choice Award | Teen Choice Awards | Choice Movie Actress: Sci-Fi/Fantasy | Oz the Great and Powerful (2013) |
| 2013 | Teen Choice Award | Teen Choice Awards | Choice Female Hottie | |
| 2012 | People's Choice Award | People's Choice Awards, USA | Favorite Comedic Movie Actress | |
| 2012 | Rembrandt Award | Rembrandt Awards | Best International Actress (Beste Buitenlandse Actrice) | Friends with Benefits (2011) |
| 2011 | Golden Globe | Golden Globes, USA | Best Performance by an Actress in a Supporting Role in a Motion Picture | Black Swan (2010) |
| 2011 | EDA Special Mention Award | Alliance of Women Film Journalists | Best Depiction of Nudity, Sexuality, or Seduction | Black Swan (2010) |
| 2011 | Critics Choice Award | Broadcast Film Critics Association Awards | Best Supporting Actress | Black Swan (2010) |
| 2011 | COFCA Award | Central Ohio Film Critics Association | Best Ensemble | Black Swan (2010) |
| 2011 | The "We're Wilde About You" Rising Star Award | Gay and Lesbian Entertainment Critics Association (GALECA) | | Black Swan (2010) |
| 2011 | Gold Derby Award | Gold Derby Awards | Supporting Actress | Black Swan (2010) |
| 2011 | Gold Derby Award | Gold Derby Awards | Ensemble Cast | Black Swan (2010) |
| 2011 | Golden Schmoes | Golden Schmoes Awards | Best T&A of the Year | Friends with Benefits (2011) |
| 2011 | IOMA | Italian Online Movie Awards (IOMA) | Best Supporting Actress (Miglior attrice non protagonista) | Black Swan (2010) |
| 2011 | MTV Movie Award | MTV Movie Awards | Best Kiss | Black Swan (2010) |
| 2011 | OFCS Award | Online Film Critics Society Awards | Best Supporting Actress | Black Swan (2010) |
| 2011 | Actor | Screen Actors Guild Awards | Outstanding Performance by a Female Actor in a Supporting Role | Black Swan (2010) |
| 2011 | Actor | Screen Actors Guild Awards | Outstanding Performance by a Cast in a Motion Picture | Black Swan (2010) |
| 2011 | Teen Choice Award | Teen Choice Awards | Choice Movie Liplock | Black Swan (2010) |
| 2011 | Teen Choice Award | Teen Choice Awards | Choice Movie: Female Scene Stealer | Black Swan (2010) |
| 2011 | Teen Choice Award | Teen Choice Awards | Choice Female Hottie | |
| 2011 | Teen Choice Award | Teen Choice Awards | Choice Summer Movie Star: Female | Friends with Benefits (2011) |
| 2010 | ACCA | Awards Circuit Community Awards | Best Performance by an Actress in a Supporting Role | Black Swan (2010) |
| 2010 | DFWFCA Award | Dallas-Fort Worth Film Critics Association Awards | Best Supporting Actress | Black Swan (2010) |
| 2010 | Sierra Award | Las Vegas Film Critics Society Awards | Best Supporting Actress | Black Swan (2010) |
| 2010 | Scream Award | Scream Awards | Best Science Fiction Actress | The Book of Eli (2010) |
| 2010 | Teen Choice Award | Teen Choice Awards | Choice Movie Actress: Action Adventure | The Book of Eli (2010) |
| 2010 | UFCA Award | Utah Film Critics Association Awards | Best Supporting Actress | Black Swan (2010) |
| 2010 | VVFP Award | Village Voice Film Poll | Best Supporting Actress | Black Swan (2010) |
| 2008 | Teen Choice Award | Teen Choice Awards | Choice Movie Breakout Female | Forgetting Sarah Marshall (2008) |
| 2007 | Annie | Annie Awards | Best Voice Acting in an Animated Television Production | Family Guy (1999) |
| 2006 | Teen Choice Award | Teen Choice Awards | TV - Choice Actress: Comedy | That '70s Show (1998) |
| 2005 | Teen Choice Award | Teen Choice Awards | Choice TV Actress: Comedy | That '70s Show (1998) |
| 2004 | Teen Choice Award | Teen Choice Awards | Choice TV Actress - Comedy | That '70s Show (1998) |
| 2003 | Teen Choice Award | Teen Choice Awards | Choice TV Actress - Comedy | That '70s Show (1998) |
| 2002 | Teen Choice Award | Teen Choice Awards | TV - Choice Actress, Comedy | That '70s Show (1998) |
| 2001 | Teen Choice Award | Teen Choice Awards | TV - Choice Actress | That '70s Show (1998) |
| 2001 | Young Artist Award | Young Artist Awards | Best Performance in a TV Comedy Series - Leading Young Actress | That '70s Show (1998) |
| 2000 | Teen Choice Award | Teen Choice Awards | TV - Choice Actress | That '70s Show (1998) |
| 2000 | Young Artist Award | Young Artist Awards | Best Performance in a TV Comedy Series - Leading Young Actress | That '70s Show (1998) |
| 1999 | Young Artist Award | Young Artist Awards | Best Performance in a TV Series - Young Ensemble | That '70s Show (1998) |
2nd Place Awards
| Year | Award | Ceremony | Nomination | Movie |
| --- | --- | --- | --- | --- |
| 2010 | Golden Schmoes | Golden Schmoes Awards | Best Supporting Actress of the Year | Black Swan (2010) |
| 2010 | Golden Schmoes | Golden Schmoes Awards | Best T&A of the Year | Black Swan (2010) |
Source:
IMDb
,
Wikipedia