Katherine Lanasa:
• Born in New Orleans, LA in 1966
• Former ballet dancer turned actress
• Net worth estimated at over $5 million
• Appeared in films such as "The Frozen Ground" and "Jayne Mansfield's Car"
• Married to actor Grant Show since 2012

Known for movies
Short Info
| | |
| --- | --- |
| Net Worth | $5 million |
| Date Of Birth | December 1, 1966 |
| Spouse | Grant Show (m. 2012), French Stewart (m. 1998–2009), Dennis Hopper (m. 1989–1992) |
| Fact | Gave birth to her 1st child at age 23, a son Henry Lee Hopper (aka Henry Hopper) on September 11, 1990. Child's father is her now late ex-1st husband, Dennis Hopper. |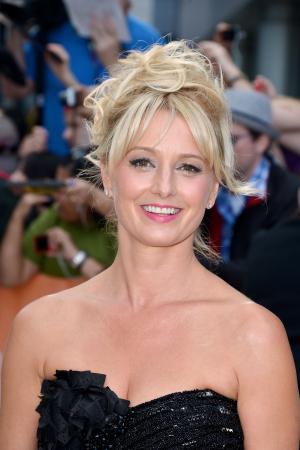 Who is Katherine Lanasa?
Katherine Lanasa was born on 1 December 1966, in New Orleans, Louisiana, USA. She is a former ballet dancer turned actress, best known for her work on various television programs, including "Three Sisters", "Longmire", "Imposters", and "Judging Amy". She also had work in several films, most notably in "The Frozen Ground", and "Jayne Mansfield's Car".
The Wealth of Katherine Lanasa
As of early-2020, Katherine Lanasa's net worth is estimated to be over $5 million, earned through a successful career as an actress with her career dating back to 1989. She also did choreography work during her youth, but later left it behind to focus more on acting endeavors.
Early Life and Ballet Career
Katherine is the daughter of a surgeon and she grew up in New Orleans. At a young age, she developed a love for the performing arts, particularly dancing. She began training in ballet as young as 12, leading her to be accepted into the North Carolina School of the Arts, which is known for being the first public arts conservatory. The school had a notable program in dance, and while with the school, she was able to gain an apprenticeship with the Milwaukee Ballet.
The professional ballet company has been in existence since the 1960s, and they hold 45 performances within a year with tens of thousands in attendance.
After her time there, she continued her work as a professional ballet dancer, working with the Karole Armitage Ballet and Ballet West, which is based in Salt Lake City, Utah. The group also dates its history back to the '60s and is one of the most active groups of its kind in the area. Thanks to her experience and skill, the casting crew of various films took notice of her, hiring her to choreograph dances for several film projects.
Transition to Acting
One of Lanasa's first professional projects in the film industry is "Rooftops", hired as a choreographer, working alongside director John Carrafa.
This slowly built her interest in the field, and eventually she got her first acting role a year later in "Catchfire". The film starred Jodie Foster and Vincent Price, also noted for its numerous high-profile cameos.
Over the next few years, she continued working in acting, mainly appearing as a guest in television series. Some of her projects during this period include "Seinfeld", "The Practice", and "3rd Rock from the Sun". In 2001, she was cast in the television series "Three Sisters" which marked one of her earliest starring roles. She worked alongside AJ Langer, Vicki Lewis, and Dyan Cannon in the show, but it only lasted for two seasons before being canceled.
Eventually, she found her stride playing various recurring characters in popular shows, including Yvonne Dunbar in the show "Judging Amy". She also appeared in "NYPD Blue" as Michelle Colohan", and as Kim McPherson" in "The Guardian". She also maintained her guest work, with appearances in "ER" and "CSI: Crime Scene Investigation".
Rise to Prominence
In 2006, Katherine was cast as a series regular for the CBS show "Love Monkey", but which was short-lived, being canceled after a season. She then moved to another project, appearing in the television show "12 Miles of Bad Road" in 2008.
The show gained positive reviews, though due to its bad timing with the Writers Guild of America strike, the show was discontinued. In 2009, she then worked on the show "Big Love" for two years, as the character Beverly Ford.
After a decade of mainly doing television work, she stepped back into film projects, becoming a part of the film "The Campaign", alongside Zack Galifianakis and Will Ferrell. In 2013, she was also one of the stars of "The Frozen Ground", and had a prominent role in "Jayne Mansfield's Car" which saw her work with Billy Bob Thornton.
Other films she worked on during this period include "Valentine's Day" and "Alfie", and she was then cast in the series "Deception" as the character Sophie Bowers. The show had a format similar to that of soap operas, but was canceled after a season, never getting a resolution for its final episode.
Recent Projects
Lanasa also had a recurring role in "Longmire", playing Lizzie Ambrose for a season – the series is based on the Craig Johnson novel series "Walt Longmire Mysteries", following the titular sheriff of rural Wyoming. She also played the role of Adrianna in "Satisfaction" for two seasons, her character owning a male escort service in the show, but it was canceled due to low ratings. Her next project was "Love Is All You Need?" based on the short film of the same name.
In 2017, she was cast in another recurring role, this time with Lifetime in the show "Devious Maids" which she joined for a season. Afterwards, she became a part of the regular cast of "Imposters", a show which follows the story of a con artist who scams men and women by getting involved in a relationship with them, but the show was canceled after two seasons. In 2018, she was seen portraying the villain Ada Stone in the second season of the soap opera "Dynasty" – the show is a reboot of the 1980s series of the same name, and aired on The CW as well as on Netflix. One of her latest projects is the show "Katy Keene", which is a spin-off from "Riverdale", following the popular Archie Comics character.
Personal Life
In 1989, Katherine married actor Dennis Hopper who is known for his work in the 1950s in such as "Rebel Without a Cause" and "Giant". Their relationship was noted due to their three-decade age difference. They had a child together, but divorced after three years. Her next relationship was with actor French Stewart, whom she met on the set of "3rd Rock from the Sun". They married in 1998 and stayed together for 10 years before divorcing. In 2012 she announced her engagement to actor Grant Show, who is known for his work in "Melrose Place". The two married a few weeks after their engagement and they have a child together.
General Info
| | |
| --- | --- |
| Full Name | Katherine LaNasa |
| Net Worth | $5 million |
| Date Of Birth | December 1, 1966 |
| Height | 1.73 m |
| Profession | Ballet Dancer, Actor, Choreographer |
| Education | University of North Carolina School of the Arts |
| Nationality | American |
Family
| | |
| --- | --- |
| Spouse | Grant Show (m. 2012), French Stewart (m. 1998–2009), Dennis Hopper (m. 1989–1992) |
| Children | Henry Hopper |
| Parents | James J. LaNasa, Jr., Annie Hardin |
Accomplishments
| | |
| --- | --- |
| Movies | The Campaign, Jayne Mansfield's Car, The Frozen Ground, The Squeeze, Valentine's Day, Alfie, Schizopolis, Brain Donors, Mortal Fear, Samaritan, Love Is All You Need?, Murder at the Cannes Film Festival |
| TV Shows | Satisfaction, Deception, Love Monkey, Three Sisters, 12 Miles of Bad Road |
Social profile links
Quotes
| # | Quote |
| --- | --- |
| 1 | [on stifling the inclination to laugh while performing with Will Ferrell] I have tricks. I look between his eyes. I try to think of dead people. |
Facts
| # | Fact |
| --- | --- |
| 1 | Played Jerry Seinfeld's policewoman girlfriend, who made him take a lie detector test because she didn't believe he'd never watched Melrose Place (1992), on the 1995 Seinfeld (1989) episode, Seinfeld: The Beard (1995). In 2012, she married Grant Show, who was one of the original stars of "Melrose Place". |
| 2 | Gave birth to her 2nd child at age 47, a daughter Eloise McCue Show on March 25, 2014. Child's father is her 3rd husband, Grant Show. |
| 3 | (August 18, 2012) Married for the 3rd time her longtime boyfriend Grant Show following a month-long engagement. |
| 4 | Gave birth to her 1st child at age 23, a son Henry Lee Hopper (aka Henry Hopper) on September 11, 1990. Child's father is her now late ex-1st husband, Dennis Hopper. |
| 5 | Ex-stepmother of Ruthanna Hopper and Marin Hopper. |
| 6 | Fourth wife of Dennis Hopper, first wife of French Stewart, second wife of Grant Show. |
| 7 | Both she and her ex-husband, French Stewart, have appeared on CSI: Crime Scene Investigation (2000), though not in the same episode. |
| 8 | Former ballet dancer. |
Pictures
Movies
Actress
| Title | Year | Status | Character |
| --- | --- | --- | --- |
| Devious Maids | 2016 | TV Series | Shannon Greene |
| Love Is All You Need? | 2016 | | Vicki Curtis |
| Satisfaction | 2014-2015 | TV Series | Adriana |
| The Squeeze | 2015 | | Jessie |
| The Night Shift | 2014 | TV Series | Dr. Flannery Mills |
| Buttwhistle | 2014 | | Mrs. Confer |
| Longmire | 2012-2013 | TV Series | Lizzie Ambrose |
| The Frozen Ground | 2013 | | Fran Hansen |
| Deception | 2013 | TV Series | Sophia Bowers |
| The Campaign | 2012 | | Rose Brady |
| Jayne Mansfield's Car | 2012 | | Donna Baron |
| Two and a Half Men | 2006-2011 | TV Series | Lydia |
| Normal | 2011 | TV Movie | Susan |
| The Defenders | 2010-2011 | TV Series | Linda Cole |
| Big Love | 2009-2011 | TV Series | Beverly Ford |
| Lie to Me | 2010 | TV Series | Laura Cross |
| Make It or Break It | 2010 | TV Series | Leslie |
| Justified | 2010 | TV Series | Caryn Carnes |
| Valentine's Day | 2010/I | | Pamela Copeland |
| House M.D. | 2009 | TV Series | Melissa |
| Burn Notice | 2009 | TV Series | Shannon Park |
| Cold Case | 2009 | TV Series | Leigh Feldman / Foster |
| Ghost Whisperer | 2008 | TV Series | Betty |
| The Lucky Ones | 2008 | | Janet |
| 12 Miles of Bad Road | 2008 | TV Series | Juliet Shakespeare |
| Boston Legal | 2007 | TV Series | Pat Ontario |
| Justice | 2006-2007 | TV Series | Suzanne Fulcrum |
| Pepper Dennis | 2006 | TV Series | Nadia Vadinava |
| Love Monkey | 2006 | TV Series | Karen Freed |
| Grey's Anatomy | 2005 | TV Series | Kalpana Vera |
| Judging Amy | 2003-2005 | TV Series | Atty. Yvonne Dunbar |
| CSI: Miami | 2005 | TV Series | Carla Marshall |
| Alfie | 2004 | | Uta |
| The Deerings | 2004 | TV Movie | Tricia |
| The Division | 2003 | TV Series | |
| CSI: Crime Scene Investigation | 2003 | TV Series | Ginger |
| Greetings from Tucson | 2003 | TV Series | Lucy |
| The Guardian | 2002-2003 | TV Series | Kim McPherson |
| Miss Match | 2003 | TV Series | Amy Jensen |
| NYPD Blue | 2002 | TV Series | Michelle Colohan |
| ER | 2002 | TV Series | Janet Wilco |
| Three Sisters | 2001-2002 | TV Series | Bess Bernstein-Flynn Keats |
| Murder at the Cannes Film Festival | 2000 | TV Movie | Kaki Lamb |
| Pensacola: Wings of Gold | 1999 | TV Series | Joy Daly |
| Take a Number | 1997 | | Victoria |
| Almost Perfect | 1996-1997 | TV Series | Allison |
| Kiss & Tell | 1997 | | Georgia Montauk |
| Always Say Goodbye | 1997 | | Blonde Woman (as Katherine Lanassa) |
| The Practice | 1997 | TV Series | Sheila |
| Touched by an Angel | 1996 | TV Series | Fran |
| Sliders | 1996 | TV Series | Dr. Olivia Lujan |
| The Sentinel | 1996 | TV Series | Monique Brackley |
| The Big Easy | 1996 | TV Series | Zelda Riley |
| Twilight Man | 1996 | TV Movie | Kathy Robbins |
| Shattered Mind | 1996 | TV Movie | |
| Schizopolis | 1996 | | Diane (uncredited) |
| 3rd Rock from the Sun | 1996 | TV Series | Kate |
| The Crew | 1996 | TV Series | Ariel |
| The Destiny of Marty Fine | 1996 | | Amy |
| The Disappearance of Kevin Johnson | 1996 | | Cathy |
| The Marshal | 1995 | TV Series | Penny |
| Nothing But the Truth | 1995 | TV Movie | Susie Marsh (as Katherine Lanasa) |
| Seinfeld | 1995 | TV Series | Cathy |
| Honey, I Shrunk the Audience | 1994 | Short | Reporter (uncredited) |
| Mortal Fear | 1994 | TV Movie | Carol Donner |
| Under Suspicion | 1994 | TV Series | |
| Jack Reed: A Search for Justice | 1994 | TV Movie | Tiffany |
| Flashfire | 1994 | | Monica Ambrose |
| The Heart of Justice | 1992 | TV Movie | Hannah |
| Brain Donors | 1992 | | Dancer #1 |
| Catchfire | 1990 | | Waitress (as Katherine La Nasa) |
Producer
| Title | Year | Status | Character |
| --- | --- | --- | --- |
| Love Is All You Need? | 2016 | executive producer | |
Self
| Title | Year | Status | Character |
| --- | --- | --- | --- |
| Home & Family | 2013-2015 | TV Series | Herself - Guest / Herself |
| Sidewalks Entertainment | 2015 | TV Series | Herself - Guest |
| KCAL 9 News Weekend Report | 2013 | TV Series | Herself - Guest |
| AXS Live | 2013 | TV Series | Herself - Guest |
| 2013 New Now Next Awards | 2013 | TV Special | Herself |
| Today | 2013 | TV Series | Herself |
| Good Day L.A. | 2012 | TV Series | Herself |
| 100 Greatest One Hit Wonders | 2002 | TV Movie | Herself |
| Politically Incorrect | 2002 | TV Series | Herself |
| The Late Late Show with Craig Kilborn | 2001 | TV Series | Herself |
| Hollywood Squares | 2001 | TV Series | Herself |
Source:
IMDb
,
Wikipedia