• Gained recognition after starring as Riley Poole in the 2004 action adventure mystery movie "National Treasure"
• Partly raised in Fort Lauderdale and attended West Bloomfield High School and New York University's Tisch School of the Arts
• Appeared in films such as "Gigli" (2003), "The Hangover" (2009), "Holly Rollers" (2010), "The Hangover Part III" (2013) and "Against the Clock" (2019).
• Appearances in TV series such as "Teachers" (2006), "The New Normal" (2012-2013), "Cooper Barrett's Guide to Surviving Life" (2016) and "The Good Fight" (2018).
• Married to Lia Smith with two children and an estimated net worth of $22 million.

Known for movies
Short Info
| | |
| --- | --- |
| Date Of Birth | July 21, 1978 |
| Spouse | Lia Smith |
| Fact | Graduated from West Bloomfield in 1996. |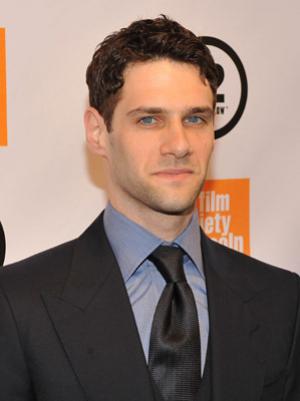 Who is Justin Bartha? Wiki, Bio
Justin Lee Bartha was born in Fort Lauderdale, Florida USA, on 21 July 1978 – his zodiac sign is Cancer and he holds American nationality. He is an actor, who gained recognition after he starred as Riley Poole in the action adventure mystery movie "National Treasure" in 2004, alongside Nicholas Cage and Diane Kruger. The movie is about a historian in search of the legendary Templar Treasure, which he has to find before the bad guys. The film won one award and was nominated for nine others.
Childhood and education
Justin and his older brother Jeffrey were partly raised in Fort Lauderdale, as their family moved to West Bloomfield in Michigan when Justin turned eight.
His mother Betty was teaching at a local high school, while his father Stephen was a real estate developer.
Justin became interested in acting while attending West Bloomfield High School, and was a member of the school's drama club and appeared in most of the plays performed there, as well as some at a local theatre. He was also physically active as he was on the school's football team and also played tennis and soccer. Upon matriculation in 1996, he enrolled at New York University's Tisch School of the Arts, graduating with a Bachelor of Arts degree in filmmaking and theatre in 2000.
Roles in movies
Justin made his debut film appearance (uncredited) in 1998, when he portrayed a Clubgoer in the drama "54", while the following five years saw him appear in two short films – "Tag" and "Carnival Sun" – and the comedy movie "Gigli" which starred Ben Affleck, Jennifer Lopez and Al Pacino – although it starred some of the most famous actors of the day, it was a failure, ranking as one of the worst movies of the year 2003.
After  "National Treasure", he played the supporting character Jasper Bernard in the romantic comedy film "Trust the Man" in 2005, before appearing in the romantic comedy movie "Failure to Launch" which starred Matthew McConaughey and Sarah Jessica Parker, and which was nominated for five awards.
Justin reprised his role as Riley in the sequel "National Treasure: Book of Secrets" in 2007, before making a cameo appearance in the romantic comedy drama movie "New York, I Love You" in 2008. He was invited in 2009 to star alongside Bradley Cooper, Ed Helms and Zach Galifianakis in the critically acclaimed comedy movie "The Hangover" which won 13 awards including a Golden Globe, while he also appeared in the Franco-Canadian romantic comedy movie "Jusqu'à toi" which he also produced, and the romantic comedy "The Rebound" in the same year.
Justin portrayed the main character Yosef Zimmerman in the independent crime drama movie "Holly Rollers" in 2010, which also starred Jesse Eisenberg and Ari Graynor and which is about a teenager who is talked into selling Ecstasy on the streets of Brooklyn. In 2011, Justin reprised his role as Doug in "The Hangover Part II", while he also starred in "The Hangover Part III" in 2013, and in the same year portrayed one of the lead characters – Stiv Bators – in the drama musical "CBGB". In 2016 he played Kelly in the drama film "White Girl" which starred Morgan Saylor and Brian Marc, before being invited to star in the drama movie "Sticky Notes" and to play the supporting character Howard Weitzman in the biographical drama thriller movie "Driven" in 2018.
Some of Justin's latest roles in movies have been in the thriller movie "Against the Clock" in 2019 which received very poor reviews, and in the upcoming action thriller movie "Sweet Girl" which is set to be released in early 2021.
Appearances in TV series and theatre plays
Justin made his debut TV series appearance in 2006 when he was invited to portray the lead character Jeff Cahill in the sitcom "Teachers", which also starred Sarah Shahi, Kali Rocha and Sarah Alexander, but which was cancelled after only six episodes. In 2009, he voiced Jack Werner in the History Channel series "World War II in HD", which won two awards and was nominated for two others.
In 2012 and 2013 Justin played the lead character David Sawyer in the sitcom "The New Normal", which also starred Andrew Rannelis and Georgia King, and which follows a single mother who becomes a surrogate for two gay men. Some of Justin's latest appearances in TV series have been in the sitcom "Cooper Barrett's Guide to Surviving Life" in which he portrayed the main character Josh Barrett in 2016, the legal web series "The Good Fight" as the lead character Colin Morrello in 2018, and the educational comedy series "Drunk History" in which he appeared as Thomas H. Ince in the episode "Drunk Mystery II" in 2019.
He made his debut Broadway play appearance in 2010 in the comedy "Lend Me a Tenor" at the Music Box Theatre, and then in 2011 Justin portrayed Charlie in "All New People" at the Second Stage Theatre, and Vinny in the off-Broadway play "Asuncion" performed at Rattlestick Playwrights Theater. In 2013, he starred as Ben in "The Sunshine Boys" performed at Ahmanson Theatre and later at Center Theatre Group, while his latest appearance in a play has been on Broadway in "Permission" at MCC Theatre, in which he starred as Eric.
Love life and marriage with Lia Smith
In 2005 Justin dated Stephanie Sieber for several months, then in 2006 began dating Lydia Hearst, who is a famous American model, actress, and blogger – they dated for over a year before splitting ways in late 2007.
In 2010, Justin started seeing Ashley Olsen who is a famous American fashion designer, author, and an actress among other things. They became engaged in 2011, but inexplicably split shortly afterwards.
Justin met Lia Smith in 2012 at a local gym, and they started dating a week later, and on 4 January 2014 they married in a small ceremony held in Oahu, Hawaii. On 13 April 2014, they welcome their daughter Asa Charlotte, while their second daughter Ruby followed on 16 April 2016. The family of four is currently living at their home in Los Angeles, California – there are no rumors or controversies surrounding Justin and Lia's marriage.
Lia was born in 1984 in the USA, and attended Scripps College for women from which she graduated with a Bachelor of Arts degree in mathematical economics in 2006.
She received a free Pilates class while attending college, and Lia liked it so much that she became a Certified Pilates Instructor in May 2010. In October, she founded B The Method which is a sequence of carefully chosen exercises which aim to lengthen and strengthen your muscles with the help of a stability ball. She is currently serving as B The Method's creative director.
Hobbies and other interests
Justin is very close to his friends and family and always finds time for them, but has stated during an interview that he is not that open to meeting new people and dedicating his free time to them, of which he has very little. He grew up being a huge fan of the American director and actor Woody Allen and his ex-partner Mia Farrow, and was very excited when he got an opportunity to meet them.
the good looking & talented Justin Bartha at the 2013 LA GLAAD Media Awards #fbf @justinbarthaweb pic.twitter.com/u4zLGUK9L4

— Justin Bartha (@JustinBartha3) August 30, 2013
Justin is keen on watching old movies, and some of his favorites are "After the Promise", "To Kill a Mockingbird", and "Breakfast at Tiffany's", while some of his favorite actors and actresses of today are Bruce Willis, Tom Cruise and Emma Watson. He is keen on reading, and his favorites are history books as well as romantic ones such as "The Diary of a Young Girl" by Anne Frank who was killed by the Nazis during World War II, and "The Guns of August" by Barbara W. Tuchman which is about World War I. Justin has several training sessions at the gym each week, thus his muscular body and he enjoys eating good food and tasting various cuisines.
Appearance and net worth
Justin is 41 years old. He has short brown hair and blue eyes, is 5ft 8ins (1.73m) tall, and weighs around 150lbs (68kgs). As of May 2020, his net worth is estimated at over $22 million.
General Info
| | |
| --- | --- |
| Full Name | Justin Bartha |
| Date Of Birth | July 21, 1978 |
| Height | 1.73 m |
| Weight | 152 pounds |
| Profession | Film producer, Actor |
| Education | West Bloomfield High School, New York University, Tisch School of the Arts |
Family
| | |
| --- | --- |
| Spouse | Lia Smith |
| Children | Asa Charlotte Bartha |
| Parents | Betty Bartha, Stephen Bartha |
| Siblings | Jeffrey Bartha |
Accomplishments
| | |
| --- | --- |
| Movies | The Hangover, The Hangover Part III, The Hangover Part II, The Rebound, Failure to Launch, White Girl, National Treasure: Book of Secrets, Gigli, Holy Rollers, New York, I Love You, National Treasure, CBGB, Trust the Man, Jusqu'à toi, Dark Horse, Sticky Notes, Brahmin Bulls, Headlock, The Station |
| TV Shows | The New Normal, WWII in HD, Teachers |
Social profile links
Quotes
| # | Quote |
| --- | --- |
| 1 | I did theater a lot when I was a kid. Then I went to acting school in New York. I did a lot of behind the scenes in college. I wanted to learn while I had the time. I studied theatre and film in different capacities. |
| 2 | Mia Farrow was the person I was really excited about getting to know, because Woody Allen is one of my heroes and, just by proxy, I was a huge fan of hers. |
| 3 | When I first started acting in movies - as probably a lot of naive young actors do - I made a list of directors that I wanted to work with and sent it to my agent at the time. |
| 4 | I love watching old movies, reading and having some good meals. I have a very close group of friends and family. I try to spend time with the ones that I love and work as hard as possible. |
| 5 | For me, I've always wanted to do theater, so I gravitate toward it. |
| 6 | I do have rituals. I'm a fairly superstitious person. |
| 7 | I have never actually watched Glee (2009). I have heard it is just fantastic. |
| 8 | I have yet to meet a person whose favorite movie is Gigli (2003), but I hope to meet them one day and give them a hug. |
| 9 | It is good to get an all round experience especially when you have never been on a movie set. |
| 10 | It's always nice to have people love the things that you do. |
| 11 | It's not often as an actor you get to be involved with a project that seems to be on the right side of history. |
| 12 | When you're talking about pure form, theater is a wonderful outlet. |
| 13 | Everyone loves the seventies because that's when movies were character-based, and you saw great characters and you saw very interesting filmmaking. There are interesting movies being made now, but it's harder and harder to make them. |
Facts
| # | Fact |
| --- | --- |
| 1 | Endorsed Bernie Sanders in the 2016 presidential election of the United States. |
| 2 | Engaged to fitness instructor Lia Smith. |
| 3 | His parents are both from Jewish families (their families moved to the U.S. from Austria, Germany, Russia, and Poland). |
| 4 | Born in Fort Lauderdale. |
| 5 | Father, Stephen, is a real estate developer. |
| 6 | Mother, Betty, is a teacher. |
| 7 | One brother, Jeffrey. |
| 8 | Graduated from West Bloomfield in 1996. |
| 9 | Attended Camp Walden in Cheboygan, Michigan for 5 years as a child. |
| 10 | Began film career as a production assistant on the movie, Analyze This (1999). |
| 11 | He first acted in the short film, Tag (1999), in 1999. |
| 12 | The movie, National Treasure (2004), where he played "Riley Poole", launched his acting career in 2004. |
| 13 | Boyfriend of Ashley Olsen [July 22, 2009]. |
| 14 | Attended the same metro-Detroit high school as actor/producers Brandon T. Jackson and Sam Logan Khaleghi. |
| 15 | He studied acting at New York University. |
| 16 | He is from West Bloomfield, Michigan (a suburb of Detroit) and graduated from West Bloomfield High School in 1996. |
Pictures
Movies
Actor
| Title | Year | Status | Character |
| --- | --- | --- | --- |
| Headlock | 2016 | completed | Peter Hobbs |
| Cooper Barrett's Guide to Surviving Life | 2016 | TV Series | Josh Barrett |
| Sticky Notes | 2016 | | Bryan |
| White Girl | 2016 | | Kelly |
| CBGB | 2013 | | Stiv Bators |
| Brahmin Bulls | 2013 | | Alex |
| The Hangover Part III | 2013 | | Doug |
| The New Normal | 2012-2013 | TV Series | David Sawyer |
| Dark Horse | 2011 | | Richard |
| The Hangover Part II | 2011 | | Doug |
| Maltin on Movies | 2010 | TV Series | |
| Holy Rollers | 2010 | | Yosef Zimmerman |
| The Rebound | 2009 | | Aram Finklestein |
| Jusqu'à toi | 2009 | | Jack |
| The Hangover | 2009 | | Doug |
| The Station | 2009 | TV Movie | Eric |
| New York, I Love You | 2008 | | Justin (segment "Randy Balsmeyer") |
| National Treasure: Book of Secrets | 2007 | | Riley Poole |
| Teachers. | 2006 | TV Series | Jeff Cahill |
| Failure to Launch | 2006 | | Ace |
| Trust the Man | 2005 | | Jasper Bernard |
| National Treasure | 2004 | | Riley Poole |
| Strip Search | 2004 | TV Movie | |
| Carnival Sun | 2003 | Short | Brian |
| Gigli | 2003 | | Brian |
| Tag | 1999 | Short | Kip Woffard |
| 54 | 1998 | | Clubgoer (uncredited) |
Producer
| Title | Year | Status | Character |
| --- | --- | --- | --- |
| Here Comes the Night | 2013 | executive producer | |
| Jusqu'à toi | 2009 | executive producer | |
| Highs and Lows | 2003 | Short executive producer / producer | |
Director
| Title | Year | Status | Character |
| --- | --- | --- | --- |
| Highs and Lows | 2003 | Short | |
Writer
| Title | Year | Status | Character |
| --- | --- | --- | --- |
| Highs and Lows | 2003 | Short writer | |
Editor
| Title | Year | Status | Character |
| --- | --- | --- | --- |
| Highs and Lows | 2003 | Short | |
Soundtrack
| Title | Year | Status | Character |
| --- | --- | --- | --- |
| Gigli | 2003 | performer: "Baby Got Back" | |
Miscellaneous
| Title | Year | Status | Character |
| --- | --- | --- | --- |
| Analyze This | 1999 | office production aide | |
Thanks
| Title | Year | Status | Character |
| --- | --- | --- | --- |
| Awake | 2007 | special thanks | |
Self
| Title | Year | Status | Character |
| --- | --- | --- | --- |
| The Chew | 2016 | TV Series | Himself - Guest |
| The Late Late Show with James Corden | 2015-2016 | TV Series | Himself - Guest / Himself |
| CNN Newsroom | 2014 | TV Series | |
| The American Cinematheque Tribute to Jerry Bruckheimer | 2013 | TV Movie | Himself |
| Domingo Legal | 2013 | TV Series | Himself |
| Vivir de cine | 2013 | TV Series | Himself |
| Pânico na TV | 2013 | TV Series | Himself |
| Le grand journal de Canal+ | 2013 | TV Series documentary | Himself |
| Reel Junkie | 2013 | TV Series | Himself |
| Up Close with Carrie Keagan | 2009-2013 | TV Series | Himself |
| Conan | 2013 | TV Series | Himself - Guest |
| The Hollywood Fast Lane | 2013 | TV Series | Himself - Interviewee |
| Last Call with Carson Daly | 2013 | TV Series | Himself - Guest |
| Chelsea Lately | 2011-2013 | TV Series | Himself - Guest |
| Through the Mind's Eye of Colleen Atwood | 2013 | Short | Himself |
| Ellen: The Ellen DeGeneres Show | 2012 | TV Series | Himself - Guest |
| MSN Exclusives | 2012 | TV Series | Himself (2013) |
| The Unauthorized Documentary, Hangover Part II | 2011 | Documentary | Himself |
| 2011 MTV Movie Awards | 2011 | TV Special | Himself |
| Breakfast | 2011 | TV Series | Himself - Actor |
| Mike & Mike | 2011 | TV Series | Himself - Guest |
| Inside the Actors Studio | 2011 | TV Series | Himself |
| Talk Stoop with Cat Greenleaf | 2010 | TV Series | Himself |
| The 64th Annual Tony Awards | 2010 | TV Special | Himself - Presenter: Lend Me a Tenor |
| Late Night with Jimmy Fallon | 2010 | TV Series | Himself |
| Today | 2010 | TV Series | Himself |
| The 67th Annual Golden Globe Awards | 2010 | TV Special | Himself - Clip Presenter |
| 15th Annual Critics' Choice Movie Awards | 2010 | TV Special | Himself |
| WWII in HD | 2009 | TV Mini-Series documentary | Jack Werner |
| Xposé | 2009 | TV Series | Himself |
| Entertainment Tonight | 2007-2009 | TV Series | Himself |
| 2009 MTV Movie Awards | 2009 | TV Special | Himself |
| Deep Inside | 2009 | TV Series | Himself |
| NT2: Set in History | 2008 | Video documentary short | Himself |
| NT2: Crafting the Presidents' Book | 2008 | Video documentary short | Himself |
| NT2: Creating the London Chase | 2008 | Video documentary short | Himself |
| NT2: Evolution of a Golden City | 2008 | Video documentary short | Himself |
| NT2: Inside the Library of Congress | 2008 | Video documentary short | Himself |
| NT2: On Location | 2008 | Video documentary short | Himself |
| NT2: Underground Action | 2008 | Video documentary short | Himself |
| The Late Late Show with Craig Ferguson | 2008 | TV Series | Himself |
| National Treasure: Exploding Charlotte | 2005 | Video short | Himself |
| National Treasure: On the Set of American History | 2005 | Video short | Himself |
| 'National Treasure' on Location | 2005 | Video documentary short | Himself |
Archive Footage
| Title | Year | Status | Character |
| --- | --- | --- | --- |
| Estrenos Críticos | 2011 | TV Series | Doug |
Awards
Nominated Awards
| Year | Award | Ceremony | Nomination | Movie |
| --- | --- | --- | --- | --- |
| 2009 | ACCA | Awards Circuit Community Awards | Best Cast Ensemble | The Hangover (2009) |
| 2003 | Stinker Award | The Stinkers Bad Movie Awards | Worst Supporting Actor | Gigli (2003) |
Source:
IMDb
,
Wikipedia