• Jordan Masterson is an American actor, famous for appearances in series like "The Walking Dead" and "CSI: Miami".
• His parents were both members of the Church of Scientology since the 1980s when they met, and his father left the Church and is now an opponent of it.
• Jordan's sister, Alanna Masterson, is also an actress and a devout Scientologist.
• Jordan's career began when he was 7, and his most successful role is Ryan Vogelson in the series "Last Man Standing".
• Jordan's net worth is estimated to be around $3 million as of 2020.

Known for movies
Short Info
| | |
| --- | --- |
| Fact | Jordan's dad Joe Reaiche played professional Rugby League in Australia for six years with the Sydney Roosters in the National Rugby League (NRL). |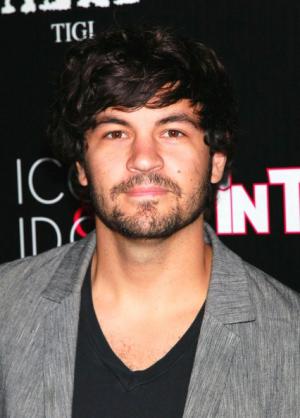 Jordan Masterson is a popular American actor, who is famous for his appearances in such series as "The Walking Dead", "CSI: Miami", "Greek" mong many others. Jordan is a member of the Church of Scientology with several members of his family, including another star of "The Walking Dead", Jordan's sister, Alanna Masterson.
Early life and family
Jordan Masterson was born on 9 April 1986, in Dunedin, Florida USA, and so holds American nationality and his zodiac sign is Aries. Jordan's parents, Carol Masterson, a talent manager, and Joe Reaiche, a Australian professional sportsman who is a former National Rugby League (NRL) player, were both attending the Church of Scientology when they met at the beginning of 1980s; Carol had three children from her previous relationship.
Jordan's parents married in 1985, and gave birth to their joint children Jordan and Alanna. The couple divorced in 1995, when Jordan was only nine years old – all the kids, including Jordan's half-brothers, Will, Danny and Christopher, stayed with their mother in New York, to where the whole family moved to develop their careers, as Carol managed all her children's endeavors.
Separating from his father
The kids took Carol's surname, according to the policy of the Scientological organization; none of Joe's children communicate with him as he left the Church of Scientology, actually becoming an avid antagonist of it.
In his interview with Vanity Fair Hollywood of 2012 Joe called the Church of Scientology 'a very deep and sordid abyss' and claimed it took the family from him, as they all stopped communicating with him due to the so-called "Policy of Disconnection", which prevents any relationship with antagonists of the Church. All his friends and kids stopped answering the phone, leaving Joe all alone. 'I can't hoodwink them. I can't kidnap them and I can't convince them because they're brainwashed', Joe shared in his interview in, when reflecting on what could be done to reunite with his children. As of 2020, Joe works in the health and insurance industry.
Jordan's sister, actress and scientologist Alanna Masterson
Jordan's younger sister, Alanna Masterson, was born on 27 June 1988. She spent a lot of time with her family, especially with her brother, Jordan, playing basketball and football together. Alanna landed her first role on TV in 1994, when she was only six years old, appearing as Colleen Carlton in long-running "The Young and the Restless" TV drama series. After several supporting roles and episodic appearances in various series, Alanna scored major roles in "First Day" (2010 – present) playing Abby, "Mistresses" (2013 – 2016) portraying Lydia, and in "Younger" as Kiara in 2018. However, Alanna's biggest work has always been her role of Tara Chambler in the popular series "The Walking Dead", in which she filmed from 2013 to 2019.
All in all, she's appeared in 87 episodes of the show, and is still assigned to Season 11, which is planned to be released late in 2020.
Alanna is a devout Scientologist. She and her boyfriend Brick Stowell gave birth to their daughter Marlowe on 13 November 2015. She is very popular on social media platforms, thus her Instagram account has over 1.3 million subscribers.
Educational background
Little is known about Jordan's educational background. According to the policy of Scientologists, 'normal education was minimized because of Scientology's belief in reincarnation—everyone was already millions of years old', Maureen Orth, the writer for Vanity Fair Hollywood, describes the common way of living of Scientology families. So Jordan for sure skipped his college, pursuing his acting career.
Career
Acting career: first steps
Jordan started filming in TV movies when he was only seven years old. He landed the role of Joseph in "Marilyn & Bobby: Her Final Affair" (1993), and then of Zeb in "Star", playing opposite Jennie Garth and Craig Bierko.
In 2000 Jordan got back to filming after a pause of several years, but still just 14, appearing as Paperboy in "That '70s Show" episode "Too Old to Trick or Treat, Too Young to Die". He then landed supporting roles in various TV series, such as "Grounded for Life" (from 2001 to 2002), "Do Over" (2002) and "Malcolm in the Middle" (2002). Jordan played Adam Connors in a couple of episodes of "George Lopez" (2002 – 2003) and then portrayed Patrick in the "Listen Up" episode "Couch Potato" in 2005.
He also played Mark in the successful comedy "The 40 Year-Old Virgin", starring Steve Carell and Catherine Keener.
Further success
Before Jordan landed his first recurring role in a TV series, he appeared in episodes of such shows as "CSI: Miami", "7th Heaven" and "How I Met Your Mother". In 2010 he landed the role of Dumptruck, appearing in 11 episodes of the show "Greek", playing opposite Spencer Grammer, Amber Stevens West and Scott Michael Foster. In 2012 he started filming the "Last Man Standing" series, starting from its third season, replacing Nick Jonas in the role of Ryan Vogelson. Jordan appeared in 98 episodes of the show, and is still assigned to its new seasons, continuing portraying the father of Boyd, his on-screen son from his high school sweetheart, Kristin Baxter, played by Amanda Fuller.
The show was once cancelled in May 2017 'due to a scheduling decision', according to senior vice president of ABC Studios and ABC Entertainment, Jori Arancio. However, the second-most-watched show on ABC was soon revived in August 2017. The series has innumerable nominations and awards, among them 2013 Environmental Media Awards in the category "Television Episodic Comedy" and 2015 ASCAP Screen Music Awards, won by the show's composer Carl Thiel.
Personal life, ex-girlfriend Dakota Johnson
Jordan has always been very secretive about his private life, yet it is known that he had a long-term relationship with Dakota Johnson, the star of the movie trilogy "Fifty Shades of Grey", the daughter of Don Johnson and Melanie Griffith.
The couple broke up in 2014, and Dakota was then seen with Matthew Hitt, the front man of the rock band "Drowners", who she dated until 2016. Since October 2017 Dakota has been dating the front man of the popular music band "Coldplay", Chris Martin. As for Jordan, he hasn't been noticed in any affairs, and even removed his Instagram account. Before his relationship with Dakota Johnson, Jordan dated the waitress and actress Angie Simms, apparently from 2006 to 2010.
Hobbies, favorite things and interesting facts
Among Jordan's favorite kinds of sports there are golf and tennis. He likes attending his friend's parties, but would prefer staying home with his family.
He often spends his spare time with his sister, Alanna, and his half-brothers. When Jordan was a teenager, he did a lot of snowboarding, basketball and baseball, yet he doesn't share if he's continued with any of these nowadays.
Appearance, clothing style
Jordan has short black hair and dark brown eyes. He is 6ft 1in (1.85m) tall and weighs around 187lbs (85kgs); his vital statistics are not available at the moment. As to his clothing style, he prefers wearing classic suits of light shadows, such as silver, grey and light-blue. He has several tattoos; one is of his mother's name, 'Carol Anne', inked on the back of his neck.
Net worth and salary
As of 2020, Jordan's net worth is estimated to be around $3 million.
General Info
| | |
| --- | --- |
| Full Name | Jordan Masterson |
| Height | 1.85 m |
| Profession | Actor |
| Nationality | American |
Social profile links
Quotes
| # | Quote |
| --- | --- |
| 1 | (On his most challenging role) Working with George Lopez. Trying to keep a straight face when he's improvising and screaming was really hard to do. |
| 2 | (on the most rewarding role as an actor) The best role is something that's challenging. Fun is great, but when it's challenging you get to overcome barriers, and when you see the finished product it's very rewarding. |
Facts
| # | Fact |
| --- | --- |
| 1 | Jordan's dad Joe Reaiche played professional Rugby League in Australia for six years with the Sydney Roosters in the National Rugby League (NRL). |
| 2 | Younger half-brother (same mother) of Danny Masterson and Christopher Masterson. Older brother to Alanna Masterson. |
Pictures
Movies
Actor
| Title | Year | Status | Character |
| --- | --- | --- | --- |
| Last Man Standing | 2012-2016 | TV Series | Ryan Vogelson |
| Urge | 2016 | | Thief |
| Bad Roomies | 2015 | | Fred |
| Inland Empire | 2012 | TV Movie | Jordy |
| The Beauty Inside | 2012 | TV Mini-Series | Alex #14 |
| Memphis Beat | 2011 | TV Series | Pete Harrison |
| Greek | 2010-2011 | TV Series | Dumptruck |
| Midnight Ride | 2009 | Short | Chet |
| How I Met Your Mother | 2009 | TV Series | Colin |
| Poolside | 2009 | Short | Jerry |
| Without a Trace | 2007 | TV Series | Jay Pastorfield |
| CSI: Miami | 2006 | TV Series | Wayne Leonard |
| 7th Heaven | 2006 | TV Series | Eli |
| Are You Game? | 2005 | TV Movie | Host |
| The 40-Year-Old Virgin | 2005 | | Mark |
| Listen Up | 2005 | TV Series | Patrick |
| Pancho's Pizza | 2005 | Short | Skater #1 |
| Las Vegas | 2004 | TV Series | Teenager |
| George Lopez | 2002-2003 | TV Series | Adam Connors |
| Malcolm in the Middle | 2002 | TV Series | Student #2 |
| Do Over | 2002 | TV Series | Chris Landy |
| Grounded for Life | 2001-2002 | TV Series | Lily's Friend / Boy #3 |
| That '70s Show | 2000 | TV Series | Paperboy |
| Star | 1993 | TV Movie | Zeb |
| Marilyn & Bobby: Her Final Affair | 1993 | TV Movie | Joseph |
Source:
IMDb
,
Wikipedia