• Jesse Rath is a Canadian actor born on 11 February 1989 in Montreal.
• His sister is Meaghan Rath, who is also an actress.
• He is known for his role as Brainiac 5 in "Supergirl" and Carter Boyd in "18 To Life".
• His estimated net worth is over $1 Million and he is of mixed heritage.
• He is a fan of comic books and often makes references to them on his Instagram account.

Known for movies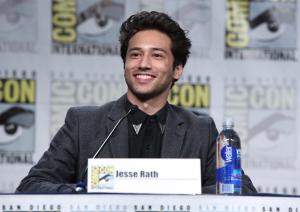 Jesse Rath is a Canadian actor born on 11 February 1989, in Montreal. He's perhaps best known for his role as Brainiac 5 in "Supergirl", and as Carter Boyd in the Canadian series "18 To Life". He's also known for being the younger brother of actress Meaghan Rath.
Early life and Family
Jesse was born on 11 February 1989 in Montreal, Canada, the second sibling of two. His father is of Austrian and British origin, while his mother was born in India and moved to Canada at a young age.
There is not much information about his early years, educational background or hobbies, but is well known that he's been a fan of comic-books from a young age.
His interest in comics is displayed on his Instagram account, where he often shares a variety of pics related to his character on "Supergirl" with long and detailed captions, frequently making references to comics.
Sister Meaghan Rath
Jesse has a sister named Meaghan, who is also an actress and is older than him by three years. She became known for her role as Sally Malik on the television series "Being Human", but Meaghan has played several roles in other films and television shows, not only in Canada but also in Hollywood.
Besides her starring role on "Being Human", she's also known for her role as Tony Rey in "Hawaii Five-0" and as May in "New Girl".
She has shared screen time with her brother Jesse in three occasions, the  first in "18 To Life" where she appeared in two episodes and played the role of Erin Boyd, older sister of Jesse Rath's character Carter Boyd. The second time was in "Being Human", where Jesse acted as Robbie Malik, the younger brother of Meaghan's character Sally, and thirdly she was cast as Female Brainiac-5 in the fifth season of "Supergirl", in which Jesse had the role of Brainiac-5.
Career
First steps – 2005 to 2009
Jesse Rath started his career in 2005, when he made his debut in the short film "Hero by Nature", followed by several minor roles in other productions that helped him gain experience.
That same year he was cast as a runner in the independent film "The Greatest Game Ever Played" starring Shia LaBeouf. In 2008 he played the role of Francis in the comedy film "Prom Wars: Love Is A Battlefield", and appeared in the American teen-comedy movie "Picture This".
In 2009 he played another minor role on "Dead Like Me: Life After Death", and as Dwight on the comedy film named "The Trotsky". His big chance came when he was cast as Federico Auditore in "Assassin's Creed: Lineage", a mini tv-series that served as a prequel to the video-game "Assassin's Creed II".
Later that year he played the role of Karl in the Canadian mystery TV-movie "Web of Lies" and Renaldo in "Cra$h & Burn".
Debut in Disney XD and Other Memorable Roles: 2010 – 2012
His next important role came when he was cast as Ram in the Disney XD science fiction tv-series "Aaron Stone", a production that marked the first TV series to be aired on it. "Aaron Stone" was renewed for two seasons, and lasted 35 episodes in total. For Jesse this role was important because it was the first American TV series in which he played an important character and appeared in several episodes.
In 2010 he played the role of Carter Boyd, one of the main lead characters in the Canadian comedy series "18 To Life".
This was the show that gained him fame in his home country and a nomination in 2010 and 2011 for a Gemini Award. The storyline is about a young couple who gets married right after graduating out of high school. While the series received good critiques, it was cancelled after the second season.
He was cast as one of the main characters in the TV-series "Mudpit", that was released in 2011 and lasted 26 episodes. Jesse's character Liam's was the main singer of the band formed by the four main characters of the series, of eponymous name.
He also played two minor characters during this period of time. In 2011 he acted as Sachin in "The Howling: Reborn", a teen horror flick that marks the eighth film the werewolf themed series "The Howling".
And in 2012 he played the role of Hottie Hotep in the comedy and fantasy tv-series "My Babysitter's a Vampire".
Also in 2012 he participated in the independent thriller "The Good Lie" as Jesse.
TV-Series: 2013 – 2018
In 2013 Jesse acted as Dicko in the TV comedy movie "His Turn", and the period that followed this role was be filled with his participation in several TV productions.
He was cast to appear in four episodes of the fantasy-horror TV-series "Being Human" as Robbie Malik, the younger brother of the protagonist Sally Malik, the character played by Jesse's own real life sister Meaghan Rath.
Thanks to all who joined @myles_dobson 's twitch stream. And thank you for donating to @ColorOfChange !!! pic.twitter.com/cDTnx2WDBC

— Jesse Rath (@jesserath) June 19, 2020
After this production, Jesse's opportunity to play a main role again came with the sci-fi series "Defiance", a production that lasted three seasons, from 2013 to 2015.
"Code Black" came in 2016, in which he played the role of James, a minor character in episode 16. The same year he appeared in four episodes of the police drama series "19-2", and in the four episodes of the mini-series "The Brief" as part of the main cast the same year, a role that gained him a nomination for a Canadian Screen Award in 2017.
His next big role was in "No Tomorrow", a romance series in which he formed part of the main cast as Timothy, through 2016 and 2017.
In 2018 he was Agent Riggs in the ninth episode of "Gone", a crime-themed series about unsolved cases of abduction.
Supergirl: 2018 – Present
Recruited by Mon-El to bring back Supergirl from a coma, Rath's character Brainiac-5 appeared for the first time on the tenth episode of the third season of the series, appearing in six episodes.
Later in the fourth season of the series, Brainiac-5 became a main character continuing to the fifth season in 2020, becoming Jesse Rath's most memorable role to date.
Relationships and Private Life
Not much is known about Jesse's private life – the only member of his family that is known is his sister Meaghan.
However, in 2015 he was rumored to be dating actress Allison Scagliotti when in 2015 he wished her a happy Valentine on twitter, but these rumors were unconfirmed.
New Girlfriend – 2017.
In 2017 Rath posted a pic on his Instagram account of Holly Deveaux, who was presumed to be his girlfriend, a rumor that was confirmed when during the next months he continued sharing pics of them together. In 2019's Valentine Day, he posted another pic on Instagram in which he's hugging Deveaux with the caption 'Happy Valentine's Day to my favorite person in the world. I love you more than comic books and wrestling combined.
Net Worth
As of early 2020, Rath's net worth is estimated at over $1 Million, still steadily increasing through his acting appearances.
Appearance
Jesse Rath has a mixed heritage, coming from his Indian mother and Austrian-British father, which is visible in his physical appearance. His height is 5ft 10ins (1,78 m), and while his weight is unknown, he has a slender build.
Interesting Facts
Jesse's zodiac sign is Aquarium.
Jesse's mother moved to Canada from India when she was 13 years old.
Jesse's father is Jewish and his mother is Catholic, a fact that his sister Meaghan revealed in an interview.
General Info
| | |
| --- | --- |
| Full Name | Jesse Rath |
| Profession | Actor |
| Nationality | Canadian |
Family
Accomplishments
| | |
| --- | --- |
| Nominations | Gemini Award for Best Ensemble Performance in a Comedy Program or Series, Canadian Comedy Award for Television / Best Performance by an Ensemble - Television, Canadian Screen Award for Best Performance by an Actor in a Program or Series Produced for Digital Media |
| Movies | The Good Lie, The Howling: Reborn, The Trotsky, Prom Wars, The Greatest Game Ever Played, Web Of Lies, Hero by Nature |
| TV Shows | No Tomorrow, Defiance, Mudpit, 18 to Life, Assassin's Creed: Lineage, The Brief |
Social profile links
Facts
Pictures
Movies
Actor
| Title | Year | Status | Character |
| --- | --- | --- | --- |
| No Tomorrow | 2016-2017 | TV Series | Timothy Timothy Finger |
| 19-2 | 2016 | TV Series | Owen |
| The Brief | 2016 | TV Mini-Series | Austin |
| Code Black | 2016 | TV Series | James |
| Defiance | 2013-2015 | TV Series | Alak Tarr |
| Being Human | 2013-2014 | TV Series | Robbie Malik |
| His Turn | 2013 | TV Movie | Dicko |
| Mudpit | 2011-2013 | TV Series | Liam Lamb |
| The Good Lie | 2012 | | Jesse |
| My Babysitter's a Vampire | 2012 | TV Series | Hottie Hotep |
| The Howling: Reborn | 2011 | Video | Sachin |
| 18 to Life | 2010-2011 | TV Series | Carter Boyd |
| Aaron Stone | 2009-2010 | TV Series | Ram |
| Cra$h & Burn | 2009 | TV Series | Renaldo |
| Web of Lies | 2009 | TV Movie | Karl |
| Assassin's Creed: Lineage | 2009 | TV Mini-Series | Federico Auditore |
| The Trotsky | 2009 | | Dwight |
| Dead Like Me: Life After Death | 2009 | Video | Boy Teenager |
| Picture This | 2008 | TV Movie | Guy on Lawn |
| Prom Wars: Love Is a Battlefield | 2008 | | Francis |
| The Greatest Game Ever Played | 2005 | | Runner |
| Hero by Nature | 2005 | Short | Jimmy McCumber |
Source:
IMDb
,
Wikipedia