• William Jacob Busey Jr. was born in Los Angeles, California in 1971.
• He is an actor, film producer, and a musician, best known for his role in the movie "The Frighteners".
• He grew up travelling around southern California with his father who was a gypsy musician.
• He has appeared in multiple movies and TV series, including "The Predator", "Ray Donovan", and "Agents of S.H.I.E.L.D".
• Jake is 48 years old, has a net worth of over $1.5 million, and is an instrument-rated pilot.

Known for movies
Short Info
| | |
| --- | --- |
| Date Of Birth | June 15, 1971 |
| Mark | His wicked smile |
| Fact | Learned to play violin for Starship Troopers (1997). |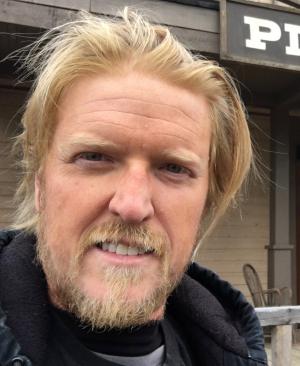 Who is Jake Busey (Stranger Things)? Wiki Bio
William Jacob Busey Jr. was born in Los Angeles, California USA, on 15 June 1971 – his zodiac sign is Gemini and he holds American nationality. He is an actor, film producer, and a musician, perhaps still best known for having portrayed Johnny Bartlett in the horror comedy movie "The Frighteners" in 1996 which starred Michael J. Fox, Trini Alvarado, and Peter Dobson, about a man who starts talking to ghosts after his wife dies in a car accident, and has to deal with a demon before it kills both ghosts and humans on Earth. The movie won three awards and was nominated for 16 others.
Childhood and education
Jake was raised an only child in Malibu, California by his mother Judy Busey who was a photographer, and his father Gary Busey who is a noted actor and musician. Jake spent most of his early life travelling around southern California, as his father was living as a gypsy and was on the road most of the time performing with bands and musicians such as Leon Russell and Little Feat, and took Jake with him. This is when Jake became interested in singing, and while attending Crossroads School in Santa Monica, California, he was a member of a band as a vocalist and drummer, and he was also interested in sports playing football and basketball. His parents divorced during his teenage years, and so Jake has a half-sister Alectra Elizabeth and a half-brother Luke who is 10 years old as of 2020.
Upon matriculation in 1989, he enrolled at Santa Barbara City College, and graduated with a Bachelor of Arts degree in theatre in 1992. After that, he moved to Los Angeles and focused entirely on his career as an actor.
Jake's roles in movies and TV series (1978-2000)
Jake made his debut film appearance in 1978 at the age of seven, when he portrayed Henry Darin in the crime drama movie "Straight Time" which starred Dustin Hoffman, Theresa Russell and Gary Busey, and is about a man who returns to crime after he is released on parole. In 1982, Jake portrayed the Cook Boy in the western movie "Barbarosa", which starred Willie Nelson and Gary Busey, about a young cowboy who becomes friends with a bandit, and goes traveling with him while running away from the law.
In 1989 Jake appeared in the thriller movie "Hider in the House", which starred his father Gary, Mimi Rogers and Michael McKean, about a man living in the attic of a family who are unaware of his presence; the movie was nominated for a Saturn Award for Best Genre Video Release. The year 1992 saw him star in the two-part crime drama film "Cruel Doubt", which is about three college students who are being tried for a murder and assault. The film was a success, winning two awards and being nominated for three others including two Primetime Emmys. The following year saw Jake appear in the drama "Shimmer", which starred Marcus Klemp and Elijah James Shepard, the story of two boys who become friends while staying at the Midwestern Juvenile Detention Center.
In 1994, Jake had an opportunity to star alongside the famous Hollywood actor Leonardo DiCaprio in the short film "The Foot Shooting Party", about a musician who decides to shoot his own foot to avoid being sent to fight in Vietnam. He appeared in several other movies in the same year, such as the black comedy movie "S.F.W.", the comedy "The Stoned Age", and the satirical comedy drama "I'll Do Anything". The following year saw him play the supporting character Curt in the German drama movie "Quiet Days in Hollywood", followed by his portrayal of Dave Promisco in the family fantasy film "Windrunner", but which went unnoticed.
In the following years, Jake appeared in many movies, such as the disaster film "Twister" in 1996, produced by Steven Spielberg, the satirical military science fiction film "Starship Troopers" in 1997, and the critically acclaimed action thriller film "Enemy of the State" in 1998, which starred Will Smith and Gene Hackman and is about a lawyer who is framed by a corrupt politician who ends up trying to kill him; the movie won five awards and was nominated for 16 others.
Several roles followed such as those in the drama movie "Home Fries" in 1998, his debut series appearance in the comedy "Shasta McNasty", and the crime buddy comedy film "Held Up" in 1999.
Appearances in movies and TV series (2001 – Present)
The year 2001 saw Jake portray one of the lead characters – Kyle Brenner – in the comedy movie "Tomcats", which also starred Jerry O'Connell and Shannon Elizabeth, and he also played Jake Davenport in the American-Canadian post-apocalyptic action drama series "Jeremiah", about life on Earth after all adults died due to a deadly virus.
In 2002, Jake was invited to portray Darell in the comedy drama movie "The First $20 Million Is Always the Hardest", which starred Adam Garcia and which is closely based on the eponymous novel written by Po Bronson.
In the same year, he appeared in the episode "Chosen" of the series "The Twilight Zone", and then played the supporting character Robert Maine in the psychological slasher film "Identity", and Jack in the horror thriller movie "The Hitcher II: I've Been Waiting" in 2003. Some of the roles which followed were as Officer Treen in the Christmas comedy film "Christmas with the Kranks", and as Warlock in the episode "WitchStock" of the fantasy drama series "Charmed" in 2004.
He worked as an assistant producer for the first time on the action drama movie "The Rain Makers" in 2005, which starred himself, Ray Wise and David Andrews but which received rather poor reviews as it has 3.8/10 rating on the movie and TV series rating website IMDb.
He then appeared in the action movie "Road House 2", and the black comedy film "Wristcutters: A Love Story" in 2006, while the year 2008 saw him star in the thriller movie "Time Bomb", but which was a box office failure. He produced another poorly received movie "Cross" in 2011, which starred Brian Austin Green and Michael Clarke Duncan, about a man with superhuman abilities battling evil in Los Angeles.
In 2012, Jake played supporting characters in the independent film "Don't Pass Me By", the science fiction movie "Nazis at the Center of the Earth", and the family comedy film "Beverly Hills Chihuahua 3: Viva la Fiesta!". He made a cameo appearance as an FBI Agent in the episode "Santabarbaratown 2" of the detective comedy drama series "Psych" in 2013, before being cast in his first lead role in a series, portraying Professor Aiden 'Sex Machine' Tanner in the horror series "From Dusk Till Dawn: The Series" from 2014 to 2016.
He then appeared in the drama movie "Last Man Cub", and the psychological thriller film "Deserted" both in 2016, before playing the supporting character Carl in the critically acclaimed post-apocalyptic drama series "Day 5" in 2017. In the same year, Jake appeared in three episodes of the crime drama series "Ray Donovan", and five episodes of the horror web series "Freakish".
He was cast to portray Sean Keyes in the science fiction action movie "The Predator" in 2018, as well as Tony Caine in the series "Agents of S.H.I.E.L.D.", and Whit Dexter in a single episode of the action police procedural series "NCIS".
Some of his latest roles have been in the third season of the web science fiction horror drama series "Stranger Things", the crime drama series "L.A.'s Finest", and the drama thriller series "Mr. Robot" all shot in 2019.
Love life and relationships
Jake met April Hutchison on the set of a movie he was cast to appear in, and on which April was working in the make-up department. While doing his make-up, Jake asked her out on a date and two have been together to this day counting over 10 years of their relationship. In 2012, April gave birth to their daughter Autumn Rosalia Busey, but they've been keeping her out of the spotlight. Jake and April have agreed not to marry, and are currently living together with their daughter at their home in Los Angeles, California.
Bagel Sunday with my #1 princess. We love us some #westernBagel! pic.twitter.com/3Thg9LcuAg

— Jake Busey (@TheJakeBusey) September 23, 2018
April has worked as a make-up artist for over 30 movies and TV series,  some of the most popular among these include the biographical adventure drama movie "Into the Wild" in 2007, the documentary "Cathouse: The Musical" in 2008, and the short documentary film "Space Junk 3D" in 2012. In 2018, she was nominated for an Artisan Award for Best Makeup – Commercials and Music Videos for the short comedy music video "Katy Perry Feat. Nicki Minaj: Swish Swish".
Hobbies and other interests
While shooting for the film "Starship Troopers" in 1997, Jake learntto play the violin as required of him for the role, and he today knows how to play several music pieces; he had many problems during the shooting for the film which was in the desert, and he suffered a heatstroke as well as around 25 other people every day.
Jake became interested in piloting at a very early age, as his father pilots both planes and helicopters, and Jake received his instrument-rated piloting license in 1998, as he wanted to fly the helicopter in the film "Home Fries" himself, rather than to hire a stuntman. He is also interested in building custom motorcycles, which he usually sells although leaving the best for himself, and he is keen on off-road racing.
Some of his personal favorite actors are Jim Carrey, Robin Williams and Tom Hanks, while some of his favorite movies are "Inception", "The Number 23", and "Dead Poets Society".
Appearance and net worth
Jake is 48 years old. He has short blonde hair and blue eyes, is 6ft 3ins (1.91m) tall, and weighs around 187lbs (85kgs). As of May 2020, his net worth is estimated at over $1.5 million.
General Info
| | |
| --- | --- |
| Full Name | Jake Busey |
| Date Of Birth | June 15, 1971 |
| Height | 1.91 m |
| Profession | Musician, Film producer, Voice Actor |
| Nationality | American |
Family
| | |
| --- | --- |
| Children | Autumn Rosalia Busey |
| Parents | Judy Helkenberg, Gary Busey |
| Siblings | Luke Sampson Busey, Alectra Busey |
| Partner | April Hutchonson, April Hutchonson |
Accomplishments
| | |
| --- | --- |
| Movies | Starship Troopers, The Frighteners, Tomcats, Nazis at the Center of the Earth, Most Likely to Die, Identity, Contact, The Hitcher II: I've Been Waiting, Enemy of the State, Christmas with the Kranks, Road House 2: Last Call, Wicked Blood, Reaper, Home Fries, Twister, Texas Rising, Fast Sofa, Sparks,... |
| TV Shows | Good Vibes, Shasta McNasty, From Dusk till Dawn: The Series |
Social profile links
Marks
| # | Marks / Signs |
| --- | --- |
| 1 | His wicked smile |
Facts
| # | Fact |
| --- | --- |
| 1 | He is of English (primarily), Scottish, Irish, German, and French ancestry. |
| 2 | Has a daughter, Autumn Rosalia Busey, with his partner April Hutchinson. |
| 3 | Builds custom motorbikes, is a proud father, and enjoys off road racing. |
| 4 | Former stepson of Tiani Warden. |
| 5 | He has a sister, Alectra Elizabeth, who is a student and a brother, Luke, born Feb 23rd 2010. |
| 6 | Learned to play violin for Starship Troopers (1997). |
| 7 | During the filming of Starship Troopers (1997), Jake suffered heatstroke after working all day in 120* desert sun. This stopped production for a week. When he recovered, several large holes were cut into his uniform so he could cool off. Many other cast member's suits had this modification as well in order to prevent further cases. On average there were 25 people per day being treated for heatstroke during the filming of Starship Troopers. |
| 8 | Jake has played drums since early childhood. |
| 9 | Jake is an instrument rated private pilot. He earned his license in September of 1997 after having met the pilots of the helicopter he flew on screen in Home Fries (1998). |
| 10 | Son of Gary Busey and Judy Busey. Gary credits Jake with helping him conquer a serious cocaine habit, and with helping him recover from a near-fatal motorcycle accident. Both men have appeared in adaptations of John Grisham novels: Gary was in The Firm (1993); Jake appears in Christmas with the Kranks (2004). |
| 11 | Appeared in two MTV promos in the early 1990s. |
Pictures
Movies
Actor
| Title | Year | Status | Character |
| --- | --- | --- | --- |
| The Predator | 2018 | post-production | |
| Guitars and Guns | 2017 | post-production | Snake |
| Dead Again in Tombstone | 2017 | Video completed | Colonel Jackson Boomer |
| A Boy Called Sailboat | | post-production | Bing |
| Dead Ant | | announced | Merrick |
| From Dusk Till Dawn: The Series | 2014-2016 | TV Series | Professor Aiden Tanner Aiden Tanner |
| Swing State | 2016 | | Woody Woodrow |
| Expendable Assets | 2016 | | Tony |
| No Touching | 2016 | Short | Carp |
| Arbor Demon | 2016 | | Sean |
| Deserted | 2016/I | | Clay |
| Last Man Club | 2016 | | Diamond Jim |
| A Christmas Reunion | 2015 | TV Movie | Dylan Carruthers |
| Tomato | 2015 | Short | Man |
| Most Likely to Die | 2015 | | Tarkin |
| Growing Up Smith | 2015 | | Officer Dick |
| Texas Rising | 2015 | TV Mini-Series | Samuel Wallace |
| Fractured | 2015/II | | Detective James Harding |
| Justified | 2015 | TV Series | Lewis Mago |
| Alongside Night | 2014 | | President of the United States |
| Reaper | 2014/I | | Bill |
| Perception | 2014 | TV Series | Jeff |
| Wicked Blood | 2014 | Video | Bobby Stinson |
| Girl Meets Boy | 2013 | | Richard |
| Paranormal Movie | 2013 | | Stepdad |
| Sparks | 2013/I | | Sledge |
| Psych | 2013 | TV Series | FBI Agent |
| The Devil's Dozen | 2013 | | |
| Don't Pass Me By | 2013 | | Fred Norwick |
| Beverly Hills Chihuahua 3: Viva La Fiesta! | 2012 | Video | Oscar (voice) |
| Franklin & Bash | 2012 | TV Series | Dr. Doug |
| Spec Ops: The Line | 2012 | Video Game | The Radioman / Multiplayer Announcer (voice) |
| Abraham Lincoln: Vampire Hunter Sequels | 2012 | Short | FDR Teddy Roosevelt |
| Nazis at the Center of the Earth | 2012 | Video | Dr. Adrian Riestad |
| Crazy Eyes | 2012 | | Dan Drake |
| The Finder | 2012 | TV Series | Bobby the Twin |
| Good Vibes | 2011 | TV Series | Turk |
| The Closer | 2011 | TV Series | Eric Shaw |
| CSI: NY | 2011 | TV Series | Randy Davis |
| TORC: The Off-Road Championship | 2011 | TV Series | Narrator |
| Cross | 2011 | Video | Backfire |
| The Good Guys | 2010 | TV Series | Brody |
| Sons of Tucson | 2010 | TV Series | Tony |
| The Killing Jar | 2010 | | Greene |
| The Mentalist | 2009 | TV Series | Vern Nichols |
| Play Dead | 2009 | Video | Merle Jones |
| Time Bomb | 2008 | | Jason Philby |
| Comanche Moon | 2008 | TV Mini-Series | Tudwal |
| Playing Chicken | 2007 | TV Movie | Karl |
| CSI: Miami | 2007 | TV Series | Phillip Craven |
| Broken | 2006/I | | Vince |
| Death Row | 2006 | TV Movie | Marco |
| Road House 2: Last Call | 2006 | Video | Wild Bill |
| Wristcutters: A Love Story | 2006 | | Brian (uncredited) |
| Code Breakers | 2005 | TV Movie | Straub |
| Sex, Love & Secrets | 2005 | TV Series | Ray Foley |
| War of the Worlds | 2005 | Video | Lt. Samuelson (as William Busey) |
| The Rain Makers | 2005 | | Shaw |
| The Tao of Pong | 2004 | Short | Maurice |
| Christmas with the Kranks | 2004 | | Officer Treen |
| Charmed | 2004 | TV Series | Nigel |
| Karen Sisco | 2003 | TV Series | Peter Dillard |
| The Hitcher II: I've Been Waiting | 2003 | Video | Jack |
| Identity | 2003 | | Robert Maine |
| Lost Junction | 2003 | | Matt |
| Fastlane | 2003 | TV Series | Johnny 'O' Oregano |
| The Twilight Zone | 2002 | TV Series | Vince Hansen |
| The First $20 Million Is Always the Hardest | 2002 | | Darrell Claxton |
| Jeremiah | 2002 | TV Series | Jake Davenport |
| Fast Sofa | 2001 | | Rick Jeffers |
| Tomcats | 2001 | | Kyle Brenner |
| Shasta McNasty | 1999-2000 | TV Series | Dennis |
| Tail Lights Fade | 1999 | | Bruce |
| Held Up | 1999 | | Beaumont |
| Enemy of the State | 1998 | | Krug |
| Black Cat Run | 1998 | TV Movie | Deputy Norm Babbitt |
| Home Fries | 1998 | | Angus Montier |
| Starship Troopers | 1997 | | Ace Levy |
| Quiet Days in Hollywood | 1997 | | Curt |
| Contact | 1997 | | Joseph |
| The Frighteners | 1996 | | Johnny Bartlett |
| Twister | 1996 | | Mobile Lab Technician |
| The Foot Shooting Party | 1994 | Short | Tree |
| Tales from the Crypt | 1994 | TV Series | Frank |
| The Stöned Age | 1994 | | Jimmy Muldoon |
| S.F.W. | 1994 | | Morrow Streeter |
| Motorcycle Gang | 1994 | TV Movie | Jake |
| Windrunner | 1994 | | Dave Promisco |
| PCU | 1994 | | Mersh |
| I'll Do Anything | 1994 | | Burke's Fired Driver |
| Shimmer | 1993 | | Richard Halverson |
| Cruel Doubt | 1992 | TV Mini-Series | Student |
| Hider in the House | 1989 | | Teenage Tom (voice) |
| Barbarosa | 1982 | | Cook Boy |
| Straight Time | 1978 | | Henry Darin (as Jacob Busey) |
Producer
| Title | Year | Status | Character |
| --- | --- | --- | --- |
| Guitars and Guns | 2017 | producer post-production | |
| Cross | 2011 | Video producer | |
| The Rain Makers | 2005 | associate producer | |
Music Department
| Title | Year | Status | Character |
| --- | --- | --- | --- |
| TORC: The Off-Road Championship | 2011 | TV Series performer - 1 episode | |
Thanks
| Title | Year | Status | Character |
| --- | --- | --- | --- |
| Tail Lights Fade | 1999 | the director wishes to thank: for the Toronto debacle - as Jake | |
Self
| Title | Year | Status | Character |
| --- | --- | --- | --- |
| Classic Hollywood Cinemas | 2016 | Documentary | Himself |
| Purity | 2016 | Short | Himself - Host |
| Noches con Platanito | 2015 | TV Series | Himself - Guest |
| On Set from Dusk Till Dawn | 2014 | TV Series documentary | Professor Aiden Tanner (2014) |
| Teens Wanna Know | 2014 | TV Series | Himself - Guest |
| A Beary Scary Movie | 2012 | | Himself |
| H.G. Wells' War of the Worlds: Behind the Scenes | 2005 | Video | Himself |
| Overnight | 2003 | Documentary | Himself |
| The Late Late Show with Craig Kilborn | 2003 | TV Series | Himself - Guest |
| Death from Above: The Making of 'Starship Troopers' | 2002 | Video documentary short | Himself |
| MADtv | 2000 | TV Series | Himself |
| The Making of 'The Frighteners' | 1998 | Video documentary | Himself |
| Wild On... | 1997 | TV Series | Himself - Guest Host |
Archive Footage
| Title | Year | Status | Character |
| --- | --- | --- | --- |
| The Making of 'Enemy of the State' | 2006 | Video documentary short | Himself |
Awards
Nominated Awards
| Year | Award | Ceremony | Nomination | Movie |
| --- | --- | --- | --- | --- |
| 2001 | Stinker Award | The Stinkers Bad Movie Awards | Worst Supporting Actor | Tomcats (2001) |
Source:
IMDb
,
Wikipedia