• He is well known for his roles in "Will & Grace" and "American Horror Story".
• He was raised in a religious Southern Baptist family and his mother was a widow when Leslie's father died in a plane crash.
• He realized his talent for comedy when his friends laughed while reading his journal.
• He won an Emmy Award as Best Guest Actor in 2006 for his role in "Will & Grace".
• He is openly gay and has been sober for two decades after recovering from an alcohol and drug addiction.

Known for movies
Short Info
| | |
| --- | --- |
| Net Worth | $1.5 million |
| Date Of Birth | April 29, 1955 |
| Fact | Jailed for drunk driving, he once shared a cell with Robert Downey Jr.. |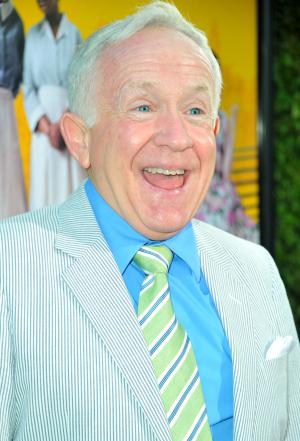 Leslie Jordan is an American writer and actor, born on 29 April 1955, in Chattanooga, Tennessee USA. He's probably best known for his characters in "Will & Grace" and "American Horror Story".
Early Life
Leslie Allen Jordan was born into a very religious Southern Baptist family. His mother Peggy Anne was left a widow when Leslie's father Allen – an Army lieutenant colonel – died in a plane crash when his son was 11 years old. Leslie's sisters are twins, but their names haven't been revealed.
Leslie jokes that he was baptized 14 times, and was known as the funny kid in his childhood. In an interview with The New York Times, he remembered the story of the time he participated in a summer camp and his parents were slightly disappointed their son had not received a prize at the end.
That was until the last winner was announced: 'They came out with the trophy and said, 'This is for the best all-around camper. We have this kid who wasn't actually the best at anything, but boy, he sure did make us laugh.' And I won best all-around camper.' Leslie declared he had 'no filters' as a child, which was the reason he started writing on his journal following his mother advise of thinking before speaking: 'When I was about 17, I started journaling obsessively. I don't know what that was about, but to this day I write every day.'
Even though Leslie's stories were sad and even tragic, his friends would laugh while reading them. That made him realize he had a talent with comedy.
There's no information about Leslie's early education, though it's known he was an avid horseback rider and in the 1970s moved to Atlanta to become a jockey.
However, when he was around 27 years old, he realized that the profession was leading nowhere, and decided to pursue a career in journalism. His time in college was a good experience, and he was advised to take his writing to Theater: 'I've always been funny, mainly to keep the bullies at bay, but it just hit me like a drug. I was funny. I got that degree and got on a bus, honey.'
After his graduation in 1982, Leslie boarded a bus to Los Angeles with $1,200 sewed by his mother into his underpants, and many dreams on his mind.
Career
Commercial
In Los Angeles, Leslie started taking acting classes, and contracted an agent. His success was fast and in less than a year he had several offers to appear in national TV commercials: 'I was like Flo. People would recognize me. I was the PIP Printing guy.
I was the elevator operator to Hamburger Hell for Taco Bell, where you went if you didn't eat tacos.'
TV Debut
Leslie acted solely in commercial spots for years until 1986, when he obtained his first role in the TV series "The Fall Guy" as Malone. He appeared sporadically in other productions such as "The Wizard", and in the movie "Frankenstein Hospital General".
However, it wasn't until 1989 when he was cast in the popular TV series "Murphy Brown", that he started receiving offers from high profile directors: 'After that aired, my agent called me. He said, 'I've never had this happen. I've been in this business for 30 years.' He goes, 'Burt Reynolds wants to see you, can you do a sitcom with his wife, Loni Anderson? Mr. Spielberg's people want to meet you for this project. Peewee Herman wants to put you on his kids show.''
So he obtained his first recurrent role on TV, as Truman Fipps in "The People Next Door", which was followed in 1991 by another regular character in "Top of the Heap".
Some of the most important roles he was cast in during the following years include Lemar Samuels in "Bodies of Evidence", Lonnie Garr in "Hearts Afire" and Dr. Benjamin Harris in the 2000 series "Boston Public".
Will & Grace
In 2001, Leslie was cast in the long running series "Will & Grace", a comedy show centered on lawyer Will Truman and his best friend and interior designer Grace Adler, who ended up living together after she breaks-off her engagement. Leslie's role as Beverley Leslie became one of the most memorable of his career, leading him to win an Emmy Award as Best Guest Actor in 2006.
Regarding this award, Leslie confessed to Philly Mag that he was extremely nervous on his way to the ceremony: 'I had to s**t three times in the limousine on the way over. They'd have to pull the car over at the Chevron station. It's just too much pressure.'
The series ended in 2006 after a run of eight  years; however, in 2017 it was renewed with a new cast. Leslie is still in contact with several of his former fellow cast members, such as Megan Mullally and current Grace Adler actress Debra Messing.
Recent Works
After the end of "Will & Grace" Leslie appeared in other series, including "Sordid Lives: The Series", "Con Man" and "The Cool Kids".
Leslie has also played several characters in "American Horror Story", and has recently returned to "Will & Grace", playing the same character as in the first version.
Personal Life
Is Leslie Jordan gay?
Leslie Jordan is indeed gay, a fact he has publicly shared since the start of his career.
Leslie realized his sexual orientation at 14 years of age. He admits his mother always knew about it, and his father had a slight suspicion of it: 'I've asked my mom, and she said my dad was worried. He asked her when I was about 6, 'Why does Leslie only play with girls? Shouldn't he have male friends?' Mother jumped to my defense immediately and said, 'Well, there's not that many boys in the neighborhood, Allen.' So, they sent me to the Baylor Camp for Boys that summer.'
He admits the process of outing his homosexuality would have been different if his father had been alive during his teens, as he would have tried to hide it more.
However, by the time he confessed his secret to friends and other people, they didn't take it as a surprise since apparently it was obvious to them.
Religious Views
As a gay kid in a religious family, Leslie Jordan faced many homophobic situations and comments from fellow church attendants. These unfortunate experiences gave him a new perspective on religious themes: 'I honor the sanctity of all religions — I'm not here to put them down. But the only religion that I personally embrace is the religion of kindness. There are many paths to God. What really bothers me — and what I think is the height of arrogance and stupidity — is when one group believes their way is the only way. That really gets my dander up.'
Although his mother and sisters have always been supportive of his sexual orientation, he felt for a long time that his father wouldn't have been happy about it. However, in recent years his mother told him a sweet story of his father buying him a bride doll when he was three years old. This warmed Leslie's heart, as he then felt that his father would have ultimately supported him.
Addiction Problems
Leslie Jordan developed an alcohol and drug addiction by the time he moved to Los Angeles. Fortunately he recovered after time spent in rehabilitation. To date, Leslie assures that he's been sober for at least two decades.
Net Worth
As a result of his long career as an actor, Leslie Jordan's estimated net worth is $1.5 million, as of mid-2020.
Ads for psych meds?? pic.twitter.com/VeQMsUqwvJ

— Leslie Jordan (@thelesliejordan) July 29, 2019
Physical Appearance
Leslie Jordan is a man of white ethnicity. His weight is unknown, but he's 4ft 11ins (1.50m) tall; his short height is certainly his most distinctive physical characteristic.
Interesting Facts
In his book "My Trip Down the Pink Carpet" published in 2008, Leslie tells the story of his arrival in Los Angeles in the 1980s. He wrote: 'I stepped off a Greyhound bus at the corner of Vine Street'. However, in an interview with Today, he clarified the bus was actually a Trailways.
His mother gave birth to him when she was 19 years old.
He collaborates with Los Angeles' AIDS Project.
Christopher Isherwood and Tennesse Williams were his childhood heroes.
General Info
| | |
| --- | --- |
| Full Name | Leslie Jordan |
| Net Worth | $1.5 million |
| Date Of Birth | April 29, 1955 |
| Height | 1.5 m |
| Profession | Voice Actor, Playwright |
| Nationality | American |
Family
Social profile links
Quotes
| # | Quote |
| --- | --- |
| 1 | The problem with all us boys is that we equate God with religion. I still struggle; I do lash out at what I perceive as God, but it's really the bastardization of God by these people who hide behind their church, their book. |
| 2 | Someone said there are two classes of gay people in the United States: the fabulous and the fearful. There's nothing really in between. The fabulous, we're on both coasts, but we forget about that huge country out there. |
Facts
| # | Fact |
| --- | --- |
| 1 | He wrote, directed, and starred in the hit comedy "Hysterical Blindness," which poked playful fun at his growing up in the South. The play first ran off-Broadway for many years during the early 1990s and won critical acclaim. This production brought him to the attention of television producers, and led to a rash of TV sitcoms in which he continued to play the confused, humorous Southern boy. It is now being revived and updated in New York. |
| 2 | Acted in a series of on-tape ads for Blockbuster Video, in which a dog would retrieve videotapes from the shelves by title. |
| 3 | Jailed for drunk driving, he once shared a cell with Robert Downey Jr.. |
| 4 | Claims his childhood heroes were Christopher Isherwood, Truman Capote, Tennessee Williams and gay hustler boys. |
Pictures
Movies
Actor
| Title | Year | Status | Character |
| --- | --- | --- | --- |
| DogGone It! | 2016 | TV Movie completed | Leslie |
| Until We Meet Again | 2016 | completed | Angel |
| A Very Sordid Wedding | | post-production | Earl 'Brother Boy' Ingram |
| Con Man | 2015-2016 | TV Series | Leslie Jordan |
| American Horror Story | 2013-2016 | TV Series | Quentin Fleming Cricket Marlowe Ashley Gilbert |
| K.C. Undercover | 2016 | TV Series | Cecil B. Deville |
| Fear, Inc. | 2016 | | Judson |
| Benidorm | 2015 | TV Series | Buck A Roo |
| Lucky Dog | 2014 | | Mr. Kaufman |
| Partners | 2014 | TV Series | Marion Phillips |
| Right Side/Blind Side | 2014 | Short | Speaker |
| Baby Daddy | 2013 | TV Series | Edwin |
| Southern Baptist Sissies | 2013 | | Peanut |
| Supernatural | 2013 | TV Series | Yorkie |
| WHOA! Comedy Short | 2013 | Short | Theodore Willinghouse, III |
| The Exes | 2013 | TV Series | Percy |
| Raising Hope | 2012-2013 | TV Series | Reverend Bob |
| Whoa! | 2013 | | Theodore Willinghouse III |
| DTLA | 2012 | TV Series | Harold |
| The Neighbors | 2012 | TV Series | Carla |
| The Secret Life of the American Teenager | 2012 | TV Series | |
| The Game | 2012 | TV Series | |
| Yahoo! News/Funny or Die GOP Presidential Online Internet Cyber Debate | 2012 | Short | Ron Paul |
| Desperate Housewives | 2011 | TV Series | Felix Bergman |
| Shake It Up! | 2011 | TV Series | Theodore Van Glorious |
| The Help | 2011 | | Mr. Blackly |
| Mangus! | 2011 | | Bruce Jackson |
| Leslie Jordan: My Trip Down the Pink Carpet | 2010 | Video | |
| Love Ranch | 2010 | | Martin Hainsworth |
| Demonic Toys: Personal Demons | 2010 | Video | Butterfield |
| Alligator Point | 2009 | TV Movie | |
| Glenn Martin DDS | 2009 | TV Series | |
| Eating Out: All You Can Eat | 2009 | | Harry |
| Privileged | 2008 | TV Series | Dale Dart |
| Sordid Lives: The Series | 2008 | TV Series | Earl 'Brother Boy' Ingram |
| SAG Foundation Conversations | 2008 | TV Series | |
| 12 Miles of Bad Road | 2008 | TV Series | Kenny Kingman |
| Hidden Palms | 2007 | TV Series | Jesse Jo |
| Ugly Betty | 2007 | TV Series | Quincy Combs |
| Undead or Alive: A Zombedy | 2007 | | Padre |
| Watch & Learn | 2007 | Short | Martin |
| American Dad! | 2005-2006 | TV Series | Mr. Beauregard |
| Will & Grace | 2001-2006 | TV Series | Beverley Leslie |
| Chasing Christmas | 2005 | TV Movie | Past |
| Boston Legal | 2005 | TV Series | Bernard Ferrion |
| Sissy Frenchfry | 2005 | Short | Principal Principle |
| George Lopez | 2004 | TV Series | Doctor |
| Madhouse | 2004 | | Dr. Morton |
| Home on the Range | 2004 | | Additional Voice (voice) |
| Reba | 2003-2004 | TV Series | Terry / Jeweller |
| Monk | 2004 | TV Series | Town Offical |
| Tracey Ullman in the Trailer Tales | 2003 | TV Movie | Rog Monroe |
| Moving Alan | 2003 | | Arthur |
| Judging Amy | 2003 | TV Series | Reginald Hoyt |
| Farm Sluts | 2003 | Short | Coroner |
| Son of the Beach | 2000-2002 | TV Series | Jordan |
| Boston Public | 2001-2002 | TV Series | Dr. Benjamin Harris |
| The Gristle | 2001 | | Jake Bennett |
| Ally McBeal | 2001 | TV Series | Dr. Benjamin Harris |
| Nash Bridges | 2000 | TV Series | Walter Marley |
| FreakyLinks | 2000 | TV Series | Hotel Clerk |
| Sabrina, the Teenage Witch | 2000 | TV Series | Chuck |
| Any Day Now | 2000 | TV Series | Big Top Police Officer |
| The Strip | 2000 | TV Series | Gaston |
| Lost in the Pershing Point Hotel | 2000 | | Storyteller |
| I'll Wave Back | 2000 | | Tot Dixon |
| Sordid Lives | 2000 | | Earl 'Brother Boy' Ingram |
| Martial Law | 1999 | TV Series | Horatio Hawkins |
| Buddy Faro | 1998 | TV Series | Frankie Delgado |
| Maximum Bob | 1998 | TV Series | Cletus Huntley |
| Caroline in the City | 1998 | TV Series | Dr. Leslie |
| Goodbye Lover | 1998 | | Homer |
| Pacific Blue | 1998 | TV Series | Bo Nyby |
| Dharma & Greg | 1998 | TV Series | Kenny |
| Ellen | 1998 | TV Series | Top Studio Executive |
| Hamburger Helper | 1998 | Short | Larry Lewis |
| Eat Your Heart Out | 1997 | | Director |
| Two Weeks from Sunday | 1997 | Short | |
| Arli$$ | 1997 | TV Series | Skip Lloyd |
| The Pretender | 1997 | TV Series | Pat |
| Wings | 1997 | TV Series | Teddy Kolb |
| Weird Science | 1997 | TV Series | Boyd Butayne |
| Shoot the Moon | 1996 | | |
| Mr. & Mrs. Smith | 1996 | TV Series | Earl Borden |
| Star Trek: Voyager | 1996 | TV Series | Kol |
| Coach | 1996 | TV Series | Blatt |
| Courthouse | 1995 | TV Series | Mr. Barnes |
| Charlie Grace | 1995 | TV Series | Darnell Sims |
| Black Velvet Pantsuit | 1995 | | Ernie |
| Hearts Afire | 1993-1995 | TV Series | Lonnie Garr |
| Lois & Clark: The New Adventures of Superman | 1993-1994 | TV Series | William Wallace Webster Waldecker / Resplendant Man / Alan Morris / ... |
| Nurses | 1993 | TV Series | Mr. Cooley Waits |
| Jason Goes to Hell: The Final Friday | 1993 | | Shelby |
| Bodies of Evidence | 1992-1993 | TV Series | Lemar Samuels |
| Getting By | 1993 | TV Series | Mr. Bergner |
| Reasonable Doubts | 1992-1993 | TV Series | Asst. Public Defender Clifford Sizemore / Marvin Sizemore |
| Hero | 1992/I | | Court Official |
| Perfect Strangers | 1992 | TV Series | Rob Bob Phillips |
| Top of the Heap | 1991 | TV Series | Emmet Lefebvre |
| Babes | 1991 | TV Series | Clem |
| Missing Pieces | 1991 | | Krause |
| American Dreamer | 1990 | TV Series | Short |
| Pee-wee's Playhouse | 1990 | TV Series | Busby |
| Sugar and Spice | 1990 | TV Series | Monsieur Jacques |
| Ski Patrol | 1990 | | Murray |
| Midnight Caller | 1989 | TV Series | Little Bob Johnson |
| The Road Raiders | 1989 | TV Movie | Whip (uncredited) |
| Newhart | 1989 | TV Series | L. Gardner |
| Murphy Brown | 1989 | TV Series | Kyle |
| The People Next Door | 1989 | TV Series | Truman Fipps |
| Night Court | 1988 | TV Series | Irwin |
| Moving | 1988 | | Customer at Bar |
| Frankenstein General Hospital | 1988 | | Iggy |
| CBS Summer Playhouse | 1987 | TV Series | Worm |
| The Wizard | 1986 | TV Series | Jimmy |
| The Fall Guy | 1986 | TV Series | Malone |
Writer
| Title | Year | Status | Character |
| --- | --- | --- | --- |
| Leslie Jordan: My Trip Down the Pink Carpet | 2010 | Video | |
| Rockabilly Baby | 2009 | play script | |
| Lost in the Pershing Point Hotel | 2000 | play / written by | |
Soundtrack
| Title | Year | Status | Character |
| --- | --- | --- | --- |
| Raising Hope | 2013 | TV Series performer - 1 episode | |
| Lois & Clark: The New Adventures of Superman | 1994 | TV Series performer - 1 episode | |
Self
| Title | Year | Status | Character |
| --- | --- | --- | --- |
| QTN Holiday Reel | 2005 | TV Movie | Himself |
| CMT: 20 Merriest Christmas Videos | 2005 | TV Special | Himself |
| Here to Remember | 2004 | TV Movie | Himself - Host |
| DogGone It! | 2016 | TV Series | Himself |
| Big Brother's Bit on the Side | 2014-2015 | TV Series | Himself |
| The Story Behind: Will & Grace | 2015 | TV Movie documentary | Himself |
| I Wanna Get Naked | 2014 | Short | Himself |
| TMZ on TV | 2014 | TV Series | Himself |
| Celebrity Big Brother | 2014 | TV Series | Himself |
| Big Brother's Bit on the Psych | 2014 | TV Series | Himself |
| The Wright Stuff | 2014 | TV Series | Himself - Guest Panelist |
| On the Set W Jasper Cole | 2013 | TV Series | Himself - Guest |
| RuPaul's Drag Race | 2013 | TV Series | Himself - Guest Judge |
| RuPaul's Drag Race: Untucked! | 2013 | TV Series | Himself - Guest Judge |
| Hollywood Uncensored with Sam Rubin | 2012 | TV Series | Himself - Panelist |
| Reagan Round | 2012 | Short | Himself |
| The Bachmanns - You've Got Male | 2012 | Short | Himself |
| Hollywood to Dollywood | 2011 | Documentary | Himself |
| Under the Pink Carpet | 2008-2011 | TV Series | Herself / Himself |
| Late Review | 2011 | TV Series | Himself - Cultural Highlights interviewee |
| A Bundle of Sticks | 2010 | Documentary | Himself |
| Paul O'Grady Live | 2010 | TV Series | Himself - Guest |
| Name-Dropping with Jason Stuart | 2010 | Video short | Himself |
| The 76th Annual Drama League Awards | 2010 | TV Special | Himself |
| The Wendy Williams Show | 2010 | TV Series | Himself - Guest |
| The View | 2010 | TV Series | Himself - Guest |
| Cleaning Up the Plate: The Making of 'Eating Out 3' | 2009 | Video documentary short | Himself |
| Annul Victory | 2009 | Documentary | Himself |
| CMT: The Greatest - 20 Sexiest Videos of 2006 | 2006 | TV Special | Host |
| The 58th Annual Primetime Emmy Awards | 2006 | TV Special | Himself - Co-Presenter: Outstanding Directing for a Comedy Series & Outstanding Writing for a Comedy Series |
| Will & Grace: The Final Bow (Curtain Call) | 2006 | Video short | Himself |
| CMT: The Greatest - 20 Greatest Country Comedy Shows | 2006 | TV Special | Himself |
| CMT: The Greatest - Sexiest Southern Men | 2006 | TV Special | Himself |
| CMT: The Greatest - Sexiest Southern Women | 2006 | TV Special | Himself |
Archive Footage
| Title | Year | Status | Character |
| --- | --- | --- | --- |
| Gaze | 2010 | Documentary | Himself |
Awards
Won Awards
| Year | Award | Ceremony | Nomination | Movie |
| --- | --- | --- | --- | --- |
| 2006 | Primetime Emmy | Primetime Emmy Awards | Outstanding Guest Actor in a Comedy Series | Will & Grace (1998) |
| 2006 | Gold Derby TV Award | Gold Derby Awards | Comedy Guest Actor | Will & Grace (1998) |
| 2000 | Grand Jury Prize | New York International Independent Film & Video Festival | Best Actor | Sordid Lives (2000) |
Nominated Awards
| Year | Award | Ceremony | Nomination | Movie |
| --- | --- | --- | --- | --- |
| 2006 | OFTA Television Award | Online Film & Television Association | Best Guest Actor in a Comedy Series | Will & Grace (1998) |
| 1993 | Q Award | Viewers for Quality Television Awards | Specialty Player | Reasonable Doubts (1991) |
Source:
IMDb
,
Wikipedia