• Julie Deborah Kavner is an American actress, comedian, and music video director
• She is best known for voicing Marge Simpson in the animated series "The Simpsons"
• She has earned three awards, including an Emmy and a Young Artist Award
• She is in a relationship with retired producer and TV writer David Davis
• As of March 2020, her net worth is estimated at over $85 million.

Known for movies
Short Info
| | |
| --- | --- |
| Date Of Birth | September 7, 1950 |
| Mark | Best known as the voice of "Marge Simpson" on the TV show The Simpsons (1989) |
| Fact | Attended Beverly Hills High School. |
| Payments | Earned $125,000 per episode (1998-2004) from The Simpsons (1989) |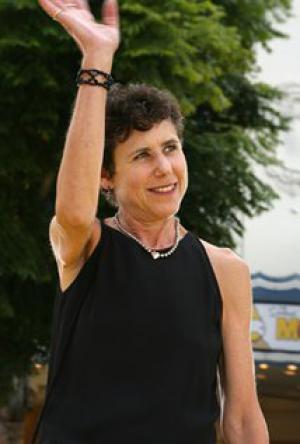 Who is Julie Kavner? Wiki Bio
Julie Deborah Kavner was born in Los Angeles, California USA, on 7 September 1950, so her zodiac sign is Virgo and she holds American nationality. She is an actress, comedian, and a music video director, probably best known for voicing Marge Simpson in the animated series "The Simpsons".
 Early life and education
Julie was raised with an older sister in Los Angeles by her father David who was a furniture manufacturer, and who died in 2016, and her mother Rose who was a family counselor; she died in 2010. Julie grew up being interested in acting, as she was watching shows on TV with her sister, and upon enrolling at Beverly Hills High School, she joined her school's drama club, which reputedly was the only thing she liked about the entire school.
She had no friends there, and found comfort in appearing in school plays, but wasn't very good at it at that time – her best talent was improvising. She continued practicing acting at San Diego State University, graduating with a Bachelor of Arts degree in theatre in 1971.
Appearances in TV series
Upon graduation, Julie started working at the University of California, Los Angeles' School of the Arts and Architecture as a typist, and held the job until 1974 when she made her debut TV series appearance, portraying one of the main characters Brenda Morgenstern in the comedy series "Rhoda", which starred Valerie Harper, and follows a teenager who comes back from Minneapolis to New York City to start a new life.
Julie was in the series until 1978 when it ended. She went on to appear in single episodes of many TV series, such as "Petrocelli" in 1975, "Bert D'Angelo" in 1976, and "Taxi" in 1980, while her next notable appearance was in "The Tracey Ullman Show" in which she portrayed several characters between 1987 and 1990.
She became famous worldwide after being invited to voice Marge Simpson, Homer Simpson's wife in the animated series "The Simpsons" in 1989 – she is still voicing her to this day, as well as the voices of Marge's two sisters, Selma and Patty.
Other main voice actors in the series include Dan Castellaneta, Nancy Cartwright, and Harry Shearer, which follows the lives of a working-class family living in the city of Springfield. Julie then appeared in an episode of "Sibs" in 1991, and an episode of "Birdland" in 1994, while some of her most recent appearances in TV series have been in "Tracey Takes On…" in which she appeared in 14 episodes between 1996 and 1999, "Family Guy" in 2014, and "The Late Show with David Letterman" in 2015.
Roles in films
She made her debut film appearance in "National Lampoon's Movie Madness" in 1983, which was followed by her roles in "Bad Medicine", "Hannah and Her Sisters", and "Radio Days" in 1985, '86 and '87 respectively.
She portrayed The Decorator in "Alice" in 1990, and then voiced the female pigeon in "Dr. Dolittle" in 1998. She gained recognition after portraying Marie in the comedy drama film "Judy Berlin", which stars Barbara Barrie and Bob Dishy and follows a teacher who is flirting with the principal of the school where she's working, but things are complicated due to him being married. Some of her latest appearances in movies have been in "The Lion King 1 ½" in 2004, "Click" in 2006 in which she co-starred alongside Adam Sandler, and "The Simpsons Movie" in 2007.
Appearances in video games and awards
Julie can be heard in many video games(as well as seen in some), in most of which she is lending her voice to Marge Simpson – some of these include "The Simpsons" in 1991, "Virtual Springfield" in 1997, and "The Simpsons: Hit & Run" in 2003 among numerous others. She is also Mayzie Bird in "Storybook Weaver" and in "Storybook Weaver Deluxe", released in 1994 and 2004, respectively.
Julie has won three awards – an Emmy for an Outstanding Supporting Actress in a Comedy Series for her performance in "Rhoda" in 1978, another Emmy for an Outstanding Individual Performance in a Variety or Music Program in "The Tracey Ullman Show" in 1992, and a Young Artist Award for the Most Popular Mom & Pop in a Television series in "The Simpsons" in 2004.
She has been nominated for numerous others, including eight Emmys and four Golden Globes.
Love life and relationships
Julie met David Davis, a retired producer, at the beginning of the '70s and they dated for several years before moving in together – it's not known whether or the two are married, they don't have any children, and are living a seemingly happy life together in Los Angeles, California. David Davis was born in the USA in 1937, and is a retired TV producer and a TV writer, who is best known for his work on the sitcom "The Bob Newhart Show".
He was raised in California in a middle-class family, and unlike his peers who wanted to become actors, he wanted to produce and write movies. His first notable work was "The Bob Newhart Show", while he was then praised for producing the sitcom "Taxi" which began airing on 12 September 1978 and ended on 6 May 1982 – in 1979, he was rewarded with a Primetime Emmy Award for it. Some of the other series he has produced include "The Good Guys", "My Mother the Car", and "The Mary Tyler Moore Show" for which he has written several episodes.
Hobbies and other interests
Julie is not much of a social person, and although she has many friends, she rarely takes them home and there are people who have been her friends for years and who still don't know how her house looks. Her favorite movie director is Woody Allen, and she has appeared in many of his films – some of her favorites include "Annie Hall", "Hannah and Her Sisters", and "Midnight in Paris". Travelling is her main hobby and she has been all around the US to shoot for the movies and TV series, while she has also been to several European countries with David, such as Spain, England, and Croatia.
#HappyBirthday to #JulieKavner, who portrayed "Brenda Morgenstern" on the sitcom #Rhoda, and the voice of "Marge Simpson" on #TheSimpsons, btd 1950. pic.twitter.com/u00LKVehCz

— Silver Age Television 📺 (@SilverAgeTV) September 7, 2019
Julie prefers to watch animated movies and TV series over live-action, and some of her favorite series are "The Simpsons", "Rick & Morty", and "Family Guy" while some of her favorite animated movies are "Cinderella", the trilogy "The Lion King", and "Despicable Me".
How rich is Marge Simpson's voice actor? Appearance and net worth
Julie is 69 years old. She has short curly brown hair and brown eyes, is 5ft 7ins (1.7m) tall, and weighs around 136lbs (62kgs). As of March 2020, her net worth is estimated at over $85 million.
General Info
| | |
| --- | --- |
| Full Name | Julie Kavner |
| Date Of Birth | September 7, 1950 |
| Height | 1.7 m |
| Profession | Comedian, Voice Actor |
| Education | San Diego State University, Beverly Hills High School |
| Nationality | American |
Family
| | |
| --- | --- |
| Parents | David Kavner, Rose Kavner |
| Partner | David Davis, David Davis |
Accomplishments
| | |
| --- | --- |
| Awards | Primetime Emmy Award for Outstanding Voice-Over Performance, Primetime Emmy Award for Outstanding Supporting Actress in a Comedy Series |
| Nominations | Golden Globe Award for Best Supporting Actress in a Series, Miniseries, or Motion Picture Made for Television, Primetime Emmy Award for Individual Performance - Variety Or Music Program, Daytime Emmy Award for Outstanding Actress In A Daytime Drama Special |
| Movies | The Simpsons Movie, Awakenings, Radio Days, Hannah and Her Sisters, This Is My Life, The Lion King 1½, Shadows and Fog, New York Stories, Deconstructing Harry, I'll Do Anything, Dr. Dolittle, Forget Paris, Click, Judy Berlin, Revenge of the Stepford Wives, Don't Drink the Water, Alice, National Lam... |
| TV Shows | Tracey Takes On..., The Tracey Ullman Show, Rhoda, The Simpsons |
Social profile links
Marks
| # | Marks / Signs |
| --- | --- |
| 1 | Husky voice |
| 2 | Best known as the voice of "Marge Simpson" on the TV show The Simpsons (1989) |
Salary
Quotes
| # | Quote |
| --- | --- |
| 1 | When I was trying to come up with the voices for Patty and Selma I asked Jim Brooks what he wanted and he said 'They suck the joy out of everything'. |
Facts
| # | Fact |
| --- | --- |
| 1 | Daughter of David Kavner. |
| 2 | Has lived with producer David Davis since 1976. |
| 3 | Is frequently cast in films by Woody Allen. |
| 4 | Attended Camp JCA in Barton Flats, California for several summers. |
| 5 | Will not allow cameras to film her doing the voices of The Simpsons (1989) characters. |
| 6 | Went to the same High School as Angelina Jolie, Michael Klesic, Nicolas Cage, Corbin Bernsen, Lenny Kravitz, David Schwimmer, Jonathan Silverman and Richard Dreyfuss. |
| 7 | Attended Beverly Hills High School. |
| 8 | Made her first great personal hit in Los Angeles "Little Theatre" in Robert Patrick's "Cheep Theatricks" singing a mock-ecological song called "Don't Poison the Piranhas". |
| 9 | Graduated from San Diego State University, along with actor Carl Weathers, in 1971. |
| 10 | Julie went in to audition for a guest spot on The Mary Tyler Moore (1970) Show. They loved her, but felt she wasn't right for the part. When Rhoda (1974) was created, they knew they wanted her for the part of "Brenda". The role was written with her in mind. |
| 11 | Born at 6:45pm-PDT |
Pictures
Movies
Actress
| Title | Year | Status | Character |
| --- | --- | --- | --- |
| Chickadee | | pre-production | Miss Ottinger |
| The Simpsons | 1989-2017 | TV Series | Marge Simpson Patty Bouvier Selma Bouvier ... |
| Late Show with David Letterman | 2015 | TV Series | Marge Simpson |
| Family Guy | 2014 | TV Series | Marge Simpson Patty Bouvier Selma Bouvier |
| The Simpsons Take the Bowl | 2014 | Video | Marge Simpson (voice) |
| Project Runway All Stars | 2013-2014 | TV Series | Marge Simpson |
| Stand Up to Cancer | 2012 | TV Movie | Marge Simpson (voice) |
| The Simpsons: Tapped Out | 2012 | Video Game | Marge Simpson Patty Bouvier Selma Bouvier ... (voice, uncredited) |
| Stand Up to Cancer | 2008 | TV Movie | Marge Simpson (voice) |
| The Simpsons Ride | 2008 | Short | Marge Simpson Patty Bouvier Selma Bouvier (voice) |
| The Simpsons Game | 2007 | Video Game | Marge Simpson Patty Bouvier Selma Bouvier (voice) |
| The Simpsons Movie | 2007 | | Marge Simpson Selma Patty (voice) |
| Click | 2006 | | Trudy Newman |
| The Simpsons' Christmas Message | 2004 | TV Short | Marge Simpson (voice, uncredited) |
| Behind the Legend: Timon | 2004 | Video short | Mom (voice, uncredited) |
| The Lion King 1 1/2 | 2004 | Video | Mom (voice) |
| Barn Red | 2004 | | |
| The Simpsons: Hit & Run | 2003 | Video Game | Marge Simpson Patty Bouvier Selma Bouvier (voice) |
| The Simpsons: Skateboarding | 2002 | Video Game | Marge Simpson (voice) |
| The Simpsons: Road Rage | 2001 | Video Game | Marge Simpson (voice) |
| The Simpsons: Wrestling | 2001 | Video Game | Marge Simpson (voice) |
| Someone Like You... | 2001 | | Furry Animal (voice) |
| Simpsons Bowling | 1999 | Video Game | Marge Simpson Patty Bouvier Selma Bouvier (voice) |
| Story of a Bad Boy | 1999 | | Elaine |
| Tracey Takes On... | 1996-1999 | TV Series | Various Characters / Jobie Wolf / Midge Dexter |
| A Walk on the Moon | 1999 | | P.A. Announcer (voice) |
| Judy Berlin | 1999 | | Marie |
| Doctor Dolittle | 1998 | | Female Pigeon (voice) |
| The Simpsons: Virtual Springfield | 1997 | Video Game | Marge Simpson Patty Bouvier Selma Bouvier (voice) |
| Deconstructing Harry | 1997 | | Grace |
| Jake's Women | 1996 | TV Movie | Karen |
| The Simpsons: Cartoon Studio | 1996 | Video Game | Marge Simpson (voice) |
| Forget Paris | 1995 | | Lucy |
| Don't Drink the Water | 1994 | TV Movie | Marion Hollander |
| Birdland | 1994 | TV Series | Madeline Diamond |
| I'll Do Anything | 1994 | | Nan Mulhanney |
| This Is My Life | 1992 | | Dottie Ingels |
| Sibs | 1992 | TV Series | |
| Shadows and Fog | 1991 | | Alma |
| To the Moon, Alice | 1991 | Short | Sitcom Producer |
| The Simpsons | 1991 | Video Game | Marge Simpson (voice, uncredited) |
| Big Bird's Birthday or Let Me Eat Cake | 1991 | TV Movie | Marge Simpson (voice) |
| Deep Deep Trouble | 1991 | TV Movie | Marge Simpson (voice) |
| The Ice Capades 50th Anniversary Special | 1990 | TV Movie | Marge Simpson (voice) |
| Alice | 1990 | | Decorator |
| Awakenings | 1990 | | Eleanor Costello |
| Do the Bartman | 1990 | TV Short | Marge Simpson (voice) |
| The Best of the Tracey Ullman Show | 1990 | TV Movie | Various Characters |
| The Tracey Ullman Show | 1987-1990 | TV Series | Various Characters / Marge Simpson / Meg / ... |
| The Simpsons: Family Therapy | 1989 | TV Short | Marge Simpson (voice) |
| New York Stories | 1989 | | Treva (segment "Oedipus Wrecks") |
| The Simpsons: Family Portrait | 1988 | TV Short | Marge Simpson (voice) |
| Surrender | 1987/I | | Ronnie |
| The Simpsons: Good Night | 1987 | TV Short | Marge Simpson (voice) |
| Radio Days | 1987 | | Tess, the mother |
| Hannah and Her Sisters | 1986 | | Gail |
| Bad Medicine | 1985 | | Cookie Katz |
| A Fine Romance | 1983 | TV Movie | Laura Prescott |
| Movie Madness | 1982 | | Mrs. Falcone ("Municipalians") |
| Taxi | 1980 | TV Series | Monica Banta Douglas |
| Revenge of the Stepford Wives | 1980 | TV Movie | Megan Brady |
| No Other Love | 1979 | TV Movie | Janet Michaels |
| Rhoda | 1974-1978 | TV Series | Brenda Morgenstern |
| Lou Grant | 1977 | TV Series | Alice |
| Bert D'Angelo/Superstar | 1976 | TV Series | |
| Petrocelli | 1975 | TV Series | Julie |
| Katherine | 1975 | TV Movie | Margot Weiss Goldman |
| The ABC Afternoon Playbreak | 1975 | TV Series | Jane Darwin |
Soundtrack
| Title | Year | Status | Character |
| --- | --- | --- | --- |
| The Simpsons | | TV Series 1 episode, 2005 performer - 47 episodes, 1990 - 2015 | |
| A Fine Romance | 1983 | TV Movie performer: "A Fine Romance" | |
| Rhoda | 1975 | TV Series performer - 1 episode | |
Self
| Title | Year | Status | Character |
| --- | --- | --- | --- |
| Woody Allen: A Documentary | 2012 | Documentary | Herself |
| American Masters | 2011 | TV Series documentary | Herself |
| Broadcast News: James L. Brooks - A Singular Voice | 2011 | Video short | Herself |
| The Simpsons 20th Anniversary Special: In 3-D! On Ice! | 2010 | TV Special documentary | Herself |
| TV's All-Time Funniest: A Paley Center for Media Special | 2008 | TV Special | Herself |
| Rove Live | 2007 | TV Series | Herself / Marge Simpson |
| American Idol | 2007 | TV Series | Marge Simpson |
| Biography | 2006 | TV Series documentary | Herself |
| Inside the Actors Studio | 2003 | TV Series | Herself - Guest |
| 'The Simpsons': America's First Family | 2000 | TV Special documentary | Herself |
| The 51st Annual Primetime Emmy Awards | 1999 | TV Special | Herself (voice, uncredited) |
| The Making of 'Forget Paris' | 1995 | TV Movie documentary | Herself |
| Late Show with David Letterman | 1994 | TV Series | Herself - Guest |
| The Oprah Winfrey Show | 1992 | TV Series | Marge Simpson |
| The 42nd Annual Primetime Emmy Awards | 1990 | TV Special | Marge Simpson - Presenter: Outstanding Lead Actor in a Comedy Series & Herself - Nominee: Outstanding Individual Performance in a Variety or Music Program |
| Comic Relief IV | 1990 | TV Special documentary | Marge Simpson (voice) |
| The 41st Annual Primetime Emmy Awards | 1989 | TV Special | Herself - Nominee: Outstanding Performance in a Variety or Music Program / Presenter: Outstanding Directing in a Comedy Series & Outstanding Writing in a Comedy Series |
| Tracey Ullman: Backstage | 1988 | TV Movie documentary | Herself |
| The 39th Annual Primetime Emmy Awards | 1987 | TV Special | Herself - Nominee |
| Hour Magazine | 1984 | TV Series | Herself |
| The 30th Annual Primetime Emmy Awards | 1978 | TV Special | Herself - Winner: Outstanding Continuing Performance by a Supporting Actress in a Comedy Series |
| Dinah! | 1975-1977 | TV Series | Herself - Guest |
| The Hollywood Squares | 1975 | TV Series | Guest Appearance |
Archive Footage
| Title | Year | Status | Character |
| --- | --- | --- | --- |
| Bettie Page Reveals All | 2012 | Documentary | Marge Simpson |
| The Simpsons: Celebrity Friends | 2010 | TV Movie documentary | Marge Simpson (uncredited) |
| The Simpsons: Mischief & Mayhem | 2010 | TV Movie documentary | Marge Simpson (uncredited) |
| The Simpsons: Access All Areas | 2010 | TV Movie documentary | Marge Simpson (uncredited) |
| Planet Voice | 2007 | TV Series | Marge Simpson |
| CyberWorld | 2000 | Short | Marge Simpson Patty Bouvier Selma Bouvier |
| The Best of Tracey Takes On... | 1996 | TV Movie | Midge Dexter [Lesbian Golfer] |
| The Simpsons | 1995 | TV Series | Marge Simpson |
Awards
Won Awards
| Year | Award | Ceremony | Nomination | Movie |
| --- | --- | --- | --- | --- |
| 2004 | Young Artist Award | Young Artist Awards | Most Popular Mom & Pop in a Television Series | The Simpsons (1989) |
| 1992 | Primetime Emmy | Primetime Emmy Awards | Outstanding Voice-Over Performance | The Simpsons (1989) |
| 1990 | American Comedy Award | American Comedy Awards, USA | Funniest Supporting Female Performer in a TV Series | The Tracey Ullman Show (1987) |
| 1990 | American Comedy Award | American Comedy Awards, USA | Funniest Supporting Actress in a Motion Picture | New York Stories (1989) |
| 1978 | Primetime Emmy | Primetime Emmy Awards | Outstanding Continuing Performance by a Supporting Actress in a Comedy Series | Rhoda (1974) |
Nominated Awards
| Year | Award | Ceremony | Nomination | Movie |
| --- | --- | --- | --- | --- |
| 2015 | BTVA Television Voice Acting Award | Behind the Voice Actors Awards | Best Vocal Ensemble in a Television Series - Comedy/Musical | The Simpsons (1989) |
| 2014 | BTVA Television Voice Acting Award | Behind the Voice Actors Awards | Best Vocal Ensemble in a Television Series - Comedy/Musical | The Simpsons (1989) |
| 2013 | BTVA Television Voice Acting Award | Behind the Voice Actors Awards | Best Female Lead Vocal Performance in a Television Series - Comedy/Musical | The Simpsons (1989) |
| 2008 | Annie | Annie Awards | Best Voice Acting in an Animated Feature Production | The Simpsons Movie (2007) |
| 2006 | OFTA Television Award | Online Film & Television Association | Best Voice-Over Performance | The Simpsons (1989) |
| 2003 | OFTA Television Award | Online Film & Television Association | Best Voice-Over Performance | The Simpsons (1989) |
| 2002 | OFTA Television Award | Online Film & Television Association | Best Voice-Over Performance | The Simpsons (1989) |
| 2001 | OFTA Television Award | Online Film & Television Association | Best Voice-Over Performance | The Simpsons (1989) |
| 2000 | OFTA Television Award | Online Film & Television Association | Best Voice-Over Performance | The Simpsons (1989) |
| 1999 | OFTA Television Award | Online Film & Television Association | Best Voice-Over Performance | The Simpsons (1989) |
| 1998 | OFTA Television Award | Online Film & Television Association | Best Voice-Over Performance | The Simpsons (1989) |
| 1998 | OFTA Television Award | Online Film & Television Association | Best Actress in a Cable Series | Tracey Takes On... (1996) |
| 1998 | OFTA Television Award | Online Film & Television Association | Best Host or Performer in a Variety, Musical, or Comedy Series | Tracey Takes On... (1996) |
| 1990 | Primetime Emmy | Primetime Emmy Awards | Outstanding Individual Performance in a Variety or Music Program | The Tracey Ullman Show (1987) |
| 1989 | Primetime Emmy | Primetime Emmy Awards | Outstanding Individual Performance in a Variety or Music Program | The Tracey Ullman Show (1987) |
| 1988 | Primetime Emmy | Primetime Emmy Awards | Outstanding Individual Performance in a Variety or Music Program | The Tracey Ullman Show (1987) |
| 1987 | Primetime Emmy | Primetime Emmy Awards | Outstanding Individual Performance in a Variety or Music Program | The Tracey Ullman Show (1987) |
| 1979 | Golden Globe | Golden Globes, USA | Best Actress in a Supporting Role - Television Series | Rhoda (1974) |
| 1977 | Golden Globe | Golden Globes, USA | Best Supporting Actress - Television | Rhoda (1974) |
| 1977 | Primetime Emmy | Primetime Emmy Awards | Outstanding Continuing Performance by a Supporting Actress in a Comedy Series | Rhoda (1974) |
| 1976 | Golden Globe | Golden Globes, USA | Best Supporting Actress - Television | Rhoda (1974) |
| 1976 | Primetime Emmy | Primetime Emmy Awards | Outstanding Continuing Performance by a Supporting Actress in a Comedy Series | Rhoda (1974) |
| 1975 | Golden Globe | Golden Globes, USA | Best Supporting Actress - Television | Rhoda (1974) |
| 1975 | Primetime Emmy | Primetime Emmy Awards | Outstanding Continuing Performance by a Supporting Actress in a Comedy Series | Rhoda (1974) |
| 1975 | Daytime Emmy | Daytime Emmy Awards | Outstanding Actress in a Daytime Drama Special | The ABC Afternoon Playbreak (1972) |
Source:
IMDb
,
Wikipedia