• Rosa Blasi is an American actress of Hispanic, Italian, and Irish descent.
• She trained in both dancing and singing and has performed in over forty productions.
• She is best known for her roles in Strong Medicine and The Thundermans.
• She has also written an autobiography and released a podcast with fellow actress and comedian Lisa Ann Walter.
• Her net worth is approximately $1.5 million.

Known for movies
Short Info
| | |
| --- | --- |
| Net Worth | $1.5 million |
| Date Of Birth | December 19, 1972 |
| Spouse | Todd William Harris, Jim Finn |
| Fact | Rosa has had piano classes for 5 years, dancing classes for 5 years, and voice training for 13 years. |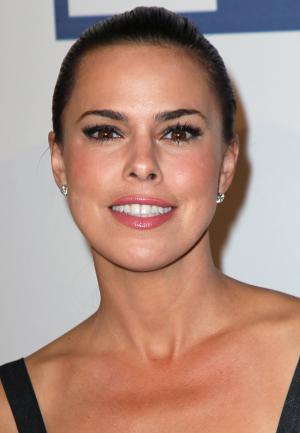 Early life, family, educational background
American actress Rosa Blasi was born on 19 December 1972, in Chicago, Illinois, USA, to Joyce and Rocco Blasi; they are of Hispanic, Italian, and Irish descent. She has two sisters, Tasha and Marina, and two brothers, Rocky and Michael. She took dancing and piano classes for five years and vocal training for 13 years.
Rosa is best known for her roles in "Strong Medicine" as Dr. Luisa Delgado and "The Thundermans" as Barb Thunderman. She is a classically trained mezzo-soprano and has participated in theatre from the age of eight.
Thus far, over the course of her career, she has performed in over 40 productions; her professional theater debut was in the titular role "Annie". She has also toured with singer Kenny Rogers and even sang on his 1995 Christmas concert tour, on which she also befriended Sean Hayes, singer, and actor famous for his role as Jack McFarland in "Will & Grace."
When Teen's Weekly Insider asked her why she decided to leave music and pursue acting, Rosa responded 'I was very young when I knew I was going to do this for the rest of my life, and I didn't have anyone telling me I couldn't, or it would be difficult.' She credited her parents as the reason she followed her dream, for giving her the confidence to do so and never telling her the odds were against her.
She subsequently earned her Master's degree in Clinical Psychology in 2019, and registered as an Associate Marriage and Family Therapist, specializing in recovery and addiction.
Career
Television
In 1996 she played the recurring role of Shelly in the CBS soap opera "The Bold and the Beautiful," which role was her television debut. The following year she starred as April Beane in "Hitz," an MTV/UPN sitcom.
She then appeared in single episodes of several series, including "Frasier" and "Caroline in the City" both in 1998, and "V.I.P." and "Beverly Hills, 90210" in 2000.
Rosa's breakout role was in "Strong Medicine", a Lifetime medical drama aired from 2000-2006 starring as Dr. Luisa "Lu" Delgado alongside Patricia Richardson and Janine Turner.
The show focuses on class conflict, feminist politics, and health issues. Whoopi Goldberg co-created and produced the show with Tammy Ader, and also occasionally cameoed in the show. In 2001, the show was rated the best original drama, particularly on basic cable.
In 2005 Rosa appeared in an episode of "CSI: Miami" entitled "Shootout," from 2009-2012 she played Ronnie Cruz in "Make It or Break It," and from 2013-2018, she played a lead role in "The Thundermans" as Barb Thunderman/Electress.
Film
In 2000, Rosa played Vicky Amador in the drama "Noriega: God's Favorite," directed by Roger Spottiswoode, co-starring Bob Hoskins. Her first significant film role was in "The Grudge" as Bill Pullman's character's wife, starring alongside Sarah Michelle Gellar.
Other
On stage, Rosa performed at the Apollo Theater, Chicago in "The Vagina Monologues", and consistently performs at the "What a Pair" benefit concert in support of breast cancer research. Rosa has also voiced several television characters in shows such as "American Dad!", and recorded radio voice-overs. She has also written articles for noted websites and printed media, including "The Huffington Post."
Rosa was a regular guest on "Politically Incorrect with Bill Maher" – in one episode she was being interviewed along with Rev. Jerry Falwell, and when asked if her boobs are real, she exclaimed, 'No. My boobs aren't real – they're real paid for, though! No debt collectors trying to repo my boobs!'
In 2011 HarperCollins published Rosa's comedic memoir entitled "Jock Itch: Misadventures of a Retired Jersey Chaser." In the book, she discusses her 10 years of being in serious relationships with athletes, and why she eventually chose to seek 'athlete sobriety.' She hilariously details the various aspects of their relationships, including their bedroom history, even though she [purposely] does a poor job of masking their identities.
She has performed stand-up comedy in Los Angeles at the Laugh Factory and The Comedy Store, and during 2017 and '18 she co-hosted "The Chick Show" podcast with fellow actress and comedian Lisa Ann Walter.
Personal life
In 1993 Rosa won Miss Rockford, and Miss Chicago in 1994 singing "I'd give my life for you" from the musical "Miss Saigon", and in both years she was in the Miss Illinois pageant and reached the finals without winning.
On 14 February 2004, she married Jim Finn, a New York Giants American Football fullback, in Maui, Hawaii, and gave birth to their first child, daughter Kaia Finn, on 20 September 2006, 2 weeks prematurely, but Rosa and Jim divorced two years later.
In a 2011 interview with RadarOnline.com, she spoke about her memoir in which she very obviously wrote about her ex-husband and baby-daddy, giving him the alias 'Jim Fish' in the book.
She said that the former Indianapolis Colts fullback was upset about the memoir – 'I knew he was into prescription drugs and gambling when we were together,' Rosa continued, and shockingly added that there were other problems she didn't know about. Such issues included, '… his Craigslist hookers… he also slept with my best friend on our wedding day. That was news to me too.' She claimed that what she wrote 'It's all fair game,' and even though she changed the names, it does not take a genius to figure out who she wrote about; she also included photos of Jim, only blacking out his eyes. Rosa added that she has received hate for blatantly including him in her book, '… but at the end of the day the joke is on me.'
She said that it is a 'self-deprecating read', and anybody who reads the book will realize that it details instances of getting herself into stupid situations by making bad mistakes and choices. She wanted to laugh at them by writing a book. Rosa agreed that Jim was not happy, but 'Nothing surprises me with him. This guy will sue a parakeet for squawking. But I have proof of all the things I claim, and he isn't saying that any of this stuff isn't true.'
Rosa said she learned her lesson, and will never date another athlete, but she still dished on some memorable hook-ups. She called A-Rod an 'A-hole' and claimed that she mistook a hockey player's body part for a rolling pin.
She married mortgage broker Todd William Harris on 3 May 2014, after meeting on Match.com and dating for 16 months. She is the stepmother to Ryan's daughter from a previous relationship.
Rosa is close friends with fellow actors Lisa Vidal, Lisa Ann Walters and Sean Hayes, who attended her wedding to Jim.
In her free time, she interns at Miriam's House, a sober living house for single mothers and their children.
Appearance
She has dark brown hair, brown eyes, is 5ft 2ins (1.57m) tall, and weighs about 120lbs (54kgs).
Net worth and salary
As of late 2020, Rosa's net worth is authoritatively estimated at $1.5 million.
General Info
| | |
| --- | --- |
| Full Name | Rosa Blasi |
| Net Worth | $1.5 million |
| Date Of Birth | December 19, 1972 |
| Height | 1.57 m |
| Profession | Actor |
| Nationality | American |
Family
| | |
| --- | --- |
| Spouse | Todd William Harris, Jim Finn |
| Parents | Rocco Blasi, Joyce Blasi |
| Siblings | Marina Blasi, Tasha Blasi, Rocky Blasi, Michael Blasi |
Accomplishments
| | |
| --- | --- |
| Nominations | ALMA Award for Outstanding Actress in a Television Series |
| Movies | The Grudge, Next Stop Murder, Inseparable, Deception |
| TV Shows | I Hate My Teenage Daughter, Make It Or Break It, Strong Medicine, Hitz, The Thundermans, Eight Days a Week |
Social profile links
Quotes
| # | Quote |
| --- | --- |
| 1 | "When I'm not listening to rap I like Broadway. Does that make me bipolar?" - "my personal style" (magazine unknown) |
| 2 | I question those guys who get their daily dose of SportsCenter. I think that's weirder than guys watching Lifetime. We have hot girls on Lifetime. If men like women, they're going to like Lifetime. - Stuff Magazine |
Facts
| # | Fact |
| --- | --- |
| 1 | Has a step-daughter named Ryan Harris (b.2007). |
| 2 | (May 3, 2014) Married for the 2nd time her boyfriend of 16 months Todd William Harris. |
| 3 | Gave birth to her 1st child at age 33, a daughter Kaia Finn on September 20, 2006. Kaia was born 2 weeks premature. Child's father is her now ex-1st husband, Jim Finn. |
| 4 | Rosa wrote a comedic memoir published by Harper Collins on 3/29/11 titled Jock Itch: Misadventures of A Retired Jersey Chaser. The book details the 10 years she spent in serious relationships with professional athletes and the hilarious events that caused her to seek "athlete sobriety". |
| 5 | Rosa has written several articles for the Huffington Post. |
| 6 | Rosa has had piano classes for 5 years, dancing classes for 5 years, and voice training for 13 years. |
| 7 | She was Miss Rockford 1993 (Swimsuit Preliminary) and Miss Chicago 1994, and a finalist in the Miss Illinois pageants of both years. Her talent for the Miss Chicago 1994 pageant was singing "I'd give my life for you" from Miss Saigon. A clip can be found at her website. |
| 8 | Married NY Giants fullback Jim Finn on February 14, 2004 in Maui. |
| 9 | Close friends with actor Sean Hayes, who attended her wedding on February 14, 2004, and Lisa Vidal. |
| 10 | Has the same birth date as Alyssa Milano. |
| 11 | Her ethnic background is Puerto Rican, Italian, and Irish. |
| 12 | Speaks fluent Italian and is a classically trained mezzo soprano. |
Pictures
Movies
Actress
| Title | Year | Status | Character |
| --- | --- | --- | --- |
| The Thundermans | 2013-2017 | TV Series | Barb Thunderman |
| Haunted Hathaways | 2014 | TV Series | Barb Thunderman |
| Second Shot | 2013 | TV Series | Julia Rivas |
| Teenage Bank Heist | 2012 | TV Movie | Agent Christine Mendoza |
| Hot in Cleveland | 2012 | TV Series | Jessica |
| Make It or Break It | 2009-2012 | TV Series | Ronnie Cruz |
| The Whole Truth | 2010-2011 | TV Series | Dani |
| Mr. Sunshine | 2011 | TV Series | Jessica |
| Lone Star | 2010 | TV Series | Blake Thatcher |
| Next Stop Murder | 2010 | TV Movie | Heather |
| General Hospital | 2010 | TV Series | Fernanda |
| American Dad! | 2010 | TV Series | Jeanine Winthrop |
| Friends of Dorothy | 2009 | Short | Cameron Lagares |
| Melrose Place | 2009 | TV Series | Nicolette Sarling |
| Eight Days a Week | 2007 | TV Movie | Randi |
| Fist of the Warrior | 2007 | | Woman in Black |
| Inseparable | 2006 | TV Movie | |
| Strong Medicine | 2000-2006 | TV Series | Dr. Luisa 'Lu' Delgado |
| CSI: Miami | 2005 | TV Series | Ana Garcia |
| The Grudge | 2004 | | Maria |
| Making Changes | 2004 | Short | Deanna |
| Rendez-View | 2001 | TV Series | Guest Host |
| Noriega: God's Favorite | 2000 | TV Movie | Vicky Amador |
| V.I.P. | 2000 | TV Series | Cassandra |
| The Drew Carey Show | 1999 | TV Series | Isabel |
| Avalon: Beyond the Abyss | 1999 | TV Movie | Carolina Marquez |
| Grown Ups | 1999 | TV Series | Carla |
| Sons of Thunder | 1999 | TV Series | Marita Cortez |
| Beverly Hills, 90210 | 1999 | TV Series | Clara Covington |
| Caroline in the City | 1998 | TV Series | Lana |
| Becker | 1998 | TV Series | Carmen |
| Frasier | 1998 | TV Series | Waitress |
| Holding the Baby | 1998 | TV Series | Wendy |
| Hitz | 1997 | TV Series | April Beane |
| Lost on Earth | 1997 | TV Series | Dawn |
| Married with Children | 1997 | TV Series | Woman #1 |
| High Tide | 1996 | TV Series | |
Self
| Title | Year | Status | Character |
| --- | --- | --- | --- |
| Quiet on the Set | 2014 | TV Series | Herself |
| The Wendy Williams Show | 2011 | TV Series | Herself |
| Hollywood Uncensored with Sam Rubin | 2011 | TV Series | Herself - Panelist |
| The Daily Habit | 2011 | TV Series | Herself |
| Undateable | 2010 | TV Mini-Series documentary | |
| Secrets of the Hollywood Body | 2009 | TV Movie | Herself |
| TMZ on TV | 2008 | TV Series | Herself |
| The Late Late Show with Craig Ferguson | 2005 | TV Series | Herself |
| Pet Star | 2005 | TV Series documentary | Celebrity Judge #3 |
| A Powerful Rage: Behind 'The Grudge' | 2005 | Video documentary | Herself |
| The Late Late Show with Craig Kilborn | 2004 | TV Series | Herself |
| The Sharon Osbourne Show | 2004 | TV Series | Herself |
| Pyramid | 2002-2004 | TV Series | Herself |
| The Wayne Brady Show | 2003 | TV Series | Herself |
| SoapTalk | 2003 | TV Series | Herself |
| Jimmy Kimmel Live! | 2003 | TV Series | Herself |
| The View | 2002 | TV Series | Herself |
| 2002 ALMA Awards | 2002 | TV Special | Herself |
| The Test | 2001 | TV Series | Herself - Panelist |
| Hollywood Squares | 2001 | TV Series | Herself |
| Politically Incorrect | 2001 | TV Series | Herself |
Awards
Won Awards
| Year | Award | Ceremony | Nomination | Movie |
| --- | --- | --- | --- | --- |
| 2004 | Imagen Award | Imagen Foundation Awards | Best Actress in a Television Drama | Strong Medicine (2000) |
Nominated Awards
| Year | Award | Ceremony | Nomination | Movie |
| --- | --- | --- | --- | --- |
| 2006 | Imagen Award | Imagen Foundation Awards | Best Actress - Television | Strong Medicine (2000) |
| 2006 | Prism Award | Prism Awards | Performance in a Drama Series Episode | Strong Medicine (2000) |
| 2005 | Imagen Award | Imagen Foundation Awards | Best Actress - Television | Strong Medicine (2000) |
| 2005 | Vision Award | NAMIC Vision Awards | Best Dramatic Performance | Strong Medicine (2000) |
| 2002 | ALMA Award | ALMA Awards | Outstanding Actress in a Television Series | Strong Medicine (2000) |
Source:
IMDb
,
Wikipedia