• Shawn Fonteno is an American voice actor, recording artist, actor and DJ rapper born in South Los Angeles, California in 1968.
• He is best known for voicing Franklin Clinton in the 2013 video game, "Grand Theft Auto V" and took part in motion capture technology for the game.
• He was once a member of Kam&Solo, a rap group associated with Ice Cube's Lench Mob Crew.
• Shawn is married and has two daughters.
• He enjoys customizing and riding Harley Davidson Motorcycles and has a net worth of $1 million.

Known for movies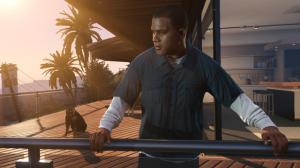 Early life, family, educational background
American voice actor, recording artist, actor and DJ rapper Shawn Darnell "Solo" Fonteno was born on 8 April 1968, in South Los Angeles, California, USA. He was raised by his father, Thomas Fonteno in Watts, Los Angeles – known to be home to mainly African-American people in Los Angeles – and attended Locke High School. Shawn joined an African-American gang until he was nearly fatally shot. The traumatic experience lead to him leaving the gang and turning his life around. While in the gang, Shawn stole cars, was a thief, and sold drugs.
His life as a young gang member did come in handy eventually, as Shawn is best known for voicing the somewhat notorious Franklin Clinton in the 2013 video game, "Grand Theft Auto V".
Career
Shawn has been in several movies throughout his career. In 1996, he appeared in "Dead Homiez," "3 Strikes" in 2000, as Face in 2001's "The Wash", and as Bam in 2017's "Grow House."
At one time he was a member of Kam&Solo, a rap group associated with Ice Cube's Lench Mob Crew.
Video Gaming
Although Shawn is best known for voicing smart street gangster Franklin Clinton in "Grand Theft Auto V", which grossed over $1 billion, Shawn's voice was also heard in "Grand Theft Auto: San Andreas" in 2004 as an unnamed Grove Street Families member.
His 2013 performance was mostly recorded with motion capture technology.
DJ Pooh, a friend of Shawn's and consultant for "GTA V," asked him to be part of Rockstar's newest video game. Pooh also wrote and co-produced "GTA: San Andreas", but he is better recognized for playing Red in the film "Friday." Initially, Shawn helped look for actors to play Franklin and helped them with their auditions, but after a few weeks, he decided to take up the role himself. Once he got used to the tight-fitting outfits the actors had to use for the motion capture technology, Shawn quickly fell into the character thanks to his past as a gang-banger and drug dealer.
When he was interviewed by USA Today, Shawn stated, 'I lived his life before… He's been surrounded by drugs, the crime, living with his aunt – I lived with my grandmother, so there was a lot of familiarity.'
He also told Gamecrate about the advantages of acting in the video game during their interview with him. He thought to himself, 'Wow, I can pretty much relive what I've been through, and not get hurt or go to jail, or be nothing at all.' Shawn added that he has not only been shot at, but has also fired guns, so he knows what it is like on both ends of a gun.
In 2010, Shawn got together with Steven Ogg and Ned Luke, and the trio spent nearly three years voice acting and performing the motion capture for the game. They would record in voiceover booths and "film" in a studio.
They found the unusual process challenging initially, as the motion capture suits were uncomfortable, and the sets were often not wholly built or fully-functional. Shawn also felt slightly insecure about his acting skills, as his last role was in "The Wash" film in 2001. Fortunately, his castmates were kind enough to help him out when he asked.
He further described the filming process in his interview with USA Today, 'It's just conditioning yourself to imagine what's going on… close your eyes and imagine acting inside a real living room.' He said that he hoped his performance in "GTA V" would lead to more roles in the future, and both Ned and Steven stated that acting in the game reignited their love for the art.
Thankfully all of their hard work paid off as the game made $1 billion within its first three days, and the trio could barely speak in public without their voices being recognized. In 2014, the "GTA V" cast was nominated for Best Vocal Ensemble in a Video Game at the Behind the Voice Actors Awards.
In 2020, Shawn posted a video to social media, in which he pleaded for GTA fans to have patience with Rockstar Games' eventual "Grand Theft Auto VI" release. He explained that the process is very long and complicated, especially as it's presumably going to be a multi-player game. In the video, he asked them not to 'knock Rockstar down, man.'
He also said that the "GTA V" development took more than four years – longer than most fans may have realized, 'Y'all gotta understand, it's a process to put these games out.' Although Rockstar has not officially announced "GTA VI," "GTA V" launched in 2013, and fans' are impatiently anticipating the sequel.
Thanks to the fans' excitement, there is a lot of online hype and conspiracies about "GTA VI." Most of the game's leaks suggest that it takes place in Vice City – a location that has not been in the franchise for almost 20 years. Following Lazlow Jones' announcement that he left Rockstar, his radio DJ character's future is currently unknown.
In 2018, Rockstar launched what became another massive hit, "Red Dead Redemption 2." They haven't released another game since, and are yet to confirm anymore release dates for upcoming games. However, there are several rumors that a "Red Dead Redemption" sequel might come out in 2021 or 2022.
Rockstar is currently planning on releasing a next-gen version of "GTA Online" and "GTA V", as the games are still popular, so with these versions in the pipeline, a sequel is likely not the production's first priority. Still, with luck, Shawn's explanation video was enough to calm GTA fans' impatience, as Rockstar works on the long and complicated task of completing the sequel.
Furthermore, Shawn's video hopefully also convinced fans that the Rockstar team is not milking "GTA", and are, in fact, listening to their requests and doing their best to bring it to fruition.
Personal Life
Shawn is married – her name unknown, and the date of marriage probably around 1990 – and the couple has one daughter together named Bria. His wife encouraged him to leave the gang and lead a better life. He also has another daughter, Brittney, who is a baker – it's unknown whether or not his wife is Brittney's mother too. Shawn is helping Brittney open her own bakery, and she has already baked and catered for big names.
Shawn had a public business feud with Ice Cube, describing the fight in "Beef 2," a documentary. Shawn said that he knocked Ice Cube out and stole his chain after they had a business disagreement. The fight allegedly took place at a traffic light, and Ice Cube was the one who started it. In the documentary, Shawn said that after he knocked Ice Cube out, he woke him up again and 'whooped his ass.' Smirking, he added that, 'Somehow his chain fell in my hand… then, all of a sudden, his Rolex start jumping off and coming into my hand. I dunno how that happened.'
The feud was colossal news back in the '90s, and was part of an even bigger feud between Ice Cube and Cypress Hill. Ice Cube allegedly stole a hook from one of Cypress Hill's songs, and made it into a single of his own. At the time, Shawn (then more commonly known as Solo) was close friends with Cypress Hill.
He later apologized for the feud in a YouTube video entitled "GTA V Shawn 'Solo' Fonteno Full Interview", when his daughter, Bria interviewed him on her channel, Fonteno Media. He also added that in the future, he would like to work with Ice Cube.
Me and My NIGGA @slinkjohnson pic.twitter.com/DJ5vVAIzwL

— I AM WHO I AM (@Shawn_Fonteno) October 24, 2014
Hobbies, favorite things, and interesting facts about Shawn
In his free time, he enjoys customizing and riding Harley Davidson Motorcycles.
He has a small dog, whom he is very fond of, and loves a lot.
He sells his own merchandise online.
His role models growing up were his grandfather, grandmother, and uncles.
His cousin is American rapper Young Maylay, the voice actor of protagonist Carl "CJ" Johnson in "Grand Theft Auto: San Andreas."
Appearance
Shawn is 6ft (1.83m) tall and weighs around 195lbs (88kg).
Net worth and salary
Shawn's net worth is estimated at $1 million, as of late 2020.
General Info
| | |
| --- | --- |
| Full Name | Shawn Fonteno |
| Height | 1.83 m |
| Profession | Actor |
Accomplishments
| | |
| --- | --- |
| Movies | Grow House, The Wash, 3 Strikes |
Social profile links
Pictures
Movies
Actor
| Title | Year | Status | Character |
| --- | --- | --- | --- |
| Grow House | 2017 | post-production | Bam |
| Watch Dogs | 2014 | Video Game | Lee Harvey (voice) |
| Grand Theft Auto V | 2013 | Video Game | Franklin Clinton (voice, as Shawn "Solo" Fonteno) |
| The Playboy Morning Show | 2010 | TV Series | Franklin Clinton |
| Grand Theft Auto: San Andreas | 2004 | Video Game | Grove Street Families Gang (voice, as Solo) |
| The Wash | 2001 | | Face |
| 3 Strikes | 2000 | | Big Mo |
Miscellaneous
| Title | Year | Status | Character |
| --- | --- | --- | --- |
| Grand Theft Auto V | 2013 | Video Game face in game - as Shawn 'Solo' Fonteno / motion capture performer - uncredited | |
Self
| Title | Year | Status | Character |
| --- | --- | --- | --- |
| Beef II | 2004 | Video documentary | Himself - Recording Artist (as Solo) |
Awards
Nominated Awards
| Year | Award | Ceremony | Nomination | Movie |
| --- | --- | --- | --- | --- |
| 2014 | BTVA Video Game Voice Acting Award | Behind the Voice Actors Awards | Best Vocal Ensemble in a Video Game | Grand Theft Auto V (2013) |
Source:
IMDb
,
Wikipedia