Giovanni Ribisi:
• Primetime Emmy-nominated American actor and producer
• Appearances in Hollywood's blockbuster movies such as "Saving Private Ryan" and "Avatar"
• On-screen and behind-the-camera work on TV crime drama series "Sneaky Pete"
• Active since 1985, estimated net worth of $25 million
• Married to English model and actress Agyness Deyn from 2012 to 2015

Known for movies
Short Info
| | |
| --- | --- |
| Net Worth | $34 million |
| Date Of Birth | December 17, 1974 |
| Spouse | Agyness Deyn, Mariah O'Brien |
| Fact | Studied acting at The Beverly Hills Playhouse with Milton Katselas. |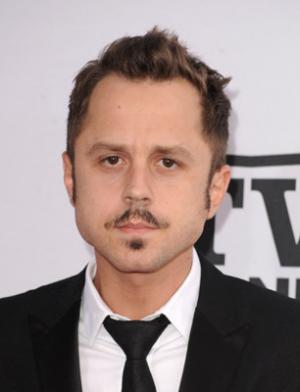 Who is Giovanni Ribisi?
Giovanni Ribisi is a Primetime Emmy-nominated American actor and producer, who is perhaps best known for his appearances in critically acclaimed Hollywood's blockbuster movies such as the 1998 war drama "Saving Private Ryan", and the 2009 Sci-Fi movie "Avatar" (2009). Additionally, he is widely recognized for his on-screen as well as behind-the-camera work on the TV crime drama series "Sneaky Pete".
Early Life, Childhood and Education
Antonino Giovanni Ribisi was born under the zodiac sign of Sagittarius on the 17th December 1974, in Los Angeles, California, one of three children of Gay (née Landrum) who is a talent manager, and Albert Anthony 'Al' Ribisi who was a musician. He has a 15-minute-younger twin sister Marissa and a younger sister Gina, who are both actresses. Apart from being of American nationality and white ethnicity, he is also of English and German descent through his mother, and Italian ancestry through his father's side.
Giovanni attended Milton Katselas' Beverly Hills Playhouse school of acting.
Career
Ribisi's acting debut occurred at his age of nine, when he appeared in the Primetime Emmy-nominated TV fantasy drama series "Highway to Heaven" in 1985. Later that year he was cast for the recurring role of Duffy Guthrie in the TV comedy series 'The New Leave It to Beaver", in which he occasionally appeared 'til 1989. Additionally, between 1986 and 1987 he starred in the "Sidekicks" TV series while from 1987 to the end of the '80s he starred in TV series "Married… with Children" and "My Two Dads".
Through 1991 and 1992 Giovanni starred in the role of Skinner Buckley in the Primetime Emmy-winning TV comedy series "Davis Rules", followed by recurring roles in television series such as "The Wonder Years", "The Commish" and "Family Album". In 1994 he appeared in the Primetime Emmy-nominated TV series "Walker, Texas Ranger", while in 1995 he made his film debut in the Sci-Fi horror movie "Mind Ripper". After appearing in movies "The Grave" and "That Thing You Do!", he landed his first major role in the 1996 critically acclaimed comedy drama film "SubUrbia".
He then honed his professional skills through a streak of supporting roles. in movies such as "Lost Highway", "The Postman" and "Scotch and Milk". In 1998 he was cast for one of his most memorable supporting roles in Steven Spielberg's five-time Oscar-winning war drama movie "Saving Private Ryan". Alongside Vin Diesel, Ribisi then starred in the 2000 crime thriller movie "Boiler Room", after which he appeared opposite Nicolas Cage and Angelina Jolie in the action thriller film "Gone in 60 Seconds".
In 2002 he starred opposite Cate Blanchett in the leading role of the crime drama movie "Heaven", after which he appeared in Sofia Coppola's Oscar-winning drama film "Lost in Translation", followed by the main role in the romantic comedy drama film "Love's Brother". In 2005 Giovanni played the main character of the crime drama movie "The Big White", before landing the recurring role of Ralph Mariano in the TV comedy series "My Name Is Earl". For this role, which he portrayed through the show's first three seasons 'til 2008, Ribisi was honored with a nomination for the prestigious Primetime Emmy Award in 2007.
He went on to add a couple of notable appearances to his portfolio, in several AAA titles such as "The Dog Problem", "Perfect Stranger" and "Middle Men".
In 2009 he was cast to appear as Parker Selfridge in James Cameron's three-time Oscar winning Sci-Fi masterpiece "Avatar", and later that year he starred opposite Johnny Depp and Christian Bale in Michael Mann's 2009 blockbuster film "Public Enemies". Two years later, he starred opposite Depp again, this time in the 2011 comedy drama movie "The Rum Diary", after which he guest-starred in the movies "Contraband", "Columbus Circle", "Ted" and "Gangster Squad".
Between 2013 and 2014, Giovanni portrayed the leading role of Warner Whittemore in the TV comedy series "Dads", after which he starred in films such as "Selma", "Meadowland" and "Papa Hemingway in Cuba". The real breakthrough in Ribisi's acting career occurred in 2015, when he was cast for the leading role of Marius Josipović aka Pete Murphy in the TV crime drama series "Sneaky Pete". The show follows the story of con-man Marius, freshly released from prison, who is being hunted by a vicious gangster from his past, and is forced to take the identity of his cellmate Pete.
Apart from acting, Giovanni also directed and produced a couple of episodes of the show.
Personal Life
Between 1997 and 2001 Giovanni was married to actress Mariah O'Brien, with whom he welcomed a daughter they named Lucia born in December 1997. From 2007 to 2012 he was in a long-term relationship with singer and songwriter Chan Marshall, better known as Cat Power.
In June 2012, Ribisi married English model and actress Agyness Deyn, but from whom he divorced in November 2015. Currently he is dating Emily Ward, with whom he welcomed fraternal twins in December 2018.
The 45-year-old American actor is standing 5ft 7ins (1.71m) tall while weighing around 144lbs (65kgs). He is an avid Scientologist.
Net Worth
The total of Giovanni Ribisi's net worth, as of mid-2020, has been estimated at the sum of $25 million, acquired entirely through his on-screen acting career that is currently spanning nearly 35 years, being active since 1985.
General Info
| | |
| --- | --- |
| Full Name | Giovanni Ribisi |
| Net Worth | $34 million |
| Date Of Birth | December 17, 1974 |
| Height | 1.71 m |
| Profession | Film producer, Voice Actor |
| Education | Beverly Hills Playhouse Acting School |
| Nationality | American |
Family
| | |
| --- | --- |
| Spouse | Agyness Deyn, Mariah O'Brien |
| Children | Lucia Santina Ribisi |
| Parents | Albert Anthony Ribisi, Gay Ribisi |
| Siblings | Marissa Ribisi, Gina Ribisi |
Accomplishments
| | |
| --- | --- |
| Awards | Online Film Critics Society Award for Best Ensemble Cast Performance |
| Nominations | Screen Actors Guild Award for Outstanding Performance by a Cast in a Motion Picture, Primetime Emmy Award for Outstanding Guest Actor in a Comedy Series, Independent Spirit Award for Best Supporting Male, Teen Choice Award for Choice Hissy Fit: Film, Teen Choice Award for Choice Movie: Liar, VGX Awa... |
| Movies | Ted, Avatar, Saving Private Ryan, A Million Ways to Die in the West, Ted 2, Gone in 60 Seconds, Gangster Squad, Boiler Room, Contraband, Lost in Translation, The Rum Diary, Perfect Stranger, The Gift, Middle Men, The Other Sister, Selma, Public Enemies, Sky Captain and the World of Tomorrow, Heaven,... |
| TV Shows | Dads, Davis Rules, My Two Dads, The New Leave It to Beaver, Family Album |
Social profile links
Quotes
| # | Quote |
| --- | --- |
| 1 | (2011, on landing The Rum Diary (2011)) I had worked on a movie called Public Enemies (2009) with Johnny Depp, and then I heard that he was doing this. So I actually wrote him a little note saying if he needed any help with craft service or anything like that, that would be wonderful, I'm around, I'm available. Next thing I know, I was sitting in front of (director) Bruce Robinson and we spoke about the character for a couple of hours. And then we all found ourselves down in Puerto Rico. |
| 2 | [2007] I really think a film's success doesn't have that much to do with how good-looking the leading man is. It's about the quality of the film and the performances. I think I'm more leading man than 50 percent of the leading men out there. What I do is more about me and my choices than about what hole Hollywood might think about putting me into. |
| 3 | [2007] I'm really happy with where I am, the movies in my life. Not satisfied, necessarily. But I won't put it on somebody else, blame anybody else for my position in the business. It's the choices I have made. |
| 4 | [on auditions] It's not necessarily me auditioning for them. It's them auditioning for me as well, and really seeing how the rapport will be with the director. The work starts immediately there. |
| 5 | [2007] I just consider myself a committed actor. If a movie is a success, that's great; I'm happy for that. But I've learned just to concentrate on my job and do the best that I can. |
| 6 | (On getting into character) I do have a certain technique that varies from part to part because everybody is different. But I don't want to have a viewpoint in terms of fame or being a leading man. I feel like I'm on a certain path as far as my technique and I'm trying to get better and better and better. I want to maintain that and be more committed every time out and learn more about myself. |
| 7 | (On being recognized for his Friends (1994) episodes) I did "Friends" usually always while I was doing another movie. I would literally have to get off the set and rush to Warner Bros. and look at the script and have to do it right there in front of an audience. It's like a blip in my memory where I was stressed out, trying to remember lines. So people come up and say, 'The guy who melts stuff!' and I don't even remember it. Like, what are you talking about? |
| 8 | My mother told me I was begging her to be an actor when I was four. My father and my grandfather saw at least one or two movies a week; they were film buffs, so I guess it just rubbed off on me. And now it's kind of become a way of life for me. I could almost say it is my religion. I guess that sounds pretentious. But I want to live and breathe cinema. - Reel Interview, 2000. |
| 9 | For me, acting is all about the aesthetic. I just want to keep honing my craft. Not that I'm taking myself too seriously, but every artist should consider himself Picasso. Otherwise, you're doing yourself an injustice. |
Facts
| # | Fact |
| --- | --- |
| 1 | He is an active Scientologist. |
| 2 | As of 2015, has appeared in four films that were nominated for the Best Picture Oscar: Saving Private Ryan (1998), Lost in Translation (2003), Avatar (2009) and Selma (2014). |
| 3 | Attended the 62nd Annual Cannes Film Festival in France. [May 2009] |
| 4 | Attended the Berlin Film Festival. [February 2002] |
| 5 | He went to school for many years, studying computer graphics, and during production of Avatar (2009), he partnered with Stereo D, a company who converts 2D images into stereoscopic 3D images. Giovanni helped spearhead his company's efforts to win bids to do some of the images for 'Avatar', unknown to James Cameron at the time. Stereo D has since gone on to do the 3D post-conversion on such films as 'Titanic 3D', 'Jurassic Park 3D', 'Marvel's The Avengers', 'Star Trek Into Darkness', and 'Pacific Rim', among others. |
| 6 | Brother-in-law of Beck and Channing Hansen. |
| 7 | First appeared, uncredited, on Friends (1994) in Friends: The One with the Baby on the Bus (1995) at the end, as the guy who had dropped a condom in Phoebe's guitar while she was singing in front of Central Perk (because the manager hired a professional musician). Later that season, he came back in Friends: The One with the Bullies (1996) as "Frank Buffay Jr.", Phoebe's younger half-brother, a character that stayed for 8 episodes over several seasons. |
| 8 | His paternal grandfather was of Italian origin. His other ancestry includes German and English. |
| 9 | Often eats at Los Feliz restaurant Little Doms. Sandra Oh, Hannah Telle, Michael Cera, Drew Barrymore, Bo Barrett, and Katherine Heigl also frequent this local hot spot. |
| 10 | Was born at 8:15pm. |
| 11 | Was approached to play "Lynch McGraw" in Hero Wanted (2008) but turned it down. |
| 12 | When he was a child, his family had a pet dachshund named Low-Rider. |
| 13 | He is 15 minutes older than twin sister Marissa Ribisi. |
| 14 | Clashed with filmmakers on the Basic (2003) set because of the inclusion of a female Special Forces operative. Women are not eligible for combat in the US military. He felt it compromised the integrity of the story. |
| 15 | Perennially boyish American character actor known for his dark, somber demeanor, stark versatility and bizarre, off-the-wall performances in cutting edge contemporary films. |
| 16 | Best known on TV in the recurring role of Lisa Kudrow's dim-bulb brother on Friends (1994). |
| 17 | Made the cover of "Vanity Fair" after receiving critical kudos for Saving Private Ryan (1998). |
| 18 | Won the ShoWest Newcomer of the Year Award in 1999. |
| 19 | Once competed on family game show I'm Telling! (1987) with sister Marissa Ribisi. |
| 20 | Studied acting at The Beverly Hills Playhouse with Milton Katselas. |
| 21 | Family: Son of Gay Ribisi; older brother of Gina Ribisi; twin brother (15 minutes older) of Marissa Ribisi; brother-in-law of Beck. |
| 22 | Daughter Lucia (born December 1997) is named after the doomed heroine in the Donizetti opera. |
Pictures
Movies
Actor
| Title | Year | Status | Character |
| --- | --- | --- | --- |
| Sneaky Pete | 2015-2017 | TV Series | Pete Murphy Marius Josipovic |
| The Bad Batch | 2016 | | The Screamer |
| Papa Hemingway in Cuba | 2015 | | Ed Myers |
| Robot Chicken DC Comics Special 3: Magical Friendship | 2015 | TV Movie | Two-Face (voice) |
| Ted 2 | 2015 | | Donny |
| Meadowland | 2015 | | Tim |
| Results | 2015 | | Paul |
| Selma | 2014 | | Lee White |
| Dads | 2013-2014 | TV Series | Warner Whittemore |
| A Million Ways to Die in the West | 2014 | | Edward |
| Robot Chicken DC Comics Special II: Villains in Paradise | 2014 | TV Movie | The Joker Two-Face (voice) |
| Family Guy | 2013 | TV Series | Randy |
| Gangster Squad | 2013 | | Officer Conwell Keeler |
| Ted | 2012 | | Donny |
| Loom | 2012 | Short | Tommi Galvan |
| Columbus Circle | 2012 | | Detective Frank Giardello |
| Contraband | 2012 | | Tim Briggs |
| The Rum Diary | 2011 | | Moberg |
| Memphis Beat | 2010 | TV Series | Gene Templer |
| Avatar | 2009 | | Parker Selfridge |
| Avatar: The Game | 2009 | Video Game | Parker Selfridge (voice) |
| Public Enemies | 2009 | | Alvin Karpis |
| Middle Men | 2009 | | Wayne Beering |
| Entourage | 2008 | TV Series | Nick |
| Espíritu del bosque | 2008 | | Cebolo (English version, voice) |
| My Name Is Earl | 2005-2008 | TV Series | Ralph Mariano |
| Gardener of Eden | 2007 | | Vic |
| Perfect Stranger | 2007 | | Miles Haley |
| The Dead Girl | 2006 | | Rudy |
| The Dog Problem | 2006 | | Solo |
| 10th & Wolf | 2006 | | Joey |
| Untitled Jason Lee Short | 2006 | Short | |
| Getting Up: Contents Under Pressure | 2005 | Video Game | Kry1 (voice) |
| The Big White | 2005 | | Ted Waters |
| Flight of the Phoenix | 2004 | | Elliott |
| Sky Captain and the World of Tomorrow | 2004 | | Dex |
| Love's Brother | 2004 | | Angelo Donnini |
| Cold Mountain | 2003 | | Junior |
| Call of Duty | 2003 | Video Game | Private Elder (English version, voice) |
| Friends | 1995-2003 | TV Series | Frank Buffay Jr. / Condom Boy |
| I Love Your Work | 2003 | | Gray Evans |
| Lost in Translation | 2003 | | John |
| Basic | 2003 | | Kendall |
| Masked and Anonymous | 2003 | | Soldier |
| Heaven | 2002/I | | Filippo |
| According to Spencer | 2001 | | Louis |
| Shot in the Heart | 2001 | TV Movie | Mikal Gilmore |
| Black of Life | 2001 | TV Series | Matt |
| Pussykat | 2000 | | |
| The Gift | 2000 | | Buddy Cole |
| Gone in Sixty Seconds | 2000 | | Kip Raines |
| Boiler Room | 2000 | | Seth Davis |
| All the Rage | 1999 | | Sidney |
| The Hunger | 1999 | TV Series | Eddie Foden |
| The Virgin Suicides | 1999 | | Narrator (voice) |
| The Mod Squad | 1999 | | Pete |
| The Other Sister | 1999 | | Danny |
| Saving Private Ryan | 1998 | | T-4 Medic Wade |
| Phoenix | 1998 | | Joey Schneider |
| Alptraum im Airport | 1998 | TV Movie | Student |
| Some Girl | 1998 | | Jason |
| Scotch and Milk | 1998 | | Marty |
| The Postman | 1997 | | Bandit 20 |
| First Love, Last Rites | 1997 | | Joey |
| Lost Highway | 1997 | | Steve 'V' |
| SubUrbia | 1996 | | Jeff |
| That Thing You Do! | 1996 | | Chad |
| Tracey Takes On... | 1996 | TV Series | Dad |
| Out of Order | 1996 | TV Series short | |
| The Grave | 1996 | | Wex |
| Chicago Hope | 1995 | TV Series | Michael Weber |
| The X-Files | 1995 | TV Series | Darin Peter Oswald |
| Mind Ripper | 1995 | | Scott |
| Marker | 1995 | TV Series | Eddie |
| NYPD Blue | 1994 | TV Series | Bruce Mackie |
| Ellen | 1994 | TV Series | Cashier |
| Walker, Texas Ranger | 1994 | TV Series | Tony Kingston |
| Family Album | 1993 | TV Series | Elvis DeMattis |
| The Commish | 1993 | TV Series | Joey Burke |
| The Wonder Years | 1992-1993 | TV Series | Jeff Billings |
| The Positively True Adventures of the Alleged Texas Cheerleader-Murdering Mom | 1993 | TV Movie | Pete Reyes |
| Davis Rules | 1991-1992 | TV Series | Skinner Buckley |
| Blossom | 1991 | TV Series | Mitchell |
| My Two Dads | 1987-1990 | TV Series | Cory Kupkus |
| Married with Children | 1987-1989 | TV Series | Teddy |
| The New Leave It to Beaver | 1985-1989 | TV Series | Duffy Guthrie |
| Promised a Miracle | 1988 | TV Movie | Wesley (as Vanni Ribisi) |
| Sidekicks | 1986-1987 | TV Series | Travis |
| The Twilight Zone | 1985 | TV Series | Teddy (segment "The Beacon") |
| Simon & Simon | 1985 | TV Series | Kid #1 |
| Highway to Heaven | 1985 | TV Series | Curtis Johnson |
Soundtrack
| Title | Year | Status | Character |
| --- | --- | --- | --- |
| My Name Is Earl | 2006 | TV Series 1 episode | |
| Boiler Room | 2000 | "Things Done Changed" | |
| Some Girl | 1998 | performer: "She Silenced You" / writer: "She Silenced You" | |
Cinematographer
| Title | Year | Status | Character |
| --- | --- | --- | --- |
| Drift | 2014/II | Short | |
| Beck: Heart Is a Drum | 2014 | Video short | |
Producer
| Title | Year | Status | Character |
| --- | --- | --- | --- |
| Face in the Crowd | 2013 | Short executive producer | |
| Columbus Circle | 2012 | executive producer | |
Writer
| Title | Year | Status | Character |
| --- | --- | --- | --- |
| Drift | 2014/II | Short story | |
Camera Department
| Title | Year | Status | Character |
| --- | --- | --- | --- |
| Phoenix Diaries | 2005 | Video documentary short additional camera operator | |
Thanks
| Title | Year | Status | Character |
| --- | --- | --- | --- |
| Side by Side | 2012 | Documentary special thanks | |
Self
| Title | Year | Status | Character |
| --- | --- | --- | --- |
| Today | 2017 | TV Series | Himself - Guest |
| The Late Late Show with James Corden | 2017 | TV Series | Himself / Himself - Guest |
| WGN Morning News | 2017 | TV Series | Himself |
| Chelsea Lately | 2012-2014 | TV Series | Himself - Guest |
| E! News | 2014 | TV Series | Himself |
| Last Call with Carson Daly | 2006-2014 | TV Series | Himself |
| The Tonight Show Starring Jimmy Fallon | 2014 | TV Series | Himself |
| Late Night with Jimmy Fallon | 2009-2013 | TV Series | Himself |
| Good Day L.A. | 2013 | TV Series | Himself |
| The Arsenio Hall Show | 2013 | TV Series | Himself - Guest |
| Fox Fall Preview | 2013 | TV Special | Himself |
| The Hour | 2013 | TV Series | Himself |
| Made in Hollywood | 2011-2013 | TV Series | Himself |
| The Hollywood Fast Lane | 2013 | TV Series | Himself - Interviewee |
| Up Close with Carrie Keagan | 2007-2013 | TV Series | Himself |
| Reality Factor: The Stunts and Action of 'Contraband' | 2012 | Short | Himself |
| Under the Radar: The Making of 'Contraband' | 2012 | Video short | Himself |
| The 2012 Film Independent Spirit Awards | 2012 | TV Special | Himself - Presenter |
| ES.TV HD | 2012 | TV Series | Himself - Guest |
| SAG Foundation Conversations | 2011 | TV Series | Himself |
| Capturing Avatar | 2010 | Video documentary | Himself - 'Parker Selfridge' |
| KTLA Morning News | 2010 | TV Series | Himself |
| Avatar: Creating the World of Pandora | 2010 | TV Movie documentary | Himself |
| The 2009 Independent Spirit Awards | 2009 | TV Special | Himself |
| Going to Whatstock? | 2008 | Documentary | |
| Fashion News Live | 2007 | TV Series | Himself |
| The Morning Show with Mike & Juliet | 2007 | TV Series | Himself |
| Film Independent's 2007 Spirit Awards | 2007 | TV Special | Himself |
| Lightfield's Home Videos | 2006 | Video | Himself |
| Jimmy Kimmel Live! | 2006 | TV Series | Himself |
| Dinner for Five | 2005 | TV Series | Himself |
| Phoenix Diaries | 2005 | Video documentary short | Himself |
| Dennis Miller | 2004 | TV Series | Himself |
| Climbing 'Cold Mountain' | 2004 | Video documentary | Himself |
| 'Saving Private Ryan': Boot Camp | 2004 | Video documentary short | Himself |
| Tussen de sterren | 2003 | TV Series documentary | Himself |
| 'Masked & Anonymous' Exposed | 2003 | Video documentary short | Himself |
| The Gift: A Look Inside | 2001 | Video documentary short | Himself |
| American Experience | 2001 | TV Series documentary | Himself - Reader |
| 2001 Blockbuster Entertainment Awards | 2001 | TV Special | Himself |
| The 2001 IFP/West Independent Spirit Awards | 2001 | TV Special | Himself - Presenter (uncredited) |
| The Tonight Show with Jay Leno | 2000 | TV Series | Himself |
| Gone in 60 Seconds: Stars on the Move | 2000 | Video short | Himself |
| Gone in 60 Seconds: Wild Rides | 2000 | Video short | Himself |
| Gomorron | 2000 | TV Series | Himself |
| Into the Breach: 'Saving Private Ryan' | 1998 | Video documentary short | Himself |
| HBO First Look | 1998 | TV Series documentary short | Himself |
| The 1998 Annual ShoWest Awards | 1998 | TV Special | Himself |
| Circus of the Stars #14 | 1989 | TV Special documentary | Himself (as Vonni Ribisi) |
| The 14th Annual People's Choice Awards | 1988 | TV Special documentary | Himself - Accepting Award for Favourite New Television Comedy |
| I'm Telling! | 1987 | TV Series | Himself - Contestant |
Archive Footage
| Title | Year | Status | Character |
| --- | --- | --- | --- |
| Chelsea Lately | 2014 | TV Series | Edward in 'A Million Ways to Die in the West' |
| Brave New World | 2005 | Video documentary | Himself / Dex |
| Friends: The One Before the Last One - Ten Years of Friends | 2004 | TV Movie | Frank Jr. (uncredited) |
| Basic: A Director's Design | 2003 | Video documentary short | Himself |
| Gomorron | 1998 | TV Series | Himself |
| My Two Dads | 1989 | TV Series | Cory Kupkus |
Awards
Won Awards
| Year | Award | Ceremony | Nomination | Movie |
| --- | --- | --- | --- | --- |
| 2014 | BFCC Award | Black Film Critics Circle Awards | Best Ensemble | Selma (2014) |
| 2002 | Golden Arena | Pula Film Festival | Best Actor - Foreign Film | Heaven (2002) |
| 1999 | OFTA Film Award | Online Film & Television Association | Best Cinematic Moment | Saving Private Ryan (1998) |
| 1999 | ShoWest Award | ShoWest Convention, USA | Male Star of Tomorrow | |
Nominated Awards
| Year | Award | Ceremony | Nomination | Movie |
| --- | --- | --- | --- | --- |
| 2015 | GFCA Award | Georgia Film Critics Association (GFCA) | Best Ensemble | Selma (2014) |
| 2014 | SDFCS Award | San Diego Film Critics Society Awards | Best Ensemble | Selma (2014) |
| 2014 | WAFCA Award | Washington DC Area Film Critics Association Awards | Best Acting Ensemble | Selma (2014) |
| 2010 | Teen Choice Award | Teen Choice Awards | Choice Movie: Hissy Fit | Avatar (2009) |
| 2007 | Primetime Emmy | Primetime Emmy Awards | Outstanding Guest Actor in a Comedy Series | My Name Is Earl (2005) |
| 2007 | OFTA Television Award | Online Film & Television Association | Best Guest Actor in a Comedy Series | My Name Is Earl (2005) |
| 2005 | Saturn Award | Academy of Science Fiction, Fantasy & Horror Films, USA | Best Supporting Actor | Sky Captain and the World of Tomorrow (2004) |
| 2004 | Gold Derby Award | Gold Derby Awards | Ensemble Cast | Cold Mountain (2003) |
| 2003 | ACCA | Awards Circuit Community Awards | Best Cast Ensemble | Cold Mountain (2003) |
| 2002 | AFI Award | AFI Awards, USA | Actor of the Year - Male - TV Movie or Mini-Series | Shot in the Heart (2001) |
| 2001 | Saturn Award | Academy of Science Fiction, Fantasy & Horror Films, USA | Best Supporting Actor | The Gift (2000) |
| 2001 | Independent Spirit Award | Independent Spirit Awards | Best Supporting Male | The Gift (2000) |
| 2000 | Teen Choice Award | Teen Choice Awards | Film - Choice Liar | Boiler Room (2000) |
| 1999 | Actor | Screen Actors Guild Awards | Outstanding Performance by a Cast | Saving Private Ryan (1998) |
| 1999 | Teen Choice Award | Teen Choice Awards | Film - Choice Actor | |
| 1999 | Stinker Award | The Stinkers Bad Movie Awards | Worst Supporting Actor | The Mod Squad (1999) |
| 1993 | Young Artist Award | Young Artist Awards | Best Young Actor Recurring in a Television Series | The Wonder Years (1988) |
| 1990 | Young Artist Award | Young Artist Awards | Best Young Actor Starring in a Television Series | My Two Dads (1987) |
| 1989 | Young Artist Award | Young Artist Awards | Best Young Actor, Featured, Co-starring, Supporting, Recurring Role in a Comedy or Drama Series or Special | My Two Dads (1987) |
| 1989 | Young Artist Award | Young Artist Awards | Best Young Actor in a Special, Pilot, Movie of the Week or Mini-Series | Promised a Miracle (1988) |
| 1986 | Young Artist Award | Young Artist Awards | Best Young Actor - Guest in a Television Series | Highway to Heaven (1984) |
Source:
IMDb
,
Wikipedia