• Geoff Ramsey is a film and content producer, voice actor, and online sensation, best known for his involvement in the sci-fi comic web series "Red vs. Blue".
• He enlisted in the US Army and worked for various entertainment and tech companies before co-founding Rooster Teeth in 200•
• He has produced and acted in 11 machinima web series, created the popular video gaming sites "Achievement Hunter" and "Let's Play", and voiced characters in several computer games.
• He has been married and divorced, and is currently in a relationship with hairstylist Emily Hatfield.
• He has an estimated net worth of $4 million.

Known for movies
Short Info
| | |
| --- | --- |
| Net Worth | $3 million dollars |
| Date Of Birth | June 19, 1975 |
| Spouse | Griffon Ramsey |
| Mark | Arm and hand tattoos |
| Fact | Is left handed. |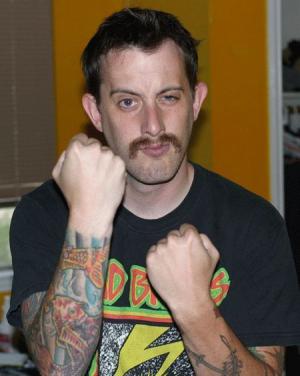 Geoff Ramsey is an American film and content producer, voice actor, and online sensation, whose ticket to fame was his involvement as producer and voice actor of one of the main characters in the popular sci-fi comic web series entitled, "Red vs. Blue."
Early Life and Family
Geoffrey Paul Wright was born on 19 June 1975, in Mobile, Alabama, where he was raised mostly, and partly in Pensacola, Florida and New Orleans, Louisiana. Little else is known about his family except that he officially changed his last name to that of his stepfather.
Education
He attended local public school in Mobile County for his primary education, and didn't finish high school as he decided to enlist in the US Army.
He spent his basic combat training at Fort Jackson in Columbia, South Carolina, and served his country from 1993 up to 1998, primarily stationed at Fort Hood in Killeen, Texas, but was also tapped to serve as a photojournalist in Kuwait after taking up journalism at the Defense Information School at Fort Benjamin Harrison in Marion County, Indiana. He spent the last two years of his military service stationed at Fort Monmouth, New Jersey.
Career
First Step
Geoff turned his focus to the entertainment industry after leaving the Army. He worked as one of the tech assistants for Catch 22, a ska punk band, and then became a production assistant for View Askew Productions, a film production company.
He also worked on tech support at teleNetwork, an Information Technology company in Texas, where he met his future business partners, Burnie Burns and Gus Sorola. After leaving teleNetwork, Geoff created an online gaming website, drunkgamers.com, with Gus and later hired Burnie to help manage the site. These three along with two other tech guys, Dan Godwin and Jason Saldana, review video games while drunk. They started to gain notoriety with their projects, but soon many companies would offer them free games for review, despite 'incurring the wrath' of game developers.
They also created live-action parody versions of non-gameplay videos, including the ad campaign of Apple Switch and Drunk Tank podcasts.
For business reasons, they renamed their brand to get serious financial backing; no decent company would associate with anything having the word "drunk" in it. They changed Drunk Tank Podcast to Rooster Teeth Podcast, and Drunk Gamers to Rooster Teeth.
Further Success
Machinima
With the rebranding of their company, in 2003 he along with his partners produced a machinima science fiction comedy web series, "Red vs. Blue", loosely based on the military fiction first-person shooter game series, "Halo" – Geoff was one of the original voices of the main cast. This unique method of producing cinematic films through the use of real-time computer graphics often seen in computer games had developed a fan base. Rooster Teeth had created many television web series out of this Machinima technique. "Red vs. Blue" runs for seven minutes each episode, and is currently in its 17th season.
As a producer and actor, Geoff has also been involved in creating 11 other machinima web series – some of the most notable were "The Strangerhood" in 2004 to 2006 and rebooted in 2015; "Rooster Teeth Shorts" from 2009 to 2014; and "Happy Hour," a reality-based series with his ex-wife, Griffon Ramsey, aired from 2014 to 2016,
Video Gaming
Geoff along with Jack Pattillo started in 2008 an online site and channel, "Achievement Hunter," and produced videos that were related to video games. It was based from achievement modes that can be found in the 7th generation video game consoles. They helped in finding Easter eggs and creating game guides, and the success of this site led to launching the "Let's Play" online site and YouTube channel, uploading videos on gameplays, and sometimes would produce live gaming.
Aside from giving gaming guides and Easter eggs, they also included comedic commentary that gained a huge fanbase. Today, "Achievement Hunter" channel has 1.65 million subscribers with 2,328 uploaded videos that has attracted over 870 million views. "Let's Play" channel, on the other hand, has 3.86 million subscribers and over 2 billion views as of May 2020.
Geoff has also provided voice to characters in popular computer games including "Halo 3" in 2007, "Worms WMD" as Worm in 2016,  "Red Dead Redemption" as the Train Station Attendant in 2018, and "Vicious Circle" as Blitz that was released in 2019.
Films
Geoff has also been a part of five films, including "Renaissance Man" in 1994 and "Blood Fest" in 2018.
Personal Life
Geoff married Griffon Ramsey on 2 June 2005, and they have a daughter named Millicent Ramsey – they met through a blind date after cancelling it twice. They started dating and found out that they had several common interests, including their adventurous spirits and love for tattoos. Many people were inspired by their relationship, thus a podcast named, "Relationship Goals" started airing in 2017; it featured all types of relationship and it was the right platform for them since they had an unorthodox relationship.  They would be separated for long periods of time in a year due to the nature of their work, but it worked for them because of the unconditional love that they had for each other.
However, after 12 years of marriage, they announced that they were getting a divorce, at which fans were shocked.
Many people thought that it was fake news, but both of them confirmed it through separate postings on their social media accounts. They claim to have remained friends and would share parenting duties to their child.
Geoff's only daughter is an online celebrity just like him. Millie appeared in an interactive game YouTube channel "Game Kids", and became popular with the "Sims Sisters" series in which she was able to play herself along with her nanny Chelsea. Sometimes Geoff and ex-wife Griffon would join them as they explored the world of "Sims."
Geoff is currently dating Emily Hatfield, a hairstylist based in Austin, Texas, who owns VAIN Salon. There's no information on when they started dating, but based from Emily's Instagram, she started posting couple photos on 25 June 2018.
Interesting Facts
When he officially changed his last name, he added Lazer as his middle name when the judge said during the application that it would not cost him anything.
Before the popularity of his daughter's "Sims" series online, he created his own family Minecraft video back in 2014 when he and his wife Griffon were still together, which became one of the most popular videos on the Game Kids channel.
He was credited as Geoffrey Paul Fink in some of his earlier works.
Social Media Accounts
Geoff is active on major social media sites, with verified accounts including Instagram @geofflramsey, Twitter @geoffLRamsey, and Facebook @geofframseyrt.
Appearance
Geoff is 5ft 10ins (1.78m) tall and weighs around 165lbs (75kgs). He is Caucasian with black hair, sporting a beard, has brown eyes, and covered with colorful tattoos all over his body.
Net worth
Sources estimate that his net worth is around $4 million as of May 2020. Most of his earnings have come from Rooster Teeth of which he was the co-founder, content producer, voice actor, and podcaster.
General Info
| | |
| --- | --- |
| Full Name | Geoff Ramsey |
| Net Worth | $3 million dollars |
| Date Of Birth | June 19, 1975 |
| Height | 1.78 m |
| Profession | Film producer, Film director, Actor |
| Nationality | American, American |
Family
| | |
| --- | --- |
| Spouse | Griffon Ramsey |
| Children | Millicent Ramsey |
| Parents | Griffon Ramsey, Geoff Ramsey |
Accomplishments
| | |
| --- | --- |
| Movies | Red vs. Blue: Reconstruction: Season 6, Red vs. Blue: Recreation, Cock Byte: Masters of Machinima, Red vs. Blue: Revelation |
| TV Shows | Red vs. Blue, PANICS, Immersion |
Social profile links
Marks
| # | Marks / Signs |
| --- | --- |
| 1 | Arm and hand tattoos |
| 2 | Thick mustache |
Facts
| # | Fact |
| --- | --- |
| 1 | Is left handed. |
| 2 | His daughter is Internet and YouTube star Millicent "Millie" S. Ramsey. She is a YouTube gaming star known for appearing on the collaborative channel Game Kids. She is most well known for the Sims Sisters series, played with her nanny Chelsea. Millie was born on September 23, 2005 in Texas, USA. Before her fame, The Game Kids channel launched in December 2014, shortly preceded by the channel trailer the previous November. One of Game Kids most popular videos is "Millie, Geoff, and Griffon play Minecraft - Kids Play", featuring her and her parents. She is friends with family friend and Rooster Teeth host Gavin Free. |
| 3 | Geoff starred as an extra in Renaissance Man. During the PT scene you can hear his voice in the back addressing the recruits just before St. Crispen begins his speech. |
| 4 | His middle name, Lazer, originated when he applied to change his surname to that of his step-father. Upon application, he learned that it would not cost anything for him to change any of his other names at that time. |
Pictures
Movies
Actor
| Title | Year | Status | Character |
| --- | --- | --- | --- |
| The Eleven Little Roosters | 2017 | TV Mini-Series | Boomerang Geoff |
| Uno: The Movie | 2016 | | Geoff |
| Worms W.M.D. | 2016 | Video Game | Worm |
| Death Battle | 2016 | TV Series | Grif |
| Heroes & Halfwits | 2016 | TV Series | Bo Jingles |
| Rooster Teeth: Entertainment System | 2015 | TV Series | Guest |
| On the Spot | 2015 | TV Series | |
| Red vs. Blue: Season 13 | 2015 | Video | Grif (as Geoff Lazer Ramsey) |
| X-Ray and Vav | 2014 | TV Series | Corpirate |
| Red vs Blue: Season 12 | 2014 | TV Series | Grif (as Geoff Lazer Ramsey) |
| Red vs Blue: Season 11 | 2013 | Video | Grif (as Geoff Lazer Ramsey) |
| Red vs. Blue: Season 10 | 2012 | Video | Grif (voice, as Geoff Lazer Ramsey) |
| The Best Red vs. Blue. Ever. Of All Time | 2012 | | Grif (voice) |
| Red vs. Blue: Season 9 | 2011 | | Sgt. Dexter Grif (voice, as Geoff Lazer Ramsey) |
| Rooster Teeth Shorts: Volume Three | 2011 | Video | Geoff (as Geoff Lazer Ramsey) |
| Rooster Teeth Shorts: Volume Two | 2010 | Video | Geoff (as Geoff Fink) |
| Red vs. Blue: Revelation | 2010 | Video | Sgt. Dexter Grif (voice, as Geoff Fink) |
| Rooster Teeth Shorts: Volume One | 2009 | Video | Geoff (as Geoff Fink) |
| Red vs. Blue: Recreation | 2009 | Video | Sgt. Dexter Grif (voice, as Geoff Fink) |
| Red vs. Blue: Reconstruction | 2008 | Video | Sgt. Dexter Grif (voice, as Geoff Fink) |
| Red vs Blue: Recollection Trilogy | 2008 | TV Series | Grif (as Geoff Lazer Ramsey) |
| Halo 3 | 2007 | Video Game | Additional Voices (voice, as Geoff Lazer Ramsey) |
| Red vs. Blue: The Blood Gulch Chronicles | 2003-2006 | TV Series | Pvt. Dexter Grif |
| The Strangerhood | 2003 | TV Series | Mister Mystery (voice, as Geoff Lazer Ramsey) |
Producer
| Title | Year | Status | Character |
| --- | --- | --- | --- |
| Off Topic | 2015-2016 | TV Series executive producer - 51 episodes | |
| Red vs. Blue: The Blood Gulch Chronicles | 2003 | TV Series co-producer - as Geoff Fink | |
Writer
| Title | Year | Status | Character |
| --- | --- | --- | --- |
| Uno: The Movie | 2016 | | |
Visual Effects
| Title | Year | Status | Character |
| --- | --- | --- | --- |
| Red vs. Blue: The Blood Gulch Chronicles | 2003 | TV Series visuals - as Geoff Fink | |
Thanks
| Title | Year | Status | Character |
| --- | --- | --- | --- |
| Halo | 2001 | Video Game special thanks - as Geoff Lazer Ramsey | |
Self
| Title | Year | Status | Character |
| --- | --- | --- | --- |
| Off Topic | 2015-2017 | TV Series | Himself / Himself - Host |
| The Best Ever! | 2016 | TV Series | Himself |
| On the Spot | 2014-2015 | TV Series | Himself |
| Immersion | 2010-2011 | TV Series | Himself |
Archive Footage
| Title | Year | Status | Character |
| --- | --- | --- | --- |
| Halo: The Master Chief Collection | 2014 | Video Game | Additional Voices (as Geoff Lazer Ramsey) |
Source:
IMDb
,
Wikipedia