• Paul Blackthorne is an English actor best known for portraying Quentin Lance in "Arrow" (2012-2020).
• He developed a perfect American accent, which helped him secure various roles.
• Paul starred in the award-winning indie film "Four Corners of Suburbia" (2005) and "Lagaan: Once Upon a Time in India" (2001).
• His net worth is estimated at over $3 million, as of mid-2020.
• He is an avid photographer and Arsenal F.C. supporter.

Known for movies
Short Info
| | |
| --- | --- |
| Date Of Birth | March 5, 1969 |
| Fact | In the final episode of the third series of 24 (2001): Day 3: 12:00 p.m.-1:00 p.m., a profile of his character, Stephen Saunders, is seen on a computer screen. It describes him as being only 5' 10", despite the fact that he is notably taller. |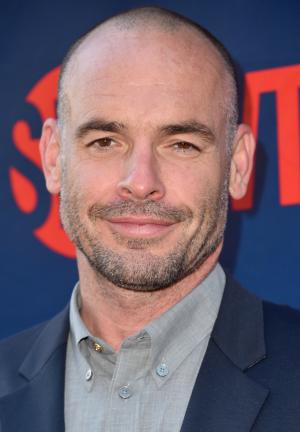 Who is Paul Blackthorne?
His last name sounds like he comes from some fantasy book, but that is not the case; he is an English actor, who is probably best known to the world as Quentin Lance in the TV series "Arrow" (2012-2020), in addition to a number of other differing roles he has had during his career.
Paul Blackthorne Wiki- Age, Childhood, and Education
Paul Blackthorne was born on the 5th March 1969, in Wellington, Shropshire, England; he hasn't shared much from his childhood, including his formal education, but has said that he had an interest in the performing arts from an early age, thanks to his uncle Stanley who would do impressions, and young Paul wanted to act like him.
He later joined a local music theater, and from then on, his acting aspirations increased, and he did all he could to acquire the necessary skills. He would also develop a perfect American accent, which certainly helped him in his subsequent career.
Career Beginnings
There is no record of his early working life, but Paul started in TV commercials, notably one for Virgin Atlantic in 1997, appearing as the Grim Reaper. After the success of the particular commercial, he did a number of radio commercials, which made it easier for him to acquire his debut role. His film debut happened in 1998, when he was selected for the role of Romeo in the short film "Romeo Thinks Again", and the next year he secured his first recurring role, Liam McGregor in the TV series "Peak Practice".
He continued successfully into the new millennium, portraying John in the comedy film "Rhythm & Blues" (2000), while in 2001 he had a turning point in his early career. First, he portrayed Guy Morton in 11 episodes of the TV series "Holby City", and was then selected for the role of Captain Andrew Russell in the adventure-drama film "Lagaan: Once Upon a Time in India". A Bollywood production film, it earned an Academy Award nomination as the best foreign-language film, and more than 50 wins at various festivals. Paul appeared alongside Indian stars such as Aamir Khan and Gracy Singh, and spent six months learning Hindi for the role, an indication of how committed he is to his career as an actor.
Rise to Prominence
The role of Captain Andrew Russell changed the perspective of how producers and directors looked at Paul, and he started getting more prominent roles. He starred in the film "The Truth Game" in 2001, and then portrayed Dr. Matt Slingerland in the TV series "Presidio Med", from 2002 to 2003. He continued with reputable television roles, first as Dr. Jeremy Lawson in one of the most popular medical-dramas, "ER" (2004), and then as Stephen Saunders in the TV action crime-drama series "24". The following year, Paul starred in the award-winning indie film "Four Corners of Suburbia", next to Mark Abreu and Mädchen Amick.
In 2006, he portrayed Jonas Exiler in the sci-fi comedy-drama "Special", and from 2007 to 2008 he was Harry Dresden in the crime-action series "The Dresden Files", but the series was canceled after only 13 episodes. Then from 2008 to 2009, Paul had the lead male role in the TV series "Lipstick Jungle", also starring Brooke Shields, Kim Raver and Lindsay Price.
Continued Success
Paul continued his career with television roles, become a star of one-season shows including "The River" in 2010, a story about a team of researchers trying to find a missing TV explorer in the Amazon, which despite rave reviews and a Primetime Emmy Award nomination, didn't get a second season.
Nevertheless, two years later Paul got the role of his career, selected as detective Quentin Lance in the action-adventure series "Arrow". He starred in the show until 2018 when he left, though he returned in the last episode of the award-winning series.
In addition to "Arrow", he portrayed Quentin Lance in "DC's Legends of Tomorrow" (2016), and "The Flash" as a guest star. While working on "Arrow", he had several other appearances, including in the film "Daisy Winters" (2017) starring Brooke Shields, while in 2019 he secured the role of Detective Tom Hackett in the TV sci-fi series "The In-Between".
Paul is currently working on several projects, including the film about Queen Margrete, entitled "Margrete den første", which is now in post-production.
He is also working on the new TV sci-fi series "Home Invasion".
Paul Blackthorne Net Worth, Height, Weight, and Appearance
Paul has proven his acting talents in more than 45 films and TV series, all of which have added to his wealth. According to sources, Paul Blackthorne's net worth is estimated at over $3 million, as of mid- 2020.
Paul Blackthorne has brown hair and brown eyes, but is known for his impressive height, as he stands at 6ft 3ins (1.92m) tall, while he weighs approximately 200lbs ~ 91kgs.
Paul Blackthorne Personal Life, Dating, Single, or Married?
Paul is a very secretive man, but his secrecy has inevitably only sparked rumors. Some have even questioned his sexuality, stating that he is gay, but others have linked him with several women. According to sources, he dated actress Daryl Hannah, but they split in 2011.
He was slso linked to actress Kaley Cuoco back in December 2015. Since then, Paul has successfully kept hidden any information about his love life.
Paul Blackthorne News, Facts
Paul's character was killed off in the sixth season of "Arrow", nevertheless returned in the series finale. When this was announced, the fans were amazed but also confused, however, this only benefited Paul, as he was once again the famed Detective Quentin Lance. He got credits alongside other characters of the show that died along the way, and the ending was rendered as one of the most beautiful endings of any TV series.
Most recently, Paul was in the media talking about the show "The In-Between", and how he feels about the death of his character in "Arrow".
In addition to acting, Paul's other love is photography; he has done a few exhibitions of his work, including one entitled "Delhi to Manhattan", exhibited at Tibet House in New York. Furthermore, back in 2001 when he was filming his debut film "Lagaan: Once Upon a Time in India", the earthquake damaged the apartment in which the crew was staying, and profit from his subsequent exhibit he donated to the injured.
Paul was a soccer player in his youth, and is an ardent Arsenal F.C. supporter.
General Info
| | |
| --- | --- |
| Full Name | Paul Blackthorne |
| Date Of Birth | March 5, 1969 |
| Height | 1.92 m |
| Profession | Voice Actor |
| Nationality | British |
Accomplishments
| | |
| --- | --- |
| Nominations | IIFA Award for Best Performance in a Negative Role |
| Movies | Lagaan, Special, Four Corners of Suburbia, A Christmas Carol, Justice League: Doom, This American Journey, Dumb and Dumber To, Dark Ascension, Rhythm & Blues, Untitled Secret Service Project, The Gold Lunch |
| TV Shows | Burn Notice, The River, Lipstick Jungle, The Dresden Files, Arrow, Presidio Med |
Social profile links
Facts
| # | Fact |
| --- | --- |
| 1 | He has played the same character (Quentin Lance) in three different series: Arrow (2012), The Flash (2014) and Legends of Tomorrow (2016). |
| 2 | He spent six months learning Hindi for his role in Lagaan: Once Upon a Time in India (2001). |
| 3 | Lagaan: Once Upon a Time in India (2001), the film in which he made his film debut, was nominated for the Academy Award for Best Foreign Language Film. |
| 4 | Originally auditioned on 24 (2001) to play Michael Amador. |
| 5 | In the final episode of the third series of 24 (2001): Day 3: 12:00 p.m.-1:00 p.m., a profile of his character, Stephen Saunders, is seen on a computer screen. It describes him as being only 5' 10", despite the fact that he is notably taller. |
Pictures
Movies
Actor
| Title | Year | Status | Character |
| --- | --- | --- | --- |
| Dark Ascension II: The Journey to Hell | 2018 | pre-production | Willis |
| Dark Ascension | 2017 | pre-production | Willis |
| Daisy Winters | 2017 | post-production | Robert Stergen |
| Arrow | 2012-2017 | TV Series | Quentin Lance |
| Legends of Tomorrow | 2016-2017 | TV Series | Quentin Lance |
| Call of Duty: Infinite Warfare | 2016 | Video Game voice, as Paul B Blackthorne | |
| The Flash | 2015 | TV Series | Quentin Lance |
| Dumb and Dumber To | 2014 | | Emergency Room Doctor |
| Arrow: Blood Rush | 2013 | TV Series | Quentin Lance |
| Necessary Roughness | 2012 | TV Series | Jack St. Cloud |
| The River | 2012 | TV Series | Clark Quietly |
| CSI: Crime Scene Investigation | 2012 | TV Series | Tom Laudner |
| Justice League: Doom | 2012 | Video | Metallo Henry Ackerdson (voice) |
| White Collar | 2010-2011 | TV Series | Julian Larssen Julian Larson |
| Warehouse 13 | 2010 | TV Series | Larry Newley |
| The Gates | 2010 | TV Series | Christian Harper |
| CSI: Miami | 2010 | TV Series | Tony Enright |
| Leverage | 2010 | TV Series | Tony Kadjic |
| A Christmas Carol | 2009 | | Guest #3 / Business Man #2 |
| Burn Notice | 2009 | TV Series | Thomas O'Neill |
| Lipstick Jungle | 2008-2009 | TV Series | Shane Healy |
| Shocktrooper | 2008 | Short | |
| The Gold Lunch | 2008 | Short | Man |
| Big Shots | 2007-2008 | TV Series | Terrence Hill |
| The Dresden Files | 2007-2008 | TV Series | Harry Dresden |
| Monk | 2006 | TV Series | Dr. Polanski |
| Deadwood | 2006 | TV Series | Hearst's man needling Cornishmen |
| Special | 2006 | | Jonas Exiler |
| Four Corners of Suburbia | 2005 | | Walt Samson |
| Medium | 2005 | TV Series | Henry Stoller / Henry Stoller's Son |
| 24 | 2004 | TV Series | Stephen Saunders |
| ER | 2004 | TV Series | Dr. Jeremy Lawson |
| Gramercy Park | 2004 | TV Movie | Jack Quinn |
| Mindcrime | 2003 | Short | Man |
| Presidio Med | 2002-2003 | TV Series | Dr. Matt Slingerland |
| Untitled Secret Service Project | 2002 | TV Movie | Graham Davis |
| The Truth Game | 2001 | | Dan |
| Lagaan: Once Upon a Time in India | 2001 | | Captain Andrew Russell |
| Holby City | 2001 | TV Series | Guy Morton |
| Rhythm & Blues | 2000 | | John |
| This Is Not an Exit: The Fictional World of Bret Easton Ellis | 1999 | Documentary | Victor Ward |
| Jonathan Creek | 1999 | TV Series | Gino |
| Peak Practice | 1999 | TV Series | Liam McGregor Liam MacGregor |
| Romeo Thinks Again | 1998 | Short | Romeo |
Producer
| Title | Year | Status | Character |
| --- | --- | --- | --- |
| Victorious Women of the Gridiron | 2017 | Documentary executive producer post-production | |
| Women with Balls | 2016 | Documentary executive producer post-production | |
| This American Journey | 2013 | Documentary executive producer | |
Director
| Title | Year | Status | Character |
| --- | --- | --- | --- |
| This American Journey | 2013 | Documentary | |
Writer
| Title | Year | Status | Character |
| --- | --- | --- | --- |
| This American Journey | 2013 | Documentary | |
Camera Department
| Title | Year | Status | Character |
| --- | --- | --- | --- |
| This American Journey | 2013 | Documentary still photographer | |
Thanks
| Title | Year | Status | Character |
| --- | --- | --- | --- |
| Arrow: From Vigilante to Hero | 2014 | Video documentary short special thanks | |
| Arrow: Year One | 2013 | TV Movie thanks | |
Self
| Title | Year | Status | Character |
| --- | --- | --- | --- |
| Save the Rhino Vietnam | | Documentary post-production | Himself |
| Home & Family | 2016 | TV Series | Himself |
| This Week in Hollywood | 2015 | TV Series | Himself |
| Arrow: From Vigilante to Hero | 2014 | Video documentary short | Himself |
| This American Journey | 2013 | Documentary | Himself |
| Central Tonight | 2013 | TV Series | Himself |
| HypaSpace | 2007 | TV Series documentary | Himself |
| 50 Films to See Before You Die | 2006 | TV Movie documentary | Himself |
| 24Inside | 2004 | TV Series documentary | Himself |
Archive Footage
| Title | Year | Status | Character |
| --- | --- | --- | --- |
| Entertainment Tonight | 2015 | TV Series | Himself |
| Arrow: Year One | 2013 | TV Movie | Quentin Lance |
Awards
Won Awards
| Year | Award | Ceremony | Nomination | Movie |
| --- | --- | --- | --- | --- |
| 2013 | BTVA People's Choice Voice Acting Award | Behind the Voice Actors Awards | Best Vocal Ensemble in a TV Special/Direct-to-DVD Title or Theatrical Short | Justice League: Doom (2012) |
| 2013 | BTVA Special/DVD Voice Acting Award | Behind the Voice Actors Awards | Best Vocal Ensemble in a TV Special/Direct-to-DVD Title or Theatrical Short | Justice League: Doom (2012) |
Nominated Awards
| Year | Award | Ceremony | Nomination | Movie |
| --- | --- | --- | --- | --- |
| 2002 | Popular Award | Awards of the International Indian Film Academy | Performance in a Negative Role | Lagaan: Once Upon a Time in India (2001) |
| 2002 | Screen | Screen Weekly Awards | Best Performance in a Negative Role | Lagaan: Once Upon a Time in India (2001) |
Source:
IMDb
,
Wikipedia