• Shelley Hennig is an American model and actress
• Won two pageantry titles in 2004, nominated for two Emmys and awarded the Teen Choice Award title in 2016
• Channeled grief from the death of her brother into educating people about the dangers of drug and alcohol abuse
• Has appeared in 15+ shows and movies, worked as the brand ambassador for Toyota and Clear & Clean face watch
• Net Worth of $1 million, earning an estimated $160,000 a year

Known for movies
Short Info
| | |
| --- | --- |
| Net Worth | $1 million |
| Date Of Birth | January 2, 1987 |
| Fact | Miss Teen Louisiana 2004. |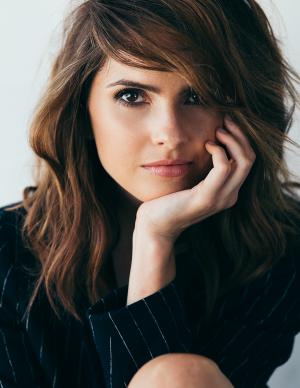 Shelley Hennig is a figure most recognizable to teenage society, however, she has also made a name for herself in the broader community. Hennig is an American model and actress, who slipped her way onto the big screen when she was only 17 years-old. To say that she is accomplished would be an understatement – her talent and potential have been acknowledged by the most prestigious members in the industry, nominating her for two Emmys, awarding her the Teen Choice Award title in 2016, and various other accolades. She is even the holder of two pageantry titles – "Miss Louisiana" and "Miss Teen USA" both in 2004.
Early Life and Family
Shelley has been relaxed about sharing the details of her life before fame. Shelley Catherine Hennig was born on 2 January 1987, in Destrehan, Louisiana USA, as the third child to Glenn H Hennig Snr and Cathy Distefano Gosset. Her parents have since divorced and her mother remarried Wayne Gosset, however, the exact timing of those events is unknown. Shelley had two older brothers – Glenn H Hennig Jnr and Brad Joseph Hennig, who she adored and idolized. Shelley loves to dance and write, starting dancing at the young age of two. Her passion for writing also led to two of her poems being published in "Young Authors Book of Poetry", Like all people, Hennig has her idiosyncrasies, and reveals that she took pride in being the fastest typist at her school, and has an obsession with memorization and spelling.
Tragically, Shelley's older brother Brad Joseph Hennig was killed in 2001 at the age of 18, in a drunk driving incident. Although this was devastating for Shelley, she channeled her grief towards educating people about the dangers of drug and alcohol abuse. She has worked tirelessly with multiple organizations to spread her message, including C.A.D.A, Seeds of Peace, D.A.R.E, and Shine to name only a few.
After her brother's heart-breaking demise, it was not all doom and gloom for Shelley. Three years later, Hennig participated in and won the aforementioned pageant titles. One of her prizes for the pageant was a one-year contract with Trump Modelling Management.
Education
Shelley was a hardworking and conscientious student. She attended Destrehan High School, where she put her soul into English literature, but despised algebra. When she matriculated high school, she was named the Academic Excellent Student, a tribute to her hard work. This is even more impressive when considering her dancing achievements. Hennig studied dance at the Dance Unlimited studio, where she spent more time than she did at school. Shelley loved her dancing and won multiple competitive awards. She then went on to study acting at New York Conservatory of the Arts, to which she had also won a one-year scholarship through her pageantry title.
After this it is unknown if she attended university, but either way it was then that her acting career took off.
Career
Acting
Shelley made her first film appearance in 2004, as Wendy Crane in the TV Series "Passions", a minor, unaccredited role, which was the most she would achieve for a time. Then her luck paid out, and in 2007 she replaced the actress playing Stephani Johnson in "Days of our Lives". There were mixed feelings associated with the role. While this was her most prominent role yet, the differences in her physical appearance to that of the actress she had replaced, generated hate among the show's fans.
However, she stubbornly stuck it out, doing what she loved until she retired from the show in 2017 after being featured in the stunning total of 468 episodes. She told Soap Opera Digest that "It just feels right" and "Everyone here has embraced my decision", relating that they had been incredibly supportive and understanding regarding her choice.
During that period, Hennig had also featured in multiple other TV shows and a few movies. She played a leading role in the 2011 – 2012 TV series "The Secret Circle", participated in horror films such as "Friend Me" in 2012 and "Ouija", and overall appeared in at least 15 shows and movies.
It was during this time that she was cast as Malia Tate in "Teen Wolf", a series that (as the name implies) is a popular teen series about werewolves. While she was at first merely a occurring character, her character was promoted for the fourth season to play a more featured and pivotal role. She even appeared in music videos -for example that of Maren Morris's "I Could use a Love Song" in 2017.
Her career boomed throughout the years, and has not lost any momentum. Most recently she has appeared as Ramona in the 2019 TV series' "Dollface" and "Walter" (2019), and in "When We First Met" (2018).
Modeling
Despite her year-long modeling contract, she did not pursue this road as strongly as she did her acting career.
However, this does not mean she completely ignored it. Hennig is known for brand endorsements of Toyota, for whom she did several shoots in 2015. She also worked as the brand ambassador for and endorsed Clear & Clean face watch in 2016.
Personal Life
Unlike her openness about her youth, Hennig is more conservative about her current life. She lives comfortably with no monetary issues. There is information regarding her relationships, of which there have been three. Her first recoded relationship was with American actor Jay Kenneth Johnson – the two met on the set of "Days of our Lives" when Johnson was playing the role of Philip Kiriakis.
The two dated for five years from 2007 until 2012, but didn't reveal what destroyed the relationship, though they also ended up leaving "Days of Our Lives" at the same time. There are rumors that she hooked up with Thomas Dekker, American actor, and musician, in 2012. This is not fully substantiated, but if it is true it was not a full relationship but more of a fling than anything else. She then dated Ben Makenzie, again in the entertainment industry, working as a director and actor. The two started dating in 2013, but the relationship petered out at some point, and was once again a low-profile break-up.
Appearance
Shelley's mixed heritage has contributed to her attractive features.
Her father is of German, Swiss-German and English descent, while her mother is Italian. She has beautiful brown eyes and luscious brown hair, which she keeps long and well kept. She weighs 126lbs (57kgs) and is 5ft 8ins (1.73m) tall. She has a slim build and lean profile, a call back to her youth spent active and dancing. She wears a size 4 dress (US) and an 8.5 shoe (US).
Net Worth and Salary
Shelley Hennig's prolific and extensive career has seen her net worth rising. In 2020 her net worth hit $1 million, a milestone in the acting and modeling industry. Her income is estimated to be over $160,000 a year. She has not revealed any exact numbers relating to her contracts, but it is evident that she has enough to live in luxury and comfort.
General Info
| | |
| --- | --- |
| Full Name | Shelley Hennig |
| Net Worth | $1 million |
| Date Of Birth | January 2, 1987 |
| Height | 1.73 m |
| Profession | Actor, Model |
| Education | Destrehan High School |
| Nationality | American |
Family
| | |
| --- | --- |
| Parents | Cathy Distefano Gosset, Glenn H. Henning, Sr |
| Siblings | Glenn H. Hennig Jr., Brad Joseph Hennig |
Accomplishments
| | |
| --- | --- |
| Awards | Teen Choice Award for Choice Summer TV Star: Female |
| Nominations | Daytime Emmy Award for Outstanding Younger Actress in a Drama Series |
| Movies | Summer of 8, About Scout, Ouija, Unfriended, When We First Met |
| TV Shows | The Secret Circle, Teen Wolf, Days of Our Lives |
Social profile links
Quotes
| # | Quote |
| --- | --- |
| 1 | People called me "Slim" and "Daddy Long Legs", My best friend Martine named me Daddy Long Legs after she saw me running track. She was making fun of me! |
| 2 | My brothers were my idols. I've always looked up to them and was proud to be their baby sister. I felt like they gave me some cool points, too. |
| 3 | I had no idea what I wanted to be when I was 17. I just knew I wanted to be something larger than myself. |
| 4 | I grew up in Louisiana--a little suburb right outside of New Orleans--and I wouldn't have it any other way! |
| 5 | I love to eat. I'm from New Orleans. I eat like nobody's business. So to find a workout that I actually look forward to is a lifesaver. |
| 6 | My favorite movie is Closer (2004) and Love Story (1970). |
| 7 | I replaced someone on Days of Our Lives (1965) once, and the fans hated me. She was a redhead, I was a brunette: they went nuts. Even at fan events, they were rude to me. |
| 8 | I'm personally more of a low-maintenance type of person. I want things to be easy and quick, especially when it comes to getting dressed. |
| 9 | My favorite song is Whitney Houston's "I Will Always Love You" because my brother used to sing it to me as loud as he could. Annoying then, favorite memory now. |
| 10 | Personally, in real life, I'm a little more down-and-dirty than I am glamorous. |
| 11 | I'm actually loving the soundtrack to The Secret Circle (2011) that our music supervisor Liza Richardson puts together, like Washed Out and Cults, but my favorite band is Bootstraps. |
| 12 | I was the fastest typist in my school, and I had an obsession with spelling and memorizing. |
| 13 | I was a good student, but I was the biggest procrastinator. |
| 14 | People ask me, "How's Teen Wolf (2011)?'' and I tell them it's literally the best job I've ever had. It's hard. Everybody wants to be a series regular. It's something that a lot of actors would kill to have. That being said, it's very demanding of you, in so many different ways. |
| 15 | I was the happiest in English class, and algebra was where I cried. |
| 16 | I worked at a local country club that I never belonged to. I did random tasks in the pro shop and supposed to be in charge of the register, but that didn't go so well. They quickly realized I was better with people, not computers. |
Facts
| # | Fact |
| --- | --- |
| 1 | Her father has German, Swiss-German, Scottish, and English ancestry. Her mother is of Italian descent (all four of Shelley's maternal great-grandparents were Italian immigrants). |
| 2 | Her older brother, Brad Joseph Hennig (DOB: April 29, 1983), died in a drunk-driving incident in Destrehan, Louisiana on August 9, 2001 when he was 18. Shelley has since become an advocate against underage drinking. |
| 3 | Daytime Emmy Nominee 2010. |
| 4 | Miss Teen USA 2004. |
| 5 | Miss Teen Louisiana 2004. |
Pictures
Movies
Actress
| Title | Year | Status | Character |
| --- | --- | --- | --- |
| When We First Met | 2017 | completed | Carrie |
| Days of Our Lives | 2007-2017 | TV Series | Stephanie Johnson |
| Teen Wolf | 2014-2017 | TV Series | Malia Tate |
| Summer of 8 | 2016 | | Lily |
| About Scout | 2015 | | Melinda |
| Ouija | 2014/II | | Debbie Galardi |
| Unfriended | 2014 | | Blaire |
| Friends with Better Lives | 2014 | TV Series | Molly |
| Blue Bloods | 2014 | TV Series | Maya |
| Zach Stone Is Gonna Be Famous | 2013 | TV Series | Christy Ackerman |
| Justified | 2013 | TV Series | Jackie Nevada |
| The Secret Circle | 2011-2012 | TV Series | Diana Meade |
| Friend Me | 2012 | TV Series | Isabelle |
Self
| Title | Year | Status | Character |
| --- | --- | --- | --- |
| Alexis Joy VIP Access | 2016 | TV Series short | Herself |
| Young Hollywood | 2016 | TV Series | Herself |
| This Week in Hollywood | 2016 | TV Series | Herself |
| Made in Hollywood | 2015 | TV Series | Herself |
| Weekend Ticket | 2015 | TV Series short | Herself |
| Ouija: Adapting the Fear | 2015 | Video documentary short | Herself |
| Wolf Watch | 2014 | TV Series | Herself - Guest |
| The 39th Annual Daytime Emmy Awards | 2012 | TV Special | Herself |
| Entertainment Tonight | 2009 | TV Series | Herself |
| The 34th Annual Daytime Emmy Awards | 2007 | TV Special | Herself |
Awards
Won Awards
| Year | Award | Ceremony | Nomination | Movie |
| --- | --- | --- | --- | --- |
| 2016 | Teen Choice Award | Teen Choice Awards | Choice Summer TV Actress | Teen Wolf (2011) |
Nominated Awards
| Year | Award | Ceremony | Nomination | Movie |
| --- | --- | --- | --- | --- |
| 2012 | Daytime Emmy | Daytime Emmy Awards | Outstanding Younger Actress in a Drama Series | Days of Our Lives (1965) |
| 2010 | Daytime Emmy | Daytime Emmy Awards | Outstanding Younger Actress in a Drama Series | Days of Our Lives (1965) |
| 2010 | Gold Derby TV Award | Gold Derby Awards | Younger Actress - Daytime Drama | Days of Our Lives (1965) |
Source:
IMDb
,
Wikipedia