• Doug Savant is an actor from Burbank, California USA.
• He is best known for his role in the soap opera Melrose Place.
• He has appeared in around 70 movies and TV series.
• He has four children, two with his first wife Dawn Dunin Savant and two with his current wife Laura Leighton.
• His net worth is estimated to be over $3 million.

Known for movies
Short Info
| | |
| --- | --- |
| Date Of Birth | June 21, 1964 |
| Spouse | Laura Leighton, Dawn Savant |
| Fact | Starred opposite Rob Lowe and Meg Tilly in the thriller Masquerade (1988) in which he played a deceptive, clean-cut psycho and continued on in off-kiltered villain roles in teen slasher movies until Melrose Place (1992). |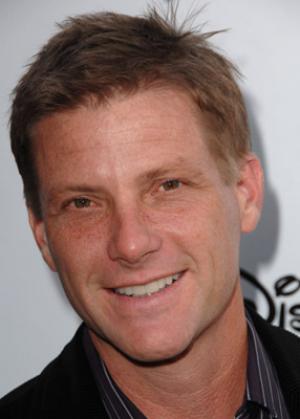 Who is Doug Savant?
Douglas Peter Savant was born in Burbank, California USA, on 21 June 1964 – his zodiac sign is Cancer and he holds American nationality. Doug is an actor, who is perhaps still best known for his portrayal of Matt Fielding in the soap opera "Melrose Place", which aired from 1992 to 1999 and starred Heather Locklera, Andrew Shue and Courtney Thorne-Smith. The series was created by Darren Star, and follows five friends living in Melrose Place – it won six awards and was nominated for eight others, including five Golden Globes.
Early life and education
Doug was raised an only child in Burbank, by his father who was a mailman and his mother who was a housewife, and who later began teaching English at a local elementary school.
Doug became interested in acting while attending high school ,as his teacher asked him if he would like to appear in a school play – Doug went on to join his school's drama club, and then appeared in nearly all plays performed there. After matriculation in 1982, he enrolled at the University of California, Los Angeles from which he graduated with a Bachelor of Arts degree in 1986, and then chose to entirely focus on his career as an actor.
Roles in movies
Doug has been credited with appearing in around 70 movies and TV series, and we are about to mention some of his most notable performances in this article.
He made his debut film appearance in 1984, when cast to play The Actor in the romantic drama war movie "Swing Shift", starring Goldie Hawn, Kurt Russell and Christine Lahti, and which follows a woman who falls in love with another man after her husband is sent to war – the film was a success winning one award, while it was nominated for three others, including an Oscar.
The following year saw him appear in David Greenwalt's romantic teen comedy "Secret Admirer", and he also appeared in the romantic fantasy comedy movie "Teen Wolf". A few of his following roles were in the supernatural horror "Trick or Treat" in 1986, the Vietnam War movie "The Hanoi Hilton" in 1987, and the romantic mystery thriller "Masquerade" in 1988.
He was praised for his portrayal of the lead character Eric Hinsley in the thriller "Paint It Black" which also stared Rick Rossovich, and is about a serial killer who covers his victims in clay after he murders them, and a woman who is accused of his crimes because she's a sculptor.
In 1993, Doug played Dr. Peter Myerson in the action slasher movie "Maniac Cop III: Badge of Silence", and his next notable performance was in 1998, when he played one of the lead characters in the Roland Emmerich's monster movie "Godzilla".
Three of Doug's most recent notable performances in films have been in the action thriller "First Daughter" in 1999, the science fiction action "The One" in 2001 and the 2006sports drama "All You've Got".
Roles in TV series
Doug made his debut TV series appearance in 1985, when he guest starred as Dwayne Patterson in the episode "Violation" of the police procedural drama "Cagney & Lacey". His first notable performance was in 1987 in seven episodes of the prime time soap opera "Knots Landing", starring as Young Mack Mackenzie.
Doug went on to appear in single episodes of many series, such as the sitcom "The Facts of Life" in 1987, the police procedural crime drama "In the Heat of the Night" in 1988 and the episode "The Thanks of a Grateful Nation" of the drama "China Beach" in 1990.
The year 1995 saw him portray Chase Cobb in the crime drama "Burke's Law", which starred Gene Barry, Gary Conway and Regis Toomey, and which follows the life of the Los Angeles Police Captain who is a millionaire. In 1998, Doug appeared in a single episode of the comedy "Love Boat: The Next Wave", and was then cast to portray Kel in the critically acclaimed Canadian-American science fiction series "The Outer Limits". He made a cameo appearance in the episode "Area 51" of the American-Japanese series "Godzilla: The Series", and was then invited to appear in a single episode of many series, such as the comedy drama "That's Life" in 2001, the legal drama "JAG" in 2002, and the drama "The Guardian" in 2004.
Doug became famous in both the US and Europe in 2004, when he played one of the lead characters, Tom Scavo in the mystery comedy drama "Desperate Housewives", which starred Teri Hatcher, Felicity Huffman and Marcia Cross, and which follows several female friends after their neighbor commits suicide – the series aired until 2012, and won 65 awards including three Golden Globes, while it was nominated for 185 others. Doug continued to appear in a single episode of series, while a few his most notable performances were in the legal comedy drama "Drop Dead Diva" in 2013, the action police procedural series "Hawaii Five-0" in 2014 and the action drama "Scorpion" in 2015.
Three of his most recent roles in TV series have been in two episodes of the action crime drama and police procedural series "NCIS: New Orleans" in 2018, the episode "Hail & Farewell" of the police crime series "NCIS" in 2019, and two episodes of the drama "Dirty John" in 2020.
Awards
Doug and his colleague actors and actresses won a Screen Actors Guild Award for Outstanding Performance by an Ensemble in a Comedy Series for their performance in "Desperate Housewives" in 2006, while they were nominated for the same award each year for the following three years.
Doug was also o-cnominated for a Gold Derby TV Award for Ensemble of the Year for "Desperate Housewives" in 2006.
Wife Laura Leighton and children
Doug met his future first wife Dawn Dunin Savant while still attending high school, and they married in a private ceremony attended by their closest friends and family in 1983, while Doug was still attending college. On 17 January 1992, Dawn gave birth to their daughter Arianna, while their second daughter Madeline followed on 20 July 1993.
The two divorced for unknown reasons in 1997, but it's widely believed that Doug was cheating on Dawn with Laura Leighton, an American actress who starred alongside him in "Melrose Place". Doug and Laura started dating publicly not long after his divorce was finalized, and in May 1998 the two exchanged vows in a private ceremony. Laura gave birth to their son Jack on 10 October 2000, and on 9 June 2005 their daughter Lucy was born – Laura has also been helping Doug raise Arianna and Madeline since they married.
Doug hasn't talked about any other women he might have been with, and as of September 2020, he is married to his second wife and has four kids.
Hobbies and other interests
Doug is keen on working out, and has multiple training sessions at the gym each week thus his muscular body – he is also following a strict diet, meaning that he rarely eats anything that has sugar in it, and avoids fast food.
He is keen on travelling, and his acting career has made it possible for him to travel all around the world for both work and pleasure – his two favorite cities out of those he has visited are Berlin in Germany and Moscow in Russia.
Doug is a lover of animals and has two pet dogs, while his favorite animals are tigers.
He has his own favorite actors and actresses, some of whom are Matt Damon, Will Smith and Angelina Jolie, and a few of the movies he likes to watch the most are "Catch Me if You Can", "I Am Legend" and "Lara Croft: Tomb Raider".
Net worth
Doug is 56 years old. He has short brown hair and brown eyes, his height is 5ft 11ins (1.8m) and he weighs around 160lbs (72kgs).
As of September 2020, his net worth has been estimated at over $3 million.
General Info
| | |
| --- | --- |
| Full Name | Doug Savant |
| Date Of Birth | June 21, 1964 |
| Height | 1.78 m |
| Profession | Actor |
| Nationality | American |
Family
| | |
| --- | --- |
| Spouse | Laura Leighton, Dawn Savant |
| Children | Lucy Jane Leighton Savant, Jack Douglas Savant, Arianna Josephine Savant, Madeline Marie Savant |
Accomplishments
| | |
| --- | --- |
| Awards | Screen Actors Guild Award for Outstanding Performance by an Ensemble in a Comedy Series |
| Movies | Godzilla, First Target, Red Surf, Masquerade, Maniac Cop III: Badge of Silence, First Daughter, Trick or Treat, The Hanoi Hilton, Teen Wolf, First Shot, Aftermath: A Test of Love, April Rain, Terminal, Dropping Out |
| TV Shows | Desperate Housewives, Melrose Place |
Social profile links
Quotes
| # | Quote |
| --- | --- |
| 1 | During my first year on Melrose Place (1992), there was a great deal of pressure from the network [Fox TV] for me to out myself as a straight man. The producers of Melrose Place (1992) kept telling me I had to say publicly that I was a breeder. They said too many people assumed I was gay. I know the truth of my life, so I didn't have to play the network game. For three years, I was the spokesperson for the AIDS rides rly cycle-thons] in California. I was flattered that people assumed I was gay. To me, that was an affirmation that I was doing my job. |
Facts
| # | Fact |
| --- | --- |
| 1 | Has co-starred with Marcia Cross in both Melrose Place (1992) and Desperate Housewives (2004). |
| 2 | His two daughters with ex-wife Dawn Dunkin are named Arianna Josephine Savant (b. January 17, 1992) and Madeline Marie Savant (b. July 20, 1993). |
| 3 | 6/9/05: Wife Laura Leighton gave birth to a baby girl, named Lucy Jane Leighton Savant. She weighed 7 lbs. 7 oz. |
| 4 | Although he appeared in almost every episode of Desperate Housewives (2004) during Season 1, he was still credited as a guest star. However, he has now been put on contract and will be credited as a series regular for Season 2. |
| 5 | Married to Laura Leighton, who played Sydney Andrews on Melrose Place (1992). The romance developed off-camera on the set of the popular TV soap opera. |
| 6 | Starred opposite Rob Lowe and Meg Tilly in the thriller Masquerade (1988) in which he played a deceptive, clean-cut psycho and continued on in off-kiltered villain roles in teen slasher movies until Melrose Place (1992). |
| 7 | Left Melrose Place (1992) after six seasons because the network refused to allow the writers to explore his character Matt's love life, and left him with little to do on the show. In 1994, the network and producers cut Matt's kiss on the season finale in 1994 at the last minute after considerable ratings hype. |
| 8 | Before being cast in Melrose Place (1992), he was a delivery driver for Dino's Pizza in Burbank, owned by his cousin. |
| 9 | Doug and his ex-wife Dawn had been together since he was 19, and share two daughters. |
| 10 | 10/10/00: Son Jack Douglas Savant (with Laura Leighton) born. |
| 11 | 11/97: Engaged to Laura Leighton. |
Pictures
Movies
Actor
| Title | Year | Status | Character |
| --- | --- | --- | --- |
| Notorious | 2016 | TV Series | Paul Weston |
| Pure Genius | 2016 | TV Series | Simon Monroe |
| Halt and Catch Fire | 2016 | TV Series | Mac Harpor |
| Rush Hour | 2016 | TV Series | D.A. Eric Ginardi |
| Castle | 2016 | TV Series | Trevor Nigel |
| The X-Files | 2016 | TV Series | Augustus Goldman |
| Scorpion | 2015 | TV Series | Wilson Adler |
| Hawaii Five-0 | 2015 | TV Series | Robert Young |
| April Rain | 2014 | | Ken Singleton |
| Criminal Minds | 2013 | TV Series | Malcolm Taffert |
| Drop Dead Diva | 2013 | TV Series | Jakob Yordy |
| Rizzoli & Isles | 2013 | TV Series | Roger Thorson |
| Vegas | 2013 | TV Series | Mr. Binder |
| Desperate Housewives | 2004-2012 | TV Series | Tom Scavo |
| Hot in Cleveland | 2012 | TV Series | Scott |
| What Color Is Love? | 2009 | TV Movie | Peter Marcheson |
| All You've Got | 2006 | | Sam McDonald |
| CSI: Crime Scene Investigation | 2004 | TV Series | Paul Brady |
| Nip/Tuck | 2004 | TV Series | Joel Gideon |
| NCIS | 2004 | TV Series | Father Larry Clannon |
| 24 | 2004 | TV Series | Craig Phillips |
| NYPD Blue | 2004 | TV Series | Jason Foster |
| The Guardian | 2004 | TV Series | Eric Kane |
| Faultline | 2004 | TV Movie | Prof. Anthony McAllister |
| According to Jim | 2002 | TV Series | Rick |
| JAG | 2002 | TV Series | Navy Seals Commander |
| Firefly | 2002 | TV Series | Commander Harken |
| First Shot | 2002 | TV Movie | Grant Coleman |
| The One | 2001 | | Cop (uncredited) |
| Family Law | 2001 | TV Series | Harold Raines |
| The District | 2001 | TV Series | Jeffrey Riverton |
| That's Life | 2001 | TV Series | J.T.'s Cousin |
| First Target | 2000 | TV Movie | Grant Coleman |
| Harsh Realm | 2000 | TV Series | Sergeant Sommers |
| Godzilla: The Series | 2000 | TV Series | Trespasser #2 |
| Dropping Out | 2000 | | Doctor |
| First Daughter | 1999 | TV Movie | Grant Coleman |
| A Face to Kill for | 1999 | TV Movie | Virgil |
| Profiler | 1999 | TV Series | Toby Watson |
| Godzilla | 1998/I | | Sergeant O'Neal |
| Love Boat: The Next Wave | 1998 | TV Series | Josh Walters |
| The Outer Limits | 1998 | TV Series | Kel |
| Melrose Place | 1992-1997 | TV Series | Matt Fielding |
| Terminal | 1996 | TV Movie | Dr. Sean O'Grady |
| Fight for Justice: The Nancy Conn Story | 1995 | TV Movie | Richard Mark Ellard |
| Burke's Law | 1995 | TV Series | |
| Maniac Cop 3: Badge of Silence | 1993 | | Dr. Peter Myerson |
| Bonnie & Clyde: The True Story | 1992 | | Deputy Sheriff Ted Hinton |
| Columbo | 1992 | TV Series | Detective Dennis Mulrooney |
| Aftermath: A Test of Love | 1991 | TV Movie | Jeff |
| Shaking the Tree | 1990 | | Michael |
| Jake and the Fatman | 1990 | TV Series | John Bronski |
| The Knife and Gun Club | 1990 | TV Movie | Dr. Barrow |
| China Beach | 1990 | TV Series | Richard |
| Red Surf | 1989 | Video | Attila |
| Paint It Black | 1989 | | Eric Hinsley |
| Masquerade | 1988 | | Mike McGill |
| In the Heat of the Night | 1988 | TV Series | Scott LaPierre |
| Knots Landing | 1986-1987 | TV Series | Young Mack Mackenzie |
| Stingray | 1987 | TV Series | Cdt. Thomas O'Conner |
| The Hanoi Hilton | 1987 | | Ashby |
| The Facts of Life | 1987 | TV Series | Dwayne |
| Trick or Treat | 1986 | | Tim Hainey |
| Alfred Hitchcock Presents | 1986 | TV Series | Joey Medwick |
| Hotel | 1986 | TV Series | Elliot Jessup |
| Teen Wolf | 1985 | | Brad |
| Secret Admirer | 1985 | | Boy |
| The Best Times | 1985 | TV Series | Greg |
| Cagney & Lacey | 1985 | TV Series | Dwayne Patterson |
| Swing Shift | 1984 | uncredited | |
Thanks
| Title | Year | Status | Character |
| --- | --- | --- | --- |
| Desperate Housewives Special: The More You Know, the Juicier It Gets | 2006 | TV Movie special thanks | |
| Desperate Housewives Special: All the Juicy Details | 2006 | TV Movie special thanks | |
Self
| Title | Year | Status | Character |
| --- | --- | --- | --- |
| Desperate Housewives: I Guess This Is Goodbye | 2012 | Video documentary short | Himself |
| The Wendy Williams Show | 2012 | TV Series | Himself - Guest |
| Good Morning America | 2005-2012 | TV Series | Himself - Guest |
| The View | 2005-2012 | TV Series | Himself - Guest |
| Jeopardy! | 2006-2010 | TV Series | Himself - Video Clue Presenter / Himself - Contestant / Himself |
| Rachael Ray | 2009 | TV Series | Himself - Guest |
| I Know Things Now: Desperate Housewives Celebrates 100 | 2009 | Video short | Himself |
| Entertainment Tonight | 2007 | TV Series | Himself |
| Comic Relief 2006 | 2006 | TV Special documentary | Himself |
| Corazón de... | 2005 | TV Series | Himself |
| Jimmy Kimmel Live! | 2005 | TV Series | Himself - Guest |
| The Late Late Show with Craig Ferguson | 2005 | TV Series | Himself - Guest |
| Celebrity Poker Showdown | 2005 | TV Series | Himself |
| SoapTalk | 2005 | TV Series | Himself |
| Live with Kelly and Michael | 2005 | TV Series | Himself |
| Ellen: The Ellen DeGeneres Show | 2005 | TV Series | Himself - Guest |
| 11th Annual Screen Actors Guild Awards | 2005 | TV Special | Himself |
| The Daily Show | 1998 | TV Series | Himself - Guest |
| The 5th Annual GLAAD Media Awards | 1994 | TV Special | Himself |
| The 19th Annual People's Choice Awards | 1993 | TV Special | Himself - Accepting Award for Favourite New Television Dramatic Program |
Archive Footage
| Title | Year | Status | Character |
| --- | --- | --- | --- |
| NBC Nightly News with Lester Holt | 2012 | TV Series | Himself |
| How TV Changed Britain | 2008 | TV Series documentary | Tom Scavo |
| Desperate Housewives Special: Secrets and Lies | 2007 | TV Movie | Tom Scavo |
| Desperate Housewives Special: The Juiciest Bites | 2007 | TV Movie | Tom Scavo |
| Corazón de... | 2006 | TV Series | Tom Scavo / Himself |
| Desperate Housewives Special: The More You Know, the Juicier It Gets | 2006 | TV Movie | Tom Scavo (uncredited) |
| Desperate Housewives Special: All the Juicy Details | 2006 | TV Movie | Tom Scavo (uncredited) |
| Knots Landing Reunion: Together Again | 2005 | TV Movie documentary | Young Mack MacKenzie (uncredited) |
| I Love the '90s | 2004 | TV Series documentary | Matt |
| Melrose Place | 1998 | TV Series | Matt Fielding |
Awards
Won Awards
| Year | Award | Ceremony | Nomination | Movie |
| --- | --- | --- | --- | --- |
| 2006 | Actor | Screen Actors Guild Awards | Outstanding Performance by an Ensemble in a Comedy Series | Desperate Housewives (2004) |
Nominated Awards
| Year | Award | Ceremony | Nomination | Movie |
| --- | --- | --- | --- | --- |
| 2009 | Actor | Screen Actors Guild Awards | Outstanding Performance by an Ensemble in a Comedy Series | Desperate Housewives (2004) |
| 2008 | Actor | Screen Actors Guild Awards | Outstanding Performance by an Ensemble in a Comedy Series | Desperate Housewives (2004) |
| 2007 | Actor | Screen Actors Guild Awards | Outstanding Performance by an Ensemble in a Comedy Series | Desperate Housewives (2004) |
| 2006 | Gold Derby TV Award | Gold Derby Awards | Ensemble of the Year | Desperate Housewives (2004) |
Source:
IMDb
,
Wikipedia