• Dinah Beth Manoff is an American actress, known for her iconic role in the film "Grease"
• She was born to parents Lee Grant and Arnold Manoff, both of whom were in the film industry
• She attended Santa Monica High School and the Actors Studio in Manhattan, NY
• Her career started in 1976 and she has been prolifically active since then, starring in numerous roles
• She is married to Arthur Mortell and has three children • Dashiell, Oliver, and Desi

Known for movies
Short Info
| | |
| --- | --- |
| Date Of Birth | January 25, 1958 |
| Spouse | Arthur Mortell (m. 1997), Jean-Marc Joubert (m. 1980–1985) |
| Fact | Won Broadway's 1980 Tony Award as Best Actress (Featured Role - Play) for "I Ought to be in Pictures," a part she recreated in the film version of the same title, I Ought to Be in Pictures (1982). |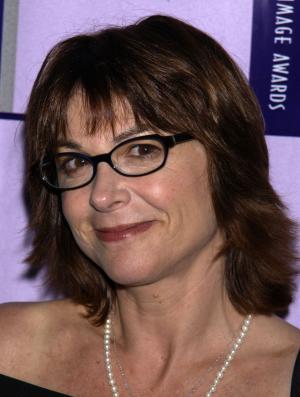 Dinah Beth Manoff is an American actress, who rose to fame in the late seventies, and continued through the eighties and the nineties. She is remembered for an iconic role in the popular film "Grease", alongside the acting legends John Travolta and Olivia Newton-John, and has starred in numerous other roles throughout her lucrative career. She comes from a family that has had a rich history in the film industry, and it comes as little surprise that she too followed a career into acting. Dinah's life has been marked with success as much as there has been a tragedy; here is a glimpse into the life of Dinah Manoff.
Early life and family
Dinah was born in New York City, USA, on 25 January 1956, to Lee Grant and Arnold Manoff. Her mother Lee was an award-winning actress, screenwriter and producer who enjoyed fame throughout her career, and later married Arnold who had also been a screenwriter until he was blacklisted in the fifties. Her parents eventually divorced, and Lee married the producer Joseph Feury.
Dinah's half-brother, Tom Manoff is a musician who became famous for being a critic on the National Public Radio show "All Things Considered".
Dinah's earliest life was spent between New York City and Malibu, California. Her father Arnold was blacklisted for 'Un-American activities' during the McCarthyism controversies of the red scare times that followed World War II.
Educational background
Dinah's educational background has it on record that she attended Santa Monica High School in California, from which she matriculated. At the age of 19 in 1975, Dinah was accepted into the Actors Studio in Manhattan, New York City.
Career
Dinah's career started in 1976, when she appeared in the television show "The Stronger". Before her initial appearance, she also contributed her voice to the independent film "Everybody Rides The Carousel".
Following her early success, Dinah gained numerous roles, which included her iconic performance in "Grease" as Marty. Among her other credits, Dinah played the role of 'Elaine Dallas' in the sitcom "Soap", and guest-starred in popular TV series "Welcome Back, Kotter".
In the eighties Dinah's fame grew, and by then she was already recognized in the film industry. During this decade she starred in plenty of titles and also made her Broadway debut in "I Ought To Be In Pictures" in 1980, and later reprised the role for the film version of the play in 1982 – she was rewarded with both Tony and Theatre World Awards for best performance by a featured actress for the Broadway play.
She also starred in the Oscar-winning film "Ordinary People". In the same decade, she portrayed the role of Ellie Greenwich in the Broadway musical "Leader of the Pack", and also became the first on-screen victim of Chucky in the iconic thriller "Child's Play".
Throughout the eighties decade, she played a role in the sitcom "Golden Girls", and then starred as a major character in the spin-off "Empty Nest". In the late eighties, she had two minor roles in the films "Bloodhounds of Broadway" and "Staying Together".
Her success continued in the nineties – Dinah appeared in the film "Welcome Home, Roxy Carmicheal", but later began focusing on television roles.
She directed an episode of the show "Sabrina the Teenage Witch", and starred in several series that included "Touched by an Angel", "Cybil", and "George and Leo". Dinah also began her career as a director and producer, making her debut with the show she previously starred in – "Empty Nest".
As of the start of the twenty-first century, Dinah continued to enjoy success in the film industry, starring in titles such as "The Lost Child" and the film in which she shared the screen with her mother Lee Grant, entitled "The Amati Girls".
Hobbies, favourite things and interesting facts
Not much can be found in regards to Dinah's likes and dislikes, or what her favourites are, but she has stated that her greatest acting influence and mentor was Richard Mulligan. She met Richard on the set of "Soap", and later starred alongside him in the spin-off "Empty Nest".
In high school, she had been a rebellious teenager who was known for smoking on campus, and being involved in plenty of mischief.
The production of "Telegram from Heaven" was a tribute to her dad, Arnold Manoff, and was based on a novel he wrote by the same name.
Relationships
Dinah had been married twice and has three children. She first married the French designer Jean-Marc Joubert in 1980, but five years later she filed for divorce. In 1997, she married the motivational speaker Arthur Mortell, who is her husband to this day and the father of her children. Their eldest son, Dashiell was born on 26 March 1997 but was the tragic victim of a vehicle collision in 2017, and passed away on seven January 2017, on his return to Washington State University before he could celebrate his 20th birthday. Dinah gave birth to twin sons Oliver and Desi on 18 January in 2002.
Physical characteristics
Date of Birth: 25 January 1956
Hair colour: Brown
Eye colour: Brown
Height:  5ft 4ins (1.68m)
Weight: 140lbs (64kgs)
Vital Statistics: Unknown
Shoe Size: 8 (US)
Bra Size: 34B
Star Sign: Aquarius
Nationality: American
Ethnicity: Caucasian
Net worth
Dinah's lucrative career as an actress and director affords her a net worth estimated at over $1.7 million.
General Info
| | |
| --- | --- |
| Full Name | Dinah Manoff |
| Date Of Birth | January 25, 1958 |
| Profession | Actor, Television Director |
| Education | California Institute of the Arts |
| Nationality | American |
Family
| | |
| --- | --- |
| Spouse | Arthur Mortell (m. 1997), Jean-Marc Joubert (m. 1980–1985) |
| Children | Desi Mortell, Oliver Mortell, Dashiell Mortell |
| Parents | Arnold Manoff, Lee Grant |
| Siblings | Tom Manoff, Michael Manoff |
Accomplishments
| | |
| --- | --- |
| Awards | Tony Award for Best Featured Actress in a Play |
| Movies | Grease, Ordinary People, Neil Simon's I Ought to Be in Pictures, Backfire, Child's Play, Bloodhounds of Broadway, Staying Together, Welcome Home, Roxy Carmichael, Maid for Each Other, The Amati Girls, Double Down, A Carol Christmas, Bart Got a Room, State of Grace, A Matter of Sex, Classified Love, ... |
| TV Shows | Empty Nest |
Social profile links
Facts
| # | Fact |
| --- | --- |
| 1 | She was awarded the 1980 Antoinette Perry (Tony) Award for Best Featured Actress in a Play for "I Ought to Be In Pictures" on Broadway in New York City. |
| 2 | Lives in Bainbridge Island,Washington [2009] |
| 3 | In 1975 (at age 17) Manoff was accepted into the Actors Studio. |
| 4 | Is a staunch liberal Democrat. |
| 5 | Guest starred in The Golden Girls (1985) and starred in the spin-off Empty Nest (1988). Her mother Lee Grant turned down a starring role in The Golden Girls. |
| 6 | She is best known for her portrayal of "Marty Maraschino" in the 1978 film Grease (1978). |
| 7 | Won Broadway's 1980 Tony Award as Best Actress (Featured Role - Play) for "I Ought to be in Pictures," a part she recreated in the film version of the same title, I Ought to Be in Pictures (1982). |
| 8 | Has never done a nude scene or posed nude in her career. |
| 9 | (January 18, 2002) Dinah gave birth to twin boys, Oliver and Desi. |
| 10 | In the film musical Grease (1978), Dinah managed to nab the plucky, sexpot role of "Marty Maraschino", despite the fact she lacked in dancing and singing skills. She faked her way through auditions and personality, alone, got her the part. Later, when it came down to doing the choreography, Dinah remained conveniently hidden in the background. |
| 11 | Son, Dashiell born 1997. |
| 12 | Daughter of Lee Grant. |
| 13 | Daughter of Arnold Manoff. |
Pictures
Movies
Actress
| Title | Year | Status | Character |
| --- | --- | --- | --- |
| Bart Got a Room | 2008 | | Mrs. Goodson |
| A Carol Christmas | 2003 | TV Movie | Aunt Marla |
| State of Grace | 2002 | TV Series | Evelyn Rayburn |
| Zigs | 2001 | | Marge |
| The Lost Child | 2000 | TV Movie | Helen |
| The Amati Girls | 2000 | | Denise |
| George & Leo | 1998 | TV Series | Mary |
| Cybill | 1996 | TV Series | Amy Fitzpatrick |
| Touched by an Angel | 1995 | TV Series | Callie Martin |
| Empty Nest | 1988-1995 | TV Series | Carol Weston |
| The John Larroquette Show | 1993 | TV Series | Kelly |
| Nurses | 1992-1993 | TV Series | Carol Weston |
| The Golden Girls | 1991-1992 | TV Series | Carol Weston |
| Maid for Each Other | 1992 | TV Movie | Tibby Bloom |
| Welcome Home, Roxy Carmichael | 1990 | | Evelyn Whittacher |
| Babies | 1990 | TV Movie | Laura |
| Staying Together | 1989 | | Lois Cook |
| Bloodhounds of Broadway | 1989 | | Maud Milligan |
| The Cover Girl and the Cop | 1989 | TV Movie | Denise Danielovitch |
| Child's Play | 1988 | | Maggie Peterson |
| Backfire | 1988 | | Jill |
| Brothers | 1987 | TV Series | |
| CBS Summer Playhouse | 1987 | TV Series | Franny |
| The Line | 1987 | TV Movie | Karen Cooper |
| Murder, She Wrote | 1987 | TV Series | Jenny Coopersmith |
| Classified Love | 1986 | TV Movie | Theresa Leonetti |
| Cagney & Lacey | 1984 | TV Series | Jane Tanton |
| Hot Pursuit | 1984 | TV Series | Gillian |
| Night Court | 1984 | TV Series | Sister Sara Williams |
| Flight 90: Disaster on the Potomac | 1984 | TV Movie | Priscilla Tirado |
| The Seduction of Gina | 1984 | TV Movie | Mary |
| A Matter of Sex | 1984 | TV Movie | Glennis |
| Celebrity | 1984 | TV Mini-Series | Missy Craymore |
| Table Settings | 1982 | TV Movie | |
| I Ought to Be in Pictures | 1982 | | Libby Tucker |
| For Ladies Only | 1981 | TV Movie | Mary Louise |
| Ordinary People | 1980 | | Karen |
| Mork & Mindy | 1979 | TV Series | Kathy Cumberland |
| Lou Grant | 1979 | TV Series | Joanie Hume |
| $weepstake$ | 1979 | TV Series | Maggie |
| Soap | 1978 | TV Series | Elaine Lefkowitz Dallas Elaine Lefkowitz Elaine Lefkowitz-Dallas |
| Grease | 1978 | | Marty |
| Family | 1978 | TV Series | Mara |
| The Possessed | 1977 | TV Movie | Celia |
| Night Drive | 1977 | TV Movie | Attendant's Girlfriend |
| Raid on Entebbe | 1976 | TV Movie | Rachel Sager |
| Visions | 1976 | TV Series | Gisella Farkas |
| Welcome Back, Kotter | 1976 | TV Series | Charmaine |
| The Stronger | 1976 | Short | |
| Everybody Rides the Carousel | 1975 | | Stage 7 (voice) |
Director
| Title | Year | Status | Character |
| --- | --- | --- | --- |
| Sabrina, the Teenage Witch | 1999 | TV Series 1 episode | |
| Movie Stars | 1999 | TV Series 2 episodes | |
| Brother's Keeper | 1999 | TV Series 3 episodes | |
| Minor Adjustments | 1996 | TV Series 1 episode | |
| Sister, Sister | 1995 | TV Series 1 episode | |
| Empty Nest | 1992-1995 | TV Series 7 episodes | |
Soundtrack
| Title | Year | Status | Character |
| --- | --- | --- | --- |
| The Amati Girls | 2000 | performer: "Kiss Of Fire" | |
| The 39th Annual Tony Awards | 1985 | TV Special performer: "I Wanna Love Him So Bad" | |
| Night Court | 1984 | TV Series performer - 1 episode | |
| Grease | 1978 | performer: "Summer Nights" | |
| Grease Day USA | 1978 | TV Movie documentary performer: "Summer Nights" - uncredited | |
Writer
| Title | Year | Status | Character |
| --- | --- | --- | --- |
| Empty Nest | | TV Series written by - 1 episode, 1995 story - 1 episode, 1992 | |
| Maid for Each Other | 1992 | TV Movie story | |
Producer
| Title | Year | Status | Character |
| --- | --- | --- | --- |
| Maid for Each Other | 1992 | TV Movie executive producer | |
Self
| Title | Year | Status | Character |
| --- | --- | --- | --- |
| Happy Birthday Oscar Wilde | 2004 | TV Movie documentary | Herself |
| Intimate Portrait | 2004 | TV Series documentary | Herself |
| VH-1 Where Are They Now? | 2002 | TV Series documentary | Herself / Marty |
| Behind the Music | 2001 | TV Series documentary | Herself / Marty |
| One on One with John Tesh | 1992 | TV Series | Herself |
| The Tonight Show Starring Johnny Carson | 1992 | TV Series | Herself |
| Blossom | 1991 | TV Series | Herself |
| Live with Kelly and Michael | 1990 | TV Series | Herself |
| The Pat Sajak Show | 1989 | TV Series | Herself |
| The Arsenio Hall Show | 1989 | TV Series | Herself |
| The 39th Annual Tony Awards | 1985 | TV Special | Herself - Performer |
| Hour Magazine | 1982 | TV Series | Herself |
| The Merv Griffin Show | 1981 | TV Series | Herself |
| The 34th Annual Tony Awards | 1980 | TV Special | Herself - Winner: Best Featured Actress in a Play |
| Family Feud | 1976 | TV Series | Herself |
Archive Footage
| Title | Year | Status | Character |
| --- | --- | --- | --- |
| 20 to 1 | 2007-2010 | TV Series documentary | Marty Marty Maraschino |
| Cinemassacre's Monster Madness | 2009 | TV Series documentary | Maggie Peterson |
Source:
IMDb
,
Wikipedia