• David Zayas was born in Ponce, Puerto Rico and raised in The Bronx, New York City.
• He was a police officer for 15 years, while his wife Liza Colon-Zayas is an off-Broadway actress and playwright.
• He was part of the LAByrinth Theatre Company, and was cast in the HBO series "Oz", which served as his big break.
• He has appeared in several television series and films, including "Law & Order: Special Victims Unit", "Dexter", "Gotham", and "The Purge: Election Year".
• His net worth is estimated at over $4 million and his salary per episode of "Gotham" was estimated at $75,000.

Known for movies
Short Info
| | |
| --- | --- |
| Date Of Birth | August 15, 1962 |
| Spouse | Liza Colón-Zayas |
| Mark | Low nasal voice |
| Fact | The only cast member of 'Dexter' to have been an actual Police Officer. |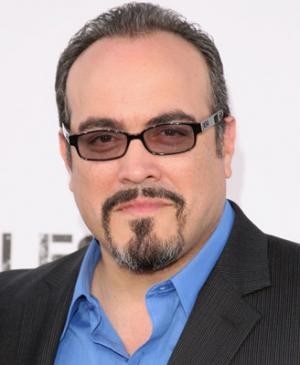 Early life, family, educational background
Puerto Rican actor David Zayas was born on 15 August 1962 in Ponce, Puerto Rico. He was raised in The Bronx, New York City USA, and dreamed of acting since he was 13.
He and his cousins went to the cinema and watched the 1975 Al Pacino film, "Dog Day Afternoon" – he sat in the front row while his cousins sat in the back of the cinema with their girlfriends. In a 2015 interview with Danny Hajek for NPR, David recalled watching the film, 'I was fascinated. This was the art that was attractive to me.' He added that it was, however, just a dream to him. He grew up in the Bronx in a blue-collar family; his father was a sanitation man, so he knew his chances of becoming an actor were slim.
David mentioned when he first expressed his desire to his father, 'He looked at me like I was thinking outside of the reality of where we were at… And I respected my father. He was a good man, and he was a good father…' He felt discouraged, so he pushed his dreams aside and didn't work on pursuing them.
Family's personal life
David's wife, actress, and playwright Liza Colón-Zayas, was born in 1972 in The Bronx. Her career began as an off-Broadway actress, when she wrote, starred in, and produced a one-woman show, "Sistah Supreme," which was loosely based on her life as a Latina woman in the 1970s and 1980s living in New York. This play helped her break into mainstream theater. Since 1992, she has been a member of the LAByrinth Theatre Company.
She was the original actress in the off-Broadway production of "Our Lady of 121st Street" as Norca. She appeared in "In Arabia, We'd All Be Kings," which was directed by Phillip Seymour Hoffman and co-starred Ana Ortiz, listed as one of the ten best plays of 1999 by Time Out New York.
She has appeared in several television series, including "Law & Order: Special Victims Unit," as Detective Maria Baez's sister Ana Baez in "Stomping Grounds," in "Sex and the City" in episode 124 of "Blue Bloods", and in season 5, episodes 7 and 8 of "Dexter," she guest appeared as a snitch to the detectives who were investigating the Santa Muerte killings.
She played a passenger in the 2006 film, "United 93"; in 2008 as Judge Angel Rodriguez in "Righteous Kill"; and as Dawn in the 2016 horror, "The Purge: Election Year."
Career
When David was 19, he joined the US Air Force, and then worked at the New York Police Department as a police officer for almost 15 years. His real-life experience helped him portray police officers in most of his subsequent film and television work, as well as occasionally playing criminals.
He joined the world of entertainment after witnessing a Broadway performance of "A Few Good Men", signing-up for acting classes with Ernie Martin during his off-hours. He didn't share his extracurricular activities with his colleagues, but his partner knew. In an interview with NPR, he shared, 'I remember riding in the car with him during the midnight shifts, and he would run lines with me for my audition the next day… he was a pretty good actor, so it was a good time.'
Theater
In 1992 he became a member of a New York City-based traveling acting group, the LAByrinth Theater Company, alongside John Ortiz and Phillip Seymour Hoffman. While part of the company, he appeared in numerous productions, including "Jesus Hopped the "A" Train" and "In Arabia, We'd All Be Kings."
He had appeared in 30 plays when he was cast in the HBO series "Oz", after being discovered by Tom Fontana. His love for the theater never disappeared, though – in 2003 he appeared in "Anna in the Tropics," a Broadway production at the Royal Theater, and in "The Little Flower of East Orange," in April 2008, produced by the studio and directed by Phillip Seymour Hoffman.
Television
In 2000 he began playing his first recurring role as Rei Morales in "The Beat." The show followed two uniformed police officers as they went through their daily routines, but was short-lived. He was given the role after the creators saw him perform one night and decided he should have a more prominent role in the series than the one he auditioned for. 'From there, I created a relationship with Tom Fontana, who was writing and producing "Oz" on HBO.'
He played Enrique Morales in the HBO prison drama "Oz," and considers this role to be his big break. The show aired from 1997, and David joined in 2000 until 2003 when the series ended.  Between 2002 and 2003, he often guest-starred in "Law & Order: Special Victims Unit," "Guiding Light," and "Law & Order."
From 2006 to 2013, he played colleague and friend of Dexter Morgan, Angel Batista, in "Dexter", which starred Michael C. Hall in the Showtime crime thriller drama about a forensic technician who lives a double life as a serial killer – from 2009 to 2012, David was jointly nominated for the Screen Actors Guild Award for Outstanding Performance by an Ensemble in a Drama Series, and personally won the Satellite Award for Best Supporting Actor – Series, Miniseries or Television Film. Along with Erik King, Luna Lauren Velez and Scott William Winters, he was one of four cast members who appeared in both "Oz" and "Dexter", but was the only actor in the show who was a real-life Police Officer.
David played Ryan Hardy's best friend, Tyson Hernandez, a retired FBI agent in "The Following", then appeared in the Fox drama series episode, "Guilt",  and from 2014 to 2015, he played Don Salvatore Maroni in the Fox Batman prequel series "Gotham."
From 2017 to 2019, he played New York Governor Martin Mendez, in "Blue Bloods", and in 2018 was Charlie in the episode entitled "Hell's Gate" of the series "Quantico".
He has made several crime drama appearances throughout his career. In 1996 he played Paco Martinez in the "New York Undercover" episode entitled "The Enforcers"; as Joaquin Enriquez in a 2000 episode of "NYPD Blue" in the episode entitled "These Shoots Are Made for Joaquin"; in 2012 as hotel manager Ernie Trask, in the episode "Super" of "Person of Interest"; and in 2018 he appeared in "Chicago P.D." as Carlos Mendoza in the episode "Endings."
Film
In 1997 he played Jorge in "Lena's Dreams,"; a cop, Osborne in 1998's "Scar City;" another cop in 1999's "Bringing Out the Dead;" and again as Billy in 2001's "Sam the Man." In 2006, he played a corrupt police officer, Detective Robert Torres in "16 Blocks", and the following year NYPD Detective Dalberto in "Michael Clayton," which was a huge commercial success and received numerous awards.
He appeared in three films in 2010 – as Bill in "Shadowboxing," an independent film which was shown on the film festival circuit; as General Garza in Sylvester Stallone's feature film, "The Expendables", which Sylvester directed, and was a huge commercial success, earning more than $270 million on an $80 million budget, despite the reviews being mostly negative. David also played Oliver in The Brother's Strause's film, "Skyline."
He played a sociable bodega owner named Lou in the 2014 remake of the family musical, "Annie " – his character has a major crush on Miss. Hannigan, played by Cameron Diaz, and helps her learn self-love. The Will Gluck-directed film was a commercial success, despite receiving mostly negative reviews.
In 2016 he played Detective Richards in "Tallulah," and in 2020, Sgt. Kesper in "Body Cam."
Personal life
During his 20s, he married for the first time but divorced in his late 20s – nothing is known of his wife.
He met his second wife, Liza Colón-Zayas, at LAByrinth. They married on 21 November 1998 and have a son, David Zayas Jr.
Appearance
David has black hair and dark brown eyes. He is 5ft 11ins (1.8m) tall.
Net worth and salary
David's net worth is estimated at over $4 million, as of mid-2020.
General Info
| | |
| --- | --- |
| Full Name | David Zayas |
| Date Of Birth | August 15, 1962 |
| Height | 1.83 m |
| Profession | Actor, Police officer |
Family
| | |
| --- | --- |
| Spouse | Liza Colón-Zayas |
| Children | David Zayas Jr. |
Accomplishments
| | |
| --- | --- |
| Awards | Satellite Award for Best Supporting Actor – Series, Miniseries or Television Film |
| Nominations | Screen Actors Guild Award for Outstanding Performance by an Ensemble in a Drama Series, ALMA Award for Favorite TV Actor - Supporting Role, ALMA Award for Favorite TV Actor |
| Movies | The Expendables, Skyline, 16 Blocks, Annie, The Wannabe, Michael Clayton, Tallulah, The Savages, The Interpreter, A Gentleman's Game, Anne B. Real, Brooklyn Bound, Jailbait, Samuel Bleak, Bringing Out the Dead, Washington Heights, Return to Paradise, The Feast of the Goat, Bristol Boys, The Lennon R... |
| TV Shows | Dexter, Oz |
Social profile links
Marks
| # | Marks / Signs |
| --- | --- |
| 1 | Low nasal voice |
| 2 | Goatee |
Quotes
| # | Quote |
| --- | --- |
| 1 | I love it and it is a blessing to be able to have seventy-five to eighty episodes to develop a character and find your voice. You have a similar through voice, and yet you are making different decisions, and so you act differently and you make different choices, as that is what your character would do. |
| 2 | There's not too many things I'm afraid of, but I'm not too brave when it comes to sitting in a chair getting my teeth drilled. |
| 3 | As an actor, I've always found that my job is not to judge the content in which I've agreed to perform in. What I try to do is just find the truth in every moment that they've written. |
| 4 | I saw the original that Gela Babluani wrote and directed called '13 Tzameti,' and that was very interesting. I believe it was a French film, and I was just intrigued by the awkwardness; the off-beatness of the film really just grasped me. |
| 5 | To get into another person's mindset and what they are trying to do with their project is a challenge, and it is what I like. |
| 6 | Art has to be reflective of our society. |
| 7 | Part of an actor's job, in my opinion, is adjust to the characteristics of the director and try to understand to how he tries to work. |
| 8 | Working on 'Dexter' is like shooting one big movie every year. |
| 9 | You just see a good project and want to be involved in it, and that's what 'Dexter' was.] |
| 10 | People are complicated. People have secrets. It doesn't make them good people or bad people. |
Facts
| # | Fact |
| --- | --- |
| 1 | Father of David Zayas Jr. |
| 2 | The only cast member of 'Dexter' to have been an actual Police Officer. |
| 3 | Served in the U.S. Air Force. |
| 4 | Born in Puerto Rico and raised in the Bronx, New York. |
| 5 | One of four actors to star in the television series Dexter and Oz, along with Lauren Luna Vélez, Erik King and Scott William Winters. |
| 6 | Member of Labyrinth Theater Company. |
| 7 | Former NYPD beat cop in Times Square. |
Pictures
Movies
Actor
| Title | Year | Status | Character |
| --- | --- | --- | --- |
| The Savages | 2007 | | Eduardo |
| Numb3rs | 2006 | TV Series | Carlos Costavo |
| Bristol Boys | 2006 | | Detective Benson |
| The Path to 9/11 | 2006 | TV Mini-Series | Lou Napoli |
| Conviction | 2006 | TV Series | Cartwright |
| 16 Blocks | 2006 | | Robert Torres |
| La fiesta del Chivo | 2005 | | Antonio de la Maza |
| Angel | 2005 | TV Movie | Angel's Father |
| Sangre/Blood | 2005 | Short | Nestor |
| The Interpreter | 2005 | | Charlie Russell |
| Brooklyn Bound | 2004 | | Popo |
| Jailbait | 2004 | | Guard |
| Mimmo & Paulie | 2004 | Short | Paulie |
| Angels in America | 2003 | TV Mini-Series | Super |
| La Araña | 2003 | Short | La Araña |
| Undefeated | 2003 | TV Movie | Paulie |
| Anne B. Real | 2003 | | Cynthia's Dad |
| Oz | 2000-2003 | TV Series | Enrique Morales |
| Guiding Light | 2002 | TV Series | Prison Guard |
| A Gentleman's Game | 2002 | | Alfred D'Angelo |
| Washington Heights | 2002 | | David |
| UC: Undercover | 2002 | TV Series | Jorge Gonzales |
| Law & Order: Special Victims Unit | 2002 | TV Series | Detective Milton |
| Wit | 2001 | TV Movie | Code Team Blue Head |
| Sam the Man | 2001 | | Billy the Cop |
| All My Children | 2000 | TV Series | |
| The Beat | 2000 | TV Series | Rei Morales |
| The Yards | 2000 | | Officer Jerry Rifkin |
| NYPD Blue | 2000 | TV Series | Joaquin Enriquez |
| Kingdom Come | 1999 | | |
| Bringing Out the Dead | 1999 | | Cop in Elevator |
| Third Watch | 1999 | TV Series | Motorman |
| Bleach | 1998 | Short | Lt. Ballard |
| Trinity | 1998 | TV Series | Uniform Cop #1 |
| Stepmom | 1998 | | Policeman |
| Above Freezing | 1998 | | Hector |
| Rounders | 1998 | | Osborne |
| Return to Paradise | 1998 | | Construction Foreman |
| Scar City | 1998 | | Cop #1 |
| O.K. Garage | 1998 | | Omar |
| Lena's Dreams | 1997 | | Jorge |
| Feds | 1997 | TV Series | |
| New York Undercover | 1996 | TV Series | Paco Martinez |
| Blanco | | TV Movie | Ortiz |
| Tell No Tales | 2018 | pre-production | Frank (rumored) |
| Eli Moran | 2018 | post-production | Coach Romero |
| Shine | 2017 | post-production | Ramon |
| Shut Eye | 2016 | TV Series | Eduardo Bernal |
| The Blacklist | 2013-2016 | TV Series | Manny Soto |
| 11:55 | 2016 | | Maurice |
| Bloodline | 2016 | TV Series | Sheriff Aguirre |
| The Lennon Report | 2016 | | Officer Joseph Medina |
| Tallulah | 2016 | | Detective Richards |
| Lost Cat Corona | 2015 | | Ponce |
| Elementary | 2015 | TV Series | Juan Murillo |
| Gotham | 2014-2015 | TV Series | Sal Maroni |
| The Wannabe | 2015 | | |
| Annie | 2014 | | Lou |
| Ride | 2014/I | | Ramon |
| Saint George | 2014 | TV Series | Junior |
| Dexter | 2006-2013 | TV Series | Sgt. Angel Batista Det. Angel Batista Lt. Angel Batista |
| Jodi Arias: Dirty Little Secret | 2013 | TV Movie | Detective Flores |
| The Following | 2013 | TV Series | Tyson Hernandez |
| Samuel Bleak | 2013 | | Ruben Ramirez |
| Deception | 2013 | TV Series | Frank |
| Junction | 2012 | | Lt. Tarelli |
| Grimm | 2012 | TV Series | Salvadore Butrell |
| Person of Interest | 2012 | TV Series | Ernie Trask |
| Skyline | 2010 | | Oliver |
| H.A.W.X.2 | 2010 | Video Game | Manny (voice) |
| The Expendables | 2010 | | General Garza |
| Coach | 2010 | Video | Ramon |
| Shadowboxing | 2010/II | | Bill |
| Law & Order: Criminal Intent | 2006-2010 | TV Series | Captain Pro Tem Stanley Maas Fire Marshall |
| 13 | 2010/I | | Detective Larry Mullane |
| In Plain Sight | 2009 | TV Series | Harrison Locke |
| Flying By | 2009 | | Tony |
| CSI: Miami | 2009 | TV Series | Ben Porterson |
| Wake | 2009/I | | Detective Grayson |
| Concerto | 2009 | Short | Ray Lorentz |
| Burning Mussolini | 2009 | | Hector |
| Law & Order | 1995-2008 | TV Series | Detective Justin Cabrera / John Mireles / Carlos / ... |
| Michael Clayton | 2007 | | Detective Dalberto |
| Burn Notice | 2007 | TV Series | Javier |
| The Closer | 2007 | TV Series | Brian |
| Shark | 2007 | TV Series | Alvarez |
| Without a Trace | 2007 | TV Series | Gabriel Molina |
Producer
| Title | Year | Status | Character |
| --- | --- | --- | --- |
| 10-13 | | producer announced | |
Miscellaneous
| Title | Year | Status | Character |
| --- | --- | --- | --- |
| Grand Theft Auto: Liberty City Stories | 2005 | Video Game motion capture performer | |
| Grand Theft Auto: San Andreas | 2004 | Video Game motion capture actor | |
Director
| Title | Year | Status | Character |
| --- | --- | --- | --- |
| 10-13 | | announced | |
Writer
| Title | Year | Status | Character |
| --- | --- | --- | --- |
| 10-13 | | announced | |
Self
| Title | Year | Status | Character |
| --- | --- | --- | --- |
| 2013 ALMA Awards | 2013 | TV Special | Himself |
| Action: 'The Expendables' | 2011 | Video short | Himself |
| When Pop Culture Saved America: A 9-11 Story | 2011 | TV Movie documentary | Himself |
| Latino 101 | 2010-2011 | TV Series | Himself |
| Working in the Theatre | 2011 | TV Series documentary | Himself |
| Made in Hollywood: Teen Edition | 2011 | TV Series | Himself |
| The Mo'Nique Show | 2010 | TV Series | Himself |
| Made in Hollywood | 2010 | TV Series | Himself |
| Inferno: The Making of 'The Expendables' | 2010 | TV Movie documentary | Himself |
| 2009 Alma Awards | 2009 | TV Special | Himself |
| Infanity | 2008 | TV Series documentary | Himself |
| ADHDtv: With Lew Marklin | 2008 | TV Series | Himself - Celebrity Guest |
| Quite Frankly with Stephen A. Smith | 2006 | TV Series | Himself |
Archive Footage
| Title | Year | Status | Character |
| --- | --- | --- | --- |
| The Third Annual 'On Cinema' Oscar Special | 2015 | Video | Himself (uncredited) |
Awards
Won Awards
| Year | Award | Ceremony | Nomination | Movie |
| --- | --- | --- | --- | --- |
| 2013 | ALMA Award | ALMA Awards | Special Achievement in Television | Dexter (2006) |
| 2007 | Satellite Award | Satellite Awards | Best Actor in a Supporting Role in a Series, Mini-Series or Motion Picture Made for Television | Dexter (2006) |
Nominated Awards
| Year | Award | Ceremony | Nomination | Movie |
| --- | --- | --- | --- | --- |
| 2012 | ALMA Award | ALMA Awards | Favorite TV Actor-Supporting Role in a Drama | Dexter (2006) |
| 2012 | Actor | Screen Actors Guild Awards | Outstanding Performance by an Ensemble in a Drama Series | Dexter (2006) |
| 2011 | ALMA Award | ALMA Awards | Favorite TV Actor - Supporting Role | Dexter (2006) |
| 2011 | Actor | Screen Actors Guild Awards | Outstanding Performance by an Ensemble in a Drama Series | Dexter (2006) |
| 2010 | Actor | Screen Actors Guild Awards | Outstanding Performance by an Ensemble in a Drama Series | Dexter (2006) |
| 2009 | ALMA Award | ALMA Awards | Actor in Television - Drama | Dexter (2006) |
| 2009 | Actor | Screen Actors Guild Awards | Outstanding Performance by an Ensemble in a Drama Series | Dexter (2006) |
| 2007 | Imagen Award | Imagen Foundation Awards | Best Supporting Actor - Television | Dexter (2006) |
Source:
IMDb
,
Wikipedia