• Dallas Roberts was born on 10 May 1970 in Houston, Texas.
• He studied at Juilliard School and graduated with a Bachelor's Degree in Fine Arts in 1994.
• His career started in theater, before shifting to feature films and TV series.
• Some rumors have circulated that he is gay, however he is actually married with two sons.
• His net worth is estimated at around $2 million.

Known for movies
Short Info
| | |
| --- | --- |
| Spouse | Christine Jones |
| Fact | Has two sons. One is named Pilot, the other Ever. |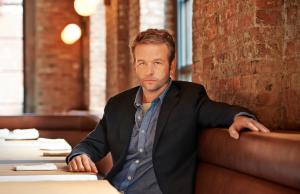 Introduction
If you have watched "The Walking Dead", you are probably familiar with the character Doctor Milton Mamet, the role which opened the doors of Hollywood for actor Dallas Roberts. How much do you really know about this successful man, and are the rumors about him being gay true?
Early Life and Education
Dallas Mark Roberts was born on 10 May 1970, in Houston, Texas USA. Not much is known about his parents, but he was raised in his birth town together with his younger brother, Bryan.
First he attended the local Paul Revere Middle School, and later went to Robert E. Lee High School in Southwest Houston. During his high school days, his family relocated to Sarasota, Florida US, where he matriculated from Sarasota High School in 1988. Later, he enrolled at the State College of Florida, Manatee-Sarasota, however, while in his sophomore year, he was accepted into the Juilliard School located in New York City, from where he graduated with a Bachelor's Degree in Fine Arts in 1994, ans was a member of the famous Drama Division's Group 23.
Career
While based in New York City, Roberts worked as a theatre actor, appearing in several off-Broadway plays such as "Burn This" next to Catherine Keener and Edward Norton, "Nocturne" directed by Adam Rapp, and in "A Number", written by Caryl Churchill. For his contribution to "Nocturne", he was nominated for a Drama Desk Award.
He was supposed to make his Broadway debut in a remake of "The Glass Menagerie", written by Tennessee Williams, however, his part was later given to Christian Slater – if he had played in it, he would've appeared opposite Sarah Paulson, Josh Lucas and Jessica Lange.
In 1994 Roberts made his TV debut when he was given the guest role of Larry in an episode of the first season of the crime series "New York Undercover", and in thenext year he appeared in an episode of another TV series, "Law and Order". However, it wasn't until 2003 when he portrayed Edison in the movie "The Lucky Ones" that he switched over to acting in feature films. The following year he was in Michael Mayer's romantic drama film "A Home at the End of the World", in which he portrayed Jonathan Glover.
In 2005 he appeared in three feature films: "Walk the Line", "Winter Passing" and "The Notorious Bettie Page", and the next year he portrayed Dr. Dylan Wallace in the horror film "Sisters", and appeared in the drama film "Flicka".
He was also cast as Angus Partridge in the famous TV series, "The L Word", and was a regular during the show's third and fourth seasons, and reprised the role for one episode of the sixth season as well.
In 2007 he acted in movies "Joshua", "Lovely by Surprise" and "3:10 to Yuma" – in which he appeared alongside Russell Crowe, Christian Bale and Ben Foster, and in 2009 opposite Kevin Spacey in Jonas Pate's comedy film, "Shrink". That same year he starred as Matt in the comedy movie "Ingenious", and appeared in the sci-fi horror film "Tell Tale", starring Lena Headey. In 2010 he was in the TV series "Rubicon", but which was canceled after the first season.
That same year he was cast as Owen Cavanaugh, the gay brother of Alicia Florrick, in the TV series "The Good Wife", appearing in the 14 episodes of the show.
In 2011, he briefly appeared in an action film, "The Grey", and the next year co-starred with John Cusack in the mystery thriller "The Factory".
In 2012, he was cast as Milton Mamet in the world-wide famous horror TV series, "The Walking Dead", for two seasons, and gained a huge fan base. What's even more interesting is that even though "The Walking Dead" was inspired by a comic, Milton Mamet was an original character, exclusive to the TV series.
In 2013, he starred as Charlie Crowe in Matthew Arnold's horror film, "Shadow People", and later that year appeared in "Dallas Buyers Club", a movie by Jean-Marc Vallee that won three Oscars, plus a joint nomination for the Screen Actors Guild Award in the Outstanding Performance by the Cast in a Motion picture, for his portrayal of David Wayne in this film.
He was also given the recurring role of Eliot Delson in the TV series "Unforgettable", and was on the show for three seasons. In 2015 and 2016, he portrayed Greg Yates in "Law and Order: Special Victims Unit".
He was cast as Carson Hesby in season three of the TV series "American Crime" in 2017.
He also appeared in movies "Mayhem" and in "My Friend Dahmer", in which he played the main character's father. In 2018, he starred in the comedy TV series "Insatiable" as Bob, a beauty pageant coach, remaining in the show until it ended after its second season.
Personal Life
Roberts is a private person who keeps most of his personal life to himself. He is married to Christine Jones, a scenic designer who has designed for many off-Broadway productions, but the exact year of their wedding remains a mystery. The couple has two sons, Ever Reverend Jones and Pilot Jones. There have been several rumors about Roberts' sexual orientation, especially after his appearance on the TV show "The Good Wife". However, no, Roberts is not gay.
Some people think that he is the brother or cousin of Julia Roberts, as the two share last names, however, they are not related. Another person that people often connect him with is John Ritter, as the two have facial similarities. For a while Roberts was even incorrectly listed as the son of Ritter and Catherine Roberts on a Wikipedia page! Once again, the answer is no, the two are not related in any way.
Net Worth
Dallas Roberts makes a living out of his acting career. He has made quite a fortune from appearing in several famous films and TV series. Although his exact salary isn't disclosed, his net worth is estimated at around $2 million.
Physical characteristics
Roberts is 5ft 10ins (1.79m) tall, and he weighs around 160lbs (73kg). He has an athletic body. His hair is light brown and his eyes are blue.
General Info
| | |
| --- | --- |
| Full Name | Dallas Roberts |
| Height | 1.77 m |
| Profession | Actor |
| Education | Juilliard School |
| Nationality | American |
Family
| | |
| --- | --- |
| Spouse | Christine Jones |
| Children | Pilot Roberts, Ever Reverend Jones |
| Siblings | Bryan Roberts |
Accomplishments
| | |
| --- | --- |
| Nominations | Screen Actors Guild Award for Outstanding Performance by a Cast in a Motion Picture, Gotham Independent Film Award for Breakthrough Actor, Drama Desk Award for Outstanding Actor in a Play |
| Movies | Dallas Buyers Club, The Grey, 3:10 to Yuma, Walk the Line, A Home at the End of the World, The Factory, Flicka, The River Why, Winter Passing, Shadow People, Ordinary World, Shrink, Lightbulb, The Notorious Bettie Page, Joshua, Tell-Tale, Lovely by Surprise, My Friend Dahmer, Sisters, All the Birds ... |
| TV Shows | Unforgettable, Rubicon, The L Word, Insatiable |
Social profile links
Quotes
| # | Quote |
| --- | --- |
| 1 | When my lady and I sit down and watch TV, I find she gets annoyed at characters because they don't do what she would do in the situation. I'm always like, 'Well, she has to do that because that's what the story is.' |
| 2 | Yes, it's annoying that Hamlet doesn't kill his stepfather ten minutes into the play, but if he did kill his stepfather ten minutes into the play, there wouldn't be a play. He has to be annoying, if you will, and not do what would be the thing to do. |
| 3 | I'm from Houston. I think I was thirty-seven before I ever set foot in Dallas, and that was just in the airport. So I've never really been there. Dad grew up in Port Arthur, Texas and all I can ever get out of him is, 'I wanted my first son to be named Dallas.' |
| 4 | In the acting community in New York we call 'Law & Order' 'grad school,' because everyone eventually does a 'Law & Order.' My first one was in 1995, which was a year after I got out of school. Matthew Blanchard was the character's name. |
| 5 | It's funny, my kids and I live together, and I have a lot of actor friends. So my kids think everyone is on television every now and again, since everyone they know pops up here, but there's a whole rap of things they won't watch until they're 16 or 17. |
| 6 | Like all kids who want to be in action movies, I want to jump out of a speeding car, shoot guns, slide out the side in slow motion like a John Woo movie. |
| 7 | To try to create a character without a whole lot of information can be taxing. At the same time, it's fun to just stay on your toes and let the next bit of dialogue come in, and turn the page as you read the next script and see what they have in store for you next. |
| 8 | I find that on serialized television it's wiser to hit the ground and look forward, and take the cues from the writers and the events happening, otherwise you just tie yourself in knots. |
| 9 | I find that with any good run on a show with good writers, they put something on paper, and you put something back on film, and that affects what they put on the paper the next time. |
| 10 | I remember walking out in front of that crowd, all the parents' faces and the applause, and folding my little self in half and thinking, 'I could get used to this.' And I just never stopped. |
| 11 | I still take way more jobs than I turn down, and the reason that I turn down a job is that I just can't find anything in it that charges me or excites me or challenges me about moving to the next phase of where I'm headed. |
| 12 | I was the guy literally in the chess club who decided to wear a bow tie for the last two years of high school, so I obviously wasn't trying to get the ladies. |
| 13 | I never have been a coder, outside of when I was twelve or something, like on the Atari 1200 XP or whatever I had. |
| 14 | I try my damnedest to quirk up anything that I'm in. |
| 15 | The notion of being on a cop show was appealing, just because it's one of those tick boxes in a career. |
| 16 | I came up in the theater, and I learned pretty quickly that reading a review, whether it's good or bad, can strangely affect the next performances, because you're reacting to something that's been said about you. So I tend to avoid that stuff pretty studiously. |
| 17 | I enjoy playing someone who doesn't show up and say, 'This is what I am, and this is what I'm about,' but is someone who, four hours in, makes you go, 'Really? Is that what's going on?' |
| 18 | If you're into a leather-jacketed crime fighter and his artificially intelligent robotic supercar, tune into 'The Good Wife.' If, on the other hand, you prefer the misadventures of a freelance itinerant trucker and his simian sidekick, check out 'The Walking Dead.' Or DVR them both and go talk to your family. |
| 19 | When you get a job on 'The Walking Dead' you imagine you're going to be running through the woods with a lot of weaponry shouting, 'Look out!' |
| 20 | I was a crazy Pee-wee Herman fan when I was in my early teens. Before he had the kids' TV show, he had a nightclub show in L.A., and I had gotten a VHS copy of it. It was a kids' show, but onstage in a bar, so it's sort of poking fun at the kids' show. And I was obsessed with that, and then 'Pee-wee's Big Adventure.' |
| 21 | I've been a fan since I was a kid of that sort of bump-in-the-night stuff. I don't tend to go in too much for the slash-and-burn-'em or the walker kills on 'The Walking Dead.' That stuff's not necessarily the stuff that frightens me or gets me going. It's more the terror of waiting, the thriller aspects, that I find compelling. |
| 22 | I like computers as a tool. I like them as an instrument. I think they're just pretty. |
Facts
| # | Fact |
| --- | --- |
| 1 | Graduated from Juilliard School in New York City, where he graduated in 1994 as a member of the Drama Division's Group 23. |
| 2 | Has two sons. One is named Pilot, the other Ever. |
| 3 | Graduated from Manatee Community College in Sarasota, FL in 1990. |
| 4 | Attended Robert E. Lee High School in Huston, TX before his family moved to Florida. |
| 5 | Attended Paul Revere Middle School in Huston, TX. |
| 6 | Admits that math was his worst subject in school. |
| 7 | Has a younger brother named Bryan. |
| 8 | Graduated from Sarasota High School in Sarasota, FL in 1988. |
| 9 | He is a graduate of The Juilliard School. |
Pictures
Movies
Actor
| Title | Year | Status | Character |
| --- | --- | --- | --- |
| Mayhem | 2017 | post-production | The Reaper |
| My Friend Dahmer | 2017 | post-production | Lionel Dahmer |
| American Crime | 2017 | TV Series | Carson Hesby |
| All the Birds Have Flown South | 2016 | | Jimmy |
| The Good Wife | 2010-2016 | TV Series | Owen Cavanaugh |
| Ordinary World | 2016/I | | Mickey |
| Chicago P.D. | 2015-2016 | TV Series | Greg Yates |
| Law & Order: Special Victims Unit | 2004-2016 | TV Series | Greg Yates / Thomas Mathers |
| Evil Men | 2015 | TV Movie | Harry Killas |
| Unforgettable | 2013-2015 | TV Series | Eliot Delson |
| Wallace | 2014/I | Short | Wallace |
| Dallas Buyers Club | 2013 | | David Wayne |
| The Walking Dead | 2012-2013 | TV Series | Milton Mamet |
| Shadow People | 2013/II | | Charlie Crowe |
| The Factory | 2012/V | | Carl |
| Elementary | 2012 | TV Series | Dr. Richard Mantlo |
| The Grey | 2011 | | Henrick |
| Rubicon | 2010 | TV Series | Miles Fiedler |
| Law & Order: Criminal Intent | 2010 | TV Series | Dr. Abel Hazard |
| The River Why | 2010 | | Titus |
| Tell Tale | 2009 | | The Surgeon |
| The L Word | 2006-2009 | TV Series | Angus Partridge |
| Ingenious | 2009 | | Matt |
| Shrink | 2009 | | Patrick |
| Law & Order | 1995-2009 | TV Series | Marty Winston / Mark Daltrey / Matthew Blanchard |
| A Clean Well-Lighted Place | 2008 | Short | |
| 3:10 to Yuma | 2007 | | Grayson Butterfield |
| Lovely by Surprise | 2007 | | Mopekey |
| Joshua | 2007 | | Ned Davidoff |
| Flicka | 2006 | | Gus |
| Sisters | 2006/I | | Dr. Dylan Wallace |
| The Notorious Bettie Page | 2005 | | Scotty |
| Winter Passing | 2005 | | Ray |
| Walk the Line | 2005 | | Sam Phillips |
| A Home at the End of the World | 2004 | | Jonathan Glover (1982) |
| Heavy Put-Away | 2004 | Short | Art / Al / Man |
| Music | 2003 | Short | Matt |
| The Lucky Ones | 2003 | | Edison |
| New York Undercover | 1994 | TV Series | Larry |
Self
| Title | Year | Status | Character |
| --- | --- | --- | --- |
| Unforgettable Moments: Inside Season 3 | 2015 | Documentary short | Himself |
| Big Morning Buzz Live | 2013 | TV Series | Himself - Guest |
| Talking Dead | 2013 | TV Series | Himself / Milton Mamet |
| Up Close with Carrie Keagan | 2012 | TV Series | Himself - Guest |
| Destination: Yuma | 2008 | Video documentary short | Himself |
| Broadway Beat | 2007 | TV Series | Himself |
| Celebrating the Man in Black: The Making of 'Walk the Line' | 2005 | TV Short documentary | Himself / Sam Phillips |
Archive Footage
| Title | Year | Status | Character |
| --- | --- | --- | --- |
| The Walking Dead: The Journey So Far | 2016 | TV Movie documentary | Milton Mamet (uncredited) |
| In Liu of Watson | 2013 | Video short | Dr. Richard Mantlo |
| Made in Hollywood | 2012 | TV Series | Himself |
Awards
Nominated Awards
| Year | Award | Ceremony | Nomination | Movie |
| --- | --- | --- | --- | --- |
| 2014 | Actor | Screen Actors Guild Awards | Outstanding Performance by a Cast in a Motion Picture | Dallas Buyers Club (2013) |
| 2008 | Actor | Screen Actors Guild Awards | Outstanding Performance by a Cast in a Motion Picture | 3:10 to Yuma (2007) |
| 2004 | Gotham Independent Film Award | Gotham Awards | Breakthrough Actor | A Home at the End of the World (2004) |
Source:
IMDb
,
Wikipedia