• Christopher Heyerdahl is a Canadian actor of Scottish and Norwegian descent, born on 18 September 1963
• He made his TV debut in 1987 in 21 Jump Street, and first played vampires in 1993 in Are You Afraid of the Dark
• He gained fame after he was cast as Howard P. Lovecraft in the 1998 series "Out of Mind: The Stories of H. P. Lovecraft"
• His roles in horror and vampire movies have earned him an estimated net worth of over $4 million
• He is 6ft 4ins (1.93kg) with bright blue eyes and light brown hair.

Known for movies
Short Info
| | |
| --- | --- |
| Date Of Birth | September 18, 1963 |
| Fact | He was praised by his former Supernatural (2005) co-star, Jensen Ackles, at the LA Supernatural Convention in 2011. Ackles says that during the torture scene of Christopher's character "Alastair", Ackles was thinking "Wow, I'm totally being out-acted here", after that Ackles turns to the audience and asks them "I mean, wasn't he good?" The audience replies with massive applause. |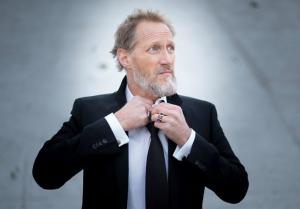 Introduction
If you are a fan of vampires, then you probably know at least one character played by Christopher Heyerdahl. Where is this tall actor from? How did he come to appear in "The Twilight Saga", and who is the woman who won him over?
Early life and Education
Christopher Heyerdahl was born on 18 September 1963 in British Columbia, Canada. He is of Scottish and Norwegian descent – his father was an immigrant from Norway in the early 1950s. His cousin was Thor Heyerdahl, the famous Norwegian adventurer and ethnographer, who sailed approximately 5,000 miles (8000 kilometers) in a handmade boat from South America to the Tuamotu Islands in the Pacific Ocean.
Little is known about Heyerdahl's early years, but it is stated that he grew up on Vancouver's Hollyburn Mountain, Canada, in a house without running water. Sometime after high school, he returned to Norway to enroll at the University of Oslo.
Career
Heyerdahl worked as a stage actor in several of Canada's theatres, such as the Stratford Theatre, before making his TV debut in 1987, when he briefly appeared in the famous TV series "21 Jump Street", starring Johnny Depp. His first true TV role was in the series "Are You Afraid of the Dark" in 1993, portraying different vampires in two episodes, "The Tale of the Thirteenth Floor" and "The Tale of the Midnight Madness". Funnily enough, this is what marked his future roles in horror and vampire movies.
In 1994 he appeared in the action film "Warriors", considered his feature film debut. The same year he appeared in the third part of the "Highlander" film series, "Highlander: The Final Dimension", in which he portrayed Ponytail. He was also a part of the cast for the TV mini-series "The Maharaja's Daughter". Before the end of the 1990s he was in several feature films, such as "Coyote Run", "Silent Trigger", Twist of Terror", and "The Education of Little Tree". In 1997 he once again portrayed a vampire, this time in an episode of the TV series "A Matter of Style", about an old vampire who is trying to teach her younger protégé how to seduce and kill his prey.
However, Christopher gained fame after he was cast as Howard P. Lovecraft in the 1998 series "Out of Mind: The Stories of H. P. Lovecraft".
In the early 2000s, he appeared in movies such as "Aftermath", "Nowhere in Sight" and "The Killing Yard". He also made guest appearances in several sci-fi TV series, such as "Andromeda", "Stargate SG-1" and "Smallville: Chloe Chronicles". In 2004 he portrayed Helion Politico in "The Chronicles of Riddick", with colleagues Vin Diesel, Judi Dench and Colm Feore. He portrayed Rocker in the 2004 version of "Catwomen", alongside Halle Berry and Sharon Stone, and the same year appeared as Caulder, Blade's ally in "Blade: Trinity", starring Wesley Snipes.
In 2004 Heyerdahl landed the role of Todd the Wraith in the famous sci-fi series "Stargate: Atlantis", remaining on the show for five seasons until 2009.
Concurrently, in 2005 he portrayed Mike l'Irlandais in "The Outlander", and the following year appeared as a guest character in several TV series, such as "Saved", "The Dead Zone", "Psych" and "Whistler". In 2007, he was a recurring character in the sci-fi TV series "Sanctuary", and also played Zor-El, a Kryptonian scientist, in the TV series "Smallville".
He was in the recurring cast for the TV series "Sanctuary" in 2008, remaining in the show until it ended in 2011. In 2009 he was a guest character in three episodes of "Supernatural".
Heyerdahl landed the role of one of the three leaders of the infamous Volturi coven, Marcus, in the famous vampire romantic film series "The Twilight Saga", then reprised the role in "The Twilight Saga: New Moon", and in both parts of the adaptation of the final book, "The Twilight Saga: Breaking Dawn". In 2011, he was cast as the recurring character The Swede in the AMC hit series "Hell on Wheels", and remained in the show during all five seasons.
In 2012, Heyerdahl was once again cast as a vampire character, this time in the HBO original series "True Blood", portraying Dieter Braun and making his debut during the fifth season of the show. The following year he appeared as a guest in several popular TV series, most notably "CSI: Crime Scene Investigation", "Castle", "Nikita" and "Falling Skies". In 2014, he appeared in "The Calling", alongside Susan Sarandon, portrayed Jack Gruber in TV series about Batman's childhood, "Gotham", and was cast as Dr. Lionel Gray in the TV series "Minority Report".
I was so excited I didn't brush my teeth for 5 months getting into this role. I think the prep works shows nicely. #NaZdorovie @LibrariansTNT #TheLibrarians #tonight https://t.co/KEjYdLBJ8U

— Christopher Heyerdahl (@CHeyerdahl) July 10, 2019
In 2016, Heyerdahl was cast as Sam in SyFy's "Van Helsing", remaining in the show until 2019.
In 2017, Heyerdahl portrayed Louis Gagnon in the first season of the crime series "Tin Star", as well as Don Berryman in another crime series, "Damnation". Two years later, he was cast as Augustus Nickel in the last season of the WGNA's drama series "Pure".
Heyerdahl appeared as Oscar Wallace in an episode of TV series "Messiah" in 2020, followed by portraying Hiram Epps in the horror TV series "Them: Covenant", and is set to appear in the following seasons as well.
Heyerdahl has also done some voice acting for video games, voiced several characters in "Beowulf: The Game", "Wolfenstein II: The New Colossus" and "Far Cry 5".
Personal Life
Heyerdahl tries to keep his life private, which means that not much is known about his personal life. He is married to a school teacher of undisclosed name, who actually introduced him to "The Twilight Saga", and she was the one who urged him to audition for the role of Marcus. It isn't known whether or not the couple has any children. He is fluent in English, Norwegian and Spanish languages.
He is such a big fan of rock band KISS, that he designed the facial tattoo for his character in "Stargate: Atlantis" inspired by Ace Frehley, KISS's guitar player.
Heyerdahl is active on Twitter, on which he has more than 13,000 followers. He doesn't use other social media platforms.
Net Worth
Christopher Heyerdahl is mostly known for portraying vampires in various horror films and TV series. His prominent career in this genre which includes more than 120 titles, has earned him an estimated net worth of over $4 million.
Physical characteristics
Heyerdahl landed most of his roles due to his height of 6ft 4ins (1.93kg). He weighs around 194lbs (88kgs) so has a slim physique. His eyes are bright blue and his hair is light brown.
General Info
| | |
| --- | --- |
| Full Name | Christopher Heyerdahl |
| Date Of Birth | September 18, 1963 |
| Height | 1.93 m |
| Profession | Actor |
Accomplishments
| | |
| --- | --- |
| Nominations | Gemini Award for Best Performance by an Actor in a Guest Role Dramatic Series, Gemini Award for Best Performance by an Actor in a Featured Supporting Role in a Dramatic Series |
| Movies | The Twilight Saga: New Moon, The Twilight Saga: Breaking Dawn – Part 2, The Twilight Saga: Breaking Dawn – Part 1, Catwoman, Blade: Trinity, Silent Trigger, The Education of Little Tree, The Calling, Honeyglue, The Peacekeeper, Requiem for Murder, Cadavres, Out of Mind: The Stories of H.P. Lovec... |
| TV Shows | Hell on Wheels, Sanctuary, Stargate Atlantis, Van Helsing |
Social profile links
Quotes
| # | Quote |
| --- | --- |
| 1 | What I find interesting about a character like The Swede [in 'Hell on Wheels'] is that the menace is there because we assume he is capable of anything. Do we actually see him do anything? Rarely. But the more humane I play these characters, the more kind, the more generous, the more menacing they seem. |
Facts
| # | Fact |
| --- | --- |
| 1 | Such a big fan of KISS (Ace Frehley in particular), Heyerdahl incorporated Freley's Starman makeup as a tattoo of his character "Todd" in Stargate Atlantis. |
| 2 | Appeared as villains on both "Smallville" (2001) and "Gotham" (2014). Both series are based on the early years of iconic DC superheroes (Superman and Batman). |
| 3 | Has appeared with Ryan Robbins on four different series: Stargate: Atlantis (2004), Sanctuary (2008), Caprica (2009) and Hell on Wheels (2011). |
| 4 | Has appeared with Michael Shanks and Amanda Tapping on three different series: Stargate SG-1 (1997), Stargate: Atlantis (2004) and Sanctuary (2008). |
| 5 | Has played a vampire leader on both True Blood (2008) and The Twilight Saga: New Moon (2009). Also has played a demon on Supernatural (2005). |
| 6 | Nephew-in-law of Jacqueline Beer. |
| 7 | He was praised by his former Supernatural (2005) co-star, Jensen Ackles, at the LA Supernatural Convention in 2011. Ackles says that during the torture scene of Christopher's character "Alastair", Ackles was thinking "Wow, I'm totally being out-acted here", after that Ackles turns to the audience and asks them "I mean, wasn't he good?" The audience replies with massive applause. |
| 8 | He is half Norwegian and half Scottish. |
| 9 | Thor Heyerdahl is a cousin of his father. |
| 10 | Performed at Canada's Stratford Festival in 1989 and 1990 |
Pictures
Movies
Actor
| Title | Year | Status | Character |
| --- | --- | --- | --- |
| Damnation | 2017 | TV Movie post-production | Don Berryman |
| Tin Star | 2017 | TV Series pre-production | Gagnon |
| Van Helsing | 2016 | TV Series | Sam |
| Cooper Barrett's Guide to Surviving Life | 2016 | TV Series | Arvid |
| 12 Monkeys | 2016 | TV Series | The Keeper |
| Hell on Wheels | 2011-2016 | TV Series | The Swede / Thor Gundersen |
| Pee-wee's Big Holiday | 2016 | | Ezekiel |
| Minority Report | 2015 | TV Series | Dr. Lionel Gray |
| The Player | 2015 | TV Series | Ivan Mislav |
| Arrow | 2015 | TV Series | Damian Darhk's Assistant |
| Honeyglue | 2015 | | Dennis |
| Dig | 2015 | TV Series | Olaf / Olaf, Norwegian Farmer |
| Eadweard | 2015 | | Pepper |
| Gotham | 2015 | TV Series | Jack Gruber |
| Girlfriends' Guide to Divorce | 2015 | TV Series | Shaman Derek |
| The Calling | 2014 | | Simon |
| Rush | 2014 | TV Series | Martin Arisson |
| Beauty and the Beast | 2014 | TV Series | Dr. Nicholas Markus |
| Three Days in Havana | 2013 | | Anders |
| Falling Skies | 2013 | TV Series | Duane Pickett |
| Vegas | 2013 | TV Series | Cal Sprouse |
| Nikita | 2013 | TV Series | Matthew Collins |
| Castle | 2013 | TV Series | Jacque Henri |
| CSI: Crime Scene Investigation | 2013 | TV Series | Marc Ratelle |
| The Twilight Saga: Breaking Dawn - Part 2 | 2012 | | Marcus |
| Bullet in the Face | 2012 | TV Mini-Series | Lustig Balder |
| True Blood | 2012 | TV Series | Dieter Braun |
| Let Your Fingers Do the Talking | 2011 | Short | Alby (voice) |
| Sanctuary | 2008-2011 | TV Series | Bigfoot John Druitt Jack the Ripper |
| The Twilight Saga: Breaking Dawn - Part 1 | 2011 | | Marcus |
| R.L. Stine's The Haunting Hour | 2011 | TV Series | Collector |
| Caprica | 2010 | TV Series | Kevin Reikle Kevin Riekel |
| Human Target | 2010 | TV Series | Connor Dunham |
| Mirador | 2010 | TV Series | Grenier |
| The Twilight Saga: New Moon | 2009 | | Marcus |
| Supernatural | 2009 | TV Series | Alastair |
| Cadavres | 2009 | | Paolo |
| Stargate: Atlantis | 2004-2009 | TV Series | Todd the Wraith Halling Male Wraith |
| Smallville | 2007 | TV Series | Zor-El |
| Beowulf: The Game | 2007 | Video Game voice | |
| Les soeurs Elliot | 2007 | TV Series | Alcidez barling |
| Sanctuary | 2007 | TV Mini-Series | Bigfoot John Druitt |
| The Invisible | 2007 | | Dr. Woland |
| Masters of Horror | 2007 | TV Series | Rufus Griswold |
| Killer Wave | 2007 | TV Mini-Series | Stanley Schiff |
| Whistler | 2006 | TV Series | Justin Talbert |
| Psych | 2006 | TV Series | Long Hair |
| The Dead Zone | 2006 | TV Series | Zed |
| Saved | 2006 | TV Series | John the Baptist |
| The Collector | 2006 | TV Series | Jan van der Heyden |
| Le 7e round | 2006 | TV Series | Arthur Kennedy (2006) |
| Kamataki | 2005 | | Scott |
| Into the West | 2005 | TV Mini-Series | James 'Jim' Ebbets |
| Le survenant | 2005 | | Mike l'Irlandais |
| Blade: Trinity | 2004 | | Caulder |
| Life As We Know It | 2004 | TV Series | Mr. Mitchell |
| Catwoman | 2004 | | Rocker |
| Kingdom Hospital | 2004 | TV Series | Reverend Jimmy Criss Reveren Jimmy Criss |
| The Chronicles of Riddick | 2004 | | Helion Politico |
| Le dernier tunnel | 2004 | | Smiley |
| Jeremiah | 2003 | TV Series | Paul Wiel |
| Les aventures tumultueuses de Jack Carter | 2003 | TV Series | Lennie |
| Stargate SG-1 | 2003 | TV Series | Pallan |
| Andromeda | 2003 | TV Series | Gaiton |
| John Doe | 2002-2003 | TV Series | Dr. Hillerman |
| Smallville: Chloe Chronicles | 2003 | TV Mini-Series short | Dr. Arthur Walsh |
| Napoléon | 2002 | TV Mini-Series | Geoffroy St-Hilaire |
| Just Cause | 2002 | TV Series | Dr. Tolkien |
| Matthew Blackheart: Monster Smasher | 2002 | TV Movie | Dr. Jacob Mortas |
| Aftermath | 2002 | | Evan Harper |
| Nowhere in Sight | 2001 | | Lewis Gills |
| La loi du cochon | 2001 | | Jodorowsky |
| The Killing Yard | 2001 | TV Movie | D.A. |
| Varian's War | 2001 | TV Movie | Marius Franken |
| 2 frères | 1999-2001 | TV Series | Bobby Vieira |
| La Femme Nikita | 2000 | TV Series | Colin Starnes |
| Nuremberg | 2000 | TV Mini-Series | Ernst Kaltenbrunner |
| The Secret Adventures of Jules Verne | 2000 | TV Series | D'Artagnan |
| Believe | 2000/I | | Thad Stiles |
| Press Run | 2000 | | Mickey Collins |
| The Witness | 1999 | | Bobby Fish |
| Babel | 1999 | | Preficator (as Chris Heyerdahl) |
| Requiem for Murder | 1999 | | Det. Lou Heinz |
| Out of Mind: The Stories of H.P. Lovecraft | 1998 | TV Movie | Howard P. Lovecraft |
| The Ghosts of Dickens' Past | 1998 | | Charles Dickens (as Christopher Heyerdhal) |
| The Education of Little Tree | 1997 | | Pine Billy |
| The Hunger | 1997 | TV Series | Arthur |
| Affliction | 1997 | | Frankie Lacoy (as Chris Heyerdahl) |
| The Peacekeeper | 1997 | | Hettinger |
| Bleeders | 1997 | | Narrator |
| Twists of Terror | 1997 | TV Movie | Darien |
| The Call of the Wild: Dog of the Yukon | 1997 | TV Movie | Fellow Gambler #2 (as Chris Heyerdahl) |
| Habitat | 1997 | | Eric Thornton (as Chris Heyerdahl) |
| Lassie | 1997 | TV Series | Alfred Kraus |
| Rowing Through | 1996 | | Paul Enquist |
| Silent Trigger | 1996 | | O'Hara |
| Coyote Run | 1996 | | Judd Lush (as Chris Heyerdahl) |
| Highlander: The Final Dimension | 1994 | | Ponytail |
| Warriors | 1994 | | Milo |
| The Maharaja's Daughter | 1994 | TV Mini-Series | Walt |
| Are You Afraid of the Dark? | 1993 | TV Series | Leonid / Nosferatu |
| 21 Jump Street | 1987 | TV Series | Jake |
Soundtrack
| Title | Year | Status | Character |
| --- | --- | --- | --- |
| The Calling | 2014 | "Jesus Loves Me, This I Know", uncredited | |
Self
| Title | Year | Status | Character |
| --- | --- | --- | --- |
| The 17th Annual Leo Awards | 2015 | TV Movie | Himself - Host |
| The 16th Annual Leo Awards | 2014 | TV Special | Himself - Host |
| The 14th Annual Leo Awards | 2012 | TV Special | Himself - Presenter |
| The 12th Annual Leo Awards | 2010 | TV Special | Himself - Presenter |
| The 11th Annual Leo Awards | 2009 | TV Special | Himself - Nominee: Best Supporting Performance by a Male in a Dramatic Series |
| The 9th Annual Leo Awards | 2007 | TV Special | Himself - Presenter |
| India: Kingdom of the Tiger | 2002 | Documentary short | Jim Corbett |
Archive Footage
| Title | Year | Status | Character |
| --- | --- | --- | --- |
| Stargate: Atlantis | 2008 | TV Series | Todd the Wraith |
Awards
Won Awards
| Year | Award | Ceremony | Nomination | Movie |
| --- | --- | --- | --- | --- |
| 2015 | Leo | Leo Awards | Best Supporting Performance by a Male in a Motion Picture | Eadweard (2015) |
| 2015 | Leo | Leo Awards | Best Supporting Performance by a Male in a Motion Picture | Eadweard (2015) |
| 2012 | Leo | Leo Awards | Best Performance in a Youth or Children's Program or Series | R.L. Stine's The Haunting Hour (2010) |
| 2010 | Leo | Leo Awards | Best Supporting Performance by a Male in a Dramatic Series | Sanctuary (2008) |
| 2006 | Leo | Leo Awards | Best Guest Performance by a Male in a Dramatic Series | The Collector (2004) |
Nominated Awards
| Year | Award | Ceremony | Nomination | Movie |
| --- | --- | --- | --- | --- |
| 2016 | Golden Maple Awards | Golden Maple Awards | Best Actor in a TV Series Broadcasted in the US | Hell on Wheels (2011) |
| 2016 | Golden Maple Awards | Golden Maple Awards | Newcomer of the Year in a TV Series Broadcasted in the US | Hell on Wheels (2011) |
| 2009 | Leo | Leo Awards | Best Supporting Performance by a Male in a Dramatic Series | Sanctuary (2008) |
Source:
IMDb
,
Wikipedia