• Charlie Schlatter is an actor and voice actor who rose to fame after portraying Dr. Jesse Travis in the series "Diagnosis: Murder"
• He was born in Englewood, New Jersey and attended Ithaca College and Borough's Memorial Junior High School
• He has appeared in numerous TV shows and movies, and provided his voice for over 30 titles
• He was diagnosed with chronic myeloid leukemia in 2004 and is an active supporter of cancer awareness and research
• His net worth is estimated to be $1.5 million as of 2020

Known for movies
Short Info
| | |
| --- | --- |
| Date Of Birth | May 1, 1966 |
| Spouse | Colleen Gunderson |
| Fact | He starred in numerous plays at Ithaca College, where he earned a B.F.A. in musical theater. He also became a skilled musician, playing guitar, drums and piano and writing songs. He spent his summers appearing in summer stock. |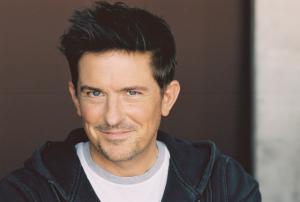 Charlie Schlatter is an actor and a voice actor, who rose to fame after portraying the character of Dr. Jesse Travis in the series "Diagnosis: Murder".
Early Life and Childhood
Charles Thomas Schlatter was born on 1 May 1966 in Englewood, New Jersey USA, so under the influence of the Sun Sign Taurus. The names of his parents aren't known, nor whether he has any siblingst.
Education
Charlie went to Borough's Memorial Junior High School, in which he already started showing his acting prowess. He auditioned for the lead part of Oliver Twist on the school play "Oliver!" and succeeded in earning the lead role.
Charlie matriculated from high school and enrolled at Ithaca College, from which he has a Bachelor's degree in Fine Arts majoring in musical theater. At college he acted in several plays, and also honed his musical skills on drums, the guitar and piano, and started writing songs too.
Career
Television
In 1987, Charlie was discovered by a casting director while he was performing, and asked to audition for "Bright Lights, Big City" that starred Michael J. Fox. He was selected for the role, and appeared on screen for the first time as Fox's brother. In 1988, he got one of his biggest roles to date playing David Watson/Jack Watson in the movie "18, Again!". His work was appreciated and described as 'displaying enormous range and extraordinary skill as an actor in his comedic starring role'.
He also appeared as Johnny Wolfe in "Heartbreak Hotel" the same year. In 1989, he was cast as Brownie for "The Delinquents", then in 1990 appeared in the titular role in the TV Series "Ferris Bueller". In 1991, he appeared in "All-American Murder" and in 1992 in "Stormy Weathers", and was also seen in "Fish Police" and "Sunset Heat". In 1994, he played Cadet Connors in "Police Academy: Mission to Moscow", and Junior Ballantine in "Silk Stalkings". He made appearances in "New York Daze" (1995), "Ed" (1996) and "Jumanji" (1996).
From the year 1995 until 2001, he played the character Dr. Jesse Travis in the TV series "Diagnosis Murder", a role that he is most famous for.
He also appeared in "The Sopranos" in the same role in 2000, and reprised the role in TV movies "Diagnosis Murder: Town Without Pity" and "Diagnosis Murder" Without Warning". He was seen as Kevin Greeley in "Touched by an Angel" and Jay Gelb in "White Rush". He took a brief hiatus from TV screens returning in 2014 as Lorne Davis in the series "NCIS". In 2020, he appeared as Capt. William Shagspur in "Gunfight at Silver Creek".
Voice Actor
In 1991, he voiced the character Hoggish Greedly Jr. for "Captain Planet and the Planeteers", in 1993 lent his voice for the TV series "Sonic the Hedgehog", and in 1997 voiced the character Wally West in "Superman: The Animated Series". In 2001, he was the voice of B-bop-A-Luna in "Butt-Ugly Martians", and in 2004 lent his voice to the TV series' "Jackie Chan Adventures" and "Evil Con Carne".
In 2004 he started doing voice work for video games as well, in such as "EverQuest II", "Metal Gear Solid 3: Snake Eater", "Ape Escape Academy" "Bratz Rock Angelz" and "Neopets: The Darkest Faerie". He voiced the character Cameron in "Bratz" (2006) and Hawk in "A.T.O.M.: Alpha Teens on Machines" (2007).
He can be heard in many TV series too – as Kevin Levin and Devlin Levin in "Ben 10" (2007), and The Flash in "The Batman", plus in "Random! Cartoons" (2007), "The Fairly OddParents" (2008), "A Turtle's Tale: Sammy's Adventures" (2010) and "Winx Club 3D: Magical Adventure" (2010). Altogether, Charlie's been credited with over 30 titles on which his voice can be heard.
Personal life:
Wife
He met his future wife Colleen Gunderson in 1992 – Colleen is a publicist by profession. They dated for two years before he asked her to marry him, and they tied the knot on 7 May 1994. He and Colleen live in California along with their children.
Celebscouples has stated that Schlatter had two relationships before he met Colleen. There are rumors that he dated famous actress Jennifer Aniston while they were filming a pilot together for the "Ferris Bueller" film, however, Charlie hasn't accepted or denied the rumor.
Children
Charlie and Colleen have three children – Julia Marie born on 15 September 1997, Quinn followed on 12 November 1997, and their youngest was born on 12 May 2002 and they named her Beck Frederick Schlatter.
Illness
Charlie has had to live with chronic myeloid leukemia – a cancer of the blood – for over 10 years, which isn't curable but is treatable and manageable. He talked to ABC7 and said 'So basically, I'm a guy who's in chemotherapy every day. Just a little bit of chemotherapy every day, and that's what keeps me in the game.' He first went to his doctor to consult on what he thought was a spider bite, but was informed that his white blood count was too high.
Charity
Charlie participated in the Leukemia and Lymphoma Society's Man and Woman of the Year fundraising campaign, with the funds collected used to raise awareness and help find the cure for cancer.
Appearance
Charlie is of American nationality and white ethnicity; he has dark brown hair and blue eyes. He stands at a height of 5 ft 7 ins (170 cm), however, information on his weight and his vital stats is not available to us at the time.
Hobby, Favorite Things and Interesting Facts
Charlie first auditioned for the part of Oliver Twist at the school play because he wanted to impress a girl he liked. He once talked about her, and said 'The girl didn't only happen to be cute, she was also the only girl at school that was shorter than me.' Since his wife Colleen's relatives are all golfers, Charlie took up the game as well, and has found it to be very pleasing.
His favorite actor is Dick Van Dyke. He once spoke of Dick Van Dyke and said 'Working with Dick Van Dyke was one of the greatest experiences in my life. By far, the most talented, inspirational, gracious human beings I have ever had the pleasure of sharing a scene with.'
He was almost cast for the character of Fry in "Futurama" but Billy West replaced him.
Net Worth
Charlie Schlatter's net worth is estimated to be $1.5 million as of early 2020, accumulated by working in the TV industry as well as lending his voice to several TV series and video games for more than three decades.
General Info
| | |
| --- | --- |
| Full Name | Charlie Schlatter |
| Date Of Birth | May 1, 1966 |
| Height | 1.71 m |
| Profession | Voice Actor |
| Education | Ithaca College |
| Nationality | American |
Family
| | |
| --- | --- |
| Spouse | Colleen Gunderson |
| Children | Beck Frederick Schlatter, Julia Marie Schlatter, Quinn Schlatter |
Accomplishments
| | |
| --- | --- |
| Movies | 18 Again!, The Delinquents, Heartbreak Hotel, Police Academy: Mission to Moscow, Lego Batman: The Movie – DC Super Heroes Unite, Batman Unlimited: Animal Instincts, Miss Cast Away, All-American Murder, Sunset Heat, Batman Unlimited: Mechs vs. Mutants, Tom and Jerry: The Magic Ring, Resurrection Ma... |
| TV Shows | Diagnosis: Murder, Kick Buttowski: Suburban Daredevil, Ben 10, Ferris Bueller, Loonatics Unleashed, Pet Alien, A.T.O.M., G.I. Joe: Renegades, Butt-Ugly Martians, Captain Planet and the Planeteers, Sonic the Hedgehog, The Protector, Bratz, Fish Police, Robotboy, Yin Yang Yo! |
Social profile links
Quotes
| # | Quote |
| --- | --- |
| 1 | [Of Dick Van Dyke]: Working with Dick Van Dyke was one of the greatest experiences in my life. By far, the most talented, inspirational, gracious human beings I have ever had the pleasure of sharing a scene with. He was always so great to me and so great to my wife and children. |
| 2 | [on his on- and off-screen chemistry with Dick Van Dyke, who played Dr. Mark Sloan]: I loved Dick Van Dyke. Before I got that role in the show, I was a big Dick Van Dyke fan. You know 10 years after the fact, I'm a bigger Dick Van Dyke fan. Dick was like working with Santa Claus, everyday. He was the most, kind, generous, gregarious man that I ever had the fortune of working with, and you know, to me, that was like hitting the actor's lottery. You don't always get to work on the show where you love everybody and this was one of them, so, it was a true, true blessing and I'm thankful for everyday of it. |
| 3 | [Who once heard of Dick Van Dyke's reference to his co-star's real name]: Dick always calls me Charlie instead of Jesse on camera. And he'll hit his head and say: Why don't you just change your name in Jesse? |
| 4 | About working with Barry Van Dyke: "Barry is a great guy, nothing but honesty coming out of him...He and I die laughing about the stupidest things and we're like a couple of school girls...We're so physically opposite, it's fun playing off him, he's such a straight man." |
| 5 | About his short-term photographic memory :"When you're doing a show like this (Diagnosis Murder (1993) ), it's like cramming for an exam two minutes before the test. I can look at a page for a while and have it in my head and when we move onto the next scene I've completely forgotten what I just said." |
| 6 | Talking about a girl from school: "The girl didn't only happen to be cute, she was also the only girl at school that was shorter than me." |
Facts
| # | Fact |
| --- | --- |
| 1 | Credits Dick Van Dyke as his favorite acting mentor/best friend. |
| 2 | Was one of the guests at Dick Van Dyke's 90th Birthday. |
| 3 | Dick Van Dyke is a surrogate grandfather to all of Schlatter's 3 children. |
| 4 | Best friends with and is a lifelong fan of Dick Van Dyke. |
| 5 | He is currently working on a movie called Miss Castaway and the Island Girls (2004), and lives in California with his family. [September 2003] |
| 6 | His acting mentor was Dick Van Dyke. |
| 7 | Best known by the public for his role as Dr. Jesse Travis on Diagnosis Murder (1993). |
| 8 | Was originally cast as Fry in Matt Groening 's Futurama (1999) but was replaced by Billy West . |
| 9 | Has three children with Colleen: Julia Marie (September 15th, 1997),Quinn (November 12th, 1999), and Beck Frederick (May 12th, 2002) |
| 10 | He starred in numerous plays at Ithaca College, where he earned a B.F.A. in musical theater. He also became a skilled musician, playing guitar, drums and piano and writing songs. He spent his summers appearing in summer stock. |
Pictures
Movies
Actor
| Title | Year | Status | Character |
| --- | --- | --- | --- |
| Treasures | 2016 | post-production | Brother Clean |
| Feud | 2017 | TV Series | Monte Westmore |
| Justice League Action | 2016 | TV Series | Flash |
| The Loud House | 2016 | TV Series | Dad #1 / Tween #2 / DJ / ... |
| Skylanders: Imaginators | 2016 | Video Game voice | |
| Goliath | 2016 | TV Series | Clerk Wilson |
| Batman Unlimited: Mechs vs. Mutants | 2016 | Video | The Flash (voice) |
| Lego Dimensions | 2015 | Video Game | The Flash Kai Darreth (voice) |
| Transformers: Robots in Disguise | 2015 | TV Series | Vertebreak |
| Batman Unlimited: Animal Instincts | 2015 | Video | The Flash (voice) |
| Lego Batman 3: Beyond Gotham | 2014 | Video Game | Robin Tim Drake The Flash (voice) |
| The Boondocks | 2014 | TV Series | Plastic Surgeon / Cameraman |
| Dragon Nest: Warriors' Dawn | 2014 | | Lambert (English version, voice) |
| NCIS | 2014 | TV Series | Lorne Davis |
| Bratz: Go to Paris the Movie | 2013 | Video | Cameron (voice) |
| Winx Club | 2013 | TV Series | Timmy |
| Winx Club: Beyond Believix | 2012-2013 | TV Series | Timmy |
| The Wonderful 101 | 2013 | Video Game | Wonder-Red / Arthur Wedgewood (voice) |
| LEGO Batman: The Movie - DC Super Heroes Unite | 2013 | Video | Robin The Flash Additional Voices (voice) |
| Southland | 2013 | TV Series | Howard |
| Phineas and Ferb | 2008-2013 | TV Series | Additional Voices |
| Curious George | 2013 | TV Series | Sam / Store Clerk |
| Kick Buttowski: Suburban Daredevil | 2010-2012 | TV Series | Kick Buttowski |
| Winx Club: Enchantix | 2011-2012 | TV Series | Timmy |
| Lego Batman 2: DC Super Heroes | 2012 | Video Game | Robin The Flash Damian Wayne (voice) |
| Winx Club: Power of Believix | 2012 | TV Series | Duman |
| Sorcery | 2012 | Video Game | Finn (voice) |
| Fixing Pete | 2011 | TV Movie | Marty |
| G.I. Joe: Renegades | 2010-2011 | TV Series | Dr. Mindbender Dr. Brian Bender Wild Bill ... |
| Ben 10: Ultimate Alien | 2011 | TV Series | Tack / Plumber |
| The Little Engine That Could | 2011 | | Major (voice) |
| R U There? | 2010 | TV Movie | Raker |
| The Fairly OddParents | 2008-2009 | TV Series | Fairy Geek #1 Announcer Shimmer ... |
| Random! Cartoons | 2007-2009 | TV Series | Chris Kirkman / Sugarfoot / Boy / ... |
| Exit 19 | 2009 | TV Movie | Detective Van Sloan |
| Kung Fu Panda: Legendary Warriors | 2008 | Video Game | Rabbit #4 / Rat Minion #1 (voice) |
| Madagascar: Escape 2 Africa | 2008 | Video Game | Additional Voices (voice) |
| SOCOM: U.S. Navy SEALs Confrontation | 2008 | Video Game | Tom Hamilton - VIP 2 (voice) |
| The Life & Times of Tim | 2008 | TV Series | |
| The Rise of the Argonauts | 2008 | Video Game voice | |
| Chowder | 2008 | TV Series | Dog Citizen Skeleton |
| Kung Fu Panda | 2008 | Video Game | Rabbit (voice) |
| The Batman | 2007-2008 | TV Series | The Flash |
| Winx Club: Il segreto del Regno Perduto | 2007 | | Timmy (English version, voice) |
| Bee Movie Game | 2007 | Video Game voice | |
| Resurrection Mary | 2007 | | Detective Richards |
| Ben 10 Protector of Earth | 2007 | Video Game | Kevin Levin (voice) |
| Ben 10 | 2006-2007 | TV Series | Kevin Levin / Devlin Levin |
| Out at the Wedding | 2007 | | Jonathan |
| Loonatics Unleashed | 2005-2007 | TV Series | Ace Bunny / Toby the Pizza Boy |
| Spider-Man 3 | 2007 | Video Game | Apocalypse Thug / Additional Voices (voice) |
| Kim Possible | 2007 | TV Series | Chino |
| A.T.O.M.: Alpha Teens on Machines | 2005-2007 | TV Series | Hawk |
| Codename: Kids Next Door | 2006-2007 | TV Series | Numbuh 20,000 |
| Metal Gear Solid: Portable Ops | 2006 | Video Game | Raikov (English version, voice) |
| Gothic 3 | 2006 | Video Game | Additional Voices (English version, voice) |
| Bratz: Babyz | 2006 | Video Game | Cameron |
| Bratz: Passion 4 Fashion - Diamondz | 2006 | Video | Cameron (voice, uncredited) |
| Over the Hedge | 2006 | Video Game | Milton the Mole (voice) |
| Bratz | 2005-2006 | TV Series | Cameron |
| Mystery Woman: At First Sight | 2006 | TV Movie | Victor Short |
| Metal Gear Solid 3: Subsistence | 2005 | Video Game | Ivan Raidenovitch Raikov Raiden Soldiers (English version, voice) |
| Neopets: The Darkest Faerie | 2005 | Video Game | Heermedjet / Meerouladen / Messenger from Illusen (voice, as Charlie Schlotter) |
| Bratz Rock Angelz | 2005 | Video Game | Cameron (voice) |
| Katbot | 2005 | TV Series | Junior Lebore (voice) |
| Ape Escape 3 | 2005 | Video Game | Specter (English version, voice) |
| Pet Alien | 2005 | TV Series | Tommy Cadle / Clinton (voice) |
| Ape Escape Academy | 2004 | Video Game | Specter (voice) |
| Metal Gear Solid 3: Snake Eater | 2004 | Video Game | Major Raikov / Soldier (English version, voice) |
| EverQuest II | 2004 | Video Game | Aatius Vedrix Lucius Vulso Tarakh ... (voice) |
| Evil Con Carne | 2004 | TV Series | Tony / Trooper #3 |
| Jackie Chan Adventures | 2004 | TV Series | Rocko |
| ShellShock: Nam '67 | 2004 | Video Game | Deuce (voice) |
| Miss Castaway and the Island Girls | 2004 | TV Movie | Mike Saunders |
| The Punisher | 2004 | Video Game | Tom / Crack Dealer / Chop Shop Worker / ... (voice) |
| White Rush | 2003 | | Jay Gelb |
| Clifford the Big Red Dog | 2003 | TV Series short | Frank Williams |
| Touched by an Angel | 1997-2002 | TV Series | Kevin Greeley |
| Diagnosis Murder: Without Warning | 2002 | TV Movie | Dr. Jesse Travis |
| Tom and Jerry: The Magic Ring | 2002 | Video | Chip (voice) |
| Diagnosis Murder: Town Without Pity | 2002 | TV Movie | Dr. Jesse Travis |
| Diagnosis Murder | 1995-2001 | TV Series | Dr. Jesse Travis |
| Butt-Ugly Martians | 2001 | TV Series | B-bop-A-Luna (voice) |
| Rugrats | 2001 | TV Series | Talent Show Host |
| The Sopranos | 2000 | TV Series | Dr. Jesse Travis |
| Superman | 1997 | TV Series | The Flash Wally West |
| Jumanji | 1996 | TV Series | Wade Riley / Flint |
| Ed | 1996 | | Buddy |
| New York Daze | 1995 | TV Series | Jeffrey |
| Silk Stalkings | 1994 | TV Series | Junior Ballantine |
| Police Academy: Mission to Moscow | 1994 | | Cadet Connors |
| Sonic the Hedgehog | 1993 | TV Series | Additional Voices |
| Sunset Heat | 1992 | | David |
| Stormy Weathers | 1992 | TV Movie | Squirrel |
| Fish Police | 1992 | TV Series | Tadpole |
| All-American Murder | 1991 | Video | Artie Logan |
| Ferris Bueller | 1990-1991 | TV Series | Ferris Bueller |
| Captain Planet and the Planeteers | 1991 | TV Series | Hoggish Greedly, Jr. |
| The Delinquents | 1989 | | Brownie |
| Heartbreak Hotel | 1988 | | Johnny Wolfe |
| 18 Again! | 1988 | | David Watson Jack Watson |
| Bright Lights, Big City | 1988 | | Michael |
Writer
| Title | Year | Status | Character |
| --- | --- | --- | --- |
| Fun with Dick & James | 2004 | TV Movie based on a treatment by | |
| Diagnosis Murder | 2000 | TV Series story by - 1 episode | |
Soundtrack
| Title | Year | Status | Character |
| --- | --- | --- | --- |
| Heartbreak Hotel | 1988 | performer: "Heartbreak Hotel", "Soul On Fire" | |
Self
| Title | Year | Status | Character |
| --- | --- | --- | --- |
| Surge of Power: Revenge of the Sequel | | completed | Himself |
| Jennifer Aniston - Hollywoods einsame Traumfrau | 2013 | TV Movie documentary | Himself |
| Hub Exclusive: G.I. Joe Renegades & Transformers Prime | 2010 | TV Short documentary | Himself - Interviewee |
| Hollywood Squares | 2000 | TV Series | Himself |
Archive Footage
| Title | Year | Status | Character |
| --- | --- | --- | --- |
| Police Academy: Mission to Moscow - Underneath the Mission | 2004 | Video documentary short | Cadet Connors (uncredited) |
Awards
Nominated Awards
| Year | Award | Ceremony | Nomination | Movie |
| --- | --- | --- | --- | --- |
| 2016 | BTVA Television Voice Acting Award | Behind the Voice Actors Awards | Best Male Vocal Performance in a Television Series in a Guest Role | Transformers: Robots in Disguise (2015) |
| 2014 | BTVA Video Game Voice Acting Award | Behind the Voice Actors Awards | Best Male Lead Vocal Performance in a Video Game | The Wonderful 101 (2013) |
| 2014 | BTVA Video Game Voice Acting Award | Behind the Voice Actors Awards | Best Vocal Ensemble in a Video Game | The Wonderful 101 (2013) |
| 2012 | BTVA Special/DVD Voice Acting Award | Behind the Voice Actors Awards | Best Vocal Ensemble in a TV Special/Direct-to-DVD Title or Theatrical Short | The Little Engine That Could (2011) |
| 2012 | BTVA Television Voice Acting Award | Behind the Voice Actors Awards | Best Vocal Cast in a Television Series | G.I. Joe: Renegades (2010) |
Source:
IMDb
,
Wikipedia