• Born in Redmond, Washington State, USA
• Captained fishing vessel Wizard from 1990
• Purchased vessel Sirene in 2002
• Appears in reality TV series "Deadliest Catch" since 2007
• Estimated net worth of over $2 million

Known for movies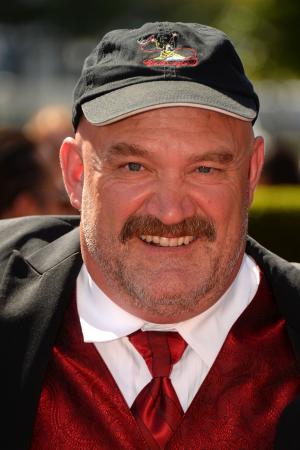 Keith Colburn is an American fishermen and TV personality, born on 10 March 1963, in Redmond, Washington State USA. He's known for being fishing vessel Wizard's Captain, and for appearing in the reality TV series "Deadliest Catch.
Early Life
Keith Harold was born the second of three sons of Patricia Laughton and Gary Colburn, who married not long after their first meeting at the University of Santa Clara in California. There's no information about Keith's childhood and education, though it's known he entered the workforce at a very early age, doing small chores as a ski bum in French restaurants when he was 14 years old.
Keith's parents divorced when he was a teen, and his father married again to Marye Rossi, a woman who he met while living in Kings Beach. Keith and his brothers Gregory and Monte are the only children, resulting of his father's first marriage.
Career
Fishing
Although by the age of 22 Keith had managed to climb up the restaurant's hierarchy, but was looking for more. Taking the decision to leave his life and family in California, in 1985 he travelled to Alaska with little money. and with the dream of working at sea. Along with his friend Kurt Frankenberg, he landed in Kodiak, and lived in a tent for months until he found his first job in fishing as crab vessel Alaska Trader's greenhorn.
Captured by the camaraderie and fisherman's lifestyle, in 1988 Keith found himself as a deckhand of the Wizard, a fishing vessel captained by John Jorgensen at the time.
In 1990 Keith was promoted to pilot house after he obtained his ton mate license 1600 from the US Coast Guard. Two years later Keith obtained a Master license, which enabled him to take the Captain's seat if necessary, and gained him another promotion as the vessel's skipper.
As a third generation of Norwegian fishermen, Jorgensen was not only Keith's boss – he became one of his role models, and who would teach him everything about the commercial fishing business and work ethic.
One of the most valuable pieces of advice Jorgensen gave Keith was to turn off his radio in order to obtain better results: 'If you want to catch crab, turn this thing off…if you want to follow people turn it on'.
His guidance paid off when in 2002 Keith was able to catch 540,000 lbs of crab following his instincts, surpassing not only the average of 130,000 lbs a season, but also his competitors' marks. This feat would be repeated in 2004, when Keith caught 400,000 lbs of crab in a season.
First Vessel
In 2002 Keith purchased his first fishing vessel, Sirene. However, it's unclear if he ever operated the boat, as at the time he continued to actively work on Wizard, and as part of a fleet reduction program, Keith sold the rights of the Sirene to Federal Buybac, only two years after its acquisition.
Captain of The Wizard
Although his adventure with the Sirene was short-lived, his goal to become his own vessel's Captain was alive, and in 2005 it became a reality when Keith purchased the Wizard from John Jorgensen, who had been its owner for almost three decades.
Initially named YO-210, The Wizard was built in 1945 by the US Navy to serve as a fuel oil boat during World War II. However, after the war's end the boat was used for military practices until 1974, when it was sold to an unnamed person.
In 1978, John Jorgensen purchased the boat and made several modifications to it, such as removing an extra engine room and eight tanks, spaces which would later become crab storage and refrigeration rooms.
Under Jorgensen's command The Wizard became a top producer of Opilio and Bairdi crab in the early 1980s.
Although The Wizard had many years of successful journeys at sea, in 2005 the vessel's fleet had to be reduced from 250 to 80 to meet fishing quota requirements. To secure The Wizard's future in the commercial fishing business, Keith purchased the boat.
In an interview with Boating Magazine in 2020, Keith addressed the challenges he has to face as Captain: 'It comes down to crew and making sure they are competent. If you have a good crew, you don't have to think about it. It is not a pleasant job, so it's a challenge keeping morale up'.
As The Wizard's Captain, Keith has worked alongside his younger brother Monte –who serves as the vessel's relief Captain, and has commented how important his role on the boat is: 'My brother's my right-hand man. We do argue… but my brother's back on board, and to be honest, I can't do it without him. He really is a great fisherman, great captain, and a great pain in my a**.'
Meanwhile, Gary Soper is Wizard's first mate: 'Soper has been with me for years. He's a crusty old dude with a beard, and he usually has a smoke hanging out of his mouth. He doesn't say a lot, but is he is the rock star for me on deck'
The current engineer of the vessel is Lenny Lekanoff, a skilled Native Aleut fisherman with decades of experience.
Deadliest Catch
In 2007 Keith Colburn became part of the cast of "Deadliest Catch", a Discovery Channel reality documentary series focused on various fishing vessels based in Alaska, whose crews put their lives at risk on the Bering Sea.
His appearances in the series have gained Colburn huge popularity, and recognition as one of the most successful crab fisherman. However, despite his focus being solely on The Wizard, altercations and discussions between him and other Captains have occasionally arisen, particularly his differences with Southern Wind's Captain Harley Davidson, which have been showcased in the series. Although it was suspected the drama between the two was scripted by the series' producers, Keith has declared otherwise: 'There is definitely old bad blood being harvested. And it is very much a very real thing. I am going to be honest. I don't like the guy, okay?'
Problems between Davidson and himself have remained unsolved for years: 'We've never been partners. And we've had some issues in the past, long before television. And so there's no love lost between the two of us.'
Entrepreneur
Keith Colburn is passionate about cooking and seafood, which led him to create Captain Keith's Catch, his own brand of sauces and dry rubs which are based on his personal recipes, and perfectly combine a variety of spices in them.
Personal Life
Marriage and Children
In the early 1990s, Keith married Florence, with who he welcomed two children named Caelan and Sienna. The marriage lasted more than 25 years until it ended in 2016, for unknown reasons.
Despite the separation, Keith maintains a good relationship with his children.
Rumors
In 2019 Keith was caught flirting with an unnamed woman in Puerto Vallarta, Mexico. Radar Online reported the news following witnesses' declarations: 'He had a huge margarita glass in his hand and he was drinking very heartily from it, then he got his hooks into the hot blonde, which put a huge grin on his face.'
This occurrence worried Keith's fans, as he has been battling alcoholism for years. Keith never confirmed the woman's identity or his health condition, however, in 2020 he declared that he was dating a woman named Hillary.
Health
Keith Colburn suffers of osteomyelitis, a decease caused by an infection in his spiral cord which developed in 2018.
In an interview with Monsters and Critics, Colburn declared not knowing the origin of said infection: 'I don't know. I travel a lot. I go to Central America. I go all over the place. And who knows if I drank something the wrong day at the wrong time, or what? It's hard to say.'
Although the situation put the Captain at rest for almost six months, and permanently damaged his back, he recovered enough to go back on board the Wizard for the next season. Nowadays Colburn maintains his health by keeping himself physically active through riding bikes and lifting weight, as well as in his job.
Net Worth
Keith Colburn has an estimated net worth of over $2 million, which is a result of his work as Captain of fishing vessel Wizard, and his earnings for appearing in the TV series "Deadliest Catch".
Happy Father's Day! Spend some time with your pops today. Throw a steak on the grill, steam some crab, play a round or two of cards. I know I'm sure missing dad today. #HappyFathersDay2020 #DadsCare pic.twitter.com/q9mxPlOIPj

— Capt Keith Colburn (@crabwizard) June 21, 2020
Physical Appearance
Keith Colburn is a man of white ethnicity. Although his height and weight are unknown, he's noticeably strong and has an overweight build.
Interesting Facts
Keith Colburn declared the physical altercations shown in "Deadliest Catch" are not dramatized: 'I don't know about other captains, but on Wizard, anytime there is yelling, it is real.'
Keith has no plan to retire from fishing: 'I don't foresee myself not fishing, but I might fish less and let my brother take the helm more.'
Keith has also affirmed his most peaceful moments are at The Wizard's wheel.
He and fellow "Deadliest Catch" Captain Johnathan Hillstrand are good friends.
General Info
| | |
| --- | --- |
| Full Name | Keith Colburn |
| Net Worth | $1.5 million |
| Salary | $1.5 million |
| Date Of Birth | March 10, 1963 |
Family
| | |
| --- | --- |
| Spouse | Florence Colburn |
| Children | Caelan Colburn, Sienna Colburn |
| Siblings | Monte Colburn |
Accomplishments
| | |
| --- | --- |
| TV Shows | Deadliest Catch, After the Catch |
Social profile links
Facts
Pictures
Movies
Miscellaneous
| Title | Year | Status | Character |
| --- | --- | --- | --- |
| Deadliest Catch | 2016 | TV Series documentary consultant - 16 episodes | |
Self
| Title | Year | Status | Character |
| --- | --- | --- | --- |
| Deadliest Catch | 2007-2017 | TV Series documentary | Himself - Captain: Wizard / Himself |
| Deadliest Catch: Evolution of Danger | 2017 | TV Movie | Himself - Captain: Wizard (as Keith) |
| Deadliest Catch: Legends Born & Broken | 2017 | TV Movie | Himself - Captain: Wizard |
| Deadliest Catch: The Bait | 2013-2016 | TV Series | Himself - Co-Host / Himself |
| Deadliest Catch: Sig Hansen Legacy | 2016 | TV Movie documentary | Himself - Captain: Wizard |
| FabLife | 2016 | TV Series | Himself |
| Deadliest Catch: Legend of the Wizard | 2016 | TV Movie documentary | Himself - Captain: Wizard |
| Hollywood Today Live | 2016 | TV Series | Himself |
| Deadliest Catch: A Season in Hell | 2016 | TV Movie | Himself - Captain: Wizard |
| The Kennedy Show | 2015 | TV Series | Himself |
| Home & Family | 2015 | TV Series | Himself |
| Deadliest Catch: Captain's Choice 11: All Captains | 2015 | TV Movie documentary | Himself |
| Deadliest Catch: Captain's Choice 13: All Captains | 2015 | TV Movie documentary | Himself |
| Deadliest Catch: Captain's Choice 4: Keith Colburn | 2015 | TV Movie documentary | Himself |
| Deadliest Catch: Captain's Choice 7: Keith Colburn | 2015 | TV Movie documentary | Himself |
| Deadliest Catch: Season 10 Revealed | 2015 | TV Movie | Himself - Captain: Wizard |
| A Tribute to David Zaslav: Newhouse Mirror Awards | 2014 | Documentary short | Himself |
| The Insider | 2014 | TV Series | Himself |
| Deadliest Catch: Behind the Lens | 2014 | TV Movie documentary | Himself - Captain: Wizard |
| Deadliest Catch: Season 9 Revealed | 2014 | TV Movie documentary | Himself - Captain: Wizard |
| Live with Kelly and Ryan | 2013 | TV Series | Himself |
| Who Wants to Be a Millionaire | 2013 | TV Series | Himself - Celebrity Contestant |
| Deadliest Catch: An Epic Season | 2013 | TV Special | Himself - Captain: Wizard |
| Deadliest Catch: Best of Season 8 | 2013 | TV Special | Himself - Captain: Wizard |
| Watch What Happens: Live | 2013 | TV Series | Himself - Bartender |
| Deadliest Catch: Behind the Scenes | 2012 | TV Movie documentary | Himself - Captain: Wizard |
| Deadliest Catch: Revelations | 2012 | TV Movie documentary | Himself - Captain: Wizard |
| After the Catch | 2007-2012 | TV Series documentary | Himself |
| The Tonight Show with Jay Leno | 2012 | TV Series | Himself |
| Deadliest Catch: Inside the Catch | 2012 | TV Series documentary | Himself - Captain: Wizard |
| Deadliest Catch: Best of Season 7 | 2012 | TV Special | Himself - Captain: Wizard |
| Deadliest Catch: Behind the Scenes - Season 7 | 2011 | TV Movie documentary | Himself - Captain: Wizard |
| Deadliest Catch: Greenhorns | 2011 | TV Movie | Himself - Captain: Wizard |
| Dirty Jobs | 2011 | TV Series | Himself |
| Deadliest Catch: Behind the Scenes - Season 6 | 2010 | TV Movie documentary | Himself - Captain: Wizard |
| Deadliest Catch: Scariest Moments at Sea | 2010 | TV Movie | Himself - Captain: F / V Wizard |
| Larry King Live | 2010 | TV Series | Himself |
| Deadliest Catch: Best of Season 5 | 2010 | TV Movie | Himself |
| Deadliest Catch: Behind the Scenes - Season 5 | 2009 | TV Movie documentary | Himself - Captain: Wizard |
| Deadliest Catch: Behind the Scenes | 2007 | TV Movie documentary | Himself (uncredited) |
Archive Footage
| Title | Year | Status | Character |
| --- | --- | --- | --- |
| Live with Kelly and Ryan | 2013 | TV Series | Himself |
| After the Catch | 2008 | TV Series documentary | Himself |
Source:
IMDb
,
Wikipedia