• Bruce Vilanch is an American comedy writer, actor, and songwriter
• He was the main writer for the Oscars from 2000 to 2014 and for other noted award ceremonies
• His career kicked off by writing comedy material for Bette Midler's Broadway show
• He was a celebrity panelist in "Hollywood Squares" in 1998
• He is an openly gay man and is currently single

Known for movies
Short Info
| | |
| --- | --- |
| Net Worth | 8 million dollars |
| Date Of Birth | November 23, 1948 |
| Mark | Wild, blonde-gray locks, thick red glasses and gay-suggestive tee-shirts |
| Fact | Known to be an able provider of topical joke material for Academy Award hosts (notably Billy Crystal). Also for comedy personalities on the road such as Bette Midler. |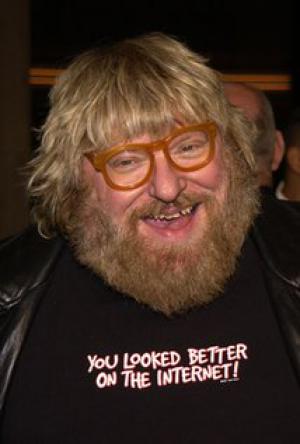 Who is Bruce Vilanch?
Bruce Vilanch is an American comedy writer, actor, and songwriter as well; he is perhaps still best known to the world for his stint on "Hollywood Squares", a TV game show, from 1998 to 2003 as a panelist, while he also worked as a writer. Bruce was the main writer for the Oscars from 2000 to 2014, and also for other noted award ceremoonies.
Bruce Vilanch Biography- Age, Childhood, and Education
Born Bruce Gerald Vilanch on the 23rd November 1948 in New York USA, he spent his childhood in Paterson, New Jersey, having been adopted by Jonas Vilanch and his wife, Henne.
Is it wrong that I want to do it with Bruce Vilanch? Just to have an interesting story to tell. pic.twitter.com/6XaNFBq4

— Horace (@horseknuckle) November 29, 2011
His adoptive father was an optometrist, while Henne was a housewife. While growing up, he started displaying an interest in theater, and to help him kick-start his career, his mother signed him up as a chubby child model with Lane Bryant's Charming Chub agency. His mother was also in the theater, and so helped him a lot in his early years. Bruce attended Hebrew School, and after high school enrolled at Ohio State University, where he studied journalism and theater. He would nurture his skills as a writer of reviews, and also appeared in a few plays, trying to learn everything he could in order to become a playwright.
A Successful Writer
Bruce is best known for his writing abilities; he began writing features for The Chicago Tribune and soon started spending as much time as he could around any celebrity just to get a story. This is how he met Bette Midler, who at the time struggled to launch her career, and was just a nightclub singer. The two befriended, and Bruce started working for her, writing comedy material for her show "Clams on the Half Shell", which was her Broadway show, and also co-wrote "Divine Madness" (1980).
Throughout the '80s, Bruce worked on numerous successful projects, including the documentary "Funny, You Don't Look 200: A Constitutional Vaudeville" (1987), and "The Cheech Show" in 1988.
The following year, Bruce was recruited as a writer for the Academy Awards, and in 2000 he became the head writer. He served in the position until 2014, during which time he became quite famous, especially for his one-line jokes. In addition, he has also written for the Primetime Emmy Awards, Grammy Awards, World Music Awards, and other events.
Acting Career and "Hollywood Squares"
Bruce's acting career started in 1971, in the comedy-drama film "My Name Is Rocco Papaleo", starring Marcello Mastroianni, Lauren Hutton and Tom Reed.
Four years later, he featured in the Academy Award-nominated romantic drama film "Mahagony", starring Diana Ross. In 1983, he appeared in the romantic action-drama film "Breathless", with Richard Gere, Valerie Kaprisky and Art Metrano. In 1986 he appeared in the Academy Award-nominated crime-mystery film "The Morning After", and by the end of the decade had featured in the thriller film "The Drifter" (1988), and the television movie "It Nearly Wasn't Christmas" (1989), among other projects.
He wasn't quite so active in the '90s as an actor, but became more focused on writing; however, he did appear in the television movie "Love Can Be Murder" (1992).
In 1998 he was selected as the celebrity panelist in the TV show "Hollywood Square", which launched him to stardom.
The 2000s and Recent Projects
His inactivity as an actor continued far into the 2000s, until he returned to the screen in 2007 with the role of Hymie in the television movie "Orlando's Bed and Breakfast", and the following year appeared as himself in the comedy film "You Don't Mess with Zohan", starring Adam Sandler. Since 2010, he's featured in a number of films and TV series, starting with the romantic comedy-drama film "Going Down in LA-LA Land" (2011), and from 2013 to 2019 portraying Larry Lawrence in the TV series "Child of the '70s".
Other Appearances
In addition to acting and his appearance as a panelist, he played himself in the popular animated series "The Simpsons" in the episode entitled "Pokey Mom", while in 2006 he featured in the third season of the "Celebrity Fit Club" show, during which time he lost over 20lbs. To speak further of his notable appearances on TV shows, he was the guest judge in the third season of "RuPaul's Drag Race", during which he was dressed as Santa Claus, and returned in season five as a coach, helping the contestants in a comedy roast of RuPaul.
Bruce Vilanch Net Worth, Height, Weight, and Appearance
Bruce is a proven writer, actor and comedian and his net worth has increased over the years by a large margin. According to sources, Vilanch's net worth is estimated at $8 million, as of early 2020.
Bruce is known for his unique looks; he stands 6ft (1.8m) tall, while he weighs around 300lbs, though his weight varies from 295lbs to 315lbs. He has a distinctive look as he sports long blonde hair and a beard. He is noted for his glasses which often have bright colored frames, while he also likes wearing double entendre-themed T-shirts.
Bruce Vilanch Personal Life, Dating, Is He Gay? Charity Work
Bruce is an openly gay man, and has represented the LGBTQ community in several shows, speaking about their rights and the movement on the whole. He also supports a number of charities, including serving on the honorary board of Aid for AIDS, and has also emceed the event "Dancers Responding to AIDS", a program of Broadway Cares/Equity Fights AIDS, in 2009 and 2010.
Vilanch is very secretive about his relationship status, but according to sources, he is currently single and there are no records of previous relationships. However, one picture on his Instagram page displays him and his partner, though there are no more details about their relationship.
General Info
| | |
| --- | --- |
| Full Name | Bruce Vilanch |
| Net Worth | 8 million dollars |
| Date Of Birth | November 23, 1948 |
| Profession | Screenwriter, Television producer, Columnist, Actor, Songwriter |
| Education | Ohio State University |
| Nationality | American |
Family
| | |
| --- | --- |
| Parents | Henne Vilanch, Jonas Vilanch |
Accomplishments
| | |
| --- | --- |
| Awards | Primetime Emmy Award for Outstanding Writing - Variety Series, GLAAD Media Stephen F. Kolzak Award |
| Nominations | Primetime Emmy Award for Outstanding Original Music And Lyrics, Primetime Emmy Award for Outstanding Writing in a Comedy, Variety, or Music Special, WGA Award for Best Comedy/Variety - Music, Awards, Tributes - Specials - Television, Lambda Literary Award for Humor |
| Movies | The Ice Pirates, Going Down in La-La Land, Oy Vey! My Son Is Gay!!, Star Wars Holiday Special, Mahogany, Tru Loved, Divine Madness, Scrooge & Marley, The Morning After, Call Me Claus, Sister Mary, Naked Fame, Silent But Deadly, Spring Breakdown, Love Can Be Murder, Bette Midler: Ol' Red Hair Is Back... |
| TV Shows | Celebrity Fit Club, Sex: The Revolution |
Social profile links
Marks
| # | Marks / Signs |
| --- | --- |
| 1 | Wild, blonde-gray locks, thick red glasses and gay-suggestive tee-shirts |
Quotes
| # | Quote |
| --- | --- |
| 1 | "Musicals have clearly gotten more physical. You never saw Ethel Merman doing step aerobics. The real culprit in all this is not even the costume designer but the choreographer, that malicious spawn of Gwen Verdon and Satan." -- commenting on his strenuous undertaking in the tour of "Hairspray". |
Facts
| # | Fact |
| --- | --- |
| 1 | Starring as Edna Turnblad in the national tour of the Broadway smash hit, Hairspray. [September 2003] |
| 2 | Playing Edna Turnblad in the Broadway production of Hairspray, recently played by Michael McKean and originated by Harvey Fierstein. [October 2004] |
| 3 | Known to be an able provider of topical joke material for Academy Award hosts (notably Billy Crystal). Also for comedy personalities on the road such as Bette Midler. |
| 4 | Hefty, quipping, American gag writer who turned celebrity after becoming a wisecracking regular on the revamped Hollywood Squares (1998) game show (located next to Whoopi Goldberg in the left-center square). |
| 5 | Had a musical comedy background, claiming to have done every Stubby Kaye role there was. |
| 6 | Attended Ohio State University in the 1960s as a theater and journalism student. |
Pictures
Movies
Writer
| Title | Year | Status | Character |
| --- | --- | --- | --- |
| 17th Annual Kennedy Center Mark Twain Prize for American Humor: Jay Leno | 2014 | TV Movie | |
| Bette Midler: The Showgirl Must Go On | 2010 | TV Movie additional written material | |
| The 82nd Annual Academy Awards | 2010 | TV Special | |
| The 81st Annual Academy Awards | 2009 | TV Special written by | |
| The 80th Annual Academy Awards | 2008 | TV Special | |
| Naked Boys Singing! | 2007 | written by | |
| The 5th Annual TV Land Awards | 2007 | TV Special | |
| The 79th Annual Academy Awards | 2007 | TV Special | |
| Comic Relief 2006 | 2006 | TV Special documentary head writer | |
| The 58th Annual Tony Awards | 2004 | TV Special | |
| The 75th Annual Academy Awards | 2003 | TV Special special material written by | |
| TV Land Awards: A Celebration of Classic TV | 2003 | TV Special documentary | |
| The Disco Ball | 2003 | TV Special | |
| The 74th Annual Academy Awards | 2002 | TV Special special material written by | |
| The 15th Annual American Comedy Awards | 2001 | | |
| Hollywood Salutes Bruce Willis: An American Cinematheque Tribute | 2000 | TV Movie | |
| The 54th Annual Tony Awards | 2000 | TV Special | |
| The 14th Annual American Comedy Awards | 2000 | | |
| Hollywood Salutes Jodie Foster: An American Cinematheque Tribute | 1999 | TV Movie | |
| The 51st Annual Primetime Emmy Awards | 1999 | TV Special | |
| American Fashion Awards | 1999 | TV Special | |
| The 53rd Annual Tony Awards | 1999 | TV Special | |
| The 24th Annual People's Choice Awards | 1998 | TV Special | |
| Hollywood Squares | 1998 | TV Series head writer | |
| Comic Relief VIII | 1998 | TV Special | |
| The 52nd Annual Tony Awards | 1998 | TV Special | |
| The 70th Annual Academy Awards | 1998 | TV Special special material | |
| Bette Midler in Concert: Diva Las Vegas | 1997 | TV Special documentary | |
| The 19th Annual CableACE Awards | 1997 | TV Special | |
| The 1997 World Music Awards | 1997 | TV Special | |
| The 51st Annual Tony Awards | 1997 | TV Special | |
| The 69th Annual Academy Awards | 1997 | TV Special special material | |
| Happy Birthday Elizabeth: A Celebration of Life | 1997 | TV Special | |
| The 48th Annual Primetime Emmy Awards | 1996 | TV Special | |
| The 50th Annual Tony Awards | 1996 | TV Special | |
| The 68th Annual Academy Awards | 1996 | TV Special written by | |
| The 22nd Annual People's Choice Awards | 1996 | TV Special | |
| The 10th Annual American Comedy Awards | 1996 | TV Special | |
| TV Laughs at Life | 1995 | TV Movie | |
| The 67th Annual Academy Awards | 1995 | TV Special | |
| 1st Annual Screen Actors Guild Awards | 1995 | TV Special | |
| Elvis: The Tribute | 1994 | TV Movie documentary | |
| She TV | 1994 | TV Series writer - 1 episode | |
| The 8th Annual American Comedy Awards | 1994 | TV Special | |
| The 66th Annual Academy Awards | 1994 | TV Special special material | |
| Comic Relief VI | 1994 | TV Special documentary writer | |
| Trevor | 1994 | Short special material written by | |
| For Our Children: The Concert | 1993 | TV Movie documentary | |
| A Gala for the President at Ford's Theatre | 1993 | TV Movie | |
| Comic Relief V | 1992 | TV Special | |
| The 44th Annual Primetime Emmy Awards | 1992 | TV Special | |
| The 34th Annual Grammy Awards | 1992 | TV Special | |
| Laughing Back: Comedy Takes a Stand | 1992 | TV Movie story / teleplay | |
| Ray Charles: 50 Years in Music | 1991 | TV Special documentary | |
| The 63rd Annual Academy Awards | 1991 | TV Special special material | |
| The 17th Annual People's Choice Awards | 1991 | TV Special | |
| America's Dance Honors | 1990 | TV Special | |
| The 4th Annual American Comedy Awards | 1990 | TV Special | |
| Miss USA Pageant | 1990 | TV Movie | |
| Dolly | 1988 | TV Series 1 episode | |
| The Cheech Show | 1988 | TV Movie | |
| Las Vegas: An All-Star 75th Anniversary | 1987 | TV Special | |
| Funny, You Don't Look 200: A Constitutional Vaudeville | 1987 | TV Movie documentary | |
| The 35th Annual Primetime Emmy Awards | 1983 | TV Special additional material | |
| Divine Madness | 1980 | Documentary | |
| Omnibus | 1980 | TV Series | |
| John Ritter: Being of Sound Mind and Body | 1980 | TV Movie writer - segment "The Rock Doctor" | |
| The Music for UNICEF Concert: A Gift of Song | 1979 | TV Special written by | |
| The Star Wars Holiday Special | 1978 | TV Movie | |
| Donny and Marie | | TV Series 3 episodes, 1977 writer - 19 episodes, 1975 - 1978 | |
| Bette Midler: Ol' Red Hair Is Back | 1977 | TV Movie documentary | |
| The Brady Bunch Variety Hour | 1976-1977 | TV Series writer - 9 episodes | |
| The Barry Manilow Special | 1977 | TV Movie | |
| The Paul Lynde Halloween Special | 1976 | TV Special written by | |
| The Bette Midler Show | 1976 | TV Special as Bruce Vilanche | |
Actor
| Title | Year | Status | Character |
| --- | --- | --- | --- |
| Limelight | 2017/I | post-production | Garrett Raynes |
| Still Waiting In The Wings | 2017 | post-production | Chef |
| Surge of Power: Revenge of the Sequel | | completed | S.I.R.I.U.S. / Janus |
| Spellcheck | 2016 | Short | Spellcheck Victim |
| Child of the '70s | 2013-2016 | TV Series | Larry Lawrence |
| Penn Zero: Part-Time Hero | 2015 | TV Series | Additional Voices |
| On the Cover | 2014 | Short | Bernie Feldman |
| Scrooge & Marley | 2012 | | Fezziwig |
| Silent But Deadly | 2012 | | Uncle Bruce |
| Something Real | 2012 | Short | |
| The Eric Andre Show | 2012 | TV Series | Arnold Schwarzenegger |
| Troy: Naked Boys Behind Bars, Sing! | 2011 | Short | The Director (voice) |
| Sister Mary | 2011 | | Farmer Jake |
| Going Down in LA-LA Land | 2011 | | Missy Manhandler |
| The Word Is Love | 2010 | Video short | Max |
| Oy Vey! My Son Is Gay!! | 2009 | | Max |
| Spring Breakdown | 2009 | | Celebrity Judge |
| HA! The Web Series | 2009 | TV Series | Bruce |
| Rick & Steve the Happiest Gay Couple in All the World | 2008 | TV Series | Bruce Bandersnatch |
| You Don't Mess with the Zohan | 2008 | | Bruce Vilanch |
| Tru Loved | 2008 | | Uncle Daniel |
| Orlando's Bed and Breakfast | 2007 | TV Movie | Hymie |
| Queer Duck: The Movie | 2006 | Video | Bruce Vilanch (voice) |
| The Proud Family | 2001 | TV Series | Tristan the Magician |
| Circuit | 2001 | | Theater Stage Manager |
| Jackie's Back! | 1999 | TV Movie | Bruce Vilanch |
| The Nanny | 1998 | TV Series | Bruce Vilanch |
| Love Can Be Murder | 1992 | TV Movie | Bernie |
| Rachel Gunn, R.N. | 1992 | TV Series | Patient |
| Fourth Story | 1991 | TV Movie | Flower salesman |
| It Nearly Wasn't Christmas | 1989 | TV Movie | Philpot |
| Santa Barbara | 1989 | TV Series | Hippie Priest |
| The Drifter | 1988 | | Cook |
| The Cheech Show | 1988 | TV Movie | Louella Fella |
| The Morning After | 1986 | | Bartender |
| The Ice Pirates | 1984 | | Wendon |
| Breathless | 1983 | | Man with Purse |
| Bosom Buddies | 1981 | TV Series | Customer #2 |
| Mahogany | 1975 | | Dress Manufacturer |
| My Name Is Rocco Papaleo | 1971 | | Tante Rosa |
Soundtrack
| Title | Year | Status | Character |
| --- | --- | --- | --- |
| Rude Tube | 2013 | TV Series writer - 1 episode | |
| The 58th Annual Tony Awards | 2004 | TV Special lyrics: "No One Mourns the Wicked" | |
| Wie die Karnickel | 2002 | writer: "I Love Men" | |
| Cat's Eye | 1985 | writer: "Cat's Eye" - as B. Valanch | |
Miscellaneous
| Title | Year | Status | Character |
| --- | --- | --- | --- |
| Fired Up | 1997 | TV Series creative consultant | |
| The 65th Annual Academy Awards | 1993 | TV Special special material | |
| The 64th Annual Academy Awards | 1992 | TV Special special material | |
| Manhattan Transfer | 1975 | TV Series creative consultant - 1 episode | |
Producer
| Title | Year | Status | Character |
| --- | --- | --- | --- |
| Pride: The Gay & Lesbian Comedy Slam | 2010 | TV Movie executive producer | |
| The Paula Poundstone Show | 1992-1993 | TV Series producer - 2 episodes | |
Thanks
| Title | Year | Status | Character |
| --- | --- | --- | --- |
| Tab Hunter Confidential | 2015 | Documentary special thanks | |
| Wrangler: Anatomy of an Icon | 2008 | Documentary special thanks | |
| Naked Fame | 2004 | Documentary thanks | |
Self
| Title | Year | Status | Character |
| --- | --- | --- | --- |
| Walk a Mile in My Pradas | 2011 | | Himself |
| Bump! | 2010-2011 | TV Series | Himself |
| Birds of a Feather | 2011/I | | Himself |
| Out for Laughs | 2011 | TV Series | Himself - Starring Comedian |
| A Bundle of Sticks | 2010 | Documentary | Himself |
| The Adonis Factor | 2010 | Documentary | Himself - Writer / Actor |
| Pride: The Gay & Lesbian Comedy Slam | 2010 | TV Movie | Himself |
| What's the Name of the Dame? | 2009 | Documentary | |
| Beverly Hills Groomer | 2009 | TV Series | Himself |
| Annul Victory | 2009 | Documentary | Himself |
| House of Numbers: Anatomy of an Epidemic | 2009 | Documentary | Himself - American Comedy & Script Writer |
| A-List Awards | 2009 | TV Special | Himself |
| World's Dumbest | 2009 | TV Series | Himself |
| GSN Live | 2008 | TV Series | Himself |
| Sex: The Revolution | 2008 | TV Mini-Series documentary | Himself |
| Living with Ed | 2008 | TV Series | Himself |
| Wrangler: Anatomy of an Icon | 2008 | Documentary | Himself - Actor & Author |
| Jury Duty | 2007-2008 | TV Series | Himself |
| Electile Dysfunction: Inside the Business of American Campaigns | 2008 | Documentary | Himself |
| Laughing Matters... The Men | 2008 | Video | Himself |
| 20 Greatest Oscar Moments | 2008 | TV Movie | Himself |
| 11th Annual Ribbon of Hope Celebration | 2008 | TV Movie | Himself |
| 10th Annual Ribbon of Hope Celebration | 2007 | TV Movie | Himself |
| Wisecrack | 2007 | TV Series | Himself |
| Under the Pink Carpet | 2006 | TV Series | Himself |
| The Making of Michael Lucas' 'Dangerous Liaisons' | 2006 | Video documentary | Himself |
| Gameshow Marathon | 2006 | TV Series | Himself - Panelist |
| Gotta Get Off This Merry Go Round: Sex, Dolls and Showtunes | 2006 | Video documentary | Himself |
| The Divine Ms. Susann | 2006 | Video short | Himself |
| 17th Annual GLAAD Media Awards | 2006 | TV Special | Himself |
| 10 Ways to Be a Cover Story Couple | 2006 | TV Movie | Himself |
| Celebrity Fit Club | 2006 | TV Series | Himself |
| Biography | 2004-2006 | TV Series documentary | Himself |
| Fucking with the Stars | 2006 | Video | Himself - Non-sexual role |
| QTN Holiday Reel | 2005 | TV Movie | Himself |
| Celebrity Autobiography: In Their Own Words | 2005 | TV Movie | Himself |
| Great Things About the Holidays | 2005 | TV Movie | Himself |
| Dokument: Humor | 2005 | TV Series documentary | Himself |
| The Apprentice: Martha Stewart | 2005 | TV Series | Himself |
| Inside TV Land: Tickled Pink | 2005 | TV Movie documentary | Himself |
| Dangerous Liaisons | 2005 | Video | Himself - Non-sexual Role (uncredited) |
| The Aristocrats | 2005 | Documentary | Himself |
| E! 101 Most Awesome Moments in Entertainment | 2004 | TV Movie documentary | Himself |
| Balderdash | 2004 | TV Series | Himself |
| Pyramid | 2003-2004 | TV Series | Himself - Celebrity Contestant |
| Naked Fame | 2004 | Documentary | Himself - Academy Awards Writer |
| CMT: 20 Really Embarrassing Video Moments | 2004 | TV Special | Himself |
| The Award Show Awards Show | 2003 | TV Special documentary | Himself |
| Hollywood Squares | 1998-2003 | TV Series | Himself - Panelist |
| 100 Years of Hope and Humor | 2003 | TV Special | Himself |
| The Late Late Show with Craig Kilborn | 2003 | TV Series | Himself |
| Heroes of Comedy: Women on Top | 2003 | TV Mini-Series documentary | Himself |
| The Disco Ball | 2003 | TV Special | Himself (uncredited) |
| Intimate Portrait | 2002 | TV Series documentary | Himself |
| Iron Chef USA: Holiday Showdown | 2001 | TV Special documentary | Himself - Judge |
| Call Me Claus | 2001 | TV Movie | Himself |
| The Mark Twain Prize: Whoopi Goldberg | 2001 | TV Movie | Himself |
| I Love Lucy's 50th Anniversary Special | 2001 | TV Movie documentary | Comedy writer |
| 10 Attitudes | 2001 | | Himself |
| The Test | 2001 | TV Series | Himself - Panelist |
| The 15th Annual American Comedy Awards | 2001 | | Himself |
| Queen of the Whole Wide World | 2001 | Documentary | Master of Ceremonies |
| The Simpsons | 2001 | TV Series | Himself |
| The Boys of Manchester: On the Set of Queer as Folk | 2000 | TV Movie documentary | Himself (introduction) |
| The Martin Short Show | 1999 | TV Series | Himself |
| Get Bruce | 1999 | Documentary | Himself |
| Behind the Music | 1999 | TV Series documentary | Himself |
| Pesel Ha'Zahav | 1998 | Documentary | Himself |
| The 44th Annual Primetime Emmy Awards | 1992 | TV Special | Himself - Winner |
| The 43rd Annual Primetime Emmy Awards | 1991 | TV Special | Himself - Winner |
| Funny, You Don't Look 200: A Constitutional Vaudeville | 1987 | TV Movie documentary | Himself |
| The Midnight Special | 1980 | TV Series | Himself |
| The Paul Ryan Show | 1977 | TV Series | Himself |
| The Automat | 2018 | Documentary post-production | Himself |
| Amsel: Illustrator of the Lost Art | 2017 | Documentary filming | Himself - Interviewee |
| The Fabulous Allan Carr | 2017 | Documentary post-production | Himself |
| Allee Willis Loves Detroit | | Documentary filming | Himself |
| Hey Qween | 2016 | TV Series | Himself |
| Yikes! The Arrival | 2015 | Short | Himself |
| The Insider | 2015 | TV Series | Himself - Comedy Writer |
| Being Fabulous Rocks! T.V. Show | 2015 | TV Series | Himself - Guest |
| 17th Annual Kennedy Center Mark Twain Prize for American Humor: Jay Leno | 2014 | TV Movie | Himself |
| RuPaul's Drag Race | 2011-2014 | TV Series | Himself - Guest Judge / Himself - Audience Member / Himself - Special Guest |
| The Outrageous Sophie Tucker | 2014 | Documentary | Himself |
| And the Oscar Goes To... | 2014 | TV Movie documentary | Himself - Oscar Telecast Writer |
| 82nd Annual Hollywood Christmas Parade | 2013 | TV Movie | Himself |
| 16th Annual Kennedy Center Mark Twain Prize for American Humor: Carol Burnett | 2013 | TV Movie | Himself |
| Absolutely Jason Stuart | 2013 | TV Series | Himself |
| Teens Wanna Know | 2013 | TV Series | Himself - Guest |
| I Am Divine | 2013 | Documentary | Himself |
| On the Set W Jasper Cole | 2013 | TV Series | Himself - Guest |
| In Bed with Joan | 2013 | TV Series | Himself - Guest |
| The WIN Awards 2012 | 2012 | TV Special | Himself - Host |
| Shark Tank | 2012 | TV Series | Himself - Helper: PC Classes Online |
| Carol Channing: Larger Than Life | 2012 | Documentary | Himself |
| Hanlet: Episode 4 & 1/2 - Attack of the Phantom Special | 2011 | Documentary | Himself |
| Vito | 2011 | Documentary | Himself |
| Chasing Hollywood | 2011 | Documentary | Himself |
Archive Footage
| Title | Year | Status | Character |
| --- | --- | --- | --- |
| RuPaul's Drag Race | 2013-2014 | TV Series | Himself - Guest Judge / Himself |
| RuPaul's Drag Race: Untucked! | 2014 | TV Series | Himself - Guest Judge |
| Late Night with Conan O'Brien: The Best of Triumph the Insult Comic Dog | 2004 | Video | Himself (uncredited) |
Awards
Won Awards
| Year | Award | Ceremony | Nomination | Movie |
| --- | --- | --- | --- | --- |
| 2010 | Career Achievement Award | Fort Worth Gay and Lesbian International Film Festival | | |
| 2007 | Wall of Fame | Grabby Awards | | |
| 1997 | Stephen F. Kolzak Award | GLAAD Media Awards | | |
| 1995 | CableACE | CableACE Awards | Variety Special or Series | Comic Relief VI (1994) |
| 1993 | CableACE | CableACE Awards | Variety Special or Series | Comic Relief V (1992) |
| 1992 | Primetime Emmy | Primetime Emmy Awards | Outstanding Individual Achievement in Writing in a Variety or Music Program | The 64th Annual Academy Awards (1992) |
| 1991 | Primetime Emmy | Primetime Emmy Awards | Outstanding Writing in a Variety or Music Program | The 63rd Annual Academy Awards (1991) |
Nominated Awards
| Year | Award | Ceremony | Nomination | Movie |
| --- | --- | --- | --- | --- |
| 2010 | Primetime Emmy | Primetime Emmy Awards | Outstanding Writing for a Variety, Music or Comedy Special | The 82nd Annual Academy Awards (2010) |
| 2009 | Primetime Emmy | Primetime Emmy Awards | Outstanding Writing for a Variety, Music or Comedy Special | The 81st Annual Academy Awards (2009) |
| 2007 | Grabby Award | Grabby Awards | Best Non-Sex Performance | Fucking with the Stars (2006) |
| 2005 | WGA Award (TV) | Writers Guild of America, USA | Comedy/Variety - Music, Awards, Tributes - Specials | The 58th Annual Tony Awards (2004) |
| 2004 | WGA Award (TV) | Writers Guild of America, USA | Comedy/Variety - Music, Awards, Tributes - Specials | The 75th Annual Academy Awards (2003) |
| 2000 | Primetime Emmy | Primetime Emmy Awards | Outstanding Music and Lyrics | The 14th Annual American Comedy Awards (2000) |
| 1994 | CableACE | CableACE Awards | Children's Programming Special - 6 and Younger | For Our Children: The Concert (1993) |
| 1978 | Primetime Emmy | Primetime Emmy Awards | Outstanding Writing in a Comedy-Variety or Music Special | Bette Midler: Ol' Red Hair Is Back (1977) |
| 1977 | Primetime Emmy | Primetime Emmy Awards | Outstanding Writing in a Comedy-Variety or Music Special | The Barry Manilow Special (1977) |
Source:
IMDb
,
Wikipedia