• Bob Gunton is an veteran American actor with over 130 film and TV appearances in his 40+ year career
• His most popular roles include Warden Samuel Norton in "The Shawshank Redemption" and Chief George Earle in "Demolition Man"
• He served in the US Army from 1969 to 1971, receiving the Bronze Star for his mission in Vietnam
• He has won various awards for his stage acting, including Drama Desk and Tony Awards
• He is married to actress Carey Pitts, and was previously married to Annie McGreevey with whom he has a daughter, Olivia

Known for movies
Short Info
| | |
| --- | --- |
| Date Of Birth | November 15, 1945 |
| Spouse | Carey Pitts Gunton (m. 2006), Annie McGreevey (m. 1980–2006) |
| Mark | Often plays political figures or military figures |
| Fact | As of 2014, has appeared in four films that were nominated for the Best Picture Oscar: Born on the Fourth of July (1989), JFK (1991), The Shawshank Redemption (1994) and Argo (2012), the latter being a winner in the category. |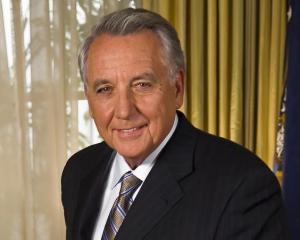 Who is Bob Gunton?
Bob Gunton is an veteran American actor, who has earned fame both on stage and on screen. He has over 130 appearances in films and TV series in his career, which has lasted for more than 40 years. Some of his most popular roles include as Warden Samuel Norton in the drama film "The Shawshank Redemption", and as Chief George Earle in the film "Demolition Man". He is known to mostly portray authoritarian characters.
Bob Gunton Biography- Age, Childhood, and Education
Born Robert Patrick Gunton Jr. on the 15th November 1945, in Santa Monica, California USA, he is the son of Rose Marie and her husband, Robert Patrick Sr., who was a labor union executive. Bob went to Mater Dei High School, located in Santa Ana, California, after which he attended the Paulist Seminary St Peter's College, which is in Baltimore, Maryland.
He then studied at the University of California, Irvine. Having been raised as a devout Roman Catholic, Bob desired to become a priest, but life took him elsewhere.
Military
Before acting, Bob served in the US Army; from 1969 until 197 as a radio telephone operator, with the 2nd Battalion, 501st Infantry Regiment of the 101st Airborne Division. He was a part of the Fire Support Base Ripcord stationed atop a mountain in the A Sầu Valley during a 23-day siege. He received the Bronze Star commendation after he returned to the base under attack by the Vietnamese army, to retrieve valuable radios. He wasn't alone in the mission, as he was accompanied by another soldier, who also was awarded the Bronze Star.
Career Beginnings and Work in Theater
Bob started his acting career in the late '70s appearing on stage, with his first notable role as Raoul in the Broadway musical "King of Hearts" (1978), for which he earned a Drama Desk Award nomination in the category for Outstanding Featured Actor in a Musical. The following year he starred as President of Argentina Juan Peron in the play "Evita", and won the Drama Desk Award for Outstanding Featured Actor in a Musical, and was nominated for a Tony Award for Best Featured Actor in a Musical.
He continued with stage roles, appearing in the play "How I Got That Story", for which he won both an Obie and the Clarence Derwent Awards.
After this, in 1981 he began appearing on screen as well, making his debut in the romantic mystery film "Rollover", starring Jane Fonda, Kris Kristofferson and Hume Cronym, but throughout the '80s he was still particularly active on stage, appearing in such plays as "Passion Play" (1983), "Amadeus" (1984), and "Sweeney Todd: The Demon Barber of Fleet Street", for which he was nominated for Tony, Drama Desk, and Outer Critics Circle Awards.
In the '90s he focused on-screen roles, but from 2000 to 2004 he again played in the theater, appearing in "Follies" (2002), "On the Twentieth Century" (2003), and "The Great Ostrovsky" (2004), in which he played David Ostrovsky, earning a nomination for the Barrymore Award for Excellence in Theater.
On-Screen Beginnings
Bob continued with roles on screen, first with a co-starring role in the television movie drama "Louis Gibbs and the Love Canal", then as Frank in the film "Static" in 1985, and as Dr. Leonard Schrader in the TV series "Hothouse" in 1988, in addition to other appearances.
Rise to Prominence
Bob enjoyed success in the '90s, propelled to stardom with roles in such films as "Demolition Man", starring Sylvester Stallone, Wesley Snipes and Sandra Bullock, then the multiple Academy Award-nominated drama film "The Shawshank Redemption" (1994), in which he starred with Tim Robbins and Morgan Freeman. In 1995 he appeared in the comedy film "Ace Ventura: When Nature Calls", with Jim Carrey as the lead star of the film, after which he was President Richard M. Nixon in the biopic comedy-drama film "Elvis and Nixon", about the meeting between Elvis Presley and Nixon – Elvis was played by Rick Peters, while Priscilla Presley was played by Alyson Court.
In the Academy Award-nominated "Patch Adams", Gunton portrayed Dean Walcott, while Robin Williams attracted all the fame, and he finished the decade with the sci-fi horror thriller film "Bats" (1999), starring Lou Diamond Phillips and Dina Meyer alongside.
With the start of the 2000s, Bob switched his focus to television roles, and in 2003 he was California Governor Marino in the TV series "Mister Sterling", and also portrayed Mayor Smith in the TV action-crime drama series "Peacemakers". The following year he appeared in the Golden Globe Award-winning historical drama film "Iron Jawed Angels".
Continual Success
Bob continued successfully into the second half of the 2000s, first portraying Dick Dinkle in the TV series "Pepper Dennis", and by 2010 had featured in such films as "Dead Silence" and "Fracture" both in 2007, and "Player 5150", while he also portrayed Franklin Roosevelt in the TV documentary "World War Two: Behind Closed Doors" (2008). Also, from 2007 to 2010 he starred as Ethan Kanin in the TV crime-drama series "24".
Nothing changed for Bob with the start of the new decade, and in 2011 he appeared in the biopic "Kill the Irishman" (2011), about Danny Greene. The following year he was in the multiple Academy Award-winning biopic drama film "Argo" (2012), starring Ben Affleck, Bryan Cranston and John Goodman.
His next big thing was the role of Leland Owlsley in the TV action-crime series "Daredevil" (2015), while two years later he appeared in the family-drama film "Mountain Top", with Barry Corbin, Coby Ryan McLaughlin and Valerie Azlynn.
Most Recent Projects
In recent years, Bob has featured in a few notable projects – he was Jeremiah Davis in the TV series "Trial & Error" in 2017, then played Mr. Stern in the romantic comedy film "Alex & The List", starring Karen Gillan, Jennifer Morrison and Julie Gonzalo. In 2018 he appeared in the biopic drama film "Unbroken: Path to Redemption", about the Olympian and World War II hero Louis Zamperini.
Recently he's appeared as a guest star in several TV series, including "The Cool Kids", and "Elementary", both in 2019, and he is now working on the fantasy horror film "Ghostkiller", which will star Zahn McClarnon, Tara Reid and Kevin Sorbo. The film is just announced and is yet to receive its premiere date.
Bob Gunton Net Worth, Height, Weight, and Appearance
Bob is an award-winning stage, film and TV actor with a career spanning over 40 years; his wealth has reached a certain degree, and according to sources, Gunton's wealth is estimated at $3 million, as of mid- 2020.
Bob Gunton stands at 6ft 2ins (1.88m) tall, weighs approximately 145lbs ~ 66kgs, while his vital statistics are 39-33-15. Bob's hair is now grey, and he has brown eyes.
Bob Gunton Personal Life, Marriage, Children
Bob has been married to Carey Pitts since 2006; they don't have children together.
He was previously married to actress Annie McGreevey from 6th July 1980 until 31st July 2006. The couple has one child together, a daughter Olivia Gunton.
Bob Gunton News, Influence
Throughout his career, Bob has played tough characters, often representing police and army forces. His role as Warden Norton still catches the attention of people around the world, and recently, he was revisited in an article about the film's success. Furthermore, his role as Leland Owlsley in "Daredevil", also propelled him to stardom in recent years. Bob is still active as an actor, despite being in his eighth decade.
Bob lost his dog tag in that mission in Vietnam for which he won the Bronze Star, but in recent years he was reunited with it, after it was considered lost for 40 years and more.
General Info
| | |
| --- | --- |
| Full Name | Bob Gunton |
| Date Of Birth | November 15, 1945 |
| Height | 1.85 m |
| Profession | Voice Actor, Soldier |
| Education | University of California, Irvine, Mater Dei High School |
| Nationality | American |
Family
| | |
| --- | --- |
| Spouse | Carey Pitts Gunton (m. 2006), Annie McGreevey (m. 1980–2006) |
| Children | Olivia Gunton |
| Parents | Rose Marie Banovetz, Robert Patrick Gunton, Sr. |
Accomplishments
| | |
| --- | --- |
| Awards | Drama Desk Award for Outstanding Featured Actor in a Musical, Obie Award for Performance |
| Nominations | Tony Award for Best Lead Actor in a Musical, Tony Award for Best Featured Actor in a Musical, Drama Desk Award for Outstanding Actor in a Musical, Drama Desk Award for Outstanding Actor in a Play, Outer Critics Circle Award for Outstanding Actor in a Musical |
| Movies | The Shawshank Redemption, Dead Silence, Ace Ventura: When Nature Calls, Patch Adams, Demolition Man, The Lincoln Lawyer, The Lazarus Project, The 33, The Glimmer Man, Argo, The Perfect Storm, Broken Arrow, Fracture, Born on the Fourth of July, Glory, Matewan, Get the Gringo, I Heart Huckabees, Iron ... |
| TV Shows | 24, Greg the Bunny, Peacemakers, Wild Palms, Daredevil, Murder in the Heartland, Courthouse, Hothouse |
Social profile links
Marks
| # | Marks / Signs |
| --- | --- |
| 1 | Often plays strict, authoritarian characters |
| 2 | Often plays political figures or military figures |
Quotes
| # | Quote |
| --- | --- |
| 1 | Among the roles I've played on stage, television and in films were politicos as diverse as Abe Lincoln, Juan Peron, Herman Goering, George Wallace and both Roosevelts. |
| 2 | I was the adoring son of a Welsh-Irish father, a dyed-in-the-wool Democrat, a Catholic Knight of Columbus who was a blue-collar, trade union organizer and, not surprisingly, a fervid Nixon-hater. |
| 3 | In film roles, I play a lot of heavies and a lot of bad guys, so I tend to be the jokester and the good-time Charlie on the set. |
| 4 | I was a grunt, walking around in the jungle of Vietnam, trying not to find the enemy. Because I am so big, they were going to give me either a heavy radio or a huge machine gun to carry. I carried a radio. |
| 5 | My first presidential primary vote was for Bobby Kennedy. |
| 6 | Lyndon Johnson may have escalated the war, but when I was drafted and shipped off to Vietnam, the signature on my orders was Nixon's. |
Facts
| # | Fact |
| --- | --- |
| 1 | Has one daughter: Olivia Gunton. |
| 2 | Parents are Robert Patrick Sr. and Rose Marie Gunton. |
| 3 | Attended and graduated from the University of California, Irvine (1968). |
| 4 | Attended and graduated from Mater Dei High School in Santa Ana, California (1964). |
| 5 | In the original Broadway production of Evita, he was the only cast member who spoke with a Spanish accent. |
| 6 | Has appeared with David Strathairn in four films: Matewan (1987), Judgment (1990), Dolores Claiborne (1995) and Fracture (2007). |
| 7 | As of 2014, has appeared in four films that were nominated for the Best Picture Oscar: Born on the Fourth of July (1989), JFK (1991), The Shawshank Redemption (1994) and Argo (2012), the latter being a winner in the category. |
| 8 | Has played three historical U.S. presidents: Woodrow Wilson in Iron Jawed Angels (2004), Franklin D. Roosevelt in World War Two: Behind Closed Doors (2008), and Richard Nixon in Elvis Meets Nixon (1997). |
| 9 | Profiled in "Character Kings: Hollywood's Familiar Faces Discuss the Art & Business of Acting" by Scott Voisin (2009). |
| 10 | 1980: Won the Clarence Derwent Award and the Obie Award for Best Performance in "How I Got That Story". |
| 11 | Won the 1980 Drama Desk Award for his role of Juan Domingo Perón opposite Patti LuPone and Mandy Patinkin in the Broadway musical "Evita". |
| 12 | Has twice received Tony nominations: in 1980 as Best Actor (Featured Role - Musical) for playing Juan Domingo Perón in "Evita", and ten years later, in 1990, as Best Actor (Musical) for playing the title role in a revival of "Sweeney Todd". |
| 13 | 1969-71: Served in the United States Army, earning the Vietnam Service Medal and a Bronze Star for valor. |
| 14 | Born at 12:44pm-PST |
Pictures
Movies
Actor
| Title | Year | Status | Character |
| --- | --- | --- | --- |
| Mountain Top | 2017 | post-production | Maxwell Forrest |
| The List | 2016 | completed | Mr. Stern |
| The Gettysburg Address | 2016 | Documentary post-production | William Herndon (voice) |
| Trial & Error | 2017 | TV Series | Jeremiah Davis |
| Royal Pains | 2010-2016 | TV Series | General William Collins / Ret. General William Collins |
| The Last Tycoon | 2016 | TV Series | Vanderbilt Riddle |
| Gortimer Gibbon's Life on Normal Street | 2015 | TV Series | Grandpa |
| The 33 | 2015 | | President Piñera |
| Larry Gaye: Renegade Male Flight Attendant | 2015 | | Flight School Instructor |
| Daredevil | 2015 | TV Series | Leland Owlsley |
| Trophy Wife | 2014 | TV Series | Francis Harrison |
| New Girl | 2014 | TV Series | Ed |
| Live at the Foxes Den | 2013 | | Tony O'Hara |
| Runner Runner | 2013 | | Dean Alex Monroe |
| Jimmy | 2013/I | | Sheriff Brinson |
| Decoding Annie Parker | 2013 | | Dr. Benton |
| Highland Park | 2013 | | Bert |
| Up All Night | 2012 | TV Series | Tom |
| Trouble with the Curve | 2012 | | Watson |
| Argo | 2012 | | Cyrus Vance |
| Wilfred | 2012 | TV Series | Warner |
| Get the Gringo | 2012 | | Thomas Kaufman |
| Family Guy | 2011 | TV Series | Warden |
| Criminal Minds: Suspect Behavior | 2011 | TV Series | Marshall Phelps |
| Kill the Irishman | 2011 | | Jerry Merke |
| The Lincoln Lawyer | 2011 | | Cecil Dobbs |
| The Trial | 2010 | | Joe Whetstone |
| Warren the Ape | 2010 | TV Series | |
| The Mentalist | 2010 | TV Series | Alexander Harrington |
| 24 | 2007-2010 | TV Series | Ethan Kanin |
| World War Two: Behind Closed Doors | 2008-2009 | TV Series documentary | Franklin Roosevelt |
| Tenure | 2008 | | William Thurber |
| The Least of These | 2008 | | Father Thomas Peters |
| 24 | 2008 | TV Movie | Ethan Kanin |
| The Lazarus Project | 2008 | | Father Ezra |
| Player 5150 | 2008 | | Nick Villa |
| Boston Legal | 2008 | TV Series | Attorney William Connolly |
| Women's Murder Club | 2007 | TV Series | Arthur Lazar |
| Rendition | 2007 | | Lars Whitman |
| Numb | 2007/I | | Dr. Townshend |
| Fracture | 2007 | | Judge Gardner |
| Dead Silence | 2007 | | Edward Ashen |
| The Batman | 2007 | TV Series | Gorman |
| Pandemic | 2007 | TV Movie | Dr. Max Sorkosky |
| Imperfect Union | 2007 | TV Movie | |
| Numb3rs | 2006 | TV Series | Boyd Resnick |
| Pepper Dennis | 2006 | TV Series | Dick Dick Dinkle |
| Desperate Housewives | 2004-2006 | TV Series | Noah Taylor |
| Believe in Me | 2006 | | Hugh Moreland |
| E-Ring | 2006 | TV Series | General Hughes |
| Nip/Tuck | 2005 | TV Series | Agent Sagamore |
| Fur on the Asphalt: The Greg the Bunny Reunion Show | 2005 | TV Movie | Prison Warden |
| Greg the Bunny | 2002-2004 | TV Series | Junction Jack |
| Ichabod! | 2004 | | Baltus Van Tassel |
| I Heart Huckabees | 2004 | | Mr. Silver |
| Monk | 2004 | TV Series | Dwight Ellison |
| Judas | 2004 | TV Movie | High Priest Caiaphas |
| Iron Jawed Angels | 2004 | TV Movie | President Woodrow Wilson |
| Judging Amy | 2003-2004 | TV Series | Dr. Alan Foster |
| Peacemakers | 2003 | TV Series | Mayor Smith |
| Dallas 362 | 2003 | | Joe |
| CSI: Crime Scene Investigation | 2003 | TV Series | Director Robert Carvallo |
| Mister Sterling | 2003 | TV Series | California Governor Marino |
| The Pact | 2002 | TV Movie | James |
| Touched by an Angel | 2002 | TV Series | Sidney |
| Boat Trip | 2002 | | Boat Captain |
| Spin City | 2002 | TV Series | Governor Riley |
| The Court | 2002 | TV Series | Casey |
| Scenes of the Crime | 2001 | | Steven, Jimmy's Partner |
| 61* | 2001 | TV Movie | Dan Topping |
| When Billie Beat Bobby | 2001 | TV Movie | Jerry Perenchio |
| Family Law | 2000 | TV Series | Judge Mason |
| Running Mates | 2000 | TV Movie | Sen. Terrence Randall |
| The Perfect Storm | 2000 | | Alexander McAnally III |
| Bats | 1999 | | Dr. Alexander McCabe |
| Patch Adams | 1998 | | Dean Walcott |
| Ally McBeal | 1998 | TV Series | Michaelson |
| The Outer Limits | 1998 | TV Series | Clute Nichols |
| Nothing Sacred | 1998 | TV Series | Bishop Corey |
| Buffalo Soldiers | 1997 | TV Movie | Col. Benjamin Grierson |
| Midnight in the Garden of Good and Evil | 1997 | | Finley Largent |
| A Thousand Acres | 1997 | | Judge (uncredited) |
| Elvis Meets Nixon | 1997 | TV Movie | Richard M. Nixon |
| Changing Habits | 1997 | | Bishop Creighton |
| The Glimmer Man | 1996 | | Frank Deverell |
| The Siege at Ruby Ridge | 1996 | TV Movie | Bo Gritz |
| Broken Arrow | 1996 | | Pritchett |
| Courthouse | 1995 | TV Series | Judge Homer Conklin |
| Ace Ventura: When Nature Calls | 1995 | | Burton Quinn |
| Dolores Claiborne | 1995 | | Mr. Pease |
| Kingfish: A Story of Huey P. Long | 1995 | TV Movie | Franklin D. Roosevelt |
| In Pursuit of Honor | 1995 | TV Movie | Col. John Hardesty |
| The Shawshank Redemption | 1994 | | Warden Norton |
| Roswell | 1994 | TV Movie | Frank Joyce |
| Demolition Man | 1993 | | Chief George Earle |
| Father Hood | 1993 | | Lazzaro |
| Wild Palms | 1993 | TV Mini-Series | Dr. Tobias Schenkl |
| Murder in the Heartland | 1993 | TV Mini-Series | Governor Anderson |
| Dead Ahead: The Exxon Valdez Disaster | 1992 | TV Movie | Larry Dietrick - State of Alaska |
| Jennifer 8 | 1992 | | Goodridge |
| The Public Eye | 1992 | | Older Agent |
| Ladykiller | 1992 | TV Movie | Wolkowski |
| Patriot Games | 1992 | | Interviewer |
| Ned Blessing: The True Story of My Life | 1992 | TV Movie | Texas Preacher |
| Sinatra | 1992 | TV Mini-Series | Tommy Dorsey |
| JFK | 1991 | | TV Newsman #3 |
| Mission of the Shark: The Saga of the U.S.S. Indianapolis | 1991 | TV Movie | Chaplain |
| Perry Mason: The Case of the Glass Coffin | 1991 | TV Movie | Asst. D.A. Scott Willard |
| Star Trek: The Next Generation | 1991 | TV Series | Capt. Benjamin Maxwell |
| A Woman Named Jackie | 1991 | TV Mini-Series | Hugh Auchincloss |
| Missing Pieces | 1991 | | Mr. Gabor |
| L.A. Law | 1990 | TV Series | Robert Weston |
| Law & Order | 1990 | TV Series | Gil Himes |
| The Bride in Black | 1990 | TV Movie | Sydney |
| Judgment | 1990 | TV Movie | Monsignor Beauvais |
| Sesame Street Home Video Visits the Firehouse | 1990 | Video short | Chief Kirby |
| Born on the Fourth of July | 1989 | | Doctor #1 - VA Hospital |
| Glory | 1989 | | Gen. Charles Garrison Harker |
| Cookie | 1989 | | Richie Segretto |
| Unconquered | 1989 | TV Movie | Governor George Wallace |
| Miami Vice | 1988 | TV Series | Rivas |
| Hothouse | 1988 | TV Series | Dr. Leonard Schrader |
| The Pick-up Artist | 1987 | | Fernando Portacarrero |
| Matewan | 1987 | | C.E. Lively |
| Adam: His Song Continues | 1986 | TV Movie | Edgar Milton |
| The Equalizer | 1985 | TV Series | Cronin |
| Static | 1985 | | Frank |
| Finnegan Begin Again | 1985 | TV Movie | Christian Jamison |
| Comedy Zone | 1984 | TV Series | Various |
| Lois Gibbs and the Love Canal | 1982 | TV Movie | Harry Gibbs |
| Rollover | 1981 | | Sal Naftari |
Soundtrack
| Title | Year | Status | Character |
| --- | --- | --- | --- |
| Ichabod! | 2004 | performer: "Ichabod" | |
| Great Performances | 2003 | TV Series performer - 1 episode | |
| The Shawshank Redemption | 1994 | performer: "A Mighty Fortress Is Our God" - uncredited | |
| Star Trek: The Next Generation | 1991 | TV Series performer - 1 episode | |
| Sesame Street Home Video Visits the Firehouse | 1990 | Video short performer: "Waiting For The Bell To Ring" | |
| The 34th Annual Tony Awards | 1980 | TV Special performer: "Dice Are Rolling", "A New Argentina" | |
Self
| Title | Year | Status | Character |
| --- | --- | --- | --- |
| Char·ac·ter: The Interviews | 2010 | Documentary | Himself |
| I Heart Huckabees: Production Surveillance | 2005 | Video documentary short | Himself |
| Hope Springs Eternal: A Look Back at 'The Shawshank Redemption' | 2004 | Video documentary short | Himself |
| The Shawshank Redemption: Cast Interviews | 2004 | Video documentary | Himself |
| Shawshank: The Redeeming Feature | 2001 | TV Movie documentary | Himself |
| 'Bats' Abound | 1999 | Video documentary short | Himself |
| The 44th Annual Tony Awards | 1990 | TV Special | Himself - Nominee: Best Leading Actor in a Musical |
| Forever James Dean | 1988 | Documentary | Narrator (voice) |
| Soldiers in Hiding | 1985 | Documentary | Narrator |
| The 34th Annual Tony Awards | 1980 | TV Special | Himself - Performer & Nominee: Best Featured Actor in a Musical |
Archive Footage
| Title | Year | Status | Character |
| --- | --- | --- | --- |
| Rescued from Tehran: We Were There | 2012 | Video documentary short | Cyrus Vance (uncredited) |
| Boffo! Tinseltown's Bombs and Blockbusters | 2006 | Documentary | Warden Samuel Norton (uncredited) |
| Great Performances | 2003 | TV Series | |
| Demolition Man | 1994 | Video Game | Chief George Earle |
Awards
Won Awards
| Year | Award | Ceremony | Nomination | Movie |
| --- | --- | --- | --- | --- |
| 2012 | Hollywood Film Award | Hollywood Film Awards | Ensemble of the Year | Argo (2012) |
Nominated Awards
| Year | Award | Ceremony | Nomination | Movie |
| --- | --- | --- | --- | --- |
| 1994 | ACCA | Awards Circuit Community Awards | Best Cast Ensemble | The Shawshank Redemption (1994) |
Source:
IMDb
,
Wikipedia